#1111: From Me To You By Del Shannon/The Beatles
Peak Month: July 1963
8 weeks on Vancouver's CFUN chart
Peak Position #14
Peak Position on Billboard Hot 100 ~ #77 (Del Shannon)/ #116 (the Beatles in 1963)
Charles Weedon Westover was born on December 30, 1934. He was known professionally as Del Shannon. Westover was born in Grand Rapids, Michigan. He learned ukulele and guitar and listened to country music. He was drafted into the Army in 1954, and while in Germany played guitar in a band called The Cool Flames. When his service ended, he returned to Battle Creek, Michigan. There he worked as a carpet salesman and as a truck driver in a furniture factory. He found part-time work as a rhythm guitarist in singer Doug DeMott's group called Moonlight Ramblers, working at the Hi-Lo Club. Ann Arbor deejay Ollie McLaughlin heard the band. In July 1960, Westover signed to become a recording artist and composer on the Bigtop label. Westover changed his name to Del Shannon. It was a combination of Shannon Kavanagh (a wannabe wrestler who patronized the Hi-Lo Club) with Del, derived from the Cadillac Coupe de Ville, which Westover's carpet store boss drove.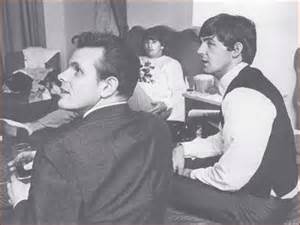 Apparently, Charles Westover asked a girl named Karen to go with him to the Senior Prom. She said yes, but two weeks later dumped him for another guy who was Westover's rival. Westover, who was 140 pounds and 5'6" was devastated and never got over it. Almost all fourteen of Del Shannon's singles released from "Runaway" (1961) to "Two Kinds of Teardrops" (1963) were about sadness, break-ups, and loneliness. Though "Runaway" was a #1 hit and Del Shannon had several more songs in the Top 30 on the Billboard Hot 100, his star was on the wane. "Two Kinds of Teardrops" only peaked on the Billboard Hot 100 at #50. During his career Del Shannon had just three songs in the Top Ten of the Billboard Hot 100 and four more singles that reached the Top 30. While in Vancouver he charted three songs to #1, six more songs into the Top Ten and seven more songs into the Top 30. In Vancouver any Del Shannon 45 RPM had a good chance at being a big seller.
In 1963 Del Shannon flew to England where he toured heavily on the success of "Little Town Flirt" and to push "Two Kinds of Teardrops". He also visited Sweden, where he was popular. By the spring of 1963 Del Shannon had only managed to chart two Top Ten singles in the USA. But in the UK he had seven Top Ten hits, including "Two Kinds of Teardrops" which peaked at #5 in the US. On 18 April 1963, the Beatles were one of 15 acts to play at Swinging Sound '63, an all-star concert at the Royal Albert Hall in London. They played "From Me to You", a song just released earlier that week, and "Twist and Shout". Del Shannon was also on the line-up that night. When the concert was over Shannon told John Lennon that he was going to record "From Me to You" to give the group some exposure in America. At first, Lennon was flattered, but he quickly changed his mind. Lennon was aware that a cover version by Del Shannon might hurt the Beatles' chances of having a hit with "From Me to You" in America.
In early June, Bigtop Records released Del Shannon's version of "From Me To You" as the follow-up to "Two Kinds of Teardrops."
On June 29th it entered the Billboard Hot 100 and became the first Lennon–McCartney song to chart in the USA. Shannon's cover spent four weeks on the Billboard Hot 100 and peaked at number 77. It owed its lowly climb in part to WLS in Chicago where it climbed to #15. Del Shannon recalled "At that time no one had heard of the Beatles here (America), but I knew they were great writers so I just picked up on one of their songs."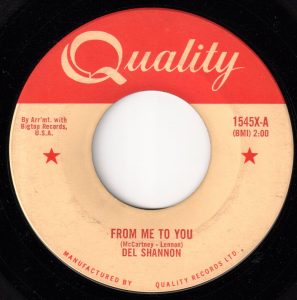 John Lennon and Paul McCartney were riding on a bus to Shrewsbury to perform at a concert as the opening act while The Beatles were on a tour of England with Helen Shapiro. While on the coach they started to write "From Me to You". They took the title as a variant of the letter to the editor section of the pop music magazine, New Musical Express. That section was named "From You To Us". Paul McCartney recalled that many of the songs they wrote in their early years included "I", "me" or "you" as a way of making them more direct and personal. John Lennon recalled that the initial tune for the lyrics relied heavily on the blues and initially The Beatles decided to record it. But when their manager, George Martin, added harmonica to the tune, it seemed to be just right.
On the bus with McCartney and Lennon was a black British singer named Kenny Lynch who had recently had a Top Ten UK hit with a cover of The Drifters song "Up On the Roof". He tried to Lennon and McCartney write lyrics for "From Me to You". When they sang the song and included "ooh" as a bridge, Lynch was outraged. He told them "You can't do that. You'll sound like a bunch of fucking fairies!" Soon afterwards he stormed off, ranting "Well, that's it. I am not going to write any more of that bloody rubbish with those idiots. They don't know music from their backsides. That's it! No more help from me!" Lynch would later write "Sha-La-La-La-Lee", a #3 hit for the Small Faces in 1966.
On April 11, 1963, Parlophone Records released "From Me to You" in the UK as a single, with "Thank You Girl" on the B-side. On April 20th it began a 21 week run in the British charts, reaching number one on May 4th, and remaining there for another six weeks.
"From Me To You" featured Lennon playing harmonica in a blues style he was taught by Delbert McClinton. McClinton was the harmonica player on the 1962 #1 hit "Hey Baby" by Bruce Channel. On the same bill with Del Shannon and The Beatles, Bruce Channel sang "Hey Baby" with Delbert McClinton playing harmonica. "It's chiseled in stone now that I taught Lennon how to play harmonica," McClinton said. "John said, 'Show me something.' I was in a pretty unique position, because there just weren't a lot of people playing harmonica in popular music."
Da da da, da da dumb dumb da
Da da da, da da dumb dumb da

If there's anything that you want
If there's anything I can do
Just call on me and I'll send it along
With love, from me to you

I've got everything that you want
Like a heart that's oh so true
Just call on me and I'll send it along
With love, from me to you

I've got arms that long to hold you
And keep you by my side
I've got lips that long to kiss you
And keep you satisfied (oh)

If there's anything that you want
If there's anything I can do
Just call on me and I'll send it along
With love, from me to you….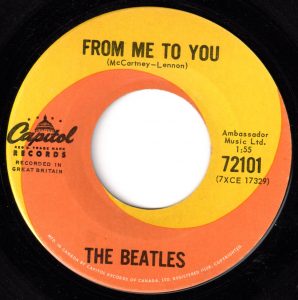 The song was a very straightforward pitch to love, satisfy and be faithful. "From Me to You" was the first Beatles song to reach number one in Britain, and the first of eleven consecutive British number one singles by the group.
Cash Box magazine called "From Me To You" a "Pick of the Week" when it was released on May 27, 1963, in the USA. However, in 1963 the American record-buying audience was not ready for The Beatles. Their previous single release in the USA, "Please Please Me", had sold only around 5,000 copies. "From Me to You" had only 4,000 sales by the end of June '63 and didn't chart anywhere except in Los Angeles. In Vancouver Del Shannon's cover of "From Me To You" debuted on the June 29/63 C-FUNTASTIC FIFTY at #35. But for the next 7 weeks of its chart run both the original version by The Beatles and Del Shannon's cover were listed as artists across from the song. A sign of how unfamiliar even DJ's in Vancouver were with the "Fab Four" is shown in how they were listed with Del Shannon during the chart run in July and August of '63. The Beatles were spelled with two t's on CFUN's record survey as "The Beattles".
For more song reviews visit the Countdown.