#110: Blue Sky Mine by Midnight Oil
Peak Month: April-May 1990
15 weeks on Vancouver's CKLG Chart
Peak Position #2
Peak Position on Billboard Hot 100 ~ #47
YouTube.com: "Blue Sky Mine"
Lyrics: "Blue Sky Mine"
Peter Garrett was born in suburban Sydney, Australia, in 1953. He learned to play harmonica and sing. In 1972 Garrett met drummer Robert Hirst in Sydney. Hirst was also born in suburban Sydney in 1955. In the early 1970s, while still in school, Rob Hirst played in a Beatles cover band named Schwampy Moose. His bandmates were keyboard and guitar player Jim Moginie, and bass guitar player Andrew "Bear" James. Moginie was born in 1956 in Kalamuda, Western Australia.The band changed their name in 1972 to Farm. In 1976 they were joined by Peter Garrett and changed their name to Midnight Oil. The following year the added Sydney born Martin Rotsey on guitar.
In 1978, Midnight Oil released their debut self-titled album. Another album was released in 1979 and Andrew James left the band in 1980 due to ill health. James was replaced by Peter "Giffo" Gifford from 1980 until 1987 when
Bones Hillman replaced Giffo Gifford in 1987. Born Wayne Stevens in New Zealand, in 1958, Bones Hillman was in the latter 1970s – a member of the punk band the Masochists, the Suburban Reptiles and the Rednecks. In 1979 he joined a rock band named the Swingers with ex-Split Enz musician Phil Judd. After the Swingers spit up in 1983, Hillman pursued other musical interests until he joined Midnight Oil in 1987.
On the Midnight Oil website, the band recalls "Before they took it global, Midnight Oil's early spiritual home was the Royal Antler Hotel, Narrabeen on Sydney's northern beaches. It was there that 'the Oils' fan base swelled from a handful to a thousand – in a space intended for half that number. Between 1976 and the very early 80's, these five young men played out this blistering ritual almost 1000 times."
In 1983, the band's single "Power And Passion", from their fourth album 10, 9, 8, 7, 6, 5, 4, 3, 2, 1, climbed to #5 on the Alternative Rock station CFMB in Montreal. The single climbed to #4 in New Zealand and #8 in Australia.
In 1984 Midnight Oil released their fifth studio album Red Sails in the Sunset. It included a track about the Domesday Clock titled "Minutes to Midnight". The Domesday Clock is a symbolic timepiece published by the Bulletin of the Atomic Scientists, which represents the proximity of nuclear war (or more generally "catastrophic destruction"), designated as "midnight". Nuclear confrontation was pertinent at the time of this song, the clock having regressed to a mere "three minutes to midnight" in 1984 from some 12 minutes in the preceding decade.
American President Ronald Reagan, while running for re-election, was preparing to make his weekly Saturday radio address on NPR. As a sound check prior to the address, Reagan made the following 'joke' to the radio technicians: "My fellow Americans, I'm pleased to tell you today that I've signed legislation that will outlaw Russia forever. We begin bombing in five minutes." Reagans' words were caught on the radio and a song titled "Five Minutes" by a band named Bonzo Goes to Washington sampled Reagans' gaffe. In 1985 Sting released a track titled "Russians", whose lyric was a critical commentary the then-dominant Cold War foreign strategy and doctrine of mutual assured destruction (MAD) by the United States and the Soviet Union.
In 1986 Midnight Oil released their sixth studio album titled Dust And Diesel. The debut single release was "The Dead Heart", which climbed in 1988 to #7 in Calgary, though it stalled at #35 in Vancouver and #53 on the Billboard Hot 100. But the second single from the album, "Beds Are Burning" became a number-one hit in 1988 in Vancouver, and cracked the Top 20 nationally in the USA.
On March 13, 1988, Midnight Oil gave their first concert in Vancouver. The following month, on April 22, 1988, Midnight Oil performed in concert at the Orpheum. For a third time that year, on October 29, 1988, Midnight Oil headlined a concert at the Pacific Coliseum in Vancouver,
In 1990 the band released Blue Sky Mining. The album was "more defiant and outspoken" than their previous work. The single "Blue Sky Mine" was released in February.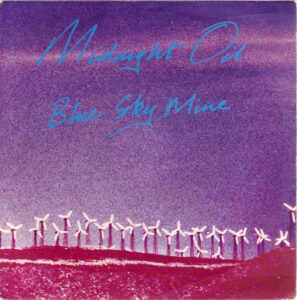 "Blue Sky Mine" was inspired by the experiences of workers at the Wittenoon asbestos mines who contracted various asbestos-related diseases. The "blue" refers to blue asbestos and the "sugar refining company" refers to the Colonial Sugar Refining Company Ltd., the owner of the mines. In 1943 mining began in Wittenoom Gorge, and a company town was built in 1947. In 1966, when the Wittenoom mine closed there were three million tonnes of asbestos tailings left behind in the gorge and surrounding area, It has been declared the "largest contaminated site in the southern hemisphere." In 2019, a report by News.com in Australia stated "To date, about 2000 former Wittenoom residents are believed to have died from asbestos-related illnesses, with many more developing diseases like mesothelioma and cancer." Because of the toxicity of the location, it has been dubbed 'Australia's Chernobyl.' Though power to the town was shut in 2006 and it was taken off Australian maps, tourists still flock to the area. Wittenoon is now a virtual ghost, a lonely outpost 1,400 km northeast of Perth. As of 2021 two original residents of Wittenoon remain in the townsite refusing to leave.
"Blue Sky Mine" was cowritten by the Midnight Oil bandmates.
"Blue Sky Mine" peaked at #2 in Vancouver, #3 in Montreal, #4 in Hamilton (ON), #8 in Ottawa, and #14 in Los Angeles. Internationally, "Blue Sky Mine" climbed to #2 in New Zealand, #7 in Canada, #8 in Australia and Norway, and #11 in Switzerland.
While "Blue Sky Mine" was charting in Vancouver, Midnight Oil gave a concert at the Thunderbird Stadium on June 26, 1990.
In 1993, Midnight Oil released their eighth studio album Earth and Sun and Moon. The lead single on the album was "Truganini".
Subsequent albums Breathe (1996), Redneck Wonderland (1998), and Capricornia (2002) were all Top Ten albums in Australia. However, they received little notice beyond New Zealand and Switzerland. On November 15th and 16th, 2001, Midnight Oil came to Vancouver to perform athlete Commodore Ballroom. On May 11 and 12, 2002, Midnight Oil gave two more concerts at the Commodore Ballroom in Vancouver.
That year Midnight Oil released their first studio album since 2002. Titled The Makarrata Project, the album shot to number-one on the Australian album chart. Late in 2020, Bones Hillman died at the age of 62 of cancer.
Midnight Oil has appeared in concert in Vancouver at Malkin Bowl on June 2, 2017, and returned to the venue most recently on June 1, 2022.
September 30, 2022
Ray McGinnis
References:
Jackson Barron, "Legendary Midnight Oil Bassist Bones Hillman dies aged 62 after Battle with Cancer as his Bandmates Lead a Heartbreaking Tribute to the Man with 'the Beautiful Voice'," Daily Mail Australia, November 7, 2020.
Paul Cashmere, "Midnight Oil Prove Why They Are The Greatest Live Band On Earth," Noise11.com, Melbourne, Australia, March 22, 2021.
Ally Foster, "Tourists flock to 'Australia's Chernobyl' despite health risks," news.com, Sydney, Australia, July 21, 2019.
"Midnight Oil – Concert Dates – Canada," setlist.fm.
"CKLG Top 40," CKLG 730 AM, Vancouver, BC, May 7, 1990.
For more song reviews visit the Countdown.