#332: Blueberry Hill by Louis Armstrong
Peak Month: January 1957
8 weeks on Vancouver's CKWX chart
Peak Position #3
Peak Position on Billboard Hot 100 ~ #29 (in 1949)
YouTube: "Blueberry Hill"
Lyrics: "Blueberry Hill"
Louis Daniel Armstrong was born in New Orleans in 1901. He was raised by his grandmother until he was five and sent to a school for black boys when he was six. He did odd jobs for the Karnoffskys, a family of Lithuanian Jews. The Karnoffskys took young Louis into their home and treated him like family. Knowing he lived without a father, they fed and nurtured him. His first musical performance may have been at the side of the Karnoffskys' junk wagon. To distinguish them from other hawkers, he tried playing a tin horn to attract customers. Morris Karnoffsky gave Armstrong an advance toward the purchase of a cornet from a pawn shop. Around the age of fifteen, Armstrong pimped for a prostitute named Nootsy. However, that terminated after she stabbed him in the shoulder and Armstrong's mother almost choked Nootsy to death.
Armstrong played in brass bands and riverboats in New Orleans, first on an excursion boat in September 1918. With jazz bandleader Fate Marable, Armstrong traveled as part of the band on the steamboat Sidney up and down the Mississippi River. Marable schooled Armstrong in music notation, and by the age of twenty, Louis was able to read music. Armstrong was among the first jazz musicians featured on extended trumpet solos. He also started singing during his performances. In 1922, Louis Armstrong moved to Chicago at the invitation of bandleader Joe "King" Oliver. In 1923 Armstrong recorded "Dippermouth Blues" which climbed to #9 on the Billboard pop chart.
In 1924, Armstrong got invited to move to New York City to play with the Fletcher Henderson's Orchestra at the Roseland Ballroom at 239 West 52nd Street in the Theater District. In order to fit in with the musical arrangements, Armstrong switched from cornet to trumpet, and occasionally trombone. At this time Armstrong began making records variously with Clarence Williams, Ma Rainey, Alberta Hunter, Bessie Smith, saxophonist Sidney Betchet and others.
Armstrong moved back to Chicago in 1925 and in 1926 recorded what ended up being the #14 song of the year: "Heebie Jeebies". Other songs that sold well for him that year included "Big Butter & Egg Man" and "Muskrat Ramble". In 1927 he recorded "Savoy Blues", which was inducted into the Grammy Hall of Fame in 2018. Other hit records Armstrong had that year include "Potato Head Blues".
In 1928 Louis Armstrong & His Hot Five had the number two hit song of the year titled "West End Blues", referring to the west end of Lake Pontchartrain in suburban New Orleans. He also sold well in '28 with "Struttin' With Some Barbecue". And in 1929 Armstrong had one of the top hits of the year with "When You're Smiling". Other hits in 1929 included "St James Infirmary" and "St. Louis Blues".
In 1930 Armstrong made his debut in a Hollywood film titled Ex-flame. And in 1936 he starred with Bing Crosby in Pennies From Heaven. In 1937 Armstrong appeared in Artists and Models opposite Jack Benny and Connie Boswell. At the end of the year he starred with Mae West in Every Day's a Holiday. And in 1938 he was in Going Places along with Dick Powell and Ronald Reagan.
In the early 1930s Armstrong continued to have big hit records. These included "(I'll Be Glad When You're Dead) You Rascal You", "Stardust", "Lazy River" and "I Got Rhythm". In 1932 he had a number-one hit with "All Of Me" for 18 weeks. In 1935 Armstrong had a #3 hit with "I'm In The Mood For Love". His 1938 recording of "Nobody Knows the Trouble I've Seen" was inducted into the Grammy Hall of Fame in 2018. And in 1939 he was back with one of the biggest hits of the year "When the Saints Go Marching In".
Louis Armstrong continued to record and perform in the 1940s, but his record sales faltered. However, he appeared in numerous films including one of the top grossing films of 1941, Birth of the Blues (with Bing Crosby). In 1943 he was part of an all-black cast in Cabin in the Sky along with Duke Ellington, Ethel Waters and Lena Horne. In 1948 Armstrong appeared as himself in A Song Is Born starring Danny Kaye.
In the early 50s he returned to the Top 20 with "A Kiss to Build a Dream On" and "(When We Are Dancing) I Get Ideas" (1951), "When It's Sleepy Time Down South" and "Takes Two to Tango" (1952), and "Mack The Knife" (1956). On February 2, 1952, Louis Armstrong performed at the Palomar Supper Club in Vancouver at the southwest corner of Burrard and Georgia.
While on film Louis Armstrong appeared in 1954 in The Glenn Miller Story alongside Jimmy Stewart and June Allyson. And in 1956 he was cast in High Society along with Bing Crosby, Grace Kelly and Frank Sinatra.
In 1949 Louis Armstrong recorded "Blueberry Hill". The single peaked at #29 on the Billboard chart. But the single began to chart in Vancouver in early 1957.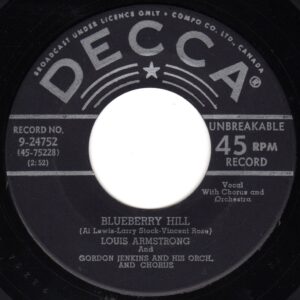 "Blueberry Hill" was a song written in 1940 by Vincent Rose, Larry Stock and Al Lewis. Vincent Rose was born in Palermo, Italy, in 1880 with the birth name Vincenzo Cacioppo. He emigrated to America in 1897 at the age of seventeen, but returned to Italy to complete his studies in piano and violin. Around 1900 Rose returned to the USA and got work as a musical director working for a chain of Chicago hotels. He formed his own orchestra in Southern California around 1905. In 1918 he wrote a Top Five hit titled "Oriental" for Earl Fuller's Novelty Orchestra. In 1920 Vincent Rose wrote the tune for "Whispering" a number-one hit for Paul Whiteman's Orchestra. That year he also wrote "Avalon", a tune Al Jolson took to #2 in November 1920. Vincent Rose became the band leader of the Montmartre Orchestra at the Café Montmartre in Hollywood in 1923. Their popularity got them engagements as far away as the Ritz-Carlton in New York and the College Inn in Chicago.
In 1924 Vincent Rose wrote the instrumental "Linger Awhile" which became another number-one hit for Paul Whiteman's Orchestra. Other hits Vincent Rose composed include "The Umbrella Man", a number-one hit for Kay Kyser's Orchestra in 1939. Vincent Rose died in 1944, three weeks before his 64th birthday.
Co-writer Al Lewis was born in 1901 in New York City. He was drawn to Vaudeville and wrote "He's So Unusual" for Helen Kane, featured in the 1929 film Sweetie released in November 1929. The song was covered by Cyndi Lauper in her 1983 album She's So Unusual. In 1930 Lewis wrote "Livin' In The Sunlight, Lovin' In The Moonlight", the first hit record in America for Maurice Chevalier. In 1931 Al Lewis wrote "Ninety-Nine Out Of A Hundred", a Top Ten hit for Rudy Vallée. In 1933 Lewis had another Top Ten hit for Eddie Cantor with "Now Is The Time To Fall In Love". In the rock 'n roll era, Al Lewis wrote "Tears On My Pillow" for Little Anthony and the Imperials in 1958; And in 1959 Fats Domino had a hit with Lewis' "I'm Ready", a Top Ten R&B hit. Al Lewis died in 1967 at the age of 65.
The third writer for "Blueberry Hill" was Larry Stock. He was born in 1896 in New York City. He studied at Julliard. Other songs Larry Stock wrote include "You Won't Be Satisfied (Until You Break My Heart)", a Top Ten hit for Les Brown, for Perry Como, and duet by Louis Armstrong and Ella Fitzgerald in 1946; "The Morning Side Of The Mountain" for Tommy Edwards in 1951; And "You're Nobody Until Somebody Loves You" by Dean Martin in 1964.
"Blueberry Hill" is a song about two people who meet each other on Blueberry Hill by a willow tree. The wind blows "love's sweet melody" in the willow. And as the moon stands still, the pair "thrill" each other. The "thrill" is a catalyst for at once making vows to each other. However, the vows evaporate in the light of day. At least one of the pair remembers the "thrill," and when they think of them consider "you're part of me still."
From the lyrics we don't know exactly what took place when the two, presumably young people, met under the moon, by the willow tree on Blueberry Hill. What might that "thrill" have consisted of? As the "thrill" is left undefined, it let listeners imagine what might have taken place; And how far the couple might have gone to "thrill" each other on Blueberry Hill. Whatever the actual details, it was enough to cause them to initially make vows to each other. The following line in the song, "though we're apart," gives us the contrasting clue that the vows were promises "never to part", to be together, to wed.
As the song was written in 1940, the sensibilities of the songwriters at the time would be not to imply something vulgar, like having sex on Blueberry Hill. Not that some people at the time might not have tried. But the reputation of a young woman would be ruined in society if she went all the way. So, we can assume that they kissed. And it may have been a first kiss. Reece Halter, in his article "The Magic Of the First Kiss" writes "When the first kiss works it's powerful – over 90 per cent of lovers, irrespective of age, can remember exactly where and when it occurred. Moreover, that first kiss is a dealmaker or breaker because over 60 per cent of first kisses, for both men and women, are a failure terminating any chance for romance. Well before that first kiss occurs the eyes are conveying important information to the brain, which in turn has a tremendous influence upon our feelings associated with love. Next time you get a chance watch how new lovers look at one another – it's thrilling."
Even if the couple on Blueberry Hill had kissed others before, it's likely that the first kiss they shared under the willow tree was electric. The guy still remembers where he was, the moon and the willow tree when he thinks about the person he made vows too. Reece Halter adds "That first passionate kiss causes dopamine to spike in the brain. It's a give-me-more insatiable hormone all about pleasure; when we first fall in love and have those over-the-moon thoughts, that's dopamine." Since a passionate kiss would kick in dopamine and over-the-moon thoughts, it's likely that passionate kissing – with tongues – got the these young lovers making vows of "forever." Whether they started taking off shirts and blouses (depending on how cool it was on top of Blueberry Hill late at night), they would have felt each others bodies as they embraced. They would have felt the softness of skin, muscles…
"Blueberry Hill" was recorded in 1940 by Glenn Miller's Orchestra with vocals by Ray Eberle. The song peaked at #2 on the Billboard Pop chart. It was also a hit on the Country chart for Gene Autry in 1941. Louis Armstrong did a jazz riff on the song in 1949. But it was Fats Domino's recording in 1956 that made it an international hit, peaking in the Top Ten in the UK.
However, though Fats Domino had his version of "Blueberry Hill" in the Top Ten on the Billboard and Cashbox pop charts from the beginning of November '56 to the end of January '57, it was Louis Armstrong's version that charted in Vancouver on CKWX.
The song has been performed by Elvis Presley on the LP for his 1957 film Loving You (but not in the film),and Nat King Cole on his December 31, 1956, episode of The Nat King Cole Show. Others who have recorded "Blueberry Hill" include Led Zeppelin, Duane Eddy, Céline Dion, Brenda Lee, Elton John, and France's classic rock singer Johnny Hallyday. As a reflection of its international appeal, Russian President Putin chose "Blueberry Hill" to perform before a children's cancer fundraiser in Russia in December 2010.
Louis Armstrong's "Blueberry Hill" peaked at #3 in Vancouver (BC) and #4 in St. Petersburg (FL). Later in September 1957 Armstrong spoke out against the government's handling of the "Little Rock Nine" high school integration crisis. And in 1958 Armstrong recorded an album with Ella Fitzgerald titled Porgy and Bess. It was later inducted into the Grammy Hall of Fame in 2001.
In 1959 Armstrong appeared alongside Danny Kaye in the Oscar nominated The Five Pennies. And he was cast in The Beat Generation with Ray Denton and Mamie Van Doren. That year Louis Armstrong had his first heart attack, with the stress of constant touring suspected as a contributing factor.
In 1962 from February 9th to 16th, Louis Armstrong & His All-Stars performed for eight consecutive nights at The Cave in Vancouver.
In 1964 Louis Armstrong's recording of "Hello Dolly" climbed into the number-one spot, knocking off the Beatles "Can't Buy Me Love" that May. He subsequently won a Grammy Award for Male Vocal Performance for the song. The following year Armstrong appeared alongside Connie Francis, Herman's Hermits and Sam The Sham and the Pharaohs in When the Boys Meet the Girls.
In 1967 Louis Armstrong recorded "What A Wonderful World". The song topped the Austrian and UK charts in 1968, and also made the Top Ten that year in Belgium, Denmark, Ireland, Norway, Switzerland and West Germany. The song was included in the soundtrack for the film Good Morning Vietnam. Consequently, Armstrong's recording climbed to #32 on the Billboard Hot 100 in 1988. And in 1988 "What A Wonderful World" topped the pop charts in Australia and Belgium, while climbing into the Top Ten in Canada, the Netherlands and New Zealand.
On January 16, 1968, Louis Armstrong appeared in concert at the Queen Elizabeth Theatre in Vancouver.
And in 1969 Armstrongs' recording of "We Have All the Time in the World" was included in the James Bond film On Her Majesty's Secret Service. Also in 1969 Louis Armstrong appeared in his final film, based on the Broadway musical Hello, Dolly!, starring Barbra Streisand and Walter Matthau.
Louis Armstrong died in 1971 at age 69 after suffering a heart attack. In 1972 Armstrong was posthumously given a Grammy Lifetime Achievement Award.
References:
Louis Armstrong and Thomas Brothers, Louis Armstrong, In His Own Words: Selected Writings, (Oxford University Press, 2001).
"Louis Armstrong, the Entertainer Who Epitomized Jazz,"New York Times, July 6, 2016 (reprint).
"Louis Armstrong Biography," The Louis Armstrong House Museum & Archives.
"Larry Stock, 87, ComposerAnd Lyricist of Pop Songs," New York Times, May 8, 1984.
"Larry Stock," Songwriters Hall of Fame.
"Vincent Rose: Italian-American Composer, Bandleader, Pianist Wrote Over 200 Songs," Songwriters Hall of Fame.
"Al Lewis (Lyricist)," Wikipedia.org.
Reece Halter, "The Magic Of the First Kiss," ABC, February 13, 2012.
Brent Van Arsdell, "Russia's President Vladimir Putin Sings "Blueberry Hill" for Children's Cancer Research," Language101.com.
"Putin Sings 'Blueberry Hill' for Children's Cancer Fundraiser," Russia Today, December 11, 2010.
"Louis Armstrong: Concert dates – Canada," setlist.fm.
"Top Fifty Songs For The Week," CKWX 1130 AM, Vancouver, BC, January 27, 1957.
For more song reviews visit the Countdown.