#1299: Bongo Rock by Incredible Bongo Band
Peak Month: August 1973
6 weeks on Vancouver's CKLG chart
Peak Position #11
Peak Position on Billboard Hot 100 ~ #57
YouTube.com "Bongo Rock"
Preston Epps was born in Oklahoma in 1930 and learned to play percussion instruments while he was in the Korean War. In the early 50s Epps found his passion after he fell in love with the drums after visiting Bop City, a San Francisco jazz club. Epps was the main percussionist on "Earth Angel", which was recorded in 1954 by the Penguins. In April 1955, "Earth Angel" climbed to #1 on the Billboard R&B charts, #8 on the Billboard Best Sellers in Stores pop music chart, and #2 on the Cashbox Best Selling Singles chart. In 1957 Preston Epps was featured in the film Calypso Heat Wave where he played the bongos. In 1959 Preston Epps released an instrumental he co-wrote titled "Bongo Rock". The single peaked at #14 in June '59 on the Billboard Hot 100. The instrumental climbed to #6 in Vancouver (BC).

Epps followup single, "Bongo, Bongo, Bongo" was his only other single to crack the Hot 100, peaking at #78. In 1960 Preston Epps had a minor hit in Vancouver (BC) with "Bongo Boogie", and later that year with "Bongola". Then in 1961 Preston Epps charted "Bongo Express" to #17 on the CKWX chart in Vancouver (BC). Between 1959 and 1965 Preston Epps released twelve singles. Ten of these had the word "bongo" in the title.
In 1944 Michael Ames Viner was born in Washington D.C. He was a student at the School of Foreign Service at Georgetown University. In 1968 he became involved in the Democratic primaries and worked for Robert F. Kennedy's campaign for president. After Kennedy was assassinated on June 5, 1968, and died the following day. Viner got work at the mail room of Twentieth Century Fox studios in Hollywood.
By 1970 Michael Viner got work with MGM producing records. That year he produced The Best of Marcel Marceao. This was an album evoking the famous mime artist from France, Marcel Marceau. The album cover features a drawing of Marceau. The disc itself contains nineteen minutes of silence and a minute of applause on each side. Viner made the album for the cost of $50. In the next few years Viner produced recordings by Lorne Greene, Lou Reed & The Velvet Underground, Frank Zappa, Mike Curb, the Small Faces, the Guess Who, Sammy Davis Jr. and the Sylvers.
In 1972 Michael Viner formed the Incredible Bongo Band. The group recorded the soundtrack for science fiction film later that year titled The Thing With Two Heads. The Incredible Bongo Band included contributions from session musicians Jim Gordon, King Errisson, Mike Melvoin, Mike Deasy, Robbie King, Joe Sample, Dean Parks, David T. Walker, Bobbye Hall, Ed Greene, Wilton Felder, Jerry Scheff, Steve Douglas, Michael Omartian, Hal Blaine, Perry Botkin Jr. and Glen Campbell.
James Beck Gordon was born in 1945 in the San Fernando Valley, California. He became a backing drummer and percussionist for the Everly Brothers on tour in 1963 when he was seventeen. He was a session musician for many recording artists including the Beach Boys (Pet Sounds, Smiley Smile, Friends, 20/20), Joan Baez (Diamonds & Rust, From Every Stage, Gulf Winds, Blowin' Away), Bread (Bread), Eric Clapton (Eric Clapton), Joe Cocker (Mad Dogs & Englishmen), Judy Collins (Who Knows Where The Time Goes), Crosby, Stills & Nash (Crosby, Stills & Nash), George Harrison (All Things Must Pass), John Lennon (Imagine), Gordon Lightfoot (Sundown, Summertime Dream…) The Monkees (Monkees, More Of The Monkees), Maria Muldaur (Maria Muldaur), Harry Nilsson (Nilsson Schmilsson), Seals and Crofts (Seals & Crofts), Carly Simon (No Secrets, Hotcakes), Nancy Sinatra "These Boots Are Made For Walking", Steely Dan (Pretzel Logic), Stone Poneys "Different Drum", Ike & Tina Turner (River Deep – Mountain High), and on Mason Williams "Classical Gas". Jim Gordon also recorded with Jackson Browne, The Byrds, Burton Cummings, Bobby Darin, Country Joe MacDonald, Righteous Brothers, Sonny & Cher, Barbra Streisand and others. Jim Gordon was the principle drummer on "Bongo Rock" for the Incredible Bongo Band.
King Errisson was a session musician for The Friends of Distinction "Grazing In The Grass", Merry Clayton "Gimme Shelter", The Four Tops "Keeper Of The Castle", David Clayton-Thomas "Sing A Song", Lamont Dozier "Trying To Hold On To My Woman", Neil Diamond "Longfellow Serenade", Bellamy Brothers "Let Your Love Flow", Neil Diamond and Barbra Streisand "You Don't Send Me Flowers", and "Frankie Valli "Grease". King Errisson also recorded with Joe South, Billy Preston, Martha Reeves, Eddie Kendricks, Barbra Streisand, Jim Stafford, Jimmy Cliff, David Cassidy, Ringo Starr, Boz Scaggs, Etta James, Jayson Hoover and others.
Mike Melvoin was born in Oshkosh, Wisconsin, in 1937. He started to play the piano at the age of three. He moved to Los Angeles in 1961 and began playing with Peggy Lee, Gerald Wilson, Leroy Vinnegar, Paul Horn, Joe Williams and others. As a session musician, Melvoin appeared on the Beach Boys Pet Sounds, John Lennon's "Stand By Me", Barbra Streisand's "Evergreen (Love Theme From A Star Is Born)", Jose Feliciano's "Hitchcock Railway", The Partridge Family's "I Think I Love You", "Doesn't Somebody Want To Be Wanted", Sammy Johns "Chevy Van", Mike Post "The Rockford Files", USA For Africa "We Are The World", and many more.
Michael William Deasy was born in Los Angeles in 1941. He learned to play guitar while he was a child. In his teens he ended up performing in backing bands for visiting recording artists Ricky Nelson and the Everly Brothers. Mike Deasy also played as part of the touring band for Ritchie Valens and later for Eddie Cochran. He also played in bands supporting The Coasters and Duane Eddy. Deasy joined the Wrecking Crew, a group of session musicians who were in the studio for many of the big hits on the Top 40 throughout the 60s and 70s. He was a sideman on "This Diamond Ring" by Gary Lewis and the Playboys, "My Love" by Petula Clark, "Sweet Pea" and "Dizzy" by Tommy Roe, "These Boots Are Made For Walking" by Nancy Sinatra, "Cherish", "Along Comes Mary", "Windy" and "Never My Love" by The Association, "If I Were A Carpenter" by Bobby Darin, "I'm A Believer" and "Last Train To Clarksville", "I'm A Believer" and "(I'm Not Your) Steppin' Stone" by The Monkees, "Tracks Of My Tears" and "Baby I Need Your Loving" by Johnny Rivers, "Hotel Indiscreet" by Sagittarius, "Yellow Balloon" by Yellow Balloon, "Just Dropped In (To See What Condition My Condition Was In)" by The First Edition, "Ode To Billy Joe" by Bobbie Gentry, "San Francisco (Wear Some Flowers In Your Hair)" by Scott McKenzie, "MacArthur Park" by Richard Harris, "Like To Get To Know You" by Spanky & Our Gang, "Tip-Toe Through The Tulips" by Tiny Tim, "Let's Live For Today" by Grass Roots, "Sweet Blindness", "Stoned Soul Picnic", "Aquarius/Let The Sun Shine In" and "Wedding Bell Blues" by the Fifth Dimension, "It's Getting Better" and "Make Your Own Kind Of Music" by Mama Cass, "ABC" and "The Love You Save" by the Jackson Five, "Delta Dawn" and "I Am Woman" by Helen Reddy, and many others.
Robert Glenn King was born in 1947, in rural Quebec, 275 miles northwest of Hull. He joined Bobby Taylor & The Vancouvers when he was twenty. In the 70s Robbie King was one of the musicians with Hans Staymer, Powder Blues and Jim Byrnes. He was a session musician on "Seasons In The Sun" by Terry Jacks, "I Think It's Going To Rain Today", "Spaceship Races" and "Suzanne" by Tom Northcott, "What Would I Do Without You" and "Wildflower" by Skylark, "I'm Ready" and "Flying" by The Hometown Band, "Mama Let Him Play" by Ducette, "Tatoo Man" by Denise McCann, "Thirsty Ears" by Powder Blues, "Save It" by Shari Ulrich, "Thought I'd Died And Gone To Heaven", "There Will Never Be Another Tonight", "Everything I Do (I Do It For You)" and "Can't Stop This Thing We Started" by Bryan Adams, "I Go To Pieces" by Paul Janz, and many other recordings.
Joseph Leslie Sample was born in 1939 in Houston, Texas. He began to play piano at the age of five. Joe Sample played with the Jazz Crusaders and was a session musician for many recording artists. These include Hugh Masekela, Solomon Burke, Marvin Gaye "Let's Get It On", Nancy Wilson, Boz Scaggs, Joni Mitchell's Court And Spark and The Hissing of Summer Lawns, Dion "Your Own Back Yard", Joan Baez, B.B. King, Herb Alpert "Rise", George Benson, Ringo Starr, Steely Dan "Josie" and "Hey Nineteen", and Anita Baker.
Dean Parks was born in Fort Worth, Texas. He has been a session musician on Marvin Gaye's "Let's Get It On", "No More Tears (Enough Is Enough) by Barbra Streisand and Donna Summer, "Higher Ground", "Living For The City", "Sir Duke" and "I Wish" by Stevie Wonder, "Jazzman" by Carole King, "Laughter In The Rain" by Neil Sedaka, "You Make Me Feel Like Dancing", "When I Need You" and "How Much Love" by Leo Sayer, "Here You Come Again" by Dolly Parton, "Heartlight" by Neil Diamond, "I Keep Forgettin'" by Michael McDonald, "The Girl Is Mine" by Michael Jackson and Paul McCartney, "Really Wanna To Know You" by Gary Wright, "Piano Man", "A Matter Of Trust" and "Modern Woman" by Billy Joel, "Un-Break My Heart" by Toni Braxton, The Future by Leonard Cohen, . Parks also was among the personnel for recordings by Melissa Manchester, Donald Fagen, Paul Simon, Carly Simon, Joan Baez, Sarah Vaughan, B.B. King, Randy Newman, Anita Baker, Ruben Blades, Aretha Franklin, Céline Dion, Bette Midler, Rod Stewart, Paul Anka, Diana Ross, Bob Dylan, Diana Krall and others.
David Tyrone Walker was born in Tulsa, Oklahoma, in 1941. David T. Walker has appeared as a session musician on Marvin Gaye's "Let's Get It On", "Trouble Man" and "I Want You", "I Want You Back", "ABC", "The Love You Save", "Never Can Say Goodbye" and "Dancing Machine" by the Jackson Five, "Ben" by Michael Jackson, "Reunited" by Peaches & Herb, . Walker also was a session musician for Peggy Lee, Lou Rawls, Sergio Mendes, Aretha Franklin, Cheryl Lynn, Boz Scaggs, Smokey Robinson, Etta James, Ray Charles and others.
Bobbye Jean Hall was born in Detroit, Michigan. She has been a session musician on "Inner City Blues" by Marvin Gaye, "Me And Bobby McGee" by Janis Joplin, "Use Me", "Ain't No Sunshine" and "Lean On Me" by Bill Withers, "Miracles" by Jefferson Starship, "With You I'm Born Again" by Billy Preston, "Another Brick In The Wall" by Pink Floyd, "Leather And Lace" and "Stand Back" by Stevie Nicks, "Diamond Girl" by Seals and Crofts, "You Turn Me On (I'm A Radio)" by Joni Mitchell, "Forever Young" by Rod Stewart, "We're All Alone" by Rita Coolidge, and "Angel Eyes" by Jeff Healey.
Ed Greene was a session musician who recorded with the Captain & Tennille, Three Dog Night, Eddie Kendricks, Andy Kim, Tina Turner, Donald Fagen, Ray Parker Jr., the Four Tops, the Temptations and others. Among the singles Ed Greene was in the recording studio for are "Trying To Hold On To My Woman" by Lamont Dozier, "Rock And Roll Heaven" by the Righteous Brothers, "Rhinestone Cowboy" by Glen Campbell and "United Together" by Aretha Franklin.
Wilton Lewis Felder was born in Houston, Texas, in 1940. Felder co-founded the Jazz Crusaders with Joe Sample in 1952, while he was in high school. He was a sideman on Joni Mitchell's albums For The Roses, Court And Spark, and The Hissing Of Summer Lawns, Billy Joel's Piano Man and Streetlife Serenade, The Four Tops Keeper Of The Castle, Marvin Gaye's Let's Get It On, Seals and Crofts Summer Breeze, I'll Play For You, and Diamond Girl, Steely Dan's Pretzel Logic, and many others.
Jerry Obern Scheff was born in Denver in 1941. He was drafted into the United States Army and upon discharge began to work as part of a backing group at the Sands nightclub in Los Angeles. At the Sands played along with Billy Preston, Merry Clayton and Don "Sugarcane" Harris. His first single as a session musician was "Along Comes Mary" for the Association in 1966. Other work as a session musician include "Here's To You" by Hamilton Camp, "Riders On The Storm" and "Love Her Madly" by The Doors, "Rock N' Roll Song" and "A Good Song" by Valdy, "I've Found Someone Of My Own" by the Free Movement, Dylan by Bob Dylan, King Of America by Elvis Costello and more.
Steven Douglas Kreisman was born in Los Angeles in 1938. He studied trumpet, trombone and violin and taught himself to play the saxophone at age 15. Steve Douglas played the blues with Duane Eddy and the Rebels at the Apollo Theater in Harlem in 1958, and with Elvis Presley on the set of the film Girls, Girls, Girls! in the early 1960's. His first job as a saxophonist was with Phil Spector. Steve Douglas also worked on the soundtracks for Fast Times at Ridgemont High and One Flew Over the Cuckoo's Nest. Douglas appeared on recordings of "Rebel Rouser" by Duane Eddy, "Rock and Roll Music", "Wouldn't It Be Nice", "God Only Knows", "Sloop John B" and "Good Vibrations" by the Beach Boys, "Baby I Love You" by The Ramones, "Be My Baby", "Frosty The Snowman" and "Sleigh Ride" by The Ronettes, "He's A Rebel" and "Da Doo Ron Ron" by The Crystals, "Surf City", "The Little Old Lady From Pasadena" and "Dead Man's Curve" by Jan and Dean, "The Lonely Bull" by Herb Alpert & The Tijuana Brass, "Unless You Care" by Terry Black, "California Dreamin'" and "Monday Monday" by The Mamas & the Papas, "I Got You Babe" by Sonny & Cher, and "No Matter What Shape (Your Stomach's In)" by the T-Bones.
Michael Omartian was born in suburban Chicago in 1945. In 1980 he won three Grammy Awards for Record of the Year "Sailing", Album of the Year (Christopher Cross) and Best Instrumental Arrangement Accompanying Vocalist ("Sailing" by Christopher Cross). He has been a sideman on "It Never Rains In Southern California" by Albert Hammond, "We Are The World" by USA for Africa, "Rock and Roll Heaven" by the Righteous Brothers, "Rhinestone Cowboy" by Glen Campbell, "Welcome Back: by John Sebastian, "Undercover Angel" by Alan O'Day, "She Works Hard For The Money" by Donna Summer, and "Rhythm Of The Night" by DeBarge. Omartian has been among the music personnel for the soundtracks for Jonathan Livingstone Seagull and Young Frankenstein.
Harold Simon Belsky was born in 1929 in Holyoke, Massachusetts. He learned to play drums in his teens. As a session musician he credited himself as Hal Blaine. He appeared on "Another Saturday Night" by Sam Cooke, "Johnny Angel" by Shelley Fabares, "Just Dropped In (To See What Condition My Condition Was In)" by The First Edition, "At The Zoo", "Bridge Over Troubled Waters", "The Boxer" and "Cecelia" by Simon and Garfunkel, "Secret Agent Man" and "Poor Side Of Town" by Johnny Rivers, "By The Time I Get To Phoenix" by Glen Campbell, "Barbara Ann", "California Girls", "Surfer Girl" and "In My Room" by The Beach Boys, "Back Home Again", "Annie's Song" and "Calypso" by John Denver, "Cara Mia" and "Come A Little Bit Closer" by Jay & The Americans, "Come Back When You Grow Up" and "The Night Has A Thousand Eyes" by Bobby Vee, "California Dreamin'", "Dedicated To The One I Love" and "Creeque Alley" by The Mamas and the Papas, "Can't Help Falling In Love", "Return To Sender" and "(You're The) Devil In Disguise" by Elvis Presley, "Up, Up And Away" and "Last Night (I Didn't Get To Sleep At All)" the Fifth Dimension, "Mr. Tambourine Man" by The Byrds, "Do You Know Where You're Going To (Theme From Mahogany)" by Diana Ross, "Elusive Butterfly" by Bob Lind, "Everybody Loves Somebody" by Dean Martin, "Hold Me, Thrill Me, Kiss Me" by Mel Carter, "Hungry" by Paul Revere & The Raiders, "The Happening" by The Supremes, "Young Girl" and "Woman Woman" by Garry Puckett & The Union Gap, "Rainy Days And Mondays", "Yesterday Once More", "Top Of The World" and "(They Long To Be) Close To You" by The Carpenters, "Rhythm Of The Rain" by The Cascades, "Something Stupid" by Frank and Nancy Sinatra, "She's Just My Style" by Gary Lewis & The Playboys, "The Snake" by Al Wilson, "It's Over" by Roy Orbison, "It's Getting Better" by Mama Cass, "Where The Boys Are" by Connie Francis, "Sugar Town" by Nancy Sinatra, and many others.
Perry Botkin Jr. was born in 1933. He has worked as an arranger and producer on many recordings. He co-wrote "Nadia's Theme", which became a Top Ten hit in 1976. He was the arranger for "Rhythm Of The Rain" by the Cascades, "Wonderful Summer" by Robin Ward, "Feliz Navidad" by José Feliciano, "Stoney End" by Barbra Streisand, "Black Pearl" by Sonny Charles, and others. He was nominated for an Academy Award for Best Song in 1971 for "Bless The Beasts And The Children".
In January 1973 Michael Viner produced President Richard Nixon's inaugural ball. Later in '73 the Incredible Bongo Band released "Bongo Rock".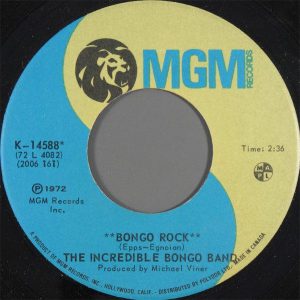 "Bongo Rock" climbed to #3 in Erie (PA), #4 in New York City, #7 in Washington D.C., #8 in Louisville (KY) and Hamilton (ON), #9 in Wilmington, Delaware, and #11 in Vancouver (BC).
The Incredible Bongo Band released a cover of Sandy Nelson's 1959 hit "Let There Be Drums" in the winter of 1973. It peaked at #7 in Ottawa. They also covered Jorgen Ingman's 1961 instrumental hit, "Apache". Subsequently, their cover was sampled by numbers of hip-hop artists. The Incredible Bongo Band released a second album in 1974 and then the project was disbanded. All the session musicians continued to be in high demand for other recordings.
Michael Viner co-founded the audio-book company Dove Books-on-Tape, which he sold in 1997. He created another book company named Phoenix. Jim Gordon had a psychotic episode in 1983, killed his mother, and was sent to prison for sixteen years. Robbie King died in 2003 of throat cancer. Mike Melvoin died in 2012 at age 74. Joe Sample died of cancer at the age of 75 in 2014. Wilton Felder died in 2015 at the age of 75. Steve Douglas died at the age of 55 in 1993. Dean Parks joined James Taylor's band in 2017. Mike Deasy became a pastor at the Rock Church Southeast in Port Arthur, Texas. Jerry Scheff wrote an autobiography in 2012. Hal Blaine died at age 90 in 2019.
Over the years Preston Epps toured and performed with Ray Charles, Jackie Wilson, Little Richard, Johnny Otis, Sam Cooke, Jewel Akens and Robert "Bumps" Blackwell. Epps appeared as a headliner in Las Vegas, and also discovered Lou Rawls in the early 60s. He was a session musician in the 60s and 70s. When he was 85, Preston Epps, who popularized the bongos in pop music, played his final concert in San Diego at the Tiki Oasis club to a crowd of 3,000 in 2014. He died in May 2019, two months before his 89th birthday.
November 16, 2019
Ray McGinnis
References:
Elaine Woo, "Michael Viner Dies at 65; Tabloid Book Publisher," Los Angeles Times, August 13, 2009.
Bob Boilen, "Listening To The Best Of Marcel Marceau, On His Birthday," NPR, March 22, 2012.
Mike Barnes, "Preston Epps, Renowned Percussionist Who Had a Hit With "Bongo Rock," Dies at 88," Hollywood Reporter, May 21, 2019.
"King Errisson Biography," King Errisson.com.
Frank Scheck, "Sample This: Film Review," September 13, 2013.
Don Heckman, "Mike Melvoin Obituary: Studio Musician, Composer Dies at 74," Los Angeles Times, February 24, 2012.
Martin Booe, "The Haunted Talent Behind 'Layla' Jim Gordon Won A Grammy For Co-writing The Song That Eric Clapton Reprised In The '90s. But Honors Mean Little. Gordon Is Serving Time For The 1983 Slaying Of His Mother," Philadelphia Inquirer, August 21, 1994.
"B.C. Musician Helped Create Motown Sound," Times-Colonist, Victoria, BC, October 22, 2003.
"Steve Douglas is Dead; Rock Saxophonist, 55," New York Times, April 22, 1993.
Robyn Flans, "Ed Greene: L.A. Studio Heavyweight," Modern Drummer, April 7, 2017.
Bruce Fessier, "Hal Blaine, Most Honored Drummer in Rock History, Dies at Palm Desert Home," Desert Sun, Palm Springs, March 11, 2019.
Ben Beaumont-Thomas, "Hal Blaine, Drummer who Dominated Mid-Century Pop, Dies aged 90," Guardian, March 12, 2019.
Peter Keepnews, "Joe Sample, Crusaders Pianist Who Went Electric, Dies at 75," New York Times, September 14, 2014.
"Mike Deasy – Rock and Roll," Mike Deasy.com.
"Dean Parks," Wikipedia.org.
"David T. Walker," Wikipedia.org.
"Bobbye Hall," Wikipedia.org.
Richard Williams, "Wilton Felder Obituary," Guardian, October 8, 2015.
Jerry Scheff, Way Down: Playing Bass with Elvis, Dylan, The Doors and More: The Autobiography of Jerry Scheff, (Backbeat, 2012).
"Michael Omartian," Wikipedia.org.
"Perry Botkin Jr.," Wikipedia.org.
"CKLG 'Thirty'," CKLG 730 AM, Vancouver, BC, September 7, 1973.
For more song reviews visit the Countdown.