#85: Boom Boom (Let's Go Back To My Room) by Paul Lekakis
Peak Month: April 1987
13 weeks on Vancouver's CKLG chart
Peak Position #1
Peak Position on Billboard Hot 100 ~ #43
YouTube.com: "Boom Boom (Let's Go Back To My Room)"
Lyrics: "Boom Boom (Let's Go Back To My Room)"
Paul Lekakis was born in 1966 in New York City. He grew up in Tarrytown, New York – home to Mark Twain, J.D. Salinger, and big band leader Cab Calloway. Lekalis was in the boys choir. He came out at the age of 15 in 1981. At 16, Paul Lekakis got a job waiting tables at Zippers, a gay club in nearby New Rochelle. He dropped out of high school and at the age of 17 he moved to New York City and began studying to become a dancer. "I did some dance industrials," he recalls, "and auditioned for music videos — but I never got cast. I got the stuff that was like the model/fashion show/dance kinda thing."
Paul Lekakis began to get photoshoots for magazines. This led to a trip to Milan, Italy, where he was featured in Fashion. Next he was featured in the first Emporio Armani ads. "The ad came out in 1986," Lekakis recalls. "I thought, 'Wow, I came from the sticks and now my face is in Interview magazine.'"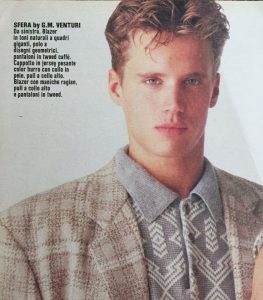 While his stints as a model were sporadic, Lekakis continued to perfect his skills as party boy extraordinaire. "I went out every night," he says, "because there was really nothing else to do. All the models went to a club called Amnesty." It was there that a dance-record producer who was a friend of a friend approached Lekakis and made an offer he couldn't refuse. "He said he liked the way I moved and the energy that was coming from me," Lekakis says. "We did the demo in his basement," he continues. "It was really just for fun. Then the president of the company in Italy heard it and wanted to pursue it. I signed a horrible contract."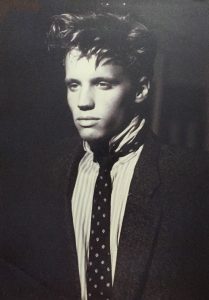 The song was called "Boom Boom (Let's Go Back To My Room)."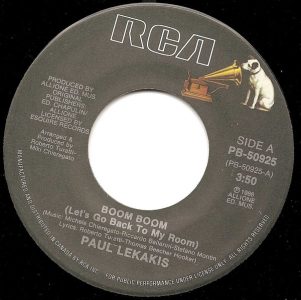 "Boom Boom (Let's Go Back To My Room)" was cowritten by Italian producers and DJs Riccardo Ballerini, Miki Chieregato, Stefano Montin and Roberto Turatti. The song is about having a quick sexual encounter with someone with who "can do it all night and you can make me feel right."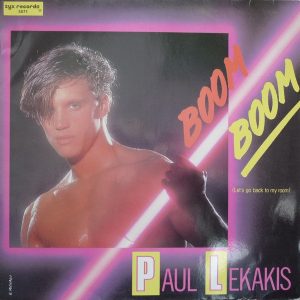 "Boom Boom (Let's Go Back To My Room)" peaked at #1 in Vancouver, #2 in Hamilton (ON), #4 in Sacramento (CA), #5 in Montreal, #6 in Sarasota (FL), #7 in San Jose (CA), #8 in Chicago, #9 in Mesa (AZ), and #11 in New York City. Internationally, the song peaked at #1 in Australia, South Africa and Japan, #4 in Canada, and #7 in New Zealand. It stalled at #43 on the Billboard Hot 100.
The song was covered by recording artists in both Japan and Turkey.
Lekakis says he never saw a penny in royalties. "I was young and stupid," he says. "I, however, thought I was fabulous." Lekakis teamed up with the production team of Scott/Aitken/Waterman to release "Fruit Machine" in 1988. It was the theme song from the British thriller The Fruit Machine, about two gay teens fleeing from an underworld assassin and the police. Lekakis' next dance single, "You Blow Me Away" was released in 1989. Next, in 1990 Lekakis had a #17 Billboard Dance hit titled "My House". He toured the gay club circuit.
He recalls, "A lot of the clubs I went to had featured strippers and female impersonators, but I was the first singer to ever perform there. Some club owner would put a board over the pool table, and that's where I did my show. I got booked because I was gay and looked a certain way. There was a time when porn stars were my competition in nightclubs. So for a couple of years, I worked my hair and carried that look." Over time, Lekakis says, the show became overtly erotic. "I started taking more and more clothes off. I went from being a singer who strips a little bit to a stripper who sings."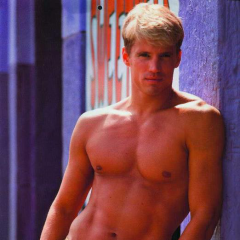 Further releases included "Tattoo It On Me" (1990), "Let It Out" (1993) and a cover of The Who song from Tommy titled "See Me, Feel Me".
In 1989, Lekakis tested positive for HIV. From 1994 to 1997, Lekakis was a male prostitute in West Hollywood. In a 2000 interview in POZ magazine, Lekakis talked openly about joining a 12-step group in 1998 when he "quit drinking, doing drugs and turning tricks." He traveled to Russia in 1999 and performed on stage. He also joined the Gay Men's Chorus of L.A. He also performed on stage in a production of The Boys in the Band.
Lekakis had roles in Sex, Politics & Cocktails in 2002, and in the 2004 queer horror film, Hellbent. In the film Paul Lekakis sang "I Think I Love You". In 2001 he had a co-starring role in the film Circuit. From the film came a soundtrack release by Lekakis titled "Assume The Position". He also had numbers of appearances in various roles in the TV shows. One was a sitcom titled Out of Practice, and soap opera Passions. In June 2005, Lekakis and fitness trainer Clay Adkins released a fitness DVD, Partners, that was sold at Target stores across America. In July 2007, Lekakis played a lead role in the two-man stage play 2 Boys in a Bed on a Cold Winter's Night alongside Scott Douglas Cunningham at the Lorraine Hansberry Theatre in San Francisco.
In 2012, after five years of not releasing music, Lekakis returned with the song "I Need a Hit". In September 2012, Lekakis released the digital download-only single "Meet Me on the Dancefloor".
In July 2016, Lekakis embarked on an 8 date Australian tour with other popular '80s performers. These included Berlin, Katrina & the Waves, Martika, Limahl, Real Life, Stacey Q and Men Without Hats. It was his first visit to the country after having a No.1 hit ("Boom Boom") in 1987.
On July 28, 2016, his new song "All Around the World" was released on iTunes, followed by "Somebody (Is Out There)" in September 2017. On November 2, 2022, on his Twitter account, Paul Lekakis wrote "#25 years sober today! So grateful!!!!"
December 7, 2022
Ray McGinnis
References:
Kevin Koffler, "HIV: Behind the Music," February 1, 2000.
John von Ahlen, "Paul Lekakis Interview," Neon Nights, May 21, 2016.
Bob Adams, "The Life and Teachings of Paul," HIV Plus Mag, December 30, 2004.
"The Fruit Machine," Wikipedia.org.
"Hellbent," Wikipedia.org.
"Circuit," Wikipedia.org.
"Passions," Wikipedia.org.
"Out of Practice," Wikipedia.org.
For more song reviews, visit the Countdown.