#1374: If The Boy Only Knew by Sue Thompson
Peak Month: June 1962
7 weeks on CFUN chart
Peak Position #18
Peak Position on Billboard Hot 100 ~ #112
YouTube.com link: "If The Boy Only Knew"
Lyrics: "If The Boy Only Knew"
Eva Sue McKee was born in Nevada, Missouri on July 19, 1925. By 1932, at the age of seven, she was playing guitar and singing on stage. She got married at the age of 17 in 1942. But by 1945 was divorced and a single mother. Sue's first successful fling in show business was with the "Dude Martin Show" on KYA Radio in San Francisco, and KGO TV in 1950. The Dude Martin Show moved to TV station KTTV in Los Angeles in 1951. She performed with Dude at the Palamino Club in Los Angeles. Between 1950 and 1954 she recorded thirteen 78 RPMs as the featured vocalist with Dude Martin and His Roundup Gang. "If You Want Some Lovin" from 1950 is an example of the country records she was releasing under the stage name, Sue Thompson. She was nominated for an Emmy award in 1954 for her work on the Dude Martin Show, but lost out to Lucille Ball.
Thompson's first recording to make the country charts in the USA was the first recording of "You Belong To Me", most successfully covered by Jo Stafford, and also a hit for Patti Page and Dean Martin in 1952. In 1953 Sue Thompson married western swing banjo player, Hank Penny, who she got to know from The Hank Penny Show in Los Angeles in 1952.. When Penny got a contract to work at the Golden Nugget Casino in Las Vegas in 1954-1960 to front a band, Sue moved with him. She and Penny had a minor country Christmas single hit in 1954 called "Walking In The Snow." Thompson's first major record was a tear jerker titled, "Sad Movies Always Make Me Cry" in October, 1961, (#3 Vancouver) on Hickory Records. Her follow-up song "Norman" became her biggest record ever. On CFUN it jumped from #26 to #1 and was at the #1 spot on either CFUN or CKWX for four consecutive weeks in a row between December 23, 1961, and January 13, 1962.
Her third single, "Two Of A Kind" made the Top 30 on CFUN, but that was all. Her fourth single was "Have A Good Time". It made the Top Ten in Calgary. But in Vancouver it was the B-side, "If The Boy Only Knew", that made it on the CFUN charts in June of 1962, peaking at #18.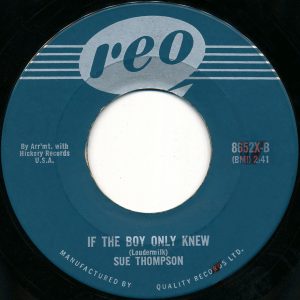 "If The Boy Only Knew" was a song commenting on the cultural norms for young men and women starting to date in high school. A snapshot of what that world was like for "boys" at that time is found in an article in Chicago Now by a guy who goes by the name of Norm. In his article, "The Rules of Dating…in 1950" he writes, "First you had to ask the girl you liked to "go out with you". Sounds ancient. Then you had to set the exact time; dates were usually on Saturday night. I was shocked when I found out I had to wear a suit. I was lucky to have my own pants and sometimes had to wait for my older brothers to give me their hand me downs. Then, a white shirt and a neck tie was considered appropriate….And you had to make sure your shoes were shined to impress your date. So I shined my only pair. There were more rules. You were supposed to bring your date flowers as a matter of courtesy….And, hold on: make sure you walk on her right side and protect her from any possible auto hitting her….And that's not all. How about her parents? You had to meet them. And instead of honking a horn we rang the bell and went to the door. And then the dreaded moment, the parents together, coming to inspect their daughter's date. And oh yes, don't forget to open the door for your girlfriend and mind your manners."
By 1962 it may not have been quite as straight-laced as Norm is describing dating in Chicago in 1950. Not every guy in Vancouver necessarily wore a suit to pick up his date in 1962. But the "boy" did have to ask the "girl" out on a date. It was just not done for the girl to ask a boy out on a date, or to pick him up at his parents house. So the girl had to "sit at home and wait" for some boy to make an offer of a date. And it seems that if a girl did start to have those love feelings for the boy, according to Sue Thompson's song, it was inappropriate for her to express those feelings. No boy wanted to be dating a girl who was "desperate" or "trying to get laid" or whatever other inferences might be taken from a confession of falling in love with the boy "too soon."
Meanwhile, there was also pressure, of varying degrees, by parents for their sons to date more than one girl. Boys were encouraged to "play the field," so they didn't get too serious with one girl. Boys had to focus on their studies and athletics. Getting too serious about one girl could lead to teenage pregnancy, and there were educational filmstrips in school warning about these dangers.
Another gold record was soon to follow in 1962 with, "James, Hold The Ladder Steady", a #7 hit on CFUN. Her next release, "Willie Can", peaked at #5 in Calgary, Alberta, but was not successful in many radio markets. She recorded "I Like Your Kind Of Love" with Bob Luman in 1963 which climbed to #15 on CFUN. That same year Sue Thompson and Hank Penny filed for divorce.
Sue Thompson's last major hit in the pop field was in 1965 with "Paper Tiger" (#20 CFUN). All four of Sue's major pop hits were written by John D. Loudermilk. Sue was elected to the West Coast Western Swing Hall of Fame in 1991. Sue also had some success in the Country field with a Gold record, "Big Mable Murphy". Sue also recorded three LP's with Don Gibson in the early 70's. Sue was elected to the West Coast Western Swing Hall of Fame in 1991. Sue and her husband, Ted, lived for settled in Las Vegas. She continued to perform at clubs in Las Vegas. By the time she turned 90, in 2015, she was living in a retirement facility an hour west of Las Vegas in Pahrump, Nevada.
April 15, 2017
Ray McGinnis
References:
Sue Thompson bio, Sue Thompson website
Eric Brightwell, "Sue Thompson bio," Amoeba Music.com
Sue Thompson 90th Birthday Party, Bob Rudd Community Center, Pahrump, Nevada, Youtube.com, June 30, 2015 (early birthday, as Sue Thompson's birthday is July 19).
"C-FUNTASTIC FIFTY," CFUN 1410 AM, Vancouver, BC, June 23, 1962
For more song reviews visit the Countdown.