#1337: Boys' Night Out by Patti Page
Peak Month: August 1962
6 weeks on Vancouver's CFUN chart
Peak Position #11
Peak Position on Billboard Hot 100 ~ #49
Peak Position on Cashbox ~ #60
YouTube.com: "Boys Night Out"
Lyrics: "Boys Night Out"
Patti Page was born on November 8, 1927. The New York Times writes "She was born Clara Ann Fowler in Claremore, Oklahoma, the second youngest of 11 children of a railroad laborer. Her mother and older sisters picked cotton. She often went without shoes. Because the family saved money on electricity, the only radio shows Miss Page heard as a child were Grand Old Opry, The Eddie Cantor Show and Chicago Barn Dance."
When she was 13-years-old, Fowler won a scholarship to study art, and got work in a radio station art department in Tulsa. But someone at the station had heard her sing at a school assembly. So Clara Ann Fowler was asked to audition to replace a singer on a show called "The Meet Patti Page Show" sponsored by the Page Milk Company. She got the job, becoming the fictional Patti Page of the airwaves.
She sang traditional pop music in a style common in the pre-rock 'n roll era. In the 1950s the 5'4″ Patti Page was the top-charting female vocalist and best-selling female artist. In a six decade span she sold in excess of 100 million records as a recording artist. At her live performances she was introduced as "the Singin' Rage, Miss Patti Page." In 1947 she signed with Mercury Records, and became Mercury's first successful female artist charting several Top 20 hits in the late 1940s. Her first hit single was "Confess" in 1947, which climbed to #12. In 1948 she recorded the Cole Porter song "So In Love" from the Broadway musical Kiss Me, Kate. The single peaked at #13 on the Billboard pop chart. In 1950, she had her first million-selling single "With My Eyes Wide Open, I'm Dreaming".
As well in 1950, Page had her first Top Ten hit, "I Don't Care If the Sun Don't Shine" and two number one hits, "All My Love (Bolero)", and her signature song, "Tennessee Waltz". The latter became the fourth official song of Tennessee in 1965. She had two more number one singles, "I Went To Your Wedding" (1952) and "(How Much Is That) Doggie In The Window" (1953). Her string of Top Ten hits between 1950 and 1958 included "Mockin' Bird Hill", "Detour", "Changing Partners", and "Cross Over The Bridge". She charted 14 additional million-selling singles between 1950 and 1965.
Unlike most pop music singers, Page drew from country music styles and infused them into many of her songs. This led to her crossover appeal. However on the pop charts it was a different story. With the coming of Elvis Presley and rock 'n roll music filling the airwaves, Patti Page struggled to succeed on the pop charts. In 1956 "Allegheny Moon" peaked at #2 on the Billboard pop chart, but "Mama From The Train" was kept out of the Top Ten (#11 on Billboard and #14 on the Cashbox Best Selling Singles chart). In 1957 she had a #3 song on the Billboard Hot 100 with "Old Cape Cod" though it only climbed to #17 on CKWX in Vancouver. After 1958 she only had one Top Ten hit in the USA, "Hush Hush Sweet Charlotte", in 1965.
In 1962 Patti Page got picked to record the title song for the film Boys' Night Out. The song was co-written by Jimmy Van Heusen and Sammy Cahn. Van Heussen had a long history writing for Tin Pan Alley. This included the song "Darn That Dream" in 1939 and the Academy Award's Best Original Song from 1944, "Swinging On A Star" from the film Going My Way. Van Heussen teamed up with lyricist Sammy Cahn and they proceeded to win three Academy Awards for Best Song: "All The Way" from The Joker is Wild (1957), "High Hopes" from A Hole in the Head (1959), and "Call Me Irresponsible" from Papa's Delicate Condition (1963). Cahn brought his own resume when he teamed up with Van Heussen. In 1936 Cahn wrote the pop standard "Until the Real Thing Comes Along". In 1945 he co-wrote the massive hit for Vaughan Monroe the following year, "Let It Snow, Let It Snow, Let It Snow". He wrote "Three Coins In The Fountain" for the film of the same name in 1954. And in 1955 Cahn wrote "Love And Marriage", a hit for Frank Sinatra.
The film, Boys' Night Out, was a romantic comedy that starred Kim Novak, James Garner, Tony Randall and Patti Page. The film concerned three men looking to meet needs that were not being satisfied in their marriages. The three married men, George (Tony Randall), Doug (Howard Duff), and Howie (Howard Morris), and divorcé Fred (James Garner) are friends who commute to work from Greenwich, Connecticut, to New York City on the same train. Seeing Fred's philandering boss, Mr. Bingham, with his mistress sets the men to fantasizing about sharing the expense of an apartment in the city as a love nest. Fred arranges for a "housekeeper", named Cathy who is in reality a sociology student (Kim Novak) studying contemporary suburban American men. Cathy deftly avoids being seduced by the married men, although each lets the others think he has slept with her. Meanwhile, Cathy is recording their conversations as part of her sociological research.
In the film the song "Boys Night Out" is not actually about adolescent male teenagers, but about married men in their twenties and thirties. However, for listeners on CFUN this was a moot point.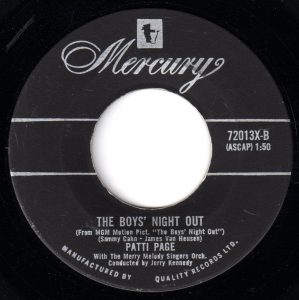 In the early 60s this song had a mix of possible messages. For some women it was apart of the fusion of thought that contributed to what became known as feminism. Women had sexual desires and sexuality wasn't just about boys and men having desires and girls and women being passive receptors of male attraction: "what the boys are out after, the girls are out after, too." At the same time, when young men were out on the town on a weekend night, there was also the sense that it was important to "build a fence around your sister" and keep her safe from any unwanted, untamed advances.
Meanwhile, Jack Jones was singing a tune by Burt Bacharach and Hal David called "Wives And Lovers". The lyrics reflected an accepted wisdom at the time for the plot in Boys' Night Out: married men's potential for dissatisfaction with their wives in bed.
Patti Page's "Boys Night Out" peaked at #7 in Winnipeg (MB), #9 in La Crosse (WI), and #11 in Vancouver and Cedar Rapids (IA). However, the single barely cracked the Top 50 on the Billboard Hot 100. On the Cashbox Top 100 singles chart which is based on record sales, "Boys NightOut" didn't make the chart. The film didn't fare well either, losing money for MGM.
Perhaps one factor in "Boys' Night Out" not being very successful in America was a sequence of similes that evoked earth-shaking events: Custer's Last Stand, the sinking of the Titanic and the Wall Street Crash of October 1929. For some people raising these historical events simply underscored the point that when there was a Boys' Night Out it was a game-changer. While for some people it set their minds to considering the loss of life at the Battle of Little Bighorn of June 25-26, 1876, and the difficult topic of re-locating American native people to reservations. For others, the sinking of the RMS Titanic on April 15, 1912, and the death of over 1,500 passengers and crew was a sobering piece of history. The Wall Street Panic referred to the stock market crash of the Dow Jones Industrials that began on Black Thursday, October 24, 1929, and continued into the following week with Black Monday (Oct 28) and Black Tuesday (Oct 29), when another 24 percent of the value of the stock market was lost. The losses continued as the panic spread into November 13, 1929, when the Dow hit a low of 198.60. These losses ruined the savings of large and small investors and started the Great Depression. So for some, the lyric writers lost their audience after the first verse.
Patti Page hosted her own TV show in the 1950's and starred in the 1960 film Elmer Gantry. She released over 130 singles between 1947 and 1982. Of these 110 appeared on either the Billboard pop, country or adult contemporary charts. Between 1970 and 1982 Page had 13 singles on the Billboard Hot Country Songs chart. In a 2003 article in the New York Times, it was reported that at age 75 Patti Page was appearing in 50 concerts a year. She stopped touring in 2012. Page died in 2013 at the age of 85 after suffering from heart and lung disease.
October 14, 2016
Ray McGinnis
References:
"Patti Page Obituary: Multimillion-selling Vocalist Dubbed the 'Singing Rage'," Guardian, London, January 3, 2013.
Bernard Weinraub, "Patti Page, Proving That Simple Songs Endure," New York Times, August 12, 2003.
Battle of the Little Bighorn, History.com
"The Wall Street Crash and its Aftermath," History Learning Site.com
Paul Louden-Brown, "British History in Depth: Titanic: Sinking the Myths," BBC, March 3, 2011.
Jeff Lunden, "The Composer Who Tested Fighter Planes And Partied With Sinatra," NPR, January 26, 2013.
Mark Steyn, "Obituary: Sammy Cahn," Independent, London, January 18, 1993.
"C-FUNTASTIC FIFTY," CFUN 1410 AM, Vancouver, BC, August 11, 1962.
For more song reviews visit the Countdown.