#501: Bumble Boogie by B. Bumble and the Stingers
Peak Month: March 1961
8 weeks on Vancouver's CKWX chart
Peak Position #3
Peak Position on Billboard Hot 100 ~ #21
YouTube.com: "Bumble Boogie"
Earl Palmer was born in 1924 in New Orleans. At the age of five he began to tap dance professionally. This was with his mother and an aunt in Ida Cox's Darktown Scandals Review, touring on the Black Vaudeville Circuit. At the age of twelve "Little Earl Palmer" headlined a floor show at the Rhythm Club in New Orleans. When the United States entered World War II, Earl Palmer was recruited for the service. But he remembers "They didn't want no niggers carrying guns," so Earl loaded ammunition for white infantrymen. Returning home in 1945, Palmer attended the Gruenwald School of Music in New Orleans, where studied piano and percussion and learned to read music. He joined Dave Bartholomew and the Dew Droppers as a drummer for the big band.

Earl Palmer also worked as a session musician. In December 1949, he played drums on the Fats Domino recording of "The Fat Man". The single climbed to #2 on the R&B chart and sold over a million copies. He played on the "Lawdy Miss Clawdy" by Lloyd Price, which became the R&B record of the year for 1952. Palmer was also in the recording studio for "I Hear You Knockin'" by Smiley Lewis, "Blue Monday", "I'm Walkin'" and "Walking To New Orleans" by Fats Domino, "Let The Good Times Roll" by Shirley and Lee, "Little Bitty Pretty One" and"Rockin' Robin" by Bobby Day, "Donna" and "La Bamba" by Ritchie Valens, "You Send Me" by Sam Cooke, "Summertime Blues" by Eddie Cochran, "Bonnie Moronie" by Larry Williams, "Buzz, Buzz, Buzz" by the Hollywood Flames, "Be-Bop Baby" by Ricky Nelson, "Pretty Girls Everywhere" by Eugene Church, "Chanson D'Amour" by Art and Dotty Todd, "The Purple People Eater" by Sheb Wooley, "Willie And The Hand Jive" by Johnny Otis, "Kookie Kookie (Lend Me Your Comb)" by Edd Byrnes and Connie Stevens, "Sixteen Reasons" by Connie Stevens, "Devil Or Angel" and "Rubber Ball" by Bobby Vee, "Hey Little One" by Dorsey Burnette and others.
Earl Palmer became a member of Little Richard's band and played on the recordings of "Tutti Frutti", "The Girl Can't Help It", "Rip It Up," "Ready Teddy", "Good Golly Miss Molly", "Long Tall Sally" and "Slippin' and Slidin'".
In 1959 Earl Palmer became part of the house band for Rendezvous Records based in Los Angeles. They recorded a rock 'n roll version of Glenn Miller's Big Band hit from 1941 "In The Mood". It was credited to Ernie Fields Orchestra and peaked at #4 on the Billboard Hot 100. The guitarist for the band, René Hall, suggested they record some rock 'n roll versions of classical music. They called themselves B. Bumble And The Stingers and recorded "Bumble Boogie".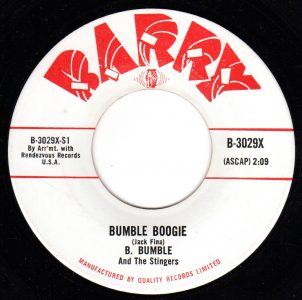 "Bumble Boogie" is a rock 'n roll version of Russian composer Nikolai Rimsky-Korsakov's "Flight Of The Bumblebee" from his 1899 opera The Tale of Tsar Saltan. The piece closes Act III, Tableau 1, during which the magic Swan-Bird changes Prince Gvidon Saltanovich (the Tsar's son) into an insect so that he can fly away to visit his father (who does not know he is still alive). In fact the piece does not have a title in the score of the opera, but was given one in English translation. The piece recurs in Act III's Tableau II.
The studio musicians featured on "Bumble Boogie" are Ernie Freeman on piano, Red Calendar on bass guitar, Earl Palmer on drums and Tommy Tedesco on guitar. In the recording of "Bumble Boogie" Ernie Freeman played two tracks that were spliced together. One track had freeman playing a grand piano for the rhythm part, while the other featured a "tack piano", a modified upright piano with tacks pressed into the hammers to create a tinny "honky tonk" sound.
"Bumble Boogie" peaked at #2 in Minneapolis/St. Paul, #3 in Vancouver (BC), Phoenix (AZ) and San Francisco, #4 in Seattle and San Diego, #5 in Toronto, #6 in Chicago, Tampa (FL) and Spokane (WA), #7 in Dallas, Cleveland, Denver, Los Angeles and Santa Barbara (CA), and #8 in Indianapolis.
As B. Bumble And The Stingers, the band recorded "Nut Rocker", a rock version of Russian composer Pyotr Tchaikovsky's march in his 1892 ballet The Nutcracker. In Act I there is a march of the toy soldiers from which the inspiration for the "Nut Rocker" was taken. The single climbed to #21 on the Billboard Hot 100. In 1966 they released a version of "The Green Hornet Theme", but it didn't crack the Hot 100.
The house band renamed themselves again as The Routers and in 1962 recorded "Let's Go" with Ernie Freeman on piano, Earl Palmer on drums, Tommy Tedesco on guitar. And in another iteration named the Marketts, a surf-rock instrumental titled "Out Of Limits" included the same session musicians.
Ernest Aaron Freeman was born in 1922 in Cleveland, Ohio. He learned to play piano and Saxophone and by age 12 was performing at local Cleveland nightclubs. In 1939, he and his sister, Evelyn, formed The Evelyn Freeman Swing Band, with fellow teenagers from Cleveland Central High School. Evelyn played piano, while Ernie played saxophone and also began writing arrangements for the band. The band began a regular engagement at the Circle Ballroom in Cleveland, and broadcast shows for WHK radio station. In 1942, most of the band, apart from Evelyn, joined the US Navy together, and became the first all-black Navy Band, called The Gobs of Swing with Ernie as its leader. Freeman graduated from the Cleveland Institute of Music in 1946 and moved to Los Angeles. He played in a club band for Dinah Washington and others. He joined Ernie Fields Orchestra in 1951 and was a session musician playing piano on "The Great Pretender" by The Platters in 1956. That same year the Ernie Freeman Combo appeared with The Platters and Bill Haley and His Comets in the rock 'n roll film Rock Around The Clock. In 1957 Freeman's version of "Raunchy" peaked at #4 on the Billboard pop charts.
Freeman was a session musician whose piano was featured in "You're Sixteen" by Johnny Burnette, "Bring It On Home To Me" and "Having A Party" by Sam Cooke (both with Tommy Tedesco), "Everybody Loves Somebody" by Dean Martin, "That's Life" and "Strangers In The Night" by Frank Sinatra, "Jealous Heart" by Connie Francis and "This Is My Song" for Petula Clark. Freeman later contributed string arrangements for the Bridge Over Troubled Water album by Simon and Garfunkel. Freeman also arranged music for "The Night Has A Thousand Eyes" by Bobby Vee, and recordings by Gene McDaniels, Timi Yuro, Walter Brennan and others. He also composed music for a half a dozen films. Freeman died at the age of 58 after suffering from a heart attack.
George Sylvester "Red" Callender was born in 1916 in Haynesville, Virginia. He learned how to play the tuba and the string bass. By 1940 he was in the Lester and Lee Young Band. Callender was a session musician in 1938 for Louis Armstrong's "On The Sentimental Side", for "Where Or When" by Errol Garner, "King Size Papa" by Julia Lee and Her Boyfriends, "To Know Him Is To Love Him" by the Teddy Bears, "Be My Baby", "Walking In The Rain" and "Baby I Love You" by the Ronettes, Billie Holiday, Charlie Parker, Lionel Hampton, Stan Getz, Art Tatum, Nat "King" Cole, Cal Tjader, Percy Mayfield, Maria Muldaur, Kate and Anna McGarrigle, Donovan and others. He also played bass guitar for the soundtrack of the 1972 film Lady Sings The Blues, along with Earl Palmer on drums. Callender also played on "Chuck E.'s In Love" by Rickie Lee Jones. He played with Charlie Mingus at the Monterey Jazz Festival in 1964. In 1992 he died at the age of 76 of cancer.
After B. Bumble And The Stingers hits in 1961, Earl Palmer continued to be active as a session musician. He played piano on "Cupid", "Shake", "Twisting The Night Away" (also with Tommy Tedesco) "Another Saturday Night", "A Change Is Gonna Come" by Sam Cooke, "A Hundred Pounds Of Clay" and "Tower Of Strength" by Gene McDaniels, "Tragedy" by the Fleetwoods, "When I Fall In Love" by the Lettermen, "I Can't Stop Loving You" by Ray Charles, "Ramblin' Rose" by Nat "King" Cole, "Love Letters" by Ketty Lester, "Daydream Believer" and "Valleri" by the Monkees, "Do You Wanna Dance", "Help Me Rhonda", "Dance, Dance, Dance" and "When I Grow Up (To Be A Man)" by the Beach Boys, "Cracklin Rosie" and "He Ain't Heavy, He's My Brother" by Neil Diamond, "Stoney End" by Barbra Streisand, "Sing A Song" by David Clayton-Thomas, "The Little Old Lady From Pasadena", "Baby Talk" and "Surf City" by Jan & Dean, "You've Lost That Lovin' Feeling" by the Righteous Brothers, "Hold Me, Thrill Me, Kiss Me" by Mel Carter, "River Deep – Mountain High" by Ike and Tina Turner, "The Lonely Bull" by Herb Alpert & the Tijuana Brass, and others.
Earl Palmer was also a session drummer for episodes for The Flintstones, Peyton Place, 77 Sunset Strip, I Dream Of Jeannie, Green Acres, Ironside, It Takes A Thief, The Brady Bunch, The Partridge Family, M*A*S*H, Mission Impossible, The Odd Couple and others. He died in 2008 at the age of 83 after a long illness.
Thomas J. Tedesco was born in 1930 in Niagara Falls, New York. He learned how to play guitar, ukulele and mandolin during his youth and was performing at a Niagara Falls club from the age of eleven. He moved to Los Angeles in his early twenties. He worked as a session musician on "Travelin' Man" and "Hello Mary Lou" by Ricky Nelson, "Be My Baby", "Frosty The Snowman" and "Sleigh Ride" by the Ronettes, "He's A Rebel", "Then He Kissed Me" and "Da Doo Ron Ron" by the Crystals, "Eve Of Destruction" by Barry McGuire, "Surf City" by Jan & Dean, Frank Sinatra '65, "Dancing In The Street", "Words Of Love" and "I Saw Her Again" by The Mamas & the Papas, "Poor Side Of Town" by Johnny Rivers, "Up Up And Away", "Sweet Blindness", "Age Of Aquarius/Let The Sunshine In", "Wedding Bell Blues", "One Less Bell To Answer" and "Stoned Soul Picnic" by the Fifth Dimension, "MacArthur Park" by Richard Harris, "59th Street Bridge Song (Feelin' Groovy)" by Harpers Bizarre, "Danke Schoen" by Wayne Newton, "Come Saturday Morning" and "Guantanamera" by the Sandpipers, "Deep Purple" by Nino Tempo and April Stevens, "No Matter What Shape Your Stomach's In" by the T-Bones, "These Boots Are Made For Walkin'" by Nancy Sinatra, "Tip-Toe Through The Tulips" by Tiny Tim, "Rise" by Herb Alpert, Gracias A La Vida/Here's To Life by Joan Baez, Grease: The Original Soundtrack from the Motion Picture, What's New by Linda Ronstadt and the Nelson Riddle Orchestra, Speedway, Spinout, Girl Happy and other Elvis Presley films, and many more.
Tommy Tedesco's guitar was present in the theme music for guitar to the opening theme songs of The Mickey Mouse Club, The Ozzie & Harriet Show, The Twilight Zone, Bonanza, Green Acres, Gilligan's Island, The Munsters, Happy Days, M*A*S*H*, Dallas, Batman, The Munsters, Happy Times and others. His movie soundtrack work included The Deer Hunter, The French Connection, The Exorcist, Jaws, E.T., The Godfather and Field of Dreams. He was also the guitarist for the Original Roxy cast of The Rocky Horror Picture Show. During the course of his career he learned to play more than 21 string instruments. In 1997 Tommy Tedesco died at the age of 67 of lung cancer.
January 15, 2020
Ray McGinnis
References:
Tony Scherman, Backbeat: Earl Palmer's Story (Smithsonian Press, 1999).
Claire Noland, "Legendary Session Drummer," Los Angeles Times, September 21, 2008.
"Ernie Fields," Wikipedia.org.
"Flight Of The Bumblebee", Wikipedia.org.
The Nutcracker, Wikipedia.org.
"Tommy Tedesco, 67, A Studio Guitarist," New York Times, November 12, 1997.
"Red Callender," Wikipedia.org.
Jas Obrecht, Mitch Holder and Jan Sievert, "Tommy Tedesco and Friends on the Golden Age of Studio Guitar," Jas Obrecht.com, 2011.
Dik de Heer, "Ernie Freeman," Black Cat Rockabilly, February 16, 2013.
"The Fabulous Forty," CKWX 1130 AM, Vancouver, BC, March 1961.
For more song reviews visit the Countdown.