#565: Bye Bye Love by Webb Pierce
Peak Month: June 1957
5 weeks on Vancouver's Red Robinson Teen Canteen chart on CKWX
Peak Position #2
Peak Position on Billboard Hot 100 ~ #73
YouTube.com: "Bye Bye Love"
Lyrics: "Bye Bye Love"
Michael Webb Pierce was born in Monroe, Louisiana, in 1921. By the time he was 15 Pierce had learned to play guitar and had a weekly 15-minute show on KMLB-AM in Monroe. He joined the U.S. Air Force in 1942. After the war ended he and his wife, Betty Jane Lewis, moved to Shreveport, Louisiana. In 1947 they appeared regularly on KTBS-AM on their morning show Webb Pierce with Betty Jane, the Singing Sweetheart. Webb Pierce worked as a manager of a men's furnishing section of a Sears Roebuck department store. In 1949 the couple signed with 4-Star Records in California. Webb was successful, but Betty Jane was not. Their changing musical fortunes led to divorce in 1950.
In 1950 he got signed onto the Louisiana Hayride and was an instant hit. He switched record labels to Decca Records in 1951 and later that year his second single release, "Wondering", shot to number one on the national Country charts. His next two singles, "That Heart Belongs To Me" and "Back Street Affair" also topped the charts. Webb Pierce delivered songs dripping with emotion as his tenor voice reached willing radio and jukebox listeners who rushed to their local record stores to snap up his latest releases. Between 1951 and 1957 Webb Pierce had 30 consecutive Top Ten hits on the music industry Country charts in the USA. Of these, thirteen climbed to number one. In 1954 he had his first crossover hit with his #1 country tune "More And More", and in 1955 his single "I'm In The Jailhouse Now" spent 21 weeks on top of the Country charts.
His string of Top Ten Country hits was momentarily interrupted when "Someday" stalled at #12 in 1957. But his next single release, "Bye Bye Love", became his second crossover hit in June 1957.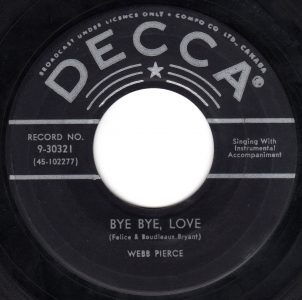 "Bye Bye Love" was written by Felice and Boudleaux Bryant. They had a string of hits including "Wake Up Little Susie", "Bird Dog", "Problems" and "All I Have To Do Is Dream" among others, for the Everly Brothers. They wrote "Raining In My Heart" for Buddy Holly, and "Last Date" for Floyd Cramer. They also co-wrote "Love Hurts" which was introduced in December 1960 as an album track on A Date with The Everly Brothers, but was never released as a single (A-side or B-side) by the Everlys'. The first hit version of the song was by Roy Orbison who climbed the Australian pop charts to #5. They also wrote "She Wears My Ring", a Top Ten hit in Vancouver for Jimmy Bell in 1961. Matilda Genevieve Scaduto was born in 1925. Boudleaux Bryant was born in 1920 in Shellman, Georgia. The two met in 1945 and eloped two days later. He nicknamed her Felice and the name stuck. She was 19 when they married. Boudleaux Bryant also wrote a number of songs on his own including "Devoted To You" for the Everly Brothers in 1958.
"Bye Bye Love" was recorded by the Everly Brothers and climbed to #2 on the Billboard pop chart and #1 on the Cashbox singles chart in July 1957. It was ranked as the #7 song for the year by Cashbox and #11 by Billboard. The Everly Brothers recording debuted on the pop charts in the USA on May 25, 1957. Webb Pierce made a recording of the song within a few weeks. His version of "Bye Bye Love" debuted on the pop and country charts on June 15, 1957. The Everly Brothers version of the song was in the Top Ten of the Billboard Country chart for 21 weeks. Both the Everly Brothers and Webb Pierce's versions of "Bye Bye Love" shared the number one spot on the Country chart for five weeks from July 13 to August 10, 1957. The Everly Brothers version returned to the number one spot on the Billboard Country chart on September 7. By that time Webb Pierce's version had fallen off the chart. On the pop chart Webb Pierce's "Bye Bye Love" stalled at #73.
While Webb Pierce's version of "Bye Bye Love" charted for five weeks in Vancouver, peaking at #2. The Everly Brothers version of the song also peaked at #2. Webb Pierce's version first appeared on May 24, 1957, and fell off the charts at the end of June. The Everly Brothers original version of "Bye Bye Love" debuted on CKWX on July 7, 1957, for a nine week chart run in Vancouver.
Don Everly remembers he and Phil were on a tour in Mississippi the first half of June 1957. "The record came out while we were on the road down there (Mississippi). Then one day Mel Tillis came up to us and said, "Hoss, I got some bad news for you. Webb Pierce has covered your song." Phil remembers that moment, telling Rolling Stone in 1986, "Mel just looked down and shook his head, like, "It's all over boys, forget it." It was like, Jesus, such bad luck, you know?" Don continues, "Disaster. I almost fainted. I called Archie Bleyer up in New York. I said, "Something terrible's happened." He said, "What?" I said, "Webb Pierce has covered our record." And he said – I'll never forget this – he said, "Webb who?" He didn't even know who Webb Pierce was! He said, "Forget about that – the record's hittin' pop." I didn't have a clue what he was talking about."
"Bye Bye Love" is a song contrasting the fate of two people who used to be lovers. The woman met another man who "stepped in." The song is sung from the perspective of the guy she left behind. Seeing his "ex" with her new beau, he remarks "she sure looks happy, I sure am blue." Elsewhere in the song he sings "goodbye to romance that might have been." Was the dating relationship rather brief while she was his "baby?" It seems the lived romance was more on the hoped for horizon, not part of a long and solid past. However brief, the guy feels empty, lonely and like he could die. Now he vows "I'm through with romance, I'm through with love." During their romance his "lovin' baby" concluded he wasn't the man she hoped for and she was through with him.
On the local AM Top 40 pop charts, "Bye Bye Love" by Webb Pierce climbed to #1 in Akron (OH), #2 in Vancouver and #4 in Toronto.
Other notable versions of "Bye Bye Love" include Ray Charles track on his 1962 album Modern Sounds in Country and Western Music. In 1970 Simon And Garfunkel recorded a live version of the song for their 1970 Grammy Award winning album Bridge over Troubled Water. In 1974 George Harrison recorded a revised version that included one new verse. Harrison's version, recorded in a minor key, was one of the tracks in his album Dark Horse. The song appears in the 1979 film All That Jazz and sung by Roy Schneider and Ben Vereen. And in 1995 "Bye Bye Love" was part of the soundtrack to the film Bye Bye Love, whose plot was about a divorce. In the film it was The Proclaimers from Scotland who sang the song.
Webb Pierce continued to have big hits on the Country charts in the late '50s and into the '60s. "I Ain't Never" was a number one country hit in 1959 and peaked at #24 on the Billboard Hot 100. Among his hits were "Fallen Angel" (1960), "Sweet Lips" (1961), "Cow Town" (1962), "Sands Of Gold" (1963) and "Memory No. 1" – a number one hit in 1964. But between 1965 to 1982 Webb Pierce only had four Top 20 hits from the 29 singles he released. Other newer country stars had begun to replace him as a regular in the Top Ten Country charts.
The music industry weekly, Cash Box magazine, named Webb Pierce the top male vocalist every year from 1952 to 1956 and again from 1961 to 1963. In total there were 54 songs Webb Pierce charted into the top 10 of the Billboard and Cash Box country music charts. Fifteen of his hit singles peaked at number one. While he was a member of the Grand Ole Opry for some years, he resigned from the Opry in early 1957, objecting to the commissions they charged for concert bookings. A number of his hits were duets. He had a number one hit in 1956 with Red Sovine singing "Why Baby Why". In 1957 he had a duet with Kitty Wells titled "Oh So Many Years", and in 1964 they teamed up to record a #2 hit called "Finally".
Pierce promoted himself in the early 1960's by driving one of his two limousines, each decorated inside and out with some 1,000 silver dollars. In the early 1970's, he built a $30,000 guitar-shaped swimming pool at his home. The swimming pool attracted over 3,000 tourists a week. Ray Stevens and other neighbors got a court order bar them from the area. Over the years Webb Pierce got a reputation as a hard drinker. He went into semi-retirement in the early '80s. Webb Pierce died at the age of 65 of pancreatic cancer in 1991.
September 4, 2019
Ray McGinnis
References:
"Webb Pierce, 65, Dies; Was Country Singer," New York Times, February 26, 1991.
Kurt Loder, "The Everly Brothers: The Rolling Stone Interview: Thirty Years of Heart-melting Music and Heart-wrenching Sadness," Rolling Stone, May 8, 1986.
Tony Russell, "Felice Bryant: Gifted Songwriter with Many 1960s Chart Hits," Guardian, May 20, 2003.
"Felice and Boudleaux Bryant bio," Rockabilly Hall of Fame.
For more song reviews visit the Countdown.