#17: Caribbean by Mitchell Torok
Peak Month: August 1959
Peak Position #1
14 weeks on Vancouver's CKWX chart
Peak Position on Billboard Hot 100 ~ #27
YouTube.com: "Caribbean"
Lyrics: "Caribbean"
In 1929 Mitchell Torok was born in Houston, Texas. His parents were immigrants from Hungary. Torok learned the guitar at the end of elementary school. A natural athlete, Mitch went to university in Nacogdoches, Texas, on a football and baseball scholarship. While at university he was hired to write a song to mark the one hundredth anniversary of the founding of the Cononco Oil Company. He also cut his first record in the late 40s while hosting a radio show in Lufkin, two hours northeast of Houston, and another radio show in the Houston suburb of Rosenberg.
When Hank Williams died on New Years' Day in 1953, Torok was one of many in the country music who put pen to paper. But instead of writing sad country songs, Mitch wrote a carefree tune called "Mexican Joe." He intended the song for Hank Snow. However, Torok met up with a record producer with Abbott Records who wanted to record the song with a novice musician called Jim Reeves. As a radio announcer on the Hayride Show in Shreveport, Louisiana, Reeves was not in the line-up to sing. However, radio KWKH gave Reeves a chance to perform a song and he chose "Mexican Joe". The song went to #1 on the Billboard Country Music Charts for seven weeks in the spring of '53. Abbott Records promptly gave Mitchell Torok a contract. Soon after Mitchell Torok wrote and sang a song that climbed to #1 on the Billboard country and jukebox charts called "Caribbean".
In 1954 the Louisiana Hayride in Shreveport added Torok to it's roster. That same year he had another Top Ten country hit in the USA called "Hootchy Kootchy Henry (From Hawaii)." The song was about a guy named Henry who played the ukulele on the beach, drank coconuts underneath a coconut tree and danced in the sand. In 1956 Torok got a record deal with Decca Records. He and his co-writer and spouse, Gail Redd, wrote numbers of songs. But that year it was a song she wrote called "When Mexico Gave Up The Rhumba" that peaked at #6 in the United Kingdom. With this fame Mitchell Torok went on a four-month tour of the UK with Johnnie Ray. In the April of '57 Torok had his first Top Ten hit in Vancouver called "Pledge of Love".
Then in 1959 Mitchell Torok's first #1 country hit in the USA, "Caribbean," crossed over to the pop charts.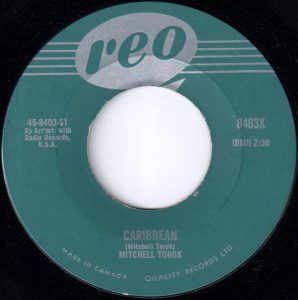 Mitchell Torok wrote "Caribbean". In the song a tourist goes to Haiti and "there's nothing but romance everywhere you glance." And heading on to Cuba, the tourist encounters a Cuban Queen who sways to the beat of a Cuban conga line. A monkey surveys the scene from high up in a tree. The monkey doesn't understand the sexual allure of the Cuban Queen and why the males on the scene in and around the conga line are behaving like monkeys. On his way to "discover America", according to the song, Christopher Columbus missed Cuba on his way to find spices (in India). Torok sings that Columbus missed the "nicest part of the Caribbean," which are the romantic "charms and the open arms" of the Cuban ladies. Torok sings that the tourist visiting Cuba is now on a honeymoon with his Cuban Queen. Poor Christopher Columbus arrived in the Caribbean 500 years too soon. To support his single, Torok appeared on Dick Clark Saturday Night Beechnut Show on August 22, 1959.
A "conga line" is a dance brought over from Africa by enslaved people in the West Indies. It became a popular street dance in Cuba. The style was appropriated by politicians during the early years of republic in an attempt to appeal to the masses before election. During Gerardo Machado's dictatorship in Cuba, Havana citizens were forbidden to dance the conga since rival groups would work themselves to high excitement and start street fights. This was not the case when Fulgenico Batista became president in the 1944. He permitted people to dance congas during elections, but a police permit was required.
The basic dance steps start from left leg 1-2-3 kick then repeat, opposite. Originally, a band member wearing a drum would venture onto the dance floor and begin zig-zagging around while drumming out the rhythm. Dancers would start joining up behind the drummer, forming a line that moves like a snake in an open circle. The line (or the circular chain) would grow longer and the drumming more intense until it finally stopped.
In 1929 the La Conga nightclub opened in Manhattan and featured the dance. Outside of New York City, Americans got introduced to the conga in 1940 in a film starring Desi Arnaz and Lucille Ball titled Too Many Girls. Despite the occasion of conga line dance, the film is set in both Maine and New Mexico.
Another film, It Started with Eve starring Deanna Durbin and Charles Laughton, features the two leading actors dancing the conga at a Mexico City nightclub.
In "Caribbean" Mitchell Torok references Christopher Columbus in whimsical fashion. Christopher Columbus (born Cristoffa Columbus) was an Italian explorer who was commissioned by King Ferdinand II of Aragon and Queen Isabella I of Castile to sail to the new world in search of spices, and treasure. He was born in the Republic of Genoa in 1451 and spoke the Ligurian dialect. He went to sea for the first time at the age of 14 in 1465. From 1473, Columbus was a trader for wealthy Genoese families, and from 1477 to 1485, Columbus was a trader based in Lisbon, Portugal. He also traded on voyages along the West African coast and throughout the Mediterranean. Between 1492 and 1504, Columbus went on four voyages from Spain to America. In 1492 he commanded the Santa Maria, along with the Nina and the Pinta. It was the crew aboard La Pinta that first spotted land on October 12, 1492, at 2AM. The island was known to as Guanahaní to the local Taíno people. Columbus named it San Salvador, but is known today as the Bahamas. On October 28, 1492, Columbus landed on the island of Cuba. Columbus was on a voyage in search of China, India and Japan. He named the local indigenous peoples "Indians," assuming at first that he had landed in India.
On his second voyage to the 'new world,' Columbus extensively explored both Cuba and Jamaica from April to August 1494. Columbus also established a settlement on the island of Hispaniola, which is currently divided by the nations of Haiti and the Dominican Republic. On Hispaniola, Columbus established a Spanish slave labour system that rewarded conquerors with the labour of conquered non-Christian people. Columbus executed Spanish colonists for minor crimes, and used dismemberment as punishment. Columbus and the colonists enslaved the indigenous people, including children. Natives were beaten, raped, and tortured for the location of imagined gold. Thousands committed suicide rather than face the oppression. The last thing on the mind of Cristoffa Columbus was the charms of a Cuban Queen.
In 2006, the Guardian reported that Columbus in the Caribbean the voyager was a tyrant. His "Punishments included cutting off people's ears and noses, parading women naked through the streets and selling them into slavery…. A woman who dared to suggest that Columbus was of lowly birth was punished by his brother Bartolomé, who had also travelled to the Caribbean. She was stripped naked and paraded around the colony on the back of a mule. Bartolomé ordered that her tongue be cut out. Christopher congratulated him for defending the family."
"Caribbean" is a light-hearted, innocent romp about a vacationing (likely American) tourist who visits both Haiti and Cuba. As the song was a hit in the summer of 1959, it is worth noting that on January 1, 1959, the Cuban Revolution took place. General Batista fled into exile, and Fidel Castro became the leader of a communist dictatorship. However, in 1959 it was still legal for Americans to travel as tourists to Cuba. In 1960, President Dwight Eisenhower placed an embargo on sugar and several other products. It was not until 1963 that Americans were barred from vacationing in Cuba.
"Caribbean" peaked at #1 in Vancouver (BC), Boston, and Worcester (MA), #2 in Toronto, and Ottawa (ON), #4 in Manchester (NH), Providence (RI), and Binghamton (NY), #6 in Albany (NY), #7 in Buffalo, #9 in Burlington (VT), Dearborn (MI), and Milwaukee (WI), #10 in Seattle and Flint (MI), and #16 in Montreal.
His followup single, "Mexican Joe" barely made the CKWX Sensational Sixty. He also released a single in April 1959 titled "Teenie Weenie Bikini". But it would be for Brian Hyland to record a different song about an "Itsy Bitsy Teenie Weenie Yellow Polka Dot Bikini" for a disc to catch on with the public. In March 1960 Torok reappeared on the CFUN pop chart in Vancouver with "Guardian Angel". The tune managed to climb to #41, though it didn't crack the Billboard Hot 100 in Mitchell Torok's home country. In 1960 Mitchell Torok had his last hit on the pop charts with "Pink Chiffon", climbing to #9 in Vancouver (BC). In 2006 "Pink Chiffon" resurfaced in popular culture with the Hollywood release of the movie Laura Smiles.
Torok made a few more pop-oriented singles through to 1963 with no commercial impact. In 1966 he switched to the Reprise label and released "Instant Love". The Country & Western tune related how a guy has a "baby" in his life who gives him instant love, while other folks get Instant Coffee and Instant Tea in their lives. In 1971 Mitchell Torok and Ramona Redd recorded a duet that was a minor hit on the country charts titled "California Morning".
Mitchell Torok continued writing songs including "The Redneck National Anthem" for Vernon Oxford who had a Top 20 hit with the song on the Billboard Country chart in 1976. In 1977 Mitchell was commissioned to paint a 110-foot, five-panel mural titled The History of the Grand Ol' Opry. The mural was a fund raiser for the adjacent Hank Snow Abused Children's Foundation. After the death of Elvis Presley, Torok notably created the ELVIS-A-RAMA. This was a mural 12 feet high and 125 feet long. It was featured with a 22 minute light and music show of Elvis' life. As of this writing in January 2017, Mitchell Torok is 87 years old and living in Texas.
June 12, 2023
Ray McGinnis
References:
Re-Up 'Caribbean,' October 30, 2013
Mitchell Torok, Dick Clark Saturday Night Beech Nut Show, August 22, 1959.
Mitchell Torok, Hillbilly Music.com
Folk Talent And Tunes, Billboard, September 12, 1953.
"Ramona Redd," Discogs.com.
Kris Lane, "Five Myths About Christopher Columbus," Washington Post, October 8, 2015.
Rhaina Cohen, Maggie Penman, Tara Boyle and Shankar Vedantam, "An American Secret: The Untold Story Of Native American Enslavement," NPR, March 20, 2017.
Giles Tremlett, "Lost document reveals Columbus as tyrant of the Caribbean," Guardian, August 7, 2006.
"Cuba Travel History," Insight Cuba, 2020.
"Sensational Sixty," CKWX 1130 AM, Vancouver, BC, September 14, 1959.
For more song reviews visit the Countdown.