#837: Carrie's Gone by J.C. Stone
Peak Month: November 1974
Peak Position #9
9 weeks on Vancouver's CKLG Chart
Peak Position on Billboard Hot 100 ~ did not chart
YouTube: "Carrie's Gone"
J.C. Stone was a Vancouver recording artist in the 1970s and 1980s. In 1974 he released a single titled "Carrie's Gone".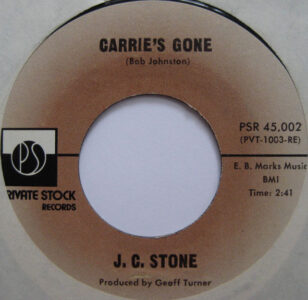 "Carrie's Gone" was written by Bob Johnston, an obscure songwriter who has left no trace online.
The song concerns someone named Carrie who's left her home and relationship for good. She tried to tell the guy she was with about the problems in the relationship. He reflects later "that I just couldn't hear, I sat and drank my beer." The ex-lover now wishes he could turn back time and they could be together. As it is now, he sings "can't you hear me calling Carrie, can't you hear my cry. You're too young my baby, you're too young my baby, too young to die."
As listeners we can only wonder why the ex-lover thinks her life is in danger. Is he catastrophizing? Or does he know something about Carrie's state of mental health, or lack of care for her own well-being, that would place her in danger? If she is "too young," does she not have family or friends she can turn to in order to get her life back in balance? Or at least people who can provide her with some sanctuary and protection from those who may wish to do her harm, including possibly herself?
But then, as with many pop songs, the lyrics may just leave open dire possibilities without meaning for us to hear them too closely. Perhaps, like the ex-lover, we are meant to listen to "Carrie's Gone" while we sit and drink our beer.
"Carrie's Gone" peaked at #9 in Vancouver (BC), and cracked the Top 30 in Windsor (ON), Charlottesville (WV) and Kelowna (BC).
In 1976 J.C. Stone released a single "Don't Shoot Me"/"Woman In Spring" which flopped commercially. In 1980 J.C. Stone released his only album, Stealin' The Night.
The title track, "Stealin' The Night", peaked at #7 in Vancouver (BC) and #11 in Regina (SK). While "Stealin' The Night" was still on the pop chart in Vancouver, J.C. Stone's next release "The Sound Of My Heartbeat" appeared for one week on the CKLG Top 30 in January 1981.
After 1981, J.C. Stone presumably continued for some years as a performer. This spare profile of him is found on Discogs.com: "Canadian singer, songwriter and musician from Vancouver, British Columbia active in the 1970s and 1980s." Otherwise, there is no profile of him on canadianbands.com or other websites that usually feature Canadian recording stars. J.C. Stone is one of those recording artists who is truly off-the-grid.
West coast actress and singer, Jane Mortifee, was a backing singer for Stone's album Stealin' The Night. I emailed to her to learn if she recalled anything about him. But, from what she could remember, it seemed Jane Mortifee went to the recording studio to get her backing vocals on tape. The recording engineer mixed in the backing vocals with J.C. Stone's lead vocals and other instruments, after Stone appeared in the studio for a separate booking. As Mortifee never met him, she couldn't add anything to fill out a picture of this forgotten Vancouver area singer-songwriter.
January 16, 2021
Ray McGinnis
References:
"J.C. Stone profile," Discogs.com.
"CKLG Thirty," CKLG 730 AM, Vancouver, BC, November 15, 1974.
For more song reviews visit the Countdown.