#907: Chattanooga Choo Choo by Floyd Cramer
Peak Month: February 1962
6 weeks on Vancouver's CKWX chart
Peak Position #7
Peak Position on Billboard Hot 100 ~ #36
CKWX Top of the Hot Prospects ~ January 13, 1962
YouTube.com: "Chattanooga Choo Choo"
Lyrics: "Chattanooga Choo Choo"
In 1933 Floyd Cramer was born outside of Shreveport, Louisiana. He grew up in Huttig, Arkansas. At the age of five he taught himself to play piano after his parents bought him the keyboard. Before he started grade school, young Floyd was performing in front of audiences in public. After high school he moved back to Shreveport and got a gig with KWKH radio and the Louisiana Hayride. Country stars like Webb Pierce and Red Sovine would appear on the show. Cramer on piano, and guitar players, Faron Young and Jimmy Day, were a trio that backed up 'Hayride performers. In the early 50's Cramer toured with Hank Williams and next with Elvis Presley. Cramer released his first single record in 1953.

In the 50's and 60's Floyd Cramer was a much sought-after studio musician. He played piano on "Heartbreak Hotel" for Elvis Presley, the first #1 hit for "the king of rock 'n roll." Cramer also appeared on numerous recordings for Brenda Lee, Chet Atkins, Faron Young, Jim Reeves, Hank Locklin, Patti Page, Perry Como, Patsy Cline, Al Hirt, Don Gibson, Boots Randolph and others. In 1958, Cramer charted his first single onto the national pop charts with the instrumental "Flip, Flop and Bop." The song made #87 on the Billboard Hot 100 and spent a week at #8 in Vancouver. His next two singles, "Last Date" and "On The Rebound" both made the Top Ten in the USA and in Vancouver.
Floyd Cramer had a fourth Top Ten hit in Vancouver. It was a remake of "Chattanooga Choo Choo", a #1 hit for nine weeks by Glenn Miller and his Orchestra in the winter of 1941-42. It first appeared in the 1941 movie Sun Valley Serenade. It was featured as the finale to the film and involved the band with vocalists, tap dancers and acrobats. The vocals for the song lyrics were provided by The Modernaires: Paula Kelly, Hal Dickinson, Chuck Goldstein, Bill Conway, Fran Scott, Johnny Drake and Alan Copeland. The song became the first ever gold record selling over 1.2 million copies during World War II.
Cramer's version of "Chattanooga Choo Choo" was an instrumental.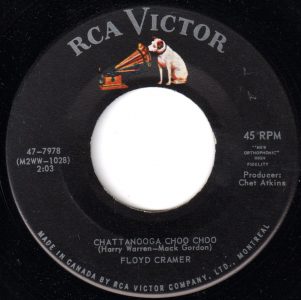 On the twentieth anniversary of Glenn Miller's number one chart run of "Chattanooga Choo Choo," which was number one on the Billboard pop charts up to the week of January 31, 1942, Floyd Cramer's instrumental version had it's debut. The tune got airplay on CKWX on the week of January 13, 1962. Though the song's lyrics were not on the recording, radio listeners likely sang the lyrics while driving in a car or hearing Cramer's instrumental at home. The first three verses detail a passenger rail trip from the Pennsylvania Station in New York City to Chattanooga, Tennessee, via Baltimore, Maryland, and stops in North Carolina. The person asking which track the Chattanooga choo chop departs from is a U.S. soldier. The song, in 1962, brought back memories of World War II, especially of soldiers and their sweethearts being apart.
In the last verse the U.S. soldier describes what will happen when he arrives at the Chattanooga Train Station. The "party" he is meeting at the station is his sweetheart, who will be dressed in "satin and lace." They look forward to a time when he won't have to work overseas and he promises "I'll never roam." He'll be true to her and settle down.
The train station in Chattanooga was opened in 1909. It was the third and final train station built at its location and was the largest station in Chattanooga's history. (The first was built in 1858 and the second in 1882). The Terminal Station was the first train station in the south to help open a pathway to connect the north from the south, mostly to connect the city of Cincinnati, to Chattanooga. At its peak, there were over fifty passenger trains passing through Chattanooga on a daily basis. The station was closed to train service in 1970 due to a decline in passenger rail volume due to automobile and travel by plane. But in 1973 the train station was converted into the Chattanooga Choo Choo Hotel. Guests can overnight in beautifully restored authentic sleeper cars, once reserved for only the wealthiest of passengers during the railroad era. And you can also have "dinner in the diner."
"Chattanooga Choo Choo" was written by Mack Gordon and Harry Warren who were riding on the Southern Railway's Birmingham Special train. But, for poetic license, they chose to title their song "Chattanooga Choo Choo" instead of "Birmingham Choo Choo." The inspiration for the song was not the train they were riding. Gordon and Warren had in mind a small, wood-burning steam locomotive of the 2-6-0 type that ran on the Cincinnati Southern Railway. According to Wikipedia, some people believe Gordon and Warren were referring to the Nashville, Chattanooga and St. Louis Railway line which ran from 1851 to 1957.
In 2018 there is no Amtrak rail service in Chattanooga, Tennessee. There are only two railway stations currently served in Tennessee, Memphis and Dyserburg, along the Mississippi River in on the western edge of the state. Consequently, "Chattanooga Choo Choo" evokes ones imagination but not a train that exists anymore to service that city.
"Chattanooga Choo Choo" is one of over a thousand songs about trains. Other notable train songs include "500 Miles" (Peter, Paul & Mary), "Canadian Railroad Trilogy" (Gordon Lightfoot), "Down By the Station" (Four Preps), "Freight Train" (Elizabeth Cotton), "Homeward Bound" (Simon & Garfunkel), "King of the Road" (Roger Miller), "Marrakesh Express" (Crosby, Stills and Nash), "Last Train to Clarksville" (The Monkees), "Smokestack Lightning" (Howlin' Wolf), "The Trolley Song" (Judy Garland), "Peace Train" (Cat Stevens), "Sentimental Journey" (Les Brown Orchestra with Doris Day) and "City of New Orleans" (Arlo Guthrie).
Another song from the film, Sun Valley Serenade, is "At Last", which reached the Top Ten in 1942 with the Glenn Miller Orchestra and The Modernaires. Etta James revived the classic tune in 1960.
Composer, Harry Warren, wrote over 800 songs including over 300 that appeared on film in the 1930's and 1940's. He wrote "You'll Never Know", which was a hit for both Frank Sinatra and Dick Haymes in 1943 and Academy Award for Best Original Song in 1943. Warren had a hit for Dean Martin in 1953 titled "That's Amore". He wrote "On the Atchison, Topeka and Santa Fe" which was a #1 hit for Johnny Mercer in 1945 and won the Academy Award for Best Original Song in 1946. Warren wrote "I Only Have Eyes For You" which became a #1 hit for Ben Selvin in 1934 and a #3 hit for the Flamingos in 1959. Other notable tunes he wrote include "We're In the Money" and "Lullabye of Broadway" which won the 1936 Academy Award for Best Original Song. Warren and Mack Gordon also wrote "(I've Got a Gal in) Kalamazoo", another #1 hit in 1942 for Glenn Miller.
Mack Gordon collaborated with Harry Warren on many songs. Gordon also wrote lyrics for many other songs along with others who wrote the tunes. These include "Mam'selle", a #1 hit for Art Lund in 1947, "Did You Ever See a Dream Walking?" from the 1933 movie, Sitting Pretty, and a #1 hit for Eddy Duchin; And "You Make Me Feel So Young" in the 1946 film Three Little Girls in Blue, which was later revived by Frank Sinatra, Chet Baker and Ella Fitzgerald in the 1950's.
Floyd Cramer recorded over 60 albums and numbers of "best of" collections. He recorded an eclectic range of albums including Floyd Cramer Plays the Monkees, Looking For Mister Goodbar and Dallas. Cramer was one of the principal architects of the Nashville Sound. When Cramer died at the age of 64 in 1997 country star Jimmy Dean remarked, "no orator ever spoke more eloquently than Floyd Cramer speaks with 88 keys."
References:
"A History Of Southern's Terminal Station, Today's "Chattanooga Choo Choo"," American Rails.com
Chattanooga Choo Choo Hotel
"Chattanooga Choo Choo by Glenn Miller," songplaces.com
Dale Cox, "Chattanooga Choo Choo, Chattanooga, Tennessee," exploresouthernhistory.com, May 4, 2013.
Chattanooga Train History, chattanoogafun.com, May 8, 2016.
Nashville, Chattanooga and St. Louis Railway, Wikipedia.com
Paul Wadey, "Obituary: Floyd Cramer," Independent, UK, January 5, 1998.
"Fabulous Forty," CKWX 1130 AM, Vancouver, BC, February 24, 1962.
For more song reviews visit the Countdown.