#1103: Cherry Pie by Tri-Lads
Peak Month: March 1958
4 weeks on Red Robinson Teen Canteen chart
Peak Position #7
Peak Position on Billboard Hot 100 ~ did not chart
YouTube.com: "Cherry Pie"
Lyrics: "Cherry Pie"
In 1938, Billy Reynolds Eustis was born in Harden City, Oklahoma. This is a town nearly two hours southeast of Oklahoma City. He was raised in Tulsa, Oklahoma. Eustis graduated Tulsa Central High School same year as Oklahoma City native, J. J. Cale. In 1957, during his senior year in Tulsa High School in Tulsa, Oklahoma, Billy Eustis (pictured on the right in the photo below) teamed up with Jim Scott, Mary Hazelton and Dan Smith to perform in the teen vocal group The Countabulies.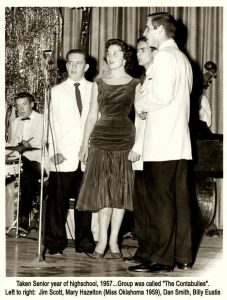 Later Billy, with two schoolmates Bill Ragan and Chuck Fournier, recorded just one single in June 1957 under the name The Tri-Lads. The disc featured an A-side remake of the 1954 regional R&B hit by Marvin and Johnny "Cherry Pie", with the B-side "Always Be True". The single was released on the Oklahoma label, Perpective Records. "Cherry Pie" was later re-released in December in the New York based label Bullseye Records for their national distribution which arranged for the Delta label to distribute the disc in Canada.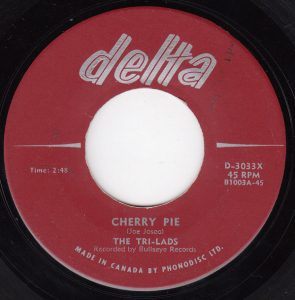 "Cherry Pie" is either a song about a guy who is wild about his girlfriend's bakery skills or the lyrics intend a double-entendre for petting, even "heavy petting." Whatever cherry pie she is serving up, the boyfriend wants her to give him some more, "sweet as they come." "Cherry Pie" was co-written by Joe Josea and Marvin Phillips. Josea was a pseudonym for Joe Bihari, born in Memphis, Tennessee, in 1925. Josea was the co-founder of Modern Records. Through Modern Records the Bihari brothers released singles by a variety of R&B artists including Etta James, John Lee Hooker, Little Richard and Ike & Tina Turner. Through their subsidiary labels they recorded B.B. King (RPM label), Elmore James (Flair label), Rufus Thomas (Meteor label) and Jessie Belvin (Crown label). Josea wrote several hundred songs and was recorded mainly by R&B artists including The Cadets, Richard Berry, Jessie Belvin, Chuck Berry, Etta James, Issa Hayes, The Animals, Otis Redding, Savoy Brown, John Mayall, The Box Tops, Jefferson Airplane, Canned Heat and Jimi Hendrix. One of Joe Josea's biggest hits was B.B. King's 1954 #1 R&B classic "You Upset Me Baby". Marvin Phillips was one half of the duo, Marvin and Johnny, who released the original R&B hit for "Cherry Pie" back in '54.
"Cherry Pie" spent ten weeks on the CHUM 1050 AM charts in Toronto, peaking at #2. It spent 12 weeks on the Top 40 charts in San Fransicso and climbed to #4. It made it into the Top 20 in Phoenix, Arizona, and to #7 in Vancouver. It was a local hit in Tulsa, Oklahoma, but aside from these radio markets the song was passed over. Perhaps the slurring of the title of the song, "Cherry Pie", so that it sounded like they were singing Sherry Pie (perhaps with at least two ounces of sherry) might have been a tiny factor in not spinning the disc. "Cherry Pie" became a Top 20 hit in 1960 when the duo Skip & Flip took it to #11 on the Billboard Hot 100 and #7 in Vancouver.
The Tri-Lads were not the only white singers motivated to form a doo-wop group. Many white radio listeners liked the music on the R&B charts and were keen for the African-American doo-wop sound. There are numerous examples of white doo-wop groups who made their way onto the Billboard Hot 100. These include The Elegants with "Little Star" in 1958, Dion and the Belmonts with hits such as 1959's "Teenager In Love", The Skyliners 1959 hit "Since I Don't Have You", The Mystics 1960 hit "Hushabye", The Capris 1961 hit "There's A Moon Out Tonight" and Randy & the Rainbows 1963 hit "Denise".
After their one single release in 1957 the Tri-Lads broke up. Billy Eustis went on to pursue a solo career. He recorded a number of singles in the 1960's. From 1962 to 1974 he toured extensively, including with The Smokehouse Band from 1965-68. With a new contract under Monument Records Eustis now went by the name of Billy Reynolds. In 1968 he charted "I Know You're Going Away" into the Top 40 in Philadelphia, and in 1969 he charted "Johnson, Jones, Baker and Brown" into the Top 40 in Muskegon, Michigan. Both were minor country-pop hits.
Billy Reynolds Eustis moved to Melbourne, Florida, some decades ago and two digital albums appeared more recently: Billy Reynolds Eustis Sings Favorites (2011) and Just Passing Through (2012). Eustis has continued to perform into the present decade. A music review by Lenny Litman in the Pittsburgh Press in January 2011 alerted Pittsburgh area readers of the Billy Eustis Show playing for several weeks at what was then called the Red Dog Saloon at the Carlton House. Eustis was backed by a male quartet including Doyle Parden, a cousin of Dolly Parton (somewhere back a ways the spelling changed, explains Doyle). The first set was more country-pop including Mac Davis' "I Believe In Music" and John Denver's "Take Me Home Country Roads". The second set began with a tribute to the 50's with "The Great Pretender", "Cherry Pie", "Sixteen Tons", "Since I Met You Baby", "Sh-Boom" and "Tennesse Waltz". Eustis later sang another song made popular by Max Davis, "Whoever Finds This, I Love You". The concert ended with two 1920's Sons of the Pioneers tunes, "Cool Water" and "Tumbling Tumbleweeds".
June 11, 2017
Ray McGinnis
References:
"TRI-LADS – Doo-Wop," doo-wop blogg, November 21, 2014.
William Yardley, "Joe Bihari, Who Put Early R&B on Record, Dies at 88," New York Times, December 11, 2013.
"Marvin & Johnny biography," Oldies.com.
"Red Robinson's Teen Canteen Survey," CKWX 1130 AM, Vancouver, BC, March 14, 1958.
For more song reviews visit the Countdown.