#384: China Doll by Bobby Swanson
Peak Month: November 1960
11 weeks on Vancouver's CFUN chart
Peak Position #2
Peak Position on Billboard Hot 100 ~ did not chart
YouTube: "China Doll"
Bobby Swanson was born in Denver, Colorado, in January, 1943. He attended South High School. When he was just 15, in the summer of 1958, Bobby Swanson traveled with his parents to Memphis. The Swansons went to Sun Records and Bobby auditioned for Sam Philips. Bobby remembers "I kept thinking this is the same microphone that Elvis, Carl Perkins and Johnny Cash recorded into!" Philips told Bobby to come back to Memphis when he was 18-years-old. Subsequently, Bobby's dad was doing a job as an electrician at the home of Officer Carol MacTavish. The officer told Bobby's father that she'd written a song titled "Rockin' Little Eskimo", and was trying to get it recorded by someone. Bobby's father suggested his son. Subsequently, Bobby Swanson recorded a demo backed with a song he wrote titled "Ballad Of Angel". It was sent to Igloo Records in Anchorage, Alaska.
Subsequently, Igloo flew Bobby from Denver to Chicago where he recorded a number of songs. Igloo released the following singles by Bobby Swanson: "Willow" and "Ballad Of Angel", were the first two printed as "Advanced Copy" discs sent to radio station DJs. The tracks were re-recorded on a subsequent pressing, as was the 45 RPM "A Letter To Linda"/"Bobby's Baby Doll". And there was also the 45 RPM of "Rockin' Little Eskimo"/"The Ballad Of Angel".
Igloo Records placed an advertisement in the November 21, 1959, issue of Cashbox magazine. The ad read "Nat'l Hist. Wanted for The Ballad Of Angel by Bobby Swanson. 'Picked to click' by over half radio stations which have record. Spun several times on Dick Clark's American Bandstand. Will make good deal to solid op. Airmail or wire. Igloo Recordings P.O. Box 493, Anchorage, Alaska."
Bobby Swanson's recordings were split between upbeat rock to rockabilly tunes, and sentimental teen ballads. In January 1960, Bobby Swanson & The Sonics saw "Ballad Of Angel" make the Top 20 hit in Denver on KOSI-AM. The song was a teen tragedy tune, as the angel the guy in the song used to go to the prom with has gone up to heaven above. Only, we don't learn from the lyrics just why she left this earthy realm at the end of her high school years. The song is a bit like "Honey" by Bobby Goldsboro, whose lyrics in 1968 included "One day when I was not at home, while she was there and all alone, the angels came…"
As Igloo Records didn't have any national distribution, "Ballad Of Angel" failed to get much attention. Same for "Rockin' Little Eskimo". So Bobby Swanson got a band together in Denver that they named the Sonics. They recorded a couple of songs in Bobby's fathers' makeshift recording studio. The tracks were named "China Doll" and "Tom & Susie".
Swanson sent these to the attention of Bob Keane at Donna Records in California. Keane had been with Del-Fi Records, whose young recording star Ritchie Valens had died in a plane crash with Buddy Holly and the Big Bopper on February 3, 1959. Emerging from the tragedy of that event, Bob Keane had started a new label he named Donna Records, after one of Ritchie Valens hit records – "Donna", which had peaked in February 1959 at #2. Donna Record talent scouts liked what they heard and 17-year-old Bobby Swanson was flown from Denver to Los Angeles and taken to Donna Record studios in Hollywood.
In August 1960, Cashbox reviewed Bobby Swanson's latest release. "Tom And Susie" A story of a love affair is strikingly told by the songster, who is multi-tracked on the refrain. There's a teen ballad sound here that could do big chart things." In "Tom & Susie" the couple first meet when Tom is 10 and Susie is 8. He buys her a ring for 20 cents, which she wears. They go their separate ways. But, years later when they were "past their peak," 21-year-old Tom sees 19-year-old Susie at a dance. She is still wearing the ring he gave her when she was 8-years-old. (Apparently, her fingers hadn't gotten much bigger). At the dance they recognize their love was "meant to be." And for "China Doll" Cashbox agreed "Catchy romantic about a gal who guy takes to look like a China Doll."
In September 1960, Swanson's single "Tom & Susie" climbed to #6 in Seattle, #10 in La Cross (WI) and #12 in Vancouver (BC) in October '60. Later, in January-February 1961, "Tom & Susie" climbed to #6 in Worcester (MA). Meanwhile, the flip-side of "Tom & Susie" – "China Doll" – took off in Vancouver.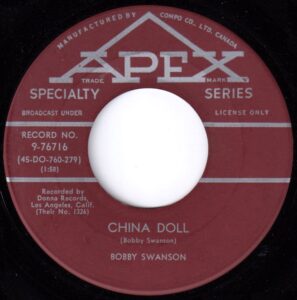 "China Doll" was written by Bobby Swanson, as was the case with most of the songs he recorded. The song is about a guy who is dating a girl who he thinks resembles a china doll. He has a picture of her that hangs in the middle of his bedroom wall. Her eyes shine like diamonds, and he'd "kind-of like to hold her, but" he "fears she'd break" given how delicate and fragile her physical frame seems to be to him. The guy in the song recounts how "the moment that I saw her I knew that I would fall." That his girlfriend resembles a china doll, does not mean she herself is specifically of Chinese ethnicity. In Swanson's song, the inference is to the fine-boned frame of the girlfriend, like porcelain china.
The name china doll comes from china being used to refer to the material porcelain. Porcelain was invented in ancient China, made from a hard, white clay known for its fineness and strength. And the term china doll is used to refer only to dolls made from glazed porcelain. Dating back to 1836, initially German manufacturers made china dolls, many who had the appearance of caucasian dolls.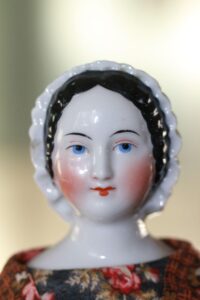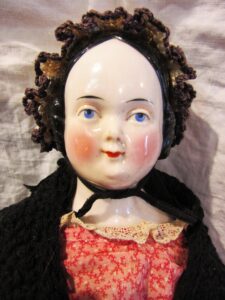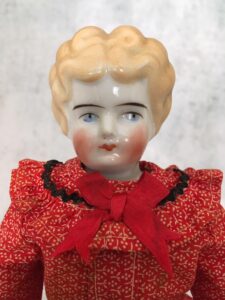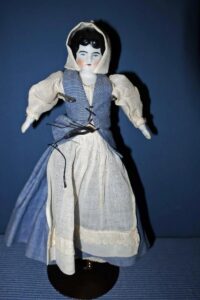 In 1805 the Kestner company in Germany began making high-priced dolls with papier-mâché heads and peg-jointed wooden arms and legs. By the late 1830s they began to make dolls from porcelain china, the same material made for dinnerware. German companies making china dolls included KPM, Meissen, Kestner, Conta & Boehme, Hertwig and Alt, Beck and Gottschalck. In Denmark China dolls were made by Royal Copenhagen, in Czechoslovakia by Schlaggenwald, in Poland by Tielsch, in Sweden by Rörstrand, and in France by France Barrois and Jacob Petit.
The earliest China dolls often represented adult females. From approximately the 1850s onward, child-like China dolls became popular. Blonde-haired china dolls became more prevalent at the end of the 1800s. These dolls displayed contemporary hairstyles: sausage curls, ribbons or headbands. A typical china doll had a shoulder head made of glazed whitish porcelain, with painted molded hair and facial features. The glaze gave the doll a characteristic glossy appearance. The head was typically attached to a body made of cloth or leather, sometimes with arms and legs usually made of porcelain, though sometimes from wood. China dolls were especially popular from 1840 to 1890, but continued to sell well up to the beginning of World War II. China dolls are sought after by serious collectors of dolls. And china dolls need to be handled carefully due to their fragile nature.
In the song "China Doll", Bobby Swanson would like to hold his girlfriend but fears that if he did that "she'd break." He thinks she's as fragile as a china doll people put on a mantlepiece or in a glass case. Likely, he'd find if his romantic interest was returned – if he asked her if it would be okay to hold just hold her – that she'd be receptive. To take things to the next step, the guy in the song needs to ask his china doll if she can handle being held or hugged.
For some young males their romantic idealizations of a hoped-for sweetheart involve impossibly impractical imaginings. There are rare cases where, if a person is a hemophiliac, they can't risk falling in case they start to bleed. And there may be some human being who has such a fragile bone structure that they can't risk being touched by anyone. Chances are that in the case of the "China Doll", since she's made it this far in life – and likely had a few scraps and occasionally tripped or stumbled – she can cope with being held. After all, as an infant her parents would have held her. Otherwise, there would be a common understanding among high school classmates that the "China Doll" was Swanson is singing about was "the girl who couldn't be held."
"China Doll" climbed to #2 on CFUN and #3 on CKWX – both in Vancouver. But, it was the flip-side "Tom & Susie" that was the charting track on the 45 RPM in some other radio markets. The uniqueness of "China Doll" appearing on the Vancouver (BC) pop charts is reflected in the song making a list of "Hits: Local but not National" in Brian Tarling's Vancouver's Charted Songs: '56 to '78. On that list Tarling assembled 150 songs – ranked by the success of their chart run – that uniquely appeared on the pop charts in Vancouver and nowhere else.
After spending several months in Hollywood, Bobby Swanson returned to Denver and teamed up again with the Sonics. He also played as part of Dean Carr & The Corvettes. Swanson recalls he played in bands that performed at frat parties, Kat's Korner, the Hi-Fi Club, and The La Bistro A Go-Go.
The followup release on Donna Records was Bobby Swanson's "Janie's Face" b/w "Peggy's Last Birthday". Cashbox reviewed the disc with these words: "Janie's Face": "A coy-voiced teen warbler, Swanson nicely relays the pretty plaintive. Backing combo-chorus is properly soft." As for "Peggy's Last Birthday", Cashbox wrote "Similar pose with a smooth Latinish feeling. Two appealing sentimental-rock sides."
In 1961 Bobby Swanson's Igloo disc "Willow" was re-issued, about a girl who "came from the clouds somewhere." The guy in the song pledged to love her while the embers burned, but then left her one day. The song was given a pass by DJs. Another release in '61 was "Janie's Face". The song concerned a lonely guy who dreams at night that he saw Janie come to him wearing a red scarf. When he wakes in the morning he discovers the red scarf Janie wore in his dream is beside his pillow. A third disc released in 1961 was "Bobby's Baby Doll". This rockabilly-esque tune exclaimed that the guy really loves the way his baby combs her hair. However, Bobby Swanson had to wait until 1962 before he got any more chart action locally or nationally.
In early 1962 Bobby Swanson and The Sonics had a Top 50 hit in Denver with "Twisting At The Top". Swanson wrote the lyrics to "Twisting at the Top" after his group performed at the "Top of the Rockies" restaurant in Denver. This was a restaurant located on the upper floor of the Security Life Building in downtown Denver which revolved 360 degrees. A music industry advertisement in Cashbox in February 1962 read "Twistin' with no-holds-barred from the songster and his combo-chorus accompaniment. Strong partytime take on the step." The single also made the pop chart in San Bernardino (CA).
As part of another Denver band called the Roadrunners – who were a steady gig from 1964 to 1968 – Bobby Swanson played guitar and was the lead vocalist. Several line-up changes unfolded – as Uncle Sam needed fresh young soldiers. However, Bobby Swanson remained with a reformed Roadrunners into the late 1980's. Bobby told a blogger in Denver in 2018, "The last gig that the Roadrunners did was at the Rear Inn Lounge off 80th & Sheridan. We played 4 nights a week there for 12 years. We packed the joint every night. Loved it!"
By the late 80's, Bobby Swanson was ready to leave Denver for a quieter life, moving 120 miles southwest of Denver to the town of Buena Vista, Colorado, with its scenic views from 7,965 feet. He told Denver pop music historian, Craig, that for awhile he regularly appeared on stage at two of Buena Vista's bars, The Lariat Saloon and The Coyote Cantina. The buildings in BV, as locals call it, mostly date back to the 1880s and 1890s.
In his final decades before he retired, Robert "Bobby" Swanson earned an income as a woodworker. He retired in 2009. Swanson's hobbies included fly fishing and flying radio-controlled airplanes. In 2014 Vic's Vinyl Records released a CD titled Forgotten Teen Idols Vol. 6: Rick Randell Meets Bobby Swanson. Bobby Swanson died on January 1, 2020, at the age of 76 – two weeks before what would have been his 77th birthday on January 14th.
November 23, 2020
Ray McGinnis
References:
Craig, "Bobby Swanson: A Colorado Musical Journey," PopBopRocktilUDrop, April 11, 2018.
Obituaries: "Robert Edward 'Bobby' Swanson Jr.," The Mountain Mail, Salida, Colorado, January 6, 2020.
"Forgotten Teen Idols Vol. 6: Rick Randell Meets Bobby Swanson," Vic's Vinyl Records, 2014.
Brian Tarling, Vancouver's Charted Songs: '56 to '78, (Brian Tarling, 2012).
Jurgen Cieslik and Marianne Cieslik, German Doll Encyclopedia 1800-1939, Marks, Dates, Facts, (Hobby House Press, 1985).
"C-FUN-Tastic 50," CFUN 1410 AM, Vancouver, BC, November 5, 1960.
"The Sensational Sixty," CKWX 1130 AM, Vancouver, BC, November 7, 1960.
For more song reviews visit the Countdown.