#1284: Cholley-Oop by Hong Kong White Sox
Peak Month: August 1960
6 weeks on Vancouver's CKWX chart
Peak Position #9
Peak Position on Billboard Hot 100 ~ did not chart
YouTube.com: "Cholley-Oop"
Gary Sanford Paxton was born in Coffeyville, Kansas, in 1939. He was born to an unwed mother, adopted at age three and raised by impoverished rural farmers. When he was twelve his family moved to Arizona and Paxton formed his first band at the age of 14. Meanwhile, Clyde Battin was born in Ohio in 1934 and by the age of 17 began to play the bass guitar. In 1956 Gary S. Paxton's musical career began when he collaborated with Clyde "Skip" Battin and formed the Pledges. In 1958 they recorded "Why Not Confess"/"Johnny Risk" for Arizona-based Rev Records, crediting the song to Gary and Clyde. In 1959 they renamed themselves Skip & Flip. In the spring of the year, while Paxton was still 19-years-old they recorded "It Was I" at a recording studio in Phoenix, Arizona, in 1959. The song peaked at #11 in the USA and #9 in Vancouver. They went on tour with Alan "Moondog" Freed. Skip & Flip followed up with a cover of the Marvin & Johnny ballad "Cherry Pie" in 1960. Their cover climbed to #11 on the Billboard Hot 100 and #7 in Vancouver.
Skip & Flip's third single sought to draw on the popularity of two dances still sweeping America, the Hully Gully and the Cha-cha-chá. The song was a novelty number called "Hully Gully Cha Cha Cha" co-written by Paxton and Battin. It did not make it onto the Billboard Hot 100, peaking at #109. However, in Vancouver the song peaked at #12 in August 1960. After one more minor hit that also missed the Hot 100, Skip & Flip disbanded.
Back in May 1960, while Gary S. Paxton was still on contract with Brent Records as part of Skip & Flip, he formed a studio band. Fresh from the dance-themed release of "Hully Gully Cha Cha Cha", another dance tune was in the works. The studio band was made up of Ronnie Silico, a drummer for R&B singer Lloyd Price (who had a recent string of hits including "Stagger Lee" and "Personality"), piano player Gaynel Hodge of The Penguins (who had the 1955 hit "Earth Angel") and bass player Harper Cosby for Sandy Nelson (the 1959 instrumental "Teen Beat"). Gary Paxton was the lead singer, with back-up singers, including Dallas Frazier who wrote the tune. The song was based on a comic-strip character who rode a pet dinosaur named Alley-Oop.
"Alley-Oop" was recorded at a studio outside a road called Argyle Street. So they named the band the Hollywood Argyles. "Alley Oop" reached No 1 on the Billboard Hot 100 on July 11 and in Vancouver for two weeks in June 1960.
Hoping to squeeze more out of the Alley-Oop craze, Paxton and Battin went back to the recording studio to record "Alley-Oop Cha Cha Cha"with the same band, credited to the Pre-Historics. The lyrics were identical to "Alley-Oop" adding "cha cha cha" to the end of each line in the song. They recorded another song by the same Hollywood Argyle band, this time under the name Hong Kong White Sox. The song was called "Cholley-Oop".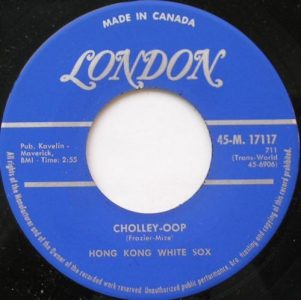 "Cholley-Oop" climbed to #8 in Baton Rouge (LA), #13 in Philadelphia, and #9 in Vancouver at the end of August 1960.
"Cholley Oop" is a song co-written by Dallas Frazier and Buddy Mize in 1960. Born in rural Oklahoma in 1939, from the age of twelve Dallas Frazier played guitar with Ferlin Husky on the Hometown Jamboree TV variety show. Dallas Frazier wrote "Alley Oop" in 1957. The song got the attention of Gary Paxton and was recorded in 1960 by the Hollywood Argyles. It became a #1 pop hit on the Billboard Hot 100. In 1966 his song "There Goes My Everything" became a big hit on the Billboard Country chart for Jack Greene, and in 1967 a Top 20 pop hit for Engelbert Humperdinck. In 1969 he wrote "All I Have To Offer You (Is Me)", which earned the Grammy in 1970 for Best Country Song, as recorded by Charlie Pride. Frazier also wrote "Elvira" in the '60's, a song that became a huge hit for the Oakridge Boys in 1981. Dallas Frazier was inducted into the Nashville Songwriters Hall of Fame in 1976. He retired from the music business in the 1980's and became a preacher.
William Robert Mize was born on April 29, 1929 in Kansas City. He was raised in California's San Joaquin Valley. Inspired by Bob Wills & The Texas Playboys, the young guitarist switched to steel guitar when he was 18. Mize moved to Bakersfield, formed his own band and worked as a DJ on KPMC radio. He began his television career in 1953 on Cousin Herb Henson's Trading Post show on KERO-TV. He remained with that program for 13 years. Meanwhile, he also began appearing on The Hank Penny Show on Los Angeles television in 1955, along with other performers including Sue Thompson. Mize graduated from there to the Town Hall Party program. By the late 1950's, he was appearing on seven weekly L.A. country TV shows, while still commuting to his Bakersfield commitments. Mize co-wrote "Alley Oop" and subsequently, "Cholley-Oop". In 1966, Mize became the host of Gene Autry's Melody Ranch series on KTLA-TV. He also began filming his own syndicated TV show in Bakersfield. The Academy of Country Music named him its television Personality of the Year in 1965, 1966 and 1967.
In the song by the Hong Kong White Sox, Cholley-Oop is described as a cartoon strip character whose cartoon is virtually unknown. He is rich: "he own American restaurant and very much more." He also owns a rice plantation. His diet consists of only "chop suey stew." According to the song lyrics, Cholley-Oop is a "Hong Kong cat" who has a brand new rickshaw painted red and he "knocks all the Chinese chickies dead." Cholley-Oop is bald, but the "chicks" don't seem to care because he's a millionaire. (In 1960 dollars, one million dollars is equivalent to $8,650,000 adjusted for 2019). Cholley-Oop "digs" suede shoes, the Ivy League and the Alley-Oop cartoon strip. (The Ivy League is a league of sports teams in elite private schools in northeastern USA. It includes Princeton, Harvard, Yale, Cornell, Dartmouth, Columbia, Brown and University of Pennsylvania). In the late '50's and early '60's slang a "cat" was a guy who was cool. And to "dig" something was slang, meaning you liked it a lot.
More problematic was the name of the character in the song: Cholley-Oop. For numbers of Asian people, speaking English as a second language, it is difficult to make the sound of an "r" in English words. (This is not the case for all people of Asian ethnic backgrounds). Consequently, the use of "r" sounds like an "l". In this case "Cholley" would be expressed as "Charlie" by a non-Asian speaking person. "Cholley-Oop" seemed to be poking fun at ethnic Chinese (and people of Asian ethnic backgrounds) who make the sound of an "l" when trying to pronounce words with the letter "r". The English "r" doesn't exist in most Chinese dialects.
The name given for the recording artist on the record was the Hong Kong White Sox. In the United States there are two professional baseball teams with "Sox" in their name. One is the Chicago White Sox and the other is the Boston Red Sox. It may have been that the songwriters, Dallas Frazier and Buddy Mize, thought it would be amusing to contemplate a baseball team made up of people from Hong Kong. It was only in 1965 that the first person of any Asian ethnicity, Masanori Murakami, played in the major leagues by signing with the San Francisco Giants. In 1977 Lenn Sakata was called up to play with the Milwaukee Brewers. In 1991 Don Wakamatsu became the first Yonsei to play in the majors when he is called up to the Chicago White Sox. And in 1995 Hideo Nomo from Osaka was named National League Rookie of the Year with the Los Angeles Dodgers. So, for this novelty song it added to the "amusement factor" to picture a professional baseball team comprised of players from Hong Kong.
For Chinese-Canadian listeners tuning into CKWX in 1960, would this song have struck them as funny? Or would they have found the vocal inflections in "Cholley-Oop" by white singers trying to imitate what a person from Hong Kong might sound like if they were speaking English problematic? Would the name for the recording artist – Hong Kong White Sox – have amused them or felt like another stereotype? Would they have enjoyed having their own imaginary cartoon strip character pictured as a rich rickshaw-driving hero being celebrated on the pop charts?
"Cholley-Oop" was not the only recording on the pop charts in Vancouver putting awkward lyrics about Asian people on display for radio listeners. In December 1961 CFUN DJ Frosty Forst provided vocals for "Fujikami The Warrior". The single, credited to the Hi-Fives, climbed to #18 on the CFUNTASTIC FIFTY chart, spending five weeks on the chart. While largely an instrumental, the song included wild vocals evoking a Japanese warrior. The recording was a bizarre attempt to mirror some of the films coming out of Japan at the time. In 1960 the Japanese film Scar Yosaburo (切られ与三郎 Kirare Yosaburō) was released. It was a chambara ("sword-fighting") film directed by Daisuke Itō starring Raizo Ichikawa. And in 1961 Yojimbo (用心棒 Yōjinbō), a samurai film directed by Akira Kurosawa, was released. It told the story of a rōnin, portrayed by Toshiro Mifune, who arrives in a small town where competing crime lords vie for supremacy. The two bosses each try to hire the newcomer as a bodyguard.
In the late '50's and early '60's there were numbers of songs about characters of ethnic minority groups. Ray Stevens sang about "Ahab The Arab" the sheik of the burning sands. Stonewall Jackson sang about "Igmoo" who looked like a reddish-brown orangutan. The Coasters sang about the historical figure "Little Egypt". Larry Verne sang about "Abdul's Party". Del Shannon sang about a "Swiss Maid". And the Crew Cuts had a Top 20 hit in Vancouver titled "The Legend Of Gunga Din". Through the ears of most hearers in 2019 most of these songs seem very awkward. While it is possible to sing a song that gives a nod to another ethnicity or culture, many of these ethnic-themed tunes released in the late '50's and early '60's succeeded in reinforcing stereotypes.
It was easier to simply embrace what other cultures were doing musically by exposing Canadian and American Top 40 radio listeners to their songs. These included "Volare (Nel blu, dipinto di blu)" by Italian singer Domenico Modugno, "Morgen" by Croatian singer Ivo Robić, "Sukiyaki" by Japanese singer Kyu Sakamoto, "Al di là" by Italian singer Emilio Pericoli, "Dominique" by Belgian singer-songwriter The Singing Nun, "La Bamba" by Mexican-American singer Ritchie Valens and "Seemann (Deine Heimat ist das Meer)"/ "Sailor (Your Home is the Sea)" by Austrian singer Lolita. By playing foreign-language songs on Top 40 radio in the early rock era, listeners gained a slice of pop music culture beyond the unilingual English world that dominated pop music charts. Moreover, they enjoyed singing along however imperfectly to foreign-language hits.
After the break-up of Skip & Flip, Clyde "Skip" Battin went on to appear in bit parts on TV shows and films, play guitar and write songs as a member of The Byrds, the New Riders of the Purple Sage and the Flying Burrito Brothers. He died in 2003. He was 69 years old.
In 1962 Gary S. Paxton produced another dance-themed tune called the "Monster Mash" for Bobby "Boris" Pickett. Pickett was a Boris Karloff imitator who sang the song with a backup group. The song was sung in the sepulchral intonation of a mad scientist. Paxton added atmospheric sound effects including a creaking door, created by pulling a nail from a piece of wood, and bubbling laboratory noises.
Within two months the "Monster Mash" had sold a million copies. By Halloween 1962 it had reached No 1 on the Billboard Hot 100 and #3 in Vancouver. Since then it has become a staple of Halloween themed songs played each year in the lead up to October 31st. When it was re-issued again in 1973, it peaked at #1 in Vancouver and #3 on the Hot 100. During the 1960s Gary S. Paxton worked as a producer in California, among others producing "Sweet Pea" by Tommy Roe and "Along Comes Mary" by The Association.
Paxton moved to Nashville in 1970 and became involved in the Jesus Movement. In 1975, Paxton won the Best Inspirational Grammy for his album The Astonishing, Outrageous, Amazing, Incredible, Unbelievable, Different World of Gary S. Paxton. While producing a record for a country singer in 1980, the singer hired hitmen who shot him three times. This nearly ended his life and sidelined Paxton for eight years. And in 1990 Paxton almost died of Hepatitis C. He died in 2005 at the age of 77 from complications due to heart surgery and liver disease.
August 11, 2019
Ray McGinnis
References:
"Skip Battin: Singer and Bassist in The Byrds most Stable Lineup," The Independent, July 11, 2003.
Harrison Smith, "Gary S. Paxton, music maverick who produced 'Monster Mash,' dies at 77," Washington Post, July 26, 2016.
"rōnin," Wikipedia.org.
"Yojimbo (film)," Wikipedia.org.
"Scar Yosaburo," Wikipedia.org.
Bill Staples Jr., "A Timeline of Asian-American Baseball," sabr.org, July 13, 2011.
"The Sensational Sixty," CKWX 1130 AM, Vancouver, BC, August 29, 1960.
For more song reviews visit the Countdown.