#760: Choo Choo Train by The Box Tops
Peak Month: July 1968
6 weeks on Vancouver's CKLG chart
Peak Position #4
Peak Position on Billboard Hot 100 ~ #26
1 week Hit Bound
YouTube.com "Choo Choo Train"
Lyrics: "Choo Choo Train"
William Alexander Chilton was born in Memphis, Tennessee, in 1950. His parents were both musicians who performed jazz in the Memphis area and recorded several records. Alex was influenced by the music scene and when he was at Central High School he entered a talent contest. At the age of 15 he was invited to join a band called Ronnie and the Devilles. To avoid confusion with another band from New York that went by the same name, they chose to call themselves the Box Tops. The founder of the group was drummer, Danny Smythe. Other bandmates were Garry Taley who played electric sitar, lead guitar, bass guitar and was a backing vocalist. Bill Cunningham provided backing vocals, bass guitar and keyboards. John Evans played guitar, keyboards and also was a backing vocalist. In addition to being lead singer, Chilton played guitar. Bill Cunningham's brother, B.B. Cunningham Jr., was lead vocalist for another Memphis band called The Hombres, who had a hit in the fall of 1967 titled "Let It All Hang Out". But keeping The Hombres out of the #1 spot on the pop charts was the Box Tops debut single, "The Letter".
"The Letter" sold over four million copies and was nominated for two Grammy Awards. The Box Tops lost out to the Fifth Dimension who took Best Performance for a Vocal Group with "Up, Up And Away". The band followed up with a string of Top 40 singles including "Cry Like A Baby", "Choo Choo Train" and "I Met Her In Church". In Vancouver the Box Tops generally had more success on the pop charts than in the USA with follow up singles after "The Letter". Between August 1967 and August 1969 the band charted six singles onto the CKLG charts and all of these made it to at least #12. Four of these singles made the Top Ten. While in the USA only two singles made it into the Top Ten.
The Box Tops were considered an example of blue-eyed soul. The term blue-eyed soul referred to white artists drawing on classic aspects of soul music to make a record. Other blue-eyed soul recording artists included The Righteous Brothers, the Young Rascals, Dusty Springfield, The Spencer Davis Group, Eric Burdon, the Average White Band and the Bee Gees. The Box Tops made their records at the American Sound Studio. Chips Moman was producing numerous hit records that included "Suspicious Minds" and "In The Ghetto" by Elvis Presley, "Raindrops Keep Falling On My Head" by B.J. Thomas, "Sweet Caroline" by Neil Diamond, "Angel of the Morning" by Merilee Rush and the Turnabouts, "Son of a Preacher Man" by Dusty Springfield, "The Dark End of the Street" by James Carr and "I Never Loved a Man" by Aretha Franklin. Chips Moman had played rockabilly guitar in the backing bands for Johnny Burnette and Gene Vincent. Moman urged Alex Chilton to sing "aeroplane" instead of "airplane" on "The Letter". Moman founded American Sound Studio after he left Stax Records in 1962. Rolling Stone magazine notes that "From 1967 to 1971, American Sound Studio placed more than 120 hits on the charts, notching nearly more than one-quarter of the Billboard Hot 100 chart hits in a single week."
In January 1968, Danny Smythe and John Evans both quit the band and enrolled in school in order to avoid the draft. They were replaced by a bass player from The Gentrys named Rick Allen and a drummer from a local band named Thomas Boggs.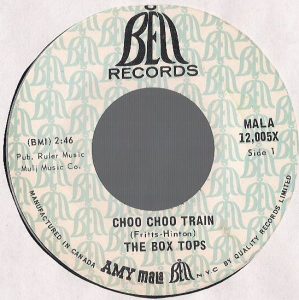 Donnie Fritts was one of the co-writers of "Choo Choo Train". He wrote songs out of the Muscle Shoals Studios in Memphis. He wrote songs recorded on albums by Percy Sledge, Dusty Springfield, Tommy Roe as well as the Box Tops. He also co-wrote songs with Lucinda Williams, John Prine and was a longtime collaborator with Kris Kristofferson. The other co-writer of "Choo Choo Train" was Eddie Hinton. A blues guitarist, Hinton also wrote songs recorded by a range of artists including Tony Joe White, UB40, Bobby Womack Percy Sldege and Aretha Franklin. His guitar playing can also be heard on numbers of recordings by Aretha Franklin, the Staple Singers, Johnny Taylor, Boz Scaggs, Otis Redding and Joe Tex.
"Choo Choo Train" is about a guy who has sewn all his wild oats. He is getting a one-way ticket back to his home-town. He wants to return while he can still see "his dear ol' mother." The train is slow and he wants it to accelerate. In addition to his mother, his "Baby," is waiting at the train station for him. He is almost "insane" thinking about seeing her again. The song has a bluesy feel. "Choo Choo Train" was the fourth Top 30 hit for the Box Tops in the USA. It peaked at #26 in the 'States and #4 in Vancouver. The Box Tops lead vocalist Alex Chilton, was 17 when they recorded the record. The song appeared on the Box Tops third album recorded in twelve months, Non-Stop. Its best chart runs in Canada and the United States were #3 in Columbus (OH), #4 in Vancouver, Toledo (OH), Rochester (NY), Buffalo (NY) and Tulsa (OK), #5 in Toronto, #6 in San Diego and San Francisco, #7 in Hartford (CT) and #8 in Los Angeles.
In the fall of 1968, the Box Tops had Chips Moman and Tommy Cogbill produce their next single, "Sweet Cream Ladies". Cogbill had been successfully producing hits for Aretha Franklin including "Respect", "Chain of Fools", "Sweet Baby (Since You've Been Gone)" and "(You Make Me Feel Like) A Natural Woman".
The Box Tops must have wanted to not get boxed in as too straight-laced when they released "Sweet Cream Ladies", as it was their follow up to "I Met Her In Church". The Box Tops final Top 40 single was "Soul Deep". The summer of '69 hit climbed to #12 in Vancouver. The Box Tops split up in 1970. Alex Chilton went on to sing with Big Star, a forerunner of alternate and indie rock. Gary Talley became a session musician. Bill Cunningham went on to join the White House Orchestra in Washington D.C. and had played with Itzak Perlman and others. John Evans built and repaired string instruments as a luthier and later worked in the computer industry. Danny Smythe stayed in the music business drumming for a number of local bands.
In 2014, Holly George-Warren published A Man Called Destruction: The Life and Music of Alex Chilton, From Box Tops to Big Star... In the biography George-Warren writes about when Alex Chilton was 17, he was at a party with Charles Manson in the home of Dennis Wilson of the Beach Boys. Chilton got married on his 18th birthday. Chilton had a working class background. While making records and touring helped with finances, it wasn't enough to make a living in the long run. While he sang with Big Star into the mid-70s, Chilton had to take on menial jobs. Chilton also had to deal with the alcoholism in his family and was doing drugs himself and picking up underage girls. In the early eighties Chilton moved to New Orleans and put music on the back burner. He was a dishwasher at the Louis XVI Restaurant in the French Quarter. And worked as a janitor at the Uptown nightclub Tupelo's Tavern. He also made ends meet calls to trim people's trees. In 1986, The Bangles second album, Different Light, included a cover of Chilton's song, "September Gurls", from his Big Star days. The royalties Chilton got enabled him to purchase his first new car since the late sixties when he was with The Box Tops. These royalty cheques also gave him enough money to be able to buy and a piece of rural property 80 miles southwest of Nashville. Alex Chilton appeared on the Tonight Show with Jay Leno in 1994. He also toured in Belgium and France. In 1995 Chilton was able to buy a home in New Orleans. He died of a heart attack in 2010 of a heart attack.
In 1996 the original lineup got back together and did oldies tours until Alex Chilton's death. (John Evans bowed out of the lineup in 1999). On the 50th anniversary of the release of "The Letter", Billy Cunningham and Gary Talley were joined by several new musicians on an oldies tour with The Turtles, The Cowsills, The Association, and lead singers from Three Dog Night and The Archies. From March 30 to April 6, 2019, The Box Tops will be one of the performers on the Flower Power Cruise that departs Ft. Lauderdale and stops in St. Maarten and San Juan, Puerto Rico. Other headliners include The Beach Boys, Lovin' Spoonful, Gary Puckett and the Union Gap, Big Brother and the Holding Company, The Yardbirds, Tommy James and the Shondells, Jefferson Starship, Melanie, The Ides Of March and Chuck Negron (lead singer of Three Dog Night).
May 3, 2018
Ray McGinnis
References:
Randy Lewis, "Alex Chilton Dies at 59; Mercurial Leader of the Box Tops, Big Star,"Los Angeles Times, March 18, 2010.
Stephen L. Betts, "Legendary Producer Chips Moman Dead at 79," Rolling Stone, New York, June 14, 2016.
Holly George-Warren, A Man Called Destruction: The Life and Music of Alex Chilton, From Box Tops to Big Star. (Penguin, 2014).
Stephen A. Deusner, "A Man Called Destruction: The Life and Music of Alex Chilton," Pitchfork, April 11, 2014.
"Boss 30," CKLG 730 AM, Vancouver, BC, July 6, 1968.
For more song reviews visit the Countdown.