#625: Cincinnati Fireball by Johnny Burnette
Peak Month: October 1960
8 weeks on CFUN's Vancouver Chart
Peak Position ~ #3
Peak Position on Billboard Hot 100 ~ did not chart
YouTube.com: "Cincinnati Fireball"
Lyrics: "Cincinnati Fireball"
John Joseph "Johnny" Burnette was born in Memphis, Tennessee, in 1934. When he was four his dad bought him a Gene Autry guitar, along with one for his older brother, Dorsey. During his teens, Johnny was a member of the school baseball and football teams. Along with his older brother, Dorsey, Johnny began appearing on Memphis radio stations and playing gigs for beer money, kicks and girls. Johnny Burnette was only 17. From 1948 to 1954, the Burnette brothers lived in a housing project in the Lauderdale Courts area of Memphis. This was the same housing project where Elvis Presley and his parents lived. After leaving high school, Johnny Burnette tried to become a professional boxer, However, after one fight with a sixty-dollar purse and a broken nose, Johnny Burnette traded in his boxing gloves to work on the barges up and down the Mississippi River. In 1953, an amateur boxer named Paul Burlison, returned from the U.S. Army to Memphis. Dorsey had met Paul Burlison when he was boxing in the late '40's. Dorsey, Johnny and Paul formed a trio named the Rhythm Rangers. They later renamed themselves the Rock and toll Trio. They first performed "Rockabilly Boogie" in 1953. The songs' title was made up from the name of cousin a of the Burnette brothers named Rocky, together with the name Billy. From that songs first performance the term rockabilly was coined. Johnny Burnette is singing the lead on this with Dorsey Burnette on guitar.
The Rock 'n Roll Trio appeared on American Bandstand, the Steve Allen's Tonight Show and Perry Como's Kraft Music Hall. In the summer of 1956, The Rock 'n Roll Trio toured with Gene Vincent and Carl Perkins. They also appeared in Madison Square Garden on a live broadcast of the Original Amateur Hour on ABC. But the Rock 'n Roll Trio came to be billed as Johnny Burnette and the Rock 'n Roll Trio. Dorsey didn't like the way the groups agents marketing of the trio or his brother Johnny's leap into the limelight. In September 1956, Dorsey quit the trio just before their planned appearance in the film Rock Rock Rock featuring rock 'n roll DJ Alan Freed. Although Dorsey was replaced, the Rock 'n Roll Trio disbanded by the fall of '57. Before the Trio disbanded, Johnny Burnette had a regional Top Ten hit in Boston in the winter of 1956-67 titled "The Train Kept A-Rollin'". He made the Top 50 on CHUM in Toronto in the fall of 1957 with "Butterfingers".
Dorsey had moved to California where he was an electrician. Johnny hitchhiked out to Los Angeles. The brothers tried to follow their dream and audaciously stepped up the street where Ozzie and Harriet Nelson lived in Beverley Hills. They asked to speak to their son, teen idol Ricky Nelson. At that moment Ricky Nelson came up the driveway in his motorcycle. Nelson asked Dorsey and Johnny to perform in front of him on the spot. Of the ones Ricky Nelson recorded Johnny and Dorsey co-wrote "Waiting' In School" and "Believe What You Say". This songwriting success led to a record deal with ERA Records.
However, the Burnette Brothers failed to chart anything nationally in the USA. Johnny Burnette got a record deal with Freedom Records in 1958. He wrote a number of songs and released three singles which were each commercial failures. Freedom Records shut down in 1959 and Burnette moved to Liberty Records under the direction of Snuff Garrett. Johnny had a minor hit in January 1960 titled "Settin' The Woods On Fire", a Top 30 hit in Chicago. His next release was "Dreamin'", which climbed to #6 on C-FUN in July 1960 and #11 on the Billboard Hot 100. After the last week of August 1960 that "Dreamin'" was on the pop charts in Vancouver, the B-side, "Cincinnati Fireball" entered the C-FUN chart at #50 on September 3, 1960. "Cincinnati Fireball" eclipsed the chart run for "Dreamin'" in Vancouver, peaking for two weeks at #3. The only other radio market where the song made the Top 40 was Jacksonville, Florida, where the song peaked at #7.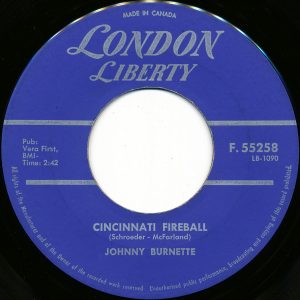 "Cincinnati Fireball" was co-written by Aaron Schroeder and Leslie J. MacFarland. MacFarland was born in 1926 and beginning in 1950, MacFarland wrote songs that were recorded by dozens of recording artists. These include Gordon MacRae, Damita Jo, Varetta Dillard, Vaughan Monroe, Bill Haley And His Comets, The Five Keys, Jim Reeves, Pat Boone, Aretha Franklin, Paul Evans, Dusty Springfield, Jimmy Gilmer & The Fireballs, Dee Clark, Billy J. Kramer & The Dakotas, Luther Ingram, P.J. Proby, Lou Rawls and Elvis Presley. In 1960 he arranged the songs for Aretha Franklin's debut album, Aretha with the Ray Bryant Combo. He also wrote six of the tracks, including "Won't Be Wrong" which climbed to #7 on the Billboard R&B chart in 1961, In 1962, MacFarland wrote four songs on Aretha Franklin's album The Electrifying Aretha Franklin. In 1960 MacFarland and Schroeder co-wrote a Elvis Presley's first single after returning from the U.S. Army. "Stuck On You" knocked Percy Faith's "Theme From A Summer Place" out of the #1 spot in April 1960. MacFarland later co-wrote the 1964 #1 UK hit for Billy J. Kramer & The Dakotas titled "Little Children".
John Leslie MacFarland had a colorful reputation. In a book about the music industry, Graham Vickers recounts some of the stories about MacFarland. John Leslie was said to have taken a mummy from a New York museum and transported it on a New York City bus. He was said to have stolen a police horse and ridden it the wrong way down a one-way street in Manhattan. He also was said to have had sex in a snowstorm with a woman in the middle of 49th Street. Songwriter Doc Shuman once secured MacFarland a room at The Forrest Hotel on West 49th Street. During his one night of residency, MacFarland, in a drunken rage, took an axe to the lobby of the hotel. John Leslie MacFarland died in 1971 at the age of forty-five after years struggling with alcoholism. In Ace Collins' book, Untold Gold: The Stories Behind Elvis' #1 Hits, Aaron Schroeder's wife, Abby, recalled MacFarland, "He was a magical guy. Oh, like all writers, he was a bit crazy, wonderfully so, though. MacFarland was really a touch of genius, a touch of torment. He would sometimes drink too much, but he was a great guy when he was sober. And his songs were usually so good."
Aaron Schroeder was born in 1926 in Brooklyn. He became a member of ASCAP in 1948. His first recorded song was "Never Underestimate The Power Of A Woman" by the Delta Rhythm Boys in 1947. His first success on the pop charts was in 1948 with "At A Sidewalk Penny Arcade" for the Pied Pipers. In the 50's Tommy Dorsey, Eileen Barton, Sammy Davis Jr., Teresa Brewer, Don Cherry, Johnnie Ray, Ferlin Husky, Carl Perkins, Gogi Grant, Pat Boone, Conway Twitty, Frankie Avalon, Annette, Carl Dobkins Jr., Rusty Draper and Guy Mitchell were among the recording artists who took his songs to the recording studio. But it was his penmanship for Elvis Presley that put Aaron Schroeder on the map. In 1956 he penned "I Was The One", the B-side to "Heartbreak Hotel". In 1957 he made a cameo appearance in the film Jamboree, cast as a songwriter. Carl Perkins was featured singing Schroeder's tune "Glad All Over". Fats Domino, Jerry Lee Lewis, Buddy Knox and Frankie Avalon were among the recording artists starring in the rock 'n roll movie.
Aaron Schroeder went on to write (or co-write) "A Big Hunk Of Love", "I Got Stung", "It's Now Or Never", "Stuck On You", "Good Luck Charm", Schroeder wrote "Rubber Ball" for Bobby Vee, "Because They're Young" for Duane Eddy, "Lucky Devil" for Carl Dobkins Jr. and "First Name Initial" for Annette. He contributed to the final touches for "It's My Party" by Leslie Gore. He wrote "Half Heaven, Half Heartache" for Gene Pitney. And he produced other Pitney hits, including Academy Award nominee for Best Song in 1961, "Town Without Pity", "(The Man Who Shot) Liberty Valance", "Only Love Can Break A Heart" and "24 Hours From Tulsa". Other recording artists who took Aaron Schroeder's songs and made them into vinyl include Perry Como, Eden Kane, Frank Ifield, Nat "King" Cole, Jackie DeShannon, Cliff Richard, Frank Sinatra, Dionne Warwick and Roy Orbison. From 1960 to 1965 Aaron Schroeder was the president of Musicor Records. He died in 2009 from complications due to dementia.
"Cincinnati Fireball" is a song about a female who has tons of sex appeal. One look and you're hooked. The way she walks is a knockout and she has a "kiss of fire," a musical nod to Georgia Gibbs #1 hit from 1952. The problem with the "Cincinnati Fireball" is that even as you love hearing her talk, you discover it's all "a lie" The lyrics tell us that she promises to "be true," but you never know who she means by that. Nonetheless, her kisses are so hot it makes the guy in the song want to "climb a wall" and endure "1,000 sleepless nights." The physical chemistry is so strong the guy is determined that he's got to "go-wo-wo back to O-O-O-hio."
In the Huffington Post Sarah Hosseini penned an article titled "9 Signs You're Sexually Attracted To Someone, Not Actually In Love." She writes "Lust and love can be extremely confusing, especially when sex is involved. As you probably know, lust is that exciting and euphoric stage of courtship. It's often really intense and can be confused with love. Add sexual attraction to the lust and you have the perfect recipe for romantic befuddlement. So what are the signs you're sexually attracted to someone and not actually in love?" In her article Hosseini draws up a list:
1) You don't actually spend time together.
2) You keep the relationship on the fantasy level.
3) There's a lack of emotional connection.
4) You're focused on their physical appearance.
5) You don't care about getting to know their family.
6) They make you nervous, and not in a good way (too many red flags)
7) Your best friend dislikes the person.
8) You're extremely careful about birth control (you know deep down inside you never want a child with this guy)
9) You can't see a future together. ("If you want to rip his clothes off, but can't think of any scenario where you two could live happily ever after, it's a good sign you're just in it for the sex,")
In the lyrics of "Cincinnati Fireball" this woman's habit of lying should be a red flag. Maybe the thrill of her kiss of fire and the way she holds you makes you want to climb a wall. It should also make you run for the hills, unless living with someone for the rest of your life you can't trust is appealing.
Cincinnati is a city in Ohio settled in 1788. Originally named Losantiville, its name was changed in 1790 to Cincinnati in honor of the Society of Cincinnati. The Society was founded in 1783 to preserve the ideals and fellowship of the officers in the Continental Army who served in the American Revolutionary War. The Society's name was owed to Lucius Quinctius Cincinnatus (519 BC to 430 BC), a Roman farmer, patrician, military leader and dictator of the Roman Republic. He was the dictator of the Republic for 15 months starting in 458 BC. But after achieving absolute control of the region, resigned to take up farming again. Cincinnatus is considered in Roman legend an example of true civic leadership.
In 1811 steamboats were introduced on the Ohio River and Cincinnati became an important center for shipping, trade and commerce. In 1859 Cincinnati established six streetcar lines with streetcars pulled by horses. Cincinnati was in the free state of Ohio, and Cincinnatians were active in the movement to abolish slavery. The 19th President of the United States, abolitionist Rutherford B. Hayes (1877-1881), built his law practice and political career in Cincinnati. Cincinnati is also the birthplace of a number of recording artists including Fats Waller, Doris Day, Rosemary Clooney, Hank Ballard, jazz alto saxophonist Earl Bostic The Isley Brothers, Mel Carter, The Casinos, Carl Dobkins Jr., Peter Frampton, The Lemon Pipers, Lonnie Mack and Andy Williams.
Before "Cincinnati Fireball" fell off the charts in Vancouver, Johnny Burnette debuted "You're Sixteen". Consequently, Johnny Burnette had a song on the record charts continuously between June 20, 1960, with "Dreamin'" until January 14, 1961, when "You're Sixteen" had its final week on CKWX. The week of January 21, 1961, there was no single by Johnny Burnette on the Vancouver pop charts. However, on January 28, 1961, He had managed to chart for 36 of 37 weeks on the CFUN and CKWX charts in Vancouver. Burnette returned to the local charts with "Little Boy Sad" until March 4, 1961. In April, Johnny Burnette was again on the pop charts in Vancouver with "Big Big World" for six more weeks, making the pop charts for 42 of 52 weeks in twelve months. In the summer of 1961, Burnette charted "Girls" for four weeks. In the fall of '61 he charted "God, Country And My Baby" for nine weeks. In early 1962, Johnny Burnette charted "Clown Shoes" for another six weeks and "The Poorest Boy In Town" for seven weeks. Johnny Burnette was a perennial favorite on Vancouver pop radio between June 1960 and June 1962, charting for sixty-eight of 102 weeks from the time "Dreamin'" appeared on the chart in June 1960 and "The Poorest Boy In Town" fell off the charts in early June '62.
Coinciding with the release of "Little Boy Sad" in March 1961, Johnny Burnette was hospitalized with a ruptured appendix. Several of his single releases in 1961 received little promotion, as Burnette wasn't touring. In the summer of 1961 he went on a tour of northeastern USA. Subsequently, he toured in Australia with Connie Francis. In 1962, he flew to the UK and toured with Gary U.S. Bonds and Gene McDaniels. But back in the USA Burnette's star began to fade. He switched labels twice and even though Capitol Records hooked him up with a new producer named David Gates (later of Bread), Burnette failed to make a dent in the pop charts in the face of the British Invasion. He decided to form his own record company which eventually was named Magic Lamp. Ironically, he was killed in a tragic accident that involved his unlit fishing boat being hit by a cabin cruiser on Clear Lake, California. The force of the crash threw Burnette into the lake where he drowned. He was 30 years old.
March 11, 2019
Ray McGinnis
References:
The Burnette Brothers, Rockabilly Legends.com
Rob Grayson, "The Boxing Burnette Brothers Pack A Pop Punch," WKNO-FM, Cordova, TN, November 22, 2011.
Frank Hoffman, Dorsey Burnette, Survey of American Popular Music.
Johnny Burnette & The Rock 'n' Roll Trio, Playlist.net
Johnny Burnette Trio, Rockabilly Boogie, 1953.
John Leslie MacFarland bio, Upclosed.com.
Jeff Ramarkin, "Aretha Franklin: Take a Look: Aretha Franklin Complete on Columbia," Jazz Times, May 1, 2011.
Douglas Martin, "Aaron Schroeder, Writer of Hit Songs for Elvis Presley, Dies at 83," New York Times, December 5, 2009.
Ace Collins, Untold Gold: The Stories Behind Elvis' #1 Hits, Chicago Review Press, 2005, p. 150.
Graham Vickers, Pomus & Shuman: Hitmakers: Together & Apart, (Omnibus Press, 2013).
Sarah Hosseini, "9 Signs You're Sexually Attracted To Someone, Not Actually In Love," Huffington Post, July 12, 2017.
Hank Zevallas, "Death Intervened: Singer Johnny Burnette Was on Way to Greatness," Memphis Sun, August 27, 1964.
"Lucius Quinctius Cincinnatus biography," Wikipedia.org.
"C-FUN-TASTIC FIFTY," CFUN 1410 AM, Vancouver, BC, October 8, 1960.
For more song reviews visit the Countdown.