#1137: Cinderella by Paul Anka
Peak Month: September 1961
5 weeks on Vancouver's CKWX chart
Peak Position #8
Peak Position on Billboard Hot 100 ~ #70
YouTube.com: "Cinderella"
Lyrics: "Cinderella"
Paul Anka was 16 years old when he had a number one hit with "Diana" in 1957, a song he wrote about a girl in the church he attended. (Diana Ayoub, who inspired Anka to pen the song, died in December 2022). He continued to have a string of Top Ten and Top 20 hits into 1963 in Canada, the United States, the UK and Italy. But with the British Invasion, Paul Anka was sidelined not to return to the pop charts until his #1 hit in 1974, "You're Having My Baby". The song was a duet with Odia Coates. The duo enjoyed a string of Top 20 hits in Canada and the USA including 1974's "One Man Woman/One Woman Man", 1975's "I Don't Like To Sleep Alone" and "(I Believe) There's Nothing Stronger Than Our Love".
Paul Anka was born in Ottawa, Canada, in 1941. His father was Syrian-American and his mother was Canadian-Lebanese. His career has included writing songs for others. "She's A Lady" became a signature song for Tom Jones. He also wrote the English lyrics to "My Way" for Frank Sinatra. He appeared in his first movie in 1958, Let's Rock, a movie about the new rock 'n roll phenomenon, and in the 1962 army film, The Longest Day. Anka also appeared in the 1960-61 NBC crime series, Dan Raven, in a cameo as himself.
On October 23, 1957, Paul Anka appeared in concert at the Georgia Auditorium in Vancouver. Others on the stage included Buddy Holly and The Crickets, Buddy Knox, Eddie Cochran and Frankie Lymon and the Teenagers.
Between August 1957, with his debut of "Diana", and the spring of 1961, Paul Anka had charted sixteen singles into the Top 30 of the Billboard Hot 100. These include a #2 hit, "Put Your Head On My Shoulder", and "Lonely Boy", a number-one hit on the Billboard Hot 100 in July 1959. Twelve other single releases in this timeframe were less successful. With such a parade of single releases Anka kept himself on the pop charts constantly.
Of his next 29 single releases from the summer of 1961 to the end of 1968, only four would climb into the Top 30. His double-sided single "Kissing On the Phone/Cinderella" was one of these to miss the Top 30 on the Billboard Hot 100. While the A-side climbed to #35, Paul Anka's composition of "Cinderella" only climbed to #70 in the USA, but the disc made it to #8 in Vancouver.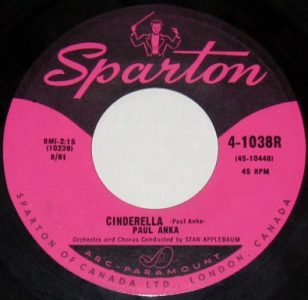 The song Paul Anka wrote draws from the folk tale of Cinderella. There are thousands of versions of the Cinderella story across the world. The folk tale is about a young woman living in unfortunate circumstances, cleaning out the cinders from a fireplace and other menial chores. Remarkable circumstances bring her favor, status and love. The oldest documented Cinderella folk tale comes from China, while the oldest European version is from Italy. The most popular version was first published by Charles Perrault in Histoires ou Contes du Temps Passé in 1697. Later, the Brothers Grimm included Cinderella in their folk tale collection of Grimms' Fairy Tales in 1812.
Although the story's title and main character's name change in different languages, in English-language folklore "Cinderella" is the archetypal name. The word "Cinderella" has, by analogy, come to mean one whose attributes were unrecognized, or one who unexpectedly achieves recognition or success after a period of obscurity and neglect.
In writing the song "Cinderella" Paul Anka was perhaps hoping the archetypal folk tale would provide instant recognition and interest to radio listeners. But the lyrics Anka wrote resemble the story line of the Everly Brothers song, "Wake Up Little Susie". There is little in the lyrics to suggest any connection with the folk tale's plot line, aside from a reference to twelve o'clock. In the folk tale that was the time that the golden carriage would turn into a pumpkin, the horses into mice, the coachmen into rats and her gown, jewels and glass slippers back into rags. In Paul Anka's song twelve o'clock is the time by which he promised to have Cinderella back to her parents home. The song lyrics addressed a common predicament of boyfriends taking their girlfriends out on a date in the late 50s and early 60s. There were curfews and societal expectations to keep a girl from ruining her reputation. The song also made it into the Top Ten in Youngstown, Ohio, (#6), Buffalo (#8) and Syracuse, NY, (#5).
In 1961 Anka also starred in the movie, Look in Any Window, where he played a peeping tom. He also appeared in an episode of the Danny Thomas Show in April of '61. As well, he starred that year as himself in a documentary called The Seasons of Youth.
Paul Anka continued to tour and book gigs at different venues around North America. In April 1966, Paul Anka appeared for eleven concerts on eleven consecutive nights at The Cave between the 16th and 26th on the month.
Anka later would appear in The Red Skelton Hour in 1965 and the crime series, Kojak, in 1974. In 1982 he hosted his own entertainment series called The Paul Anka Show.
In 1969, Paul Anka finally returned, briefly, to the Top 30 with "Goodnight My Love", (#27 Billboard Hot 100) a remake of the 1956 R&B classic by Jessie Belvin. It would take eleven more single releases before he would return to the Top 40 with "You're Having My Baby" in 1974, a #1 hit record. On August 25, 1977, Paul Anka gave a concert at the Pacific Coliseum in Vancouver.
Over the decades Paul Anka has charted more than fifty singles onto the Billboard Hot 100. In 1990 he became a US citizen. On October 4, 2007, Paul Anka appeared in concert at the Centre For Performing Arts in Vancouver. In 2013 Paul Anka published My Way: An Autobiography. On August 28, 2015, Paul Anka performed at the Hard Rock Casino in the Vancouver suburb of Coquitlam. Between mid-June and mid-November of 2017 Paul Anka has over fifteen concerts scheduled.
March 23, 2017
Ray McGinnis
References:
Heidi Parker, "He's Married Again! Paul Anka, 75, Weds His Girlfriend of Six Years In Beverly Hills With Mogul Pal Warren Buffet in Attendance," Daily Mail, October 29, 2016.
Jay Weston, "Paul Anka's "My Way," Reviewed From the Inside!," Huffington Post, December 6, 2017.
Paul Anka bio, Capitolint.com.
Harry Foster, Let's Rock, Columbia Pictures, 1958.
Charles F. Haas, Girls Town, Metro-Goldwyn-Mayer, 1959
Mickey Rooney, The Private Lives of Adam And Eve, Universal Pictures, 1960
"The Real Paul Anka," The Gilmore Girls, The WB Network, 2006
Dan Raven, NBC, 1961
Paul Anka, "Red Roses For A Blue Lady," The Red Skelton Hour, CBS, 1965
"Tonight My Love, Tonight," Danny Thomas Show, ABC, 1961
Perrault, Charles. Histoires ou Contes du Temps Passé. 1697.
Grimms' Fairy Tales. Grimm Stories.com
Cox, Marian Roalfe. Cinderella: Three Hundred and Forty-Five Variants of Cinderella, Catskin, and Cap o'Rushes. Folk-Lore Society, London, 1893.
"Diana Ayoub, Ottawa woman who inspired Anka hit, dead at 83," CBC, December 6, 2022.
"Fabulous Forty," CKWX 1130 AM, Vancouver, BC, September 2, 1961.
For more song reviews on this website visit the Countdown.