#329: Commotion by Creedence Clearwater Revival
Peak Month: September 1969
9 weeks on Vancouver's CKLG chart
Peak Position #3
1 week Hit Bound
Peak Position on Billboard Hot 100 ~ #30
YouTube.com: "Commotion"
Lyrics: "Commotion"
John Fogerty was born in 1945 in Berkeley, California. He was raised in nearby El Cerrito. He learned to play guitar in his youth. In 1959 John Fogerty, Stu Cook and Doug Clifford formed a trio named the Blue Velvets. Based in El Cerrito, California, just north of Berkeley, they were joined in 1960 by John's brother, Tom, who had been in a band called The Playboys. The Blue Velvets were influenced by Little Richard and other rock 'n roll greats. They played a number of hits on the radio and their cover of Bobby Freeman's "Do You Want To Dance," was an audience favorite. In 1964 the Blue Velvets changed their name to the Golliwogs. They had a Top Ten hit called "Brown Eyed Girl" in San Jose (#7), Fresno (#3) and Miami (#8) in the winter of 1965-66. It was a blues infused tune, but not the same-titled song that Van Morrison would take up the charts the following year.
In 1966 John Fogerty was drafted into the U.S. Army reserves and was stationed in Fort Bragg, NC, and then in Fort Knox, KY, and finally Fort Lee, VA. Meanwhile, Doug Clifford went into the United States Coast Guard Reserve. Fogerty and Clifford finished their respective service in 'Reserves in 1967. And in 1967 the Golliwogs changed their name to Creedence Clearwater Revival. This was because Saul Zaentz bought Fantasy Records and offered the Golliwogs a chance to record a studio album provided that they change their name.
The band chose the name to Creedence Clearwater Revival based on several different influences. Creedence was named after a friend of Tom Fogerty's named Credence Nuball. The first name, with its connotations of faith and trust, appealed to the group. They all knew what it meant to give credence to something that you accept or trust is true. Clearwater also had several meanings. It came initially from a beer commercial. However, clearwater also connected with the emerging environmental movement and its back-to-the-land sentiment, a sentiment that was expressed in the Woodstock Festival and Joni Mitchell's urgent message: "we've got to get ourselves back to the garden." The word, revival, reflected the band's intention to switch up their performance and recordings to a new level.
Doug Clifford was born in Palo Alto, California, and learned to play drums in his teens. Thomas Richard Fogerty was born in 1941 in Berkeley, California. In his teens he had a band called Spider Web that included future Seeds guitarist Jimmy Levine. Guitarist, Stu Cook, was also raised in the Bay Area. Their self-titled debut album was released in the summer of 1968. It included a cover of the Dale Hawkins classic from 1957, "Susie Q". Creedence Clearwater Revival recorded an eight minute version of the song and pitched it to the progressive FM station, KMPX, in San Francisco. The station began to play it prior to the release of the album which created a buzz for CCR all over the Bay Area. They also put a "z"in Suzie, perhaps to designate the artistic uniqueness of their cover of Dale Hawkins rock 'n roll classic. CCR's cover made it to #11 on the Billboard Hot 100 and #1 in Vancouver. It may be that CCR were thumbing through the "H" section of rock n' roll singers when they decided to cover another song by a singer with the surname of Hawkins. Another track of their debut album was "I Put A Spell On You" by Screaming Jay Hawkins.
It was the second album, Bayou Country, that put Creedence Clearwater Revival on a path of almost constant success. They hit #2 in February 1969 in Vancouver (BC) and in March on the Billboard Hot 100 with "Proud Mary". Their next single release was from their third studio album, Green River, titled "Bad Moon Rising". The B-side was a song called "Lodi". Just after "Bad Moon Rising"/"Lodi" had spent 5 weeks in the Top Ten of the CKLG Boss 30 in May-June, the band appeared in concert in Vancouver (BC) on July 11, 1969, at the Agrodome.
The next single CCR released was in July 1969 was the title track from their third studio album: "Green River". The B-side was "Commotion".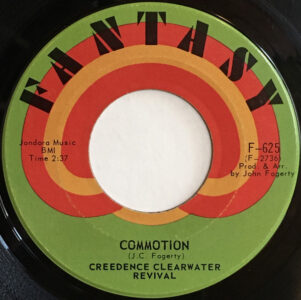 "Commotion" was written by John Fogerty. The first verse is about gridlock in the city: whether on a freeway or in a church parking lot. And the emotional impact of all the traffic is people everywhere frowning. The second verse is about a different kind of commotion: people talking at your door (gossip), and at the White House (politics). Fogerty writes "so much goin' on I just can't hear." And in the third verse the commotion is about the rat race: "Run, run, run, run, run. Rushin' to the treadmill, rushin' to get home…"
The "rat-race" is an analogy to the modern city, where many may see citizens, as rats in a single maze, expend a lot of effort running around, ultimately achieving nothing meaningful either collectively or individually. This is often used in reference to work, particularly excessive or competitive work; in general terms, if one works too much, one is "in the rat race". A key aspect of the rat race is being inflicted on the individual by uncontrollable outside forces such as researchers in the case of literal rats in a laboratory maze, or the inherent logic, pressures and incentives of contemporary businesses and society (e.g. productivity, acceleration, status). This terminology contains implications that many people see work as a seemingly endless pursuit with little reward or purpose (cyclical commute between home and work, akin to a rat running in circles or in a hamster wheel). And in "Commotion" CCR sings about people in this frustration and exhaustion from running around, rushing around, being on a "treadmill."
In 1956 William H. Whyte published The Organization Man. A central tenet of the book is that average Americans subscribed to a collectivist ethic rather than to the prevailing notion of rugged individualism. In his book Whyte wrote: "The word collective most of them can't bring themselves to use—except to describe foreign countries or organizations they don't work for—but they are keenly aware of how much more deeply beholden they are to organization than were their elders. They are wry about it, to be sure; they talk of the "treadmill," the "rat race," of the inability to control one's direction."
There is an episode from I Love Lucy titled "Job Switching" that aired on September 15, 1952, Lucy and Ethel are working in a chocolate factory. They are told by their supervisor "the candy will pass by on this conveyor belt, and continue into the next room where the girls will pack it. Now your job is to take each piece of candy, and wrap it in one of these papers, and put it back on the belt. You understand? All right girls. Now this is your last chance. If one piece of candy gets past you and into the packing room unwrapped, you're fired." When the supervisor yells to another employee to "let her roll," the chocolates start to come out of the conveyor belt. As they come down the belt faster and faster, Lucy and Ethel put the chocolates in their mouths, down their blouses, and off the belt in front of them. Lucy tells Ethel, "I think we're fighting a losing game." And in "Commotion", CCR sings about people who "worry 'bout the time you save, save."
In her book Simple Living Guide: A Sourcebook for Less Stressful, More Joyful Living, Janet Luhrs advises that we do one thing at a time. She notes that with multitasking "you seemingly get more accomplished but never get engrossed in any one thing….When we try to do two or more things at once, we do none of them well, and we don't really experience anything. Then we begin to worry. While walking out the door in the morning with our minds already on the job and not on the process of walking out the door, we worry we may have forgotten to lock the door. We worry that we forgot to turn off the oven, because our minds we elsewhere while cooking. We worry we aren't doing our best at work because we are only putting part of ourselves into our projects." This is a kind of inner commotion because our minds are not still.
The word "commotion" dates back to the 14th Century with its roots in Old French "commocion," which means "violent motion, agitation." From the mid-15th Century "commotion" also meant "public unrest or disturbance." Commotion is synonymous with agitation, annoyance, brouhaha, bustle, clatter, ferment, pandemonium, racket, tumult, turbulence and upheaval.
Oliver Wendell Holmes writes "What lies behind us and what lies before us are tiny matters compared to what lies within us." While author Jack Kornfield writes "Stop and listen to the heart, the wind outside, to one another, to the changing patterns of this mysterious life. It comes moment after moment, out of nothing, and disappears into nothing. Live with less grasping and more appreciation and caring." Meditation, mindful awareness, doing one thing at a time, doing less things well – these are some of the ways of engaging your daily life to counter having your life be one of constant commotion.
"Commotion" peaked at #1 in Tucson (AZ), Honolulu, Saint Charles (MO), Corvalis (OR), Columbia (MO), Rochester (NY), San Francisco (CA), San Bernardino (CA), and Lansing (MI), #2 in Salt Lake City, Kansas City (MO), Sacramento (CA), Portland (OR), Indianapolis (IN), Troy (NY), and New Haven (CT), #3 in Vancouver (BC), Detroit, Salem (OR), Sioux Falls (SD), Billings (MT), Spokane (WA), Minneapolis/St. Paul, Los Angeles, Pointe Claire (PQ), Denver and Phoenix, #4 in Raleigh (NC), Oklahoma City, Victoria (BC), Geneva (NY), Reading (PA), Dayton (OH), Albany (NY), Everett (WA), San Diego (CA) and Omaha (NE), #5 in Calgary (AB) and Houston, #6 in Chicago, #7 in Newport News (VA), Wichita (KS) and Louisville (KY), #8 in Regina (SK), Palm Springs (CA), Roanoke (VA), Cleveland (OH) and Council Bluffs (IA), and #9 in Battle Creek (MI). In about 15 states in the USA "Commotion" got hardly any airplay, with radio stations in most of New England, the parts of the Eastern Seaboard, the mid-west and Deep South only playing "Green River".
CCR released one more single in 1969, "Down On The Corner", with the B-side "Fortunate Son". "Fortunate Son" was a song protesting the hypocrisy involved in the draft. In his autobiography, Fortunate Son: My Life, My Music, John Fogerty recalls, "You'd hear about the son of this senator or that congressman who was given a deferment from the military or a choice position in the military. They seemed privileged and whether they liked it or not, these people were symbolic in the sense that they weren't being touched by what their parents were doing. They weren't being affected like the rest of us." "Fortunate Son"/"Down On The Corner" climbed to #1 in Vancouver. It was the first of four singles to top the charts in Vancouver for CCR.
CCR charted one single after another into the Top Ten. Many of their singles were double-sided hits. Of the 19 songs that charted on the Vancouver pop charts between September 1968 and May 1972, CCR charted 18 into the Top Ten and 17 of these into the top three positions. Nine of the songs made it to #1. In early 1970 CCR had a #2 hit with "Travelin' Band"/"Who'll Stop The Rain". This was followed in the spring of 1970 with "Up Around The Bend"/"Run Through The Jungle". The latter included comments about the proliferation of guns in America, "200 million guns are loading, Satan cries 'take aim.'" The double-sided hit climbed to #1. As the single was climbing the pop charts in Vancouver, CCR appeared in concert at the Pacific Coliseum on May 1, 1970. And in September 1970 CCR had another double-sided #1 hit with "Looking Out My Back Door"/"Long As I Can See The Light".
The band had a final #1 hit in Vancouver in March 1971 with "Have You Ever Seen The Rain"/"Hey Tonight". And a final appearance in the Top Ten was in August 1971 with "Sweet Hitch Hiker".
Dissension between bandmates led to the demise of Creedence Clearwater Revival. Tom was not getting along with his brother, John. Tom left the band in 1971. Stu and Doug quit in 1972 after the band released the album, Mardi Gras, that critics panned.
Tom Fogerty moved to Arizona and from a blood transfusion contracted HIV in 1986 and died in 1990. Doug Clifford played drums on 14 albums between 1972 and 2008, including for Tom Fogerty, Sir Douglas Quintet and Steve Miller Band. Stu Cook, along with Doug Clifford, joined a roots band named the Don Harrison Band. In 1995 Cook and Clifford formed Creedence Clearwater Revisited, along with three other musicians.
John Fogerty wrote many of CCR's songs, including "Proud Mary", "Bad Moon Rising" and "Green River". After Creedence Clearwater Revival split up in 1972 John Fogerty pursued a solo career. His cover of "Jambalaya (On The Bayou)" climbed into the Top 20 across the USA and in Vancouver in 1972. Fogerty had a Top Ten single in 1984 titled "The Old Man Down The Road."
March 31, 2021
Ray McGinnis
References:
"Creedence Clearwater Revival Bio," Creedence Online.net.
John Fogerty, Fortunate Son: My Life, My Music, (Little Brown and Company, 2015).
John Fogerty tour dates.
William H. Whyte, The Organization Man, (Simon & Schuster, 1956).
Jack Kornfield, A Path With Heart, (Bantam, 1993).
Janet Luhrs, Simple Living Guide: A Sourcebook for Less Stressful, More Joyful Living, (Broadway Books, 1997).
"I Love Lucy & the Chocolate Factory: The Famous 'Job Switching' episode (1952)," clickamericana.com.
Hank Bordowitz, Bad Moon Rising: The Unauthorized History of Creedence Clearwater Revival, (Chicago Review Press, 2007).
Thomas M Kitts, Finding Fogerty: Interdisciplinary Readings of John Fogerty and Creedence Clearwater Revival, (Lexington Books, 2012).
Dorian Lynsky, " John Fogerty: 'I had rules. I wasn't embarrassed that I was ambitious'," Guardian, May 29, 2013.
"Boss 30," CKLG 730 AM, Vancouver, BC, September 12, 1969.
For more song reviews visit the Countdown.