#463: Confidential by Sonny Knight
Peak Month: December 1956
6 weeks on Vancouver's CJOR ~ Red Robinson chart
Peak Position #3
Peak Position on Billboard Hot 100 ~ #17
YouTube.com: "Confidential"
Lyrics: "Confidential"
Joseph Coleman Smith was born in 1934, in the western Chicago suburb of Maywood. His family moved to Los Angeles in the early 1950's. In 1953 Joseph Smith signed with Aladdin Records and recorded a novelty tune he wrote titled "But Officer". The song was a humorous response to police stopping young African-Americans back in the early 50's. Do things ever change? Joseph C. Smith chose to record "But Officer" under the pseudonym Sonny Knight. Aladdin was interested in him after he penned "Vicious, Vicious Vodka". The tune was one Amos Milburn went on to record in 1954. Sonny Knight went on to record a few records on the Specialty label in 1955.
In 1955 he became acquainted with Dorlinda and Heit Morgan, songwriters who lived in Pasadena. He recorded Dorlinda Morgan's song "Confidential" in 1956.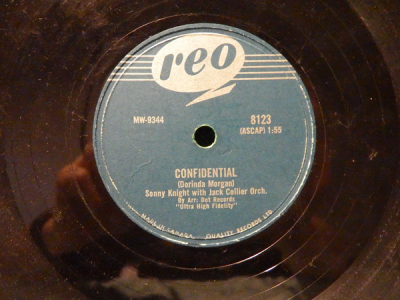 "Confidential" credited the Jack Collier Orchestra as the backing musicians. However, it was actually the Ernie Freeman Combo. This included Plas Johnson who had played saxophone on the Platters' "The Great Pretender" earlier in '56. Johnson later played sax on "Peter Gunn" and "The Pink Panther Theme", both with Henri Mancini.
"Confidential" was written by Dorlinda Morgan in 1955. She began publishing songs in 1931. Her songs were mostly B-sides, but what she penned were recorded variously by Ray Charles, Louis Jordan, country star Bonnie Lou King. On "Confidential", Ernie Freeman played piano.
The Ernie Freeman Combo appeared in the 1956 rock n' roll film Rock Around The Clock, a title inspired by the then, one-year-old chart topper by Bill Haley And His Comets. Freeman was a session musician, arranger and composer. He played piano on "The Great Pretender" by the Platters. He later conducted the recordings of "The Night Has A Thousand Eyes" by Bobby Vee, "That's Life" and "Strangers In The Night" by Frank Sinatra, "More" by Vic Dana, "Everybody Loves Somebody" by Dean Martin, "This Is My Song" by Petula Clark, and many others. In 1962 he wrote "Percolator Twist" for Billy Joe & The Checkmates. And in 1970 he contributed string arrangement on Simon And Garfunkel's album Bridge Over Troubled Water. He was awarded a Grammy in for "Strangers In The Night" and again in 1970 for arrangements on Bridge Over Troubled Water. Both Ernie Freeman and Plas Johnson were later part of B. Bumble And The Stingers.
In 1955 Dorinda Morgan wrote a song titled "Lavender". In 1960 she and her partner, Hite Morgan, discovered the Pendletones, a local Los Angeles vocal group including Brian, Carl and Dennis Wilson. They recorded "Lavender" in October 1961 at their home. Dorinda Morgan produced the recording, one of four studio recording sessions for the band as they morphed into the Beach Boys. Although they recorded a session in March 1962 at the Pasadena home of Dorinda Morgan under the name Kenny And The Cadets. They recorded two songs she wrote both credited to her son, Bruce Morgan, "Barbie" and "What Is A Young Girl Made Of".
In 1964 Dorinda Morgan edited the recording of the spoken word album Barry Goldwater: The Man And His Issues. The album featured spoken word endorsements from John Wayne, Walter Brennan, Hedda Hopper, Ronald Reagan, Robert Stack and others. The liner notes began "America, this is his record with no punches pulled, stating the truth as it must be stated to preserve our American way of life. Barry Goldwater is the voice of wisdom, freedom and strength… Barry is the spokesman of liberty, human rights and individual freedom of choice for a free America…."
In "Confidential" Dorlinda Morgan used simile to liken things to what it might feel like to be confidential: "a mother's prayer," "a baby's cry" and "a church at twilight". Since "a baby's cry" can be anything but hush-hush or secret, the meaning of confidential in this song may be synonymous with all things intimate. The lyrics offer images of a rose in the moonlight. But they also offer the metaphor "our love's a precious secret." So, what Dorlinda Morgan was thinking of with a baby's cry, may be different from unbridled sobbing. Perhaps she was thinking of a short burst that sends a parent running to a crib to check on the infant. The lyrics ask for privacy for the lovebirds: "There's no need for prying eyes to look into my heart."
"Confidential" was first issued on the small Vita label. Then the son got picked up by Dot Records who got the master. Neither record company kept track of the number of copies sold and Sonny Knight had to take the record companies to court. Knight was disillusioned noting "The case was settled out of court, eventually … out of the whole thing, I got $ 2100." "Confidential" peaked at #2 in Pittsburgh (PA) and #3 in Vancouver (BC).
In 1956 "Confidential" was also covered by fading R&B star Charles Brown, and by pop singer Rusty Draper. The song was later covered by the Fleetwoods as a single from their 1959 Mr. Blue album. However, the Fleetwoods 1960 release of "Confidential" failed to crack the Billboard Hot 100. Rosie & The Originals recorded the song after their #5 hit, "Angel Baby" in 1960. And 2014 Bob Dylan released from his 1967 recordings The Bootleg Series Vol. 11: The Basement Tapes Complete, including "Confidential".
Sonny Knight released a diverse assortment of singles in the following years. His 1957 release of "Short Walk" was infused with R&B vibes. In 1958 Knight released "Lipstick Kisses", a pop tune that could have been a hit. He made the Top 30 in Boston in 1959 with "Barbara". "Once In Awhile" resembled some of the hits Roy Hamilton, Brook Benton, Sam Cooke, Jimmy Charles and Dee Clark were recording in '59-'60. But it got little attention. Several of these, "Short Walk", "Jailbait" and "Teenage Party" were written by her spouse Hite Morgan. She wrote several of his single releases in 1957-58: "Worthless And Lowdown" and "So Wonderful".
Sonny Knight also was a backing vocalist in the recording studio in late 50's for Sam Cooke. He also wrote some material for Ernie Freeman.
Knight switched record labels almost yearly. Beginning with Aladdin in '53, he moved on to Cal-West in '55 where he recorded under his birth name, Joe Smith. He went on later that year to record under his pseudonym, Sonny Knight, with Specialty Records. In '56 he recorded with the Vita label before moving on too Dot. By 1957 he had switched labels to Starla. In 1958 he was with the Eastman label recording as Sonny Knight and the Cleeshays. During his time with Eastman Knight recorded a song he wrote titled "Barbara". By the end of '59 he recorded a single with Original Sound Records. In 1961 Knight was recording on the Fifo label. He recorded on single on the Swingin' label before signing in 1962 with Mercury Records. The following year he switched again to A&M. In this period he dabbled with country, doowop, soul and pop.
By 1964 he had further refined his soul sound and recorded "If You Want This Love" on the Aura label. The song peaked at #71 on the Billboard Hot 100, but climbed to #14 on CFUN in Vancouver. Its six week chart run didn't quite make the cut here on my website countdown. But it's an underrated recording. He followed up with "Love Me (As Though There Were No Tomorrow)" which peaked at #100 on the Billboard Hot 100.
In 1965 Knight recorded a jazz single "Let's Get It On", no relation to the Marvin Gaye hit in 1973. In 1966 Sonny Knight did a cover of the 1956 Top Ten R&B hit by Little Willie John, "Need Your Love So Bad". The next year he recorded one more single that became an obscure regional hit in Houston, Texas. After 1967 Sonny Knight left the recording business. In the early 70's he moved to Hawaii and kept up club appearances into the mid-90's.
In 1981, using his birth name, Joseph C. Smith, he wrote a novel about the music industry titled The Day The Music Died. Rock critic Griel Marcus wrote this about the novel: "[it is] the bitterest book ever written about how rock'n'roll came to be and what it turned into; its theme is racism….[W]hat really interests Smith is how a rich version of American black culture is transformed into a horrible, enormously profitable white parody of itself: as white labels sign black artists only to ensure their oblivion and keep those blacks they can't control penned up in the ghetto of the black charts; as white America, faced with something good, responds with a poison that will ultimately ruin even honest men… There is no question that much of what Smith describes took place…. But.. driven by its bitterness, Smith's story runs away from itself…"
Sonny Knight (Joseph C. Smith) died in 1998 at the age of 64 in Maui, several years after suffering from a stroke. He was writing a book about Jimi Hendrix before he died.
April 3, 2020
Ray McGinnis
References:
Nick Talevski, Rock Obituaries: Knocking On Heaven's Door, (Omnibus Press, 2006) 344.
Griel Marcus, Dead Elvis: A Chronicle of a Cultural Obsession, (Harvard University Press, 1999) 100-104.
Bob Dylan, The Bootleg Series Vol. 11: The Basement Tapes Complete, Columbia, 2014. Recorded between June and October 1967. "Confidential" is Track 23 on Disc 5.
Jim Murphy, "Dorinda & Hite Morgan Discography," Becomingthebeachboys.com, August 4, 2015.
"Sonny Knight," Black Cat Rockabilly.
Ritchie Unterberger, "Ernie Freeman Biography," All Music.com.
"Plas Johnson bio," Wikipedia.org.
For more song reviews visit the Countdown.