#1058: Crying My Heart Out For You by Julius La Rosa
Peak Month: June 1957
13 weeks on Vancouver's CKWX chart
Peak Position #13
Peak Position on Billboard Hot 100 ~ did not chart
YouTube.com: "Crying My Heart Out For You"
Julius La Rosa was born in Brooklyn in 1930 and raised in an Italian-American Roman Catholic milieu. Out of high school he joined the U.S. Navy and became a radioman. According to a 1991 New York Times article, La Rosa sang in the Navy Choir, at officers clubs and bars to pay for drinks. La Rosa was in the Navy when Arthur Godfrey heard him sing. Godfrey had been encouraged to listen to La Rosa by a buddy of La Rosa's named George "Bud" Andrews, who happened to be the seaman mechanic on Godfrey's personal airplane. Godfrey soon invited Julius La Rosa to appear on his CBS TV show. After his discharge, Julius La Rosa became a star on the Arthur Godfrey and his Friends from 1951 to 1953, recording several hits including "Eh, Cumpari", which shot to #2 on the Billboard pop charts.
Julius La Rosa was a handsome 23 year old, and made several guest appearances on The Honeymooners. Arthur Godfrey liked to exert control over his entertainers, making demands and restricting their outside work in return for exposure on his popular show. Without Godfrey's approval, Julius La Rosa recorded for Cadence Records — formed by Godfrey's orchestra leader, Archie Bleyer — and had hit singles including "Anywhere I Wander" (U.S #4) and "My Lady Loves To Dance" (U.S. #21)
His growing popularity bothered Godfrey. La Rosa was getting over 7,000 letters of fan mail a week. On Oct. 19, 1953, La Rosa was due to begin the TV portion of Godfrey's show but was kept waiting backstage until the final minutes of the radio-only part of the program. As he finished singing "Manhattan", Mr. La Rosa and the audience heard Godfrey precede his sign-off by saying, "That was Julie's swan song with us."
Godfrey said he fired him because he lacked "humility" and because he had hired an agent. "I was 23 years old then and filled with myself," La Rosa said in a 1991 interview with the New York Times reporter Elsa Brenner. "Who isn't at 23, especially if you're a celebrity?" The public firing boosted La Rosa's career for a while. He served as the summer replacement on Perry Como's TV show in 1955. That's when he met Como's secretary, Rosemary Meyer, and married her. He went on to get his own TV show in 1955. He also appeared on numerous other variety shows in the 1950s and '60s, including Ed Sullivan's.
Between 1953 and 1958 Julius La Rosa had 13 singles on the Billboard pop charts, including ten in the Top 30. In 1955 he peaked at #13 with "Domani (Tomorrow)". With the emergence of rock 'n roll, La Rosa was part of a group of recording artists who were falling out of favor. Teenagers were driving record sales and were buying Elvis Presley, Bill Haley & His Comets, Ricky Nelson, Fats Domino, Chuck Berry, Frankie Lymon & The Teenagers and The Platters. There was also Pat Boone, Gogi Grant, Patti Page, Doris Day Les Baxter and Nelson Riddle among the best of the year's chart successes. But a new wind was blowing, and with it singers like Julius La Rosa were facing strong headwinds.
He did peak at #8 in November 1955 with "Suddenly There's A Valley" on the Cashbox Magazine charts. In February 1956 La Rosa managed to climb to #15 on the Billboard pop charts with "Lipstick And Candy And Rubber Sole Shoes". Before his final and only other Top 30 tune, "Tolero" which peaked at #21 in early 1958 on the Billboard pop charts, Julius La Rosa would release ten singles. Of these almost none of them made it onto the Billboard charts. Although his cover of Eddie Cooley & The Dimples R&B hit, "Priscilla" took La Rosa to #31 on the Cashbox charts. Despite La Rosa's rockin' treatment of "Priscilla", his record sales were on a downward spiral.
Julius La Rosa released "Crying My Heart Out For You" written by traditional pop lyric songwriters Guy Wood and Sammy Gallop. The song charted only in Vancouver, and during a thirteen week chart run "Crying My Heart Out For You" peaked on CKWX at #13.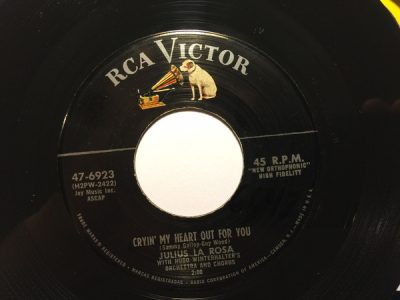 Got myself in an awful jam,
you never know baby how blue I am,
crying my heart out for you.
My eyes get misty, my nose gets red,
I can't see the moon for the tears I shed,
crying my heart out for you.
I walk the floor 'til the sun comes up,
drink black coffee from cup to cup,
I'm so darned lonesome it don't seem right,
mixing coffee with tears all night.
Baby, baby come back to me,
without you I know that I'll always be,
crying my heart out for you.
(I'm crying my heart out for you, for you, for you).
My eyes get misty, my nose gets red,
I can't see the moon for the tears I shed,
crying my heart out for you.
I walk the floor 'til the sun comes up,
drink black coffee from cup to cup,
I'm so darned lonesome it don't seem right,
mixing coffee with tears all night.
Baby, baby come back to me,
without you I know that I'll always be,
crying my heart out for you.
The song, as the title might suggest, is about someone who has been left by their "baby." They describe how blue they are and give some examples: misty eyes, red nose, inability to see the moon for all their tears and an addiction to coffee. Instead of cream and sugar in their coffee, they just mix tears. Given their plight, they beg their "baby" to return to them. The songs traditional pop lyrics might have caught on a few years earlier. But in June 1957 teens were rushing to the record stores to buy "Searchin'" by the Coasters, "Little Darlin'" by the Diamonds, "All Shook Up," by Elvis Presley, "Come Go With Me" by the Dell-Vikings, "School Days" by Chuck Berry and "Bye Bye Love" by the Everly Brothers.
"Crying My Heart Out For You" was cowritten by Guy Wood and Sammy Gallop. Born in Manchester, England, in 1911, Wood had already achieved considerable success as a songwriter after coming to America. Among his biggest hits was "Til Then" for the Mills Brothers in 1944 which peaked at #8 on the Billboard pop charts. Together with Sammy Gallup, Wood co-wrote "Shoo-fly Pie and Apple Pan Dowdy" which was a hit for Dinah Shore in 1945 reaching #7 on the Billboard pop charts. In 1952 Woods' song, "Faith Can Move Mountains", was a #7 hit in the UK for Johnnie Ray. Wood died in 2001 just before his 90th birthday.
Sammy Gallop was born in 1915 in Minnesota. He had multiple successes as a songwriter. Among his more memorable tunes are "Elmer's Tune" for Glenn Miller in 1941 which peaked at #1. "Count Every Star" for Ray Anthony which peaked at #4 in 1950. "Holiday For Strings", recorded by David Rose, would become the theme song for The Red Skelton Show for over twenty years. Gallop's lyrics for "Maybe You'll Be There" helped Gordon Jenkins reach #3 in 1948. In 1952 Gallop once again helped a recording artist hit the Top Ten on the Billboard charts as "Somewhere Along The Way" reached #8 for Nat King Cole. And in 1955 Gallop's pop song "Wake The Town And Tell The People" reached #13 for Mindy Carson. These were happier times for Gallop who died by suicide at the age of 55 in early 1971.
In 1958, Julius La Rosa starred in the teen rock 'n roll movie, Let's Rock. The plot reflected real life as crooner, Julius LaRosa, attempts to fight off the burgeoning rock and roll trend. Phyllis Newman starred opposite La Rosa as his songwriting girlfriend who convinces him to adapt rather than fight. The film, aimed at the teenage drive-in crowd, also featured performances by Paul Anka, Wink Martindale, Roy Hamilton, Della Reese, Danny & the Juniors and the Royal Teens. After his final Top 30 hit in 1958, "Tolero", Julius La Rosa continued to release nearly twenty more singles into the early 1970s (of which none made the pop charts), and six more albums.
From the mid-50s into the 60s Julius La Rosa guest starred on What's My Line?, The Pat Boone Chevy Showroom, The Polly Bergen Show and The Merv Griffin Show.
In 1980 Julius La Rosa appeared in some episodes of the TV sitcom Laverne and Shirley. Through the 1980s, La Rosa starred as the character, Reynaldo, in the NBC's soap opera Another World. For his acting in the soap opera, La Rosa was nominated for a Best Supporting Actor in the Daytime Emmy Award. For over a decade he was a DJ on WNEW in New York, and then for two years in 1998-99 at WNSW in Newark, New Jersey.
"I've had my ups and downs, my disappointments," La Rosa told the New York Times in 1991. "That's typical for show business. But for a kid from Brooklyn I think I've done okay." La Rosa was a frequent guest in the Jerry Lewis Labor Day telethons for the Muscular Dystrophy Association. Julius La Rosa died in 2016 at the age of 86.
May 3, 2017
Ray McGinnis
References:
"Julius La Rosa, Hitmaking Crooner Fired on Air by Arthur Godfrey, Dies at 86," Washington Post, May 15, 2016
Paul Sciria, "Eh, Cumpari, It's Julius La Rosa," La Gazzetta Italiana, January 2016
Phil Potempa, "Julius La Rosa Made TV History Because of Arthur Godfrey," The Times of Northwest Indiana, Munster, IN, November 22, 2006
"Sammy Gallop, Lyricist, Dead; Wrote 'There Must Be a Way'," New York Times, February 26, 1971
"Guy Wood; Composer, 89," New York Times, February 28, 2001
Harry Foster, director, Let's Rock, Columbia Pictures, 1958
Julius La Rosa, "Lipstick, Candy and Rubber Sole Shoes," RCA Victor, 1956.
"Top Fifty Songs for the Week," CKWX 1130 AM, Vancouver, BC, June 16, 1957.
For more song reviews visit the Countdown.