#662: Danger by Vic Dana
Peak Month: June 1963
10 weeks on CFUN's Vancouver Charts
Peak Position ~ #5
Peak Position on Billboard Hot 100 ~ #96
YouTube.com: "Danger"
Lyrics: "Danger"
Samuel Mendola was born in 1940 in Buffalo, New York. He told reporter J. T. Crawford "I was nine years old and had just started tap dancing," he says. "My parents asked me if I wanted to take dancing lessons. I said I didn't because I thought it was just for girls. I wound up taking some lessons and did some local shows. I went to the Ted Mack Original Amateur Hour, which, in those days, was like American Idol. They had variety acts, and people wrote in from all over the country and picked the winners. And I won the Ted Mack Amateur Hour." When he was eleven, Samuel Mendola was taken to see Sammy Davis Jr. perform in Buffalo. Vic Dana recalls, "They knew I loved the way he danced. He was 27 at the time and was just making it. He didn't even have top billing at the time. My mother talked to the master of ceremonies and told him a local boy in the crowd had just won the Ted Mack show. So he called me up and asked if I'd dance. I said no because I didn't have my dancing shoes. My mother said, 'Yes you do!' and pulled them out of her purse. So I danced. Apparently Sammy was watching from the wings. When he came out, he asked me to dance with him. We did this little tap challenge. It went over so well, that he asked my parents if I could travel with him. That began a relationship with Sammy that I'll remember forever."
Soon after, eleven-year-old Samuel Mendola was touring with Sammy Davis Jr. from town to town. In each show he'd do a tap dance challenge on stage with Sammy Davis Jr. The Mendola family relocated to the suburb of Glendale in greater Los Angeles at Sammy Davis Jr's encouragement. His dad started a new barber shop in the town. With his professional gigs, Samuel Mendola was billed as Vic Dana.
Dana knew Jan And Dean, members of The Lettermen and some of the members of the Beach Boys. This was all before they had any hit records. In 1959, Vic got a call from one of The Lettermen, letting him know that Gary Troxel had to leave The Fleetwoods to serve in the U.S. Navy. Troxel had been the lead voice for both "Mr. Blue" and "Come Softly To Me". Vic Dana joined The Fleetwoods, doing live performances only into 1961.
In December 1961, Vancouver radio listeners to CKWX heard Vic Dana for the first time with "Little Altar Boy." The Christmas themed tune bore emotions of a man coming to grips with who he is and his need for forgiveness. Dana's voice displayed pleading and vulnerability. The song cracked the The Fabulous Forty, climbing to #37. The tune climbed to #2 in Akron, Ohio, and #8 in Cleveland. The song later appeared in the spring '62 film Don't Knock The Twist. In the film, Vic Dana co-starred with Chubby Checker, The Dovells and Gene "Duke Of Earl" Chandler.
Once "Little Altar Boy" was a modest regional hit, and climbed to #45 on the Billboard Hot 100, Vic Dana was taken to the Brill Building in New York City. He recalls, "Everybody would go to the publishing houses and hear people like Gerry Goffin and Carole King. They'd sit there and play songs for you and sing them. Artists would record the hits. Now it's a whole different process. Most artists today write their own stuff." To this day Vic Dana rates "Little Altar Boy" his favorite of all the songs he's recorded.
In 1962 Vic Dana has a Top 50 hit in the USA titled "I Will". The song was successfully covered by UK singer, Billy Fury, who had a Top Ten hit with the tune in the UK and in Vancouver in 1964. However, Vic Dana's original recording wasn't charted in Vancouver. He did appear on the CFUN charts in the summer of 1962 with "(A Girl Needs) To Love And Be Loved". The song again only cracked the C-FUN FANTASTIC FIFTY, stalling at #37.
While he was recording teen idol pop for AM radio, Vic Dana was releasing more albums for a more adult audience. His debut album in 1962, Warm and Wild, featured "Lollipops And Roses", "Get Me To The Church On Time", the 1933 hit for Ruth Etting called "Close Your Eyes", the 1935 Rodgers and Hart tune "My Romance", and the 1960 Broadway tune "Hey, Look Me Over".
Vic Dana joined Dick Clark's Caravan of Stars. He also was a guest star on The Red Skelton Show, The Dean Martin Show, Shindig!, and The Tonight Show. In addition, Vic Dana was cast in roles in the 1962 World War II TV show Combat! and the 1963 premiering detective show Burke's Law.
In the spring of 1963, Vic Dana released "Danger" and also appeared to sing the song on The Ray Anthony Show on June 15, 1963.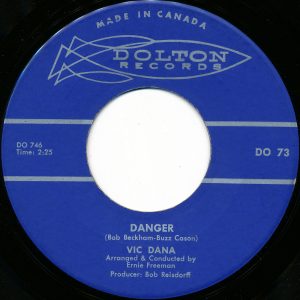 "Danger" climbed to #11 in Montreal and #12 in Phoenix and Toronto. Its best chart run was in Vancouver where it climbed to #5. While "Danger" was still on the C-FUNTASTIC FIFTY, his version of "More," together with Kai Winding's version began its climb to #19 in July of '63.
Vic Dana also recorded an Italian version of "Danger" with its Italian equivalent, "Pericolo." The song was one of the tracks from Vic Dana's album Canta In Italiano. One of the session musicians Vic Dana used as often as he could was Glen Campbell. Dana was also a close friend of Bobby Darin.
Katie Wilhelm writes in her article, The Danger With Falling In Love, "There is a great danger in falling in love; the primary concern of course being the possibility that you will get hurt in the end. There's also the vulnerability that you let the other person see in a relationship. But to me the most dangerous part of falling in love is the process of falling out of love. It's realizing that, even if the relationship wasn't controlling or toxic, you have lost yourself in that other person. It's the aftermath of the broken heart that can really be killer."
In the lyrics to "Danger" all the friends tell the guy that the object of his desire will only break his heart. The attraction is powerful. When they kiss he sings "I know this is where I always want to be." He gets mixed signals. When he looks in her eyes he senses something that warns him to run away. But when she smiles he feels reassured. Like Thought Catalogue writer, Katie Wilhelm, the character in "Danger" concludes that in the game of love "my heart's in danger when I play the game."
On October 19, 1963, Vic Dana appeared at the Hollywood Bowl along with the Beach Boys, The Routers, Paul Petersen, Soupy Sales, The Mixtures, Keith Colley, Eddie & The Showmen, Dodie Stevens, The Fleetwoods, Duane Eddy, Jan & Dean, The Rivingtons, The Surfaris, Bobby Rydell and other local acts. In early 1964 a comedy film starring Bob Hope was released titled A Global Affair. In the film Vic Dana sang "So Wide The World". He also appeared on The New Steve Allen Show on January 16, 1964.
In 1964, in the midst of Beatlemania, Vic Dana struggled to stay on the charts. He managed to climb to #13 in Vancouver with "Shangri-Las", which made it to #27 on the Billboard Hot 100. On the Vancouver pop charts almost all of Vic Dana's discs that got a spin on CKWX or CFUN stalled in the upper 30's of the Top 40. Aside from "Danger" and "Shangri-Las", Vic Dana's only other notable chart run in Vancouver was to #8 in 1965 with "Red Roses For A Blue Lady". Dana appeared on Shindig! on December 30, 1964, and again on February 17, 1965. He also appeared on That Regis Philbin Show on October 29, 1964, and again on February 2, 1965. As well, Vic Dana was on The Les Crane Show on January 28 and again on February 3rd '65. Among the TV shows where he appeared on multiple occasions was Hollywood-A-Go-Go: February 13, September 4 and December 4, 1965. As well, Vic Dana appeared on three occasions on the local Los Angeles variety program The Lloyd Thaxton Show on February 17, 1965, November 23, 1965, and May 16, 1966.
That spring Vic Dana was touring in the USA with Gene Pitney, Gary Lewis & The Playboys Brian Hyland, the Reflections, the Crystals and Dobie Gray. And on August 23, 1965, Dana was a guest on ABC's Nightlife. And on September 24, 1965, Vic Dana was a featured guest on NBC's What's This Song hosted by Wink Martindale. Later on November 9, 1965, Dana was a guest vocalist on The Red Skelton Hour.
On January 13, 1966, Vic Dana was a guest on the Dean Martin Show, and on February 12th on an episode of the ABC-TV variety show Thank Your Lucky Stars. Then on March 10th, he was back on national TV along with Dr. Benjamin Spock on The Mer Griffin Show, and on March 19th on The Clay Cole Show. On May 28, 1966, Vic Dana appeared on the Cleveland pop music variety show Upbeat with the Miracles, the Ronettes and Grand Funk. He also appeared on Swingin' Country in July '66. Between September 1965 and July 1966, Vic Dana was a guest on six occasions on the ABC variety show hosted by Dick Clark Where The Action Is. Clark also had Vic Dana twice on American Bandstand.
In 1967 Vic Dana appeared on the CBC variety pop music TV show Let's Go. The week of October 16-20, Vic Dana appeared on five daytime episodes of The Hollywood Squares. He also was featured numbers of times on The Mike Douglas Show, and on one occasion on The Joey Bishop Show. Between 1961 and 1976, Vic Dana released 34 singles. His last single on the Billboard Hot 100 was a cover of "Red, Red Wine" in 1970. His final single release was in 1976.
Vic Dana recalls, "At one time, I had the biggest fan club in the Netherlands. I don't know why! To this day, I get letters."
In 1989 he got a gig singing at a supper club in Paducah, Kentucky, called Stacey's on which lasted for almost a year. He liked the town so much that he decided to move from Los Angeles where he'd followed his career. With his family, Vic Dana took up residence in Paducah. He also got work at Larry Stoveland's Ford dealership, which lasted for over ten years Then he got a position by the end of 1999 at Mike Smith Toyota. Having one marriage dissolve because of his extensive touring, when he was married again with a new baby boy, Vic Dana decided to put his family first.
Some years ago, a friend gave Vic Dana a copy of an interview with Michael Buble. Dana says of the article, "It was the best musical compliment I've received. Michael talked about how his grandfather brought a Vic Dana album home, and he said that he used to sing along with it. That was part of the start for him. That's the greatest compliment I've been paid."
According to Imdb.com, Vic Dana retired from the music industry in 2010, and enjoys life out of the spotlight in Kentucky. However, a 2017 article in the Paducah Sun reported that at 76, Vic Dana was still working as a car salesman.
December 20, 2018
Ray McGinnis
References:
"Introduction to Vic Dana," Mental Itch.com.
J. T. Crawford, "From The Billboard Charts To The Banks Of The Ohio," Paducah Life, November/December 2016.
Steve Wilson, "Dana's Glad he Picked Paducah," Paducah Sun, August 13, 2017.
Vic Dana, "Little Altar Boy," Dolton Records, 1961.
Don't Knock The Twist, Columbia Pictures, 1962.
Katie Wilhelm, "The Danger With Falling in Love," Thought Catalogue, August 8, 2014.
"Vic Dana," Imdb.com.
"Vic Dana Chart History," Billboard.
"Beach Boys Concerts," Concerts.fandom.com (see October 19, 1963).
"Grand Funk Concert," Concerts.fandom.com. (see May 28, 1966).
"Vic Dana Topped Them All," Geezer Music Club, October 26, 2009.
"C-FUNTASTIC FIFTY," CFUN 1410 AM, Vancouver, BC, June 29, 1963.
For more song reviews visit the Countdown.