#428: Daytime Night-time by Keith Hampshire
Peak Month: January 1973
10 weeks on Vancouver's CKLG
Peak Position #3
Peak Position on Billboard Hot 100 ~ #51
YouTube: "Daytime Night-Time"
Lyrics: "Daytime, Night-Time"
Keith Hampshire was born in London in 1945. At the age of four he got tap dancing lessons and His family moved to Canada when he was six-years-old. They visited Toronto, took a train west and moved to Calgary. It was in Calgary that Keith Hampshire took singing lessons, founded a number of high-school bands, including the Intruders, Keith and The Bristols, and the Variations. Each band got gigs at other schools and clubs around town. The Variations opened for Roy Orbison one summer in the early 60s at the Calgary Stampede. Out of high school Keith Hampshire got a position at CFCN radio and TV as a cameraman. He ended up programming and announcing, playing Brian Poole & The Tremeloes, the Swinging Blue Jeans, the Animals and the Searchers at the beginning of the British Invasion. At the age of 21 Hampshire moved back to the UK and got work from July 1966 to August 1967 as a DJ for a pirate radio station called Radio Caroline South. He moved back to Canada in September 1967 and got a job as a DJ with CKFH in Toronto. He got married in 1969.
He met Bill Meisner, a former member of the Toronto area band The Paupers, now working for RCA. Hampshire recorded a song Meisner wrote titled "I Wish I Could Wish Away". The song didn't get much notice, but he got work appearing on the Wayne & Shuster Comedy Hour.
Keith Hampshire subsequently played a song written by one of the bandmates from Manfred Mann titled "Daytime, Night-time". He soon made a recording and released the single.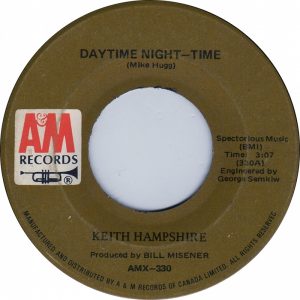 Daytime Night-Time" was written by Mike Hugg. Born in 1942 in the naval town of Gosport in southeast England, Michael John Hugg learned piano from childhood. His parents let him also study jazz drumming, as long as he kept on with his piano lessons. When he was 19-years-old, he had a job as a musician at a summer holiday camp named Butlin's Clacton in Clacton-On-Sea in eastern England. It was there he met Manfred Mann. The pair formed a seven-piece band and named it The Mann-Hugg Blues Brothers. When the band got a record contract they changed their name to Manfred Mann. Hugg wrote "5-4-3-2-1" a hit for Manfred Mann in the UK and in Vancouver (BC). Hugg also wrote "Mister, You're A Better Man Than I" which was recorded by the Yardbirds as the B-side to "Shapes Of Things".
While with Manfred Mann, Mike Hugg was in the recording studio for the band's Top Ten hits between 1964 and 1968. These included "Do Wah Diddy Diddy", "Sha La La", "If You Gotta Go Now", "Pretty Flamingo", "Ha, Ha, Said The Clown" and "Mighty Quinn". In 1969 Manfred Mann split up and Hugg and Mann formed the experimental jazz rock band Manfred Mann Chapter Three. When Manfred Mann went on to form Manfred Mann's Earth Band, Mike Hugg went solo. In 1991 Hugg formed The Manfreds, a pop group consisting of former members of Manfred Mann – Paul Jones, Tom McGuinness, Mike d'Abo and others. However, The Manfreds did not number among their 90s band Manfred Mann himself.
"Daytime, Night Time" as it was first billed, was recorded in 1967 by the British band Simon Dupree and the Big Sound. Though they had a subsequent release titled "Kites" that went Top Ten in the UK, Hugg's song wasn't a hit for this pop band. Next the song was recorded by in 1968 by a German beat group named Joy & the Hit Kids. But it was Keith Hampshire's cover of "Daytime Night-Time" that was the most successful recording. It soon became a Top Ten hit across Canada in the fall of 1972.
The song asserts that the couple in question are going to stick together for a long, long time. She is smitten with him, for as the singer brags, "she can't do without my love each and every day." The prediction and advise from others is that this couple should "always stay in love."
"Daytime, Night-Time" peaked at #3 in Vancouver (BC), #6 in Toronto, #7 in Columbus (OH) and Seattle, #8 in Edmonton (AB) and Maputo (Mozambique), #9 in Cleveland (OH), #10 in St. Petersburg (FL), and the Top 20 in Syracuse (NY), Buffalo (NY), Kingston (ON), Barrie (ON), Ottawa (ON), St. John's (NL), Easton (PA), Kalamazoo (MI), Greenville (NC), Regina (SK) and Johannesburg (South Africa).
Next, Keith Hampshire recorded a cover of a song Cat Stevens wrote in 1967 titled "The First Cut Is The Deepest". In May 1973, the song quickly topped the RPM Canadian singles chart. It also became a Top Ten hit in Australia. Hampshire kept on releasing more singles and his third hit in a row in Canada was "Big Time Operator".
In 1974-75 Keith Hampshire became host of the CBC variety TV show Music Machine. Among the guests appearing on the TV show were Klaatu, The Bells, Copperpenny, Rush, Lighthouse, The Stampeders, Valdy and others. Hampshire made a few more recordings after leaving as host of Music Machine. Eventually he landed a job as an A&R man with Freedom Records.
Over the past few decades Keith Hampshire has found work not as a big time operator, but singing jingles, voice-over or character-voice on television commercials and radio commercials (including GM), motion pictures (including "Mad About Hats" in the Care Bears Adventure in Wonderland), as well as for cartoon series and radio plays.
In 1983 Keith Hampshire recorded "OK Blue Jays", which has become the unofficial Toronto Blue Jays anthem played at each home team ball game before the seventh inning. The song peaked at #47 on the Canadian RPM singles chart in 1983. In 1995 Hampshire began to host an oldies record show on CHAY-FM in Barrie, Ontario. In Canada Day celebrations in 2000 Keith Hampshire sang to over 100,000 people in Ottawa. In 2005 a greatest hits CD of Keith Hampshire was released.
Keith Hampshire occasionally performs, and one of his more recent appearances was at the Living Arts Center in Mississauga, Ontario, in 2017.
June 24, 1973
Ray McGinnis
References:
"Keith Hampshire Biography," Keith Hampshire.com.
Keith Hampshire, "Keith Hampshire," Canadian Bands.com.
"Mike Hugg bio," The Manfreds.
"CKLG 'Thirty'," CKLG 730 AM, Vancouver, BC, January 5, 1973.
For more song reviews visit the Countdown.