#269: Dear John/Alabam by Pat Boone
A-Side: "Dear John"
Peak Month: December 1960
12 weeks on Vancouver's CKWX chart
Peak Position #5
Peak Position on Billboard Hot 100 ~ #44
YouTube: "Dear John"
Lyrics: "Dear John"
B-Side: "Alabam"
Peak Month: November 1960
5 weeks on CKWX's chart
Peak Position #8
Peak Position on Billboard Hot 100 ~ #47
YouTube: "Alabam"
Lyrics: "Alabam"
Pat Boone was born in Jacksonville, Florida, on June 1, 1934. He was the son of Margaret Virginia (Pritchard) and Archie Altman Boone. The Boone family moved to Nashville from Florida when Boone was two years old. In a 2007 interview on The 700 Club, Boone claimed that he is the great-great-great-great grandson of the American pioneer Daniel Boone. Boone is a singer, composer, actor, writer, television personality, motivational speaker, and spokesman. He won a talent contest on the Ted Mack Amateur Hour. He became a successful pop singer in the United States during the 1950s and early 1960s. He has sold over 45 million records, charted 38 Top 40 hits between 1955 and 1962. Boone has also appeared in more than a dozen Hollywood films. He still holds the Billboard record for spending 220 consecutive weeks on the charts with one or more songs each week.
At the age of 19 he released his first single 78- RPM titled "Until You Tell Me So" on Republic Records in June 1953. After a second release on Republic, he switched to Dot Records. His first release on Dot was in 1955. It was a cover of R&B doo-wop group The Charms song "Two Hearts". Boone's cover peaked at #16 on the Billboard pop chart, right behind The Charms original which peaked at #15. Pat Boone's next release was a cover of the Fats Domino song "Ain't That A Shame". While Fats Domino's original recording was a #1 hit on the R&B chart and #10 on the pop chart, Pat Boone's cover climbed to #1 on the Billboard pop chart. Domino complimented Boone's cover of the song. Boone liked to tell a story about a concert at which Domino invited Boone on stage, showed a big gold ring and said, "Pat Boone bought me this ring," since Domino, as cowriter of the song, received royalties on it from record sales or radio airplay of other performers' cover versions of "Ain't That A Shame".
Next, Pat Boone did a cover of the El Dorados' #1 R&B hit "At My Front Door". The original climbed to #17 on the Billboard pop chart, but Boone eclipsed it when his cover peaked at #7 in November '55. Finding success by covering black R&B recording artists, Pat Boone followed up with a cover of the #5 R&B hit by the Flamingoes titled "I'll Be Home". Hit cover peaked at #4 on the Billboard pop chart, and #1 in the UK. In the winter of 1955-56, Boone's cover of the Little Richard tune "Tutti Frutti" made it to #12 on the pop chart, while Little Richard's original peaked at #21 on the pop chart and #2 on the R&B chart.
However, Little Richard next cowrote and recorded a song he bet was too fast for Pat Boone to sing. It was titled "Long Tall Sally". Little Richard's original recording beat Pat Boone's cover, climbing to #6 on the Billboard pop chart, with Pat Boone stalling at #18. Next, Pat Boone went to the archives of R&B hits and recorded Ivory Joe Hunter's #1 R&B song from 1950, "I Almost Lost My Mind". In 1956, Boone's cover of Ivory Joe Hunter's hit became his second number-one hit on the Billboard pop chart in August '56. Happy with his success, Boone subsequently covered a #2 hit for Ivory Joe Hunter from 1951 titled "Chains Of Love", which became a #10 hit on the pop charts for Boone.
A rare original recording by Pat Boone in 1956 was the theme song for the film Friendly Persuasion: "Friendly Persuasion (Thee I Love)". This single climbed to #5 in the fall of '56. In 1957 Pat Boone began to rely on classic pop songs when going to the recording studio. "Don't Forbid Me" climbed to #1 in February 1957, and "Love Letters In The Sand" – a cover of a 1931 pop standard – topped the Billboard pop chart for five weeks in June and July of '57. At the end of 1957, Pat Boone's recording of the theme song "April Love", for the film of the same name, was the final number-one hit of the year. He also had a Top Ten hit in 1957 with "Remember You're Mine", written by Kal Mann (who had success that year penning "Teddy Bear" for Elvis Presley and "Butterfly" for Andy Williams).
At the age of 23, he began hosting a half-hour ABC TV series, The Pat Boone Chevy Showroom, which aired for 115 episodes (1957–1960). Many musical performers, including Andy Williams, Pearl Bailey, and Johnny Mathis made appearances on the show.
In 1958 Pat Boone recorded a cover of a country song from the 40s titled "Sugar Moon", which peaked at #5. Boone also had a #4 hit with "A Wonderful Time Up There", a 1940s gospel song. That year Pat Boone did successfully cover a song originally recorded by the Orioles titled "It's Too Soon To Know", which was a #1 hit for the pioneering doo-wop group in 1948. Boone's recording shot to #4 on the Billboard pop chart in '58. And the songwriting team of Robert Allen and Al Stillman (notable for "Home For The Holidays" for Perry Como; "Moments To Remember" and "No Not Much" for the Four Lads; "Chances Are" and "It's Not For Me To Say" for Johnny Mathis) wrote Pat Boone's last Top Ten hit in the 50s titled "If Dreams Came True".
From 1956 to 1958 Pat Boone, along with Ricky Nelson, was a pop star rival of Elvis Presley, Pat Boone's "The Wang Dang Taffy-Apple Tango" stalled at #63 in 1959 on the Billboard Hot 100. In 1959 Pat Boone released nine singles, of which severn charted on the Billboard Hot 100, but only one made the Top 20 nationally in the USA. In Vancouver, "With the Wind and the Rain in Your Hair" peaked at #10 in February '59.
In 1960 Pat Boone kept struggling to regain his earlier successes in the 1955-58 period. Though in Vancouver Boone's "(Welcome) New Lovers" climbed to #10 in April 1960, and "Walking The Floor Over You" made it to #12 on CKWX. Though in the USA he only had one hit that cracked the Top 20.
"Dear John/Alabam" was one of the five singles Boone released in 1960, four of them double-sided hits. While his fans kept buying his records, Boone hadn't had a Top Ten hit in the US since the spring of 1958.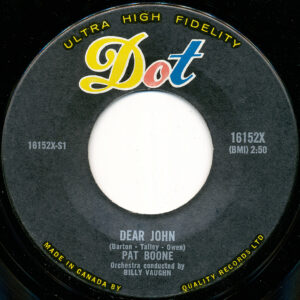 "Dear John" was a song from 1953 recorded by Ferlin Husky and Jean Shepard. In the original version titled "A Dear John Letter", the song topped the Billboard Country chart in September '53, and climbed to #4 on the Billboard pop chart. The Korean War had just ended on July 27, 1953. The lyrics reference the end of a war, and with the Korean War having just ended still on everyone's mind, "A Dear John Letter" inferred that it was Korea where the soldier had been stationed: "I was overseas in battle when the postman came to me. And he handed me a letter. I was happy as I could be. You see, the fighting was all over and the battles, they'd all been won. Then I opened up the letter and it started 'Dear John."
The song played on the concept of a Dear John letter. A Dear John letter is a letter written to a man by his wife or romantic partner to inform him that their relationship is over, usually because she has found another lover. The man is often a member of the military stationed overseas. "John" was the most popular and common baby name for boys in America every single year from 1880 through 1923, making it a reasonable 'placeholder' name when denoting those of age for military service. The earliest Dear John letters are said to date back to the American Civil War. However, the phrase "Dear John letter" only gained popular use in 1944 during World War II.
In "Dear John", a young woman, whose boyfriend John was stationed "overseas," writes stating that she is breaking off the relationship. To add salt to the wound, she lets "John" know she is marrying his brother, Don. In addition, she wants her photograph back because Don wants it now.
Was the storyline taken seriously in 1953 when it was first a Top Ten hit? By 1961, Pat Boone's cover of "Dear John" didn't crack the Top 40 on the Billboard Hot 100. Was this because by the early Sixties radio listeners thought the story was a bit far-fetched? True, a woman might date one guy, and later one of his brothers. But, would Don have wanted to keep this a secret from his brother? After all, John and Don are going to remain brothers for the rest of their lives. And as John is returning from service overseas, it's likely that he's in his early to mid-20s. And doesn't the girlfriend breaking off a relationship with John have a camera? And can't Don take a new photo of her to keep for himself? It's not as though the photo John has is the only one where she could look good for the camera. Asking for the photo of his ex-sweetheart back for Don to have seems to be lacking in tact. Perhaps the message behind the song was, if you want to keep your relationship in tact don't get drafted into the army and fight in a foreign war.
"Dear John" peaked at #3 in Ottawa (ON), #5 in Vancouver (BC), and #7 in Manchester (NH).
The B-side of the single was "Alabam".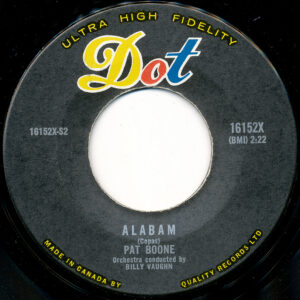 "Alabam" was written and originally recorded by Cowboy Copas in 1960. It became a number-one hit on the Billboard Hot Country Songs chart on August 22, and was at the top of the chart for twelve consecutive weeks until November 7, 1960. Pat Boone hoped he could record a crossover hit with his recording of "Alabam".
The song describes the local folks in Alabama eating "like wild geese." They go to turkey roasts, eat chicken, and drink wine. There are tramps caught in corn fields stealing corn, and people in town wearing "run down slippers" and "a tore up shoe." It's a portrait of poor rural folks.
An article in 2015 challenges the stereotypes about people from Alabama. It was titled "Here Are 10 Alabama Stereotypes That Need To Be Put To Rest." Here are the stereotypes she contests: 1) all Alabamans live in trailers, 2) all Alabamans are racist, 3) all Alabamans live in the country, 4) all Alabamans are uneducated, 5) all Alabamans drive pick-up trucks, 6) all Alabamans have missing teeth, 7) all Alabamans shop only at Wal-Mart, 8) all Alabamans kiss their cousins and marry their cousins, 9) Alabamans only listen to Country music, and 10) Alabamans are all poor.
While the article challenges stereotypes, it is true that in 2021 the state of Alabama allows first cousins to marry, and for first cousins to have sexual relations. As well, Alabama is ranked 45th in per capita household income out of 50 states. (It was ranked 47th out of 50 in 2014). While based on per capita income, Alabama is ranked 47th out of 50 states. So the perception that people in Alabama are poor has some statistical basis in fact: $23,606 per capita income.
"Alabam" peaked at #4 in Kalamazoo (MI), #8 in Vancouver (BC), and #10 in Ottawa (ON).
In 1960 the movie, Exodus, was released prior to Christmas. It was directed by Otto Preminger and written by Dalton Trumbo, the blacklisted writer of the Hollywood Ten who were compelled to testify before the House Un-American Activities Committee in 1947. Trumbo refused to testify before the committee and was blacklisted. Trumbo then wrote scripts for Roman Holliday, Spartacus and other films under an assumed name. He was paid under the table for his scripts. Preminger's open hire of Trumbo put an end to red-baiting in the Hollywood. In 2015 Bryan Cranston was nominated for an Academy Award in the Best Actor category for his portrayal of Dalton Trumbo in that years movie, Trumbo.
Exodus was a movie, based on the book by Leon Uris, about the creation of the nation state of Israel and was a catalyst for pro-Zionist feeling in America. The instrumental score for the "Theme From Exodus" won an Academy Award for Best Original Score at the 1960 Oscars. The version by Ferrante and Teicher peaked at #2 on the Billboard Hot 100 in January 1961, kept out of the top spot by the instrumental by Bert Kaemfert, "Wonderland By Night." The instrumental had peaked at #4 on CKWX in December 1960. Pat Boone was inspired to write lyrics for the instrumental tune with the subtitle, "This Land is Mine". Boone's recording was a #9 hit in Vancouver in February 1961.
Pat Boone's next single, "Moody River", would be his sixth and final #1 hit. He would make the Top Ten just once more with "Speedy Gonzales" in 1962.
A conservative Christian raised in the holiness Church of Christ, Pat Boone has supported many Republican candidates, beginning with Ronald Reagan for Governor in California in 1966. A vocal supporter of the Vietnam War, Pat Boone has added his endorsement to many political and socially conservative causes over the decades. In 2009, Boone, stated his belief that President Barack Obama was ineligible to serve as the President of the United States, believing that Obama had been born either in Kenya or Indonesia. Boone also has alleged that Barack Obama was fluent in Arabic and as a child read the Koran. Boone has claimed that President Obama "hasn't celebrated any Christian holidays in the White House."
Regarding Obama's policies in the Middle East, Boone stated "Differing from virtually every previous U.S. president, Mr. Obama seems to accept the claims of the Palestinian leadership, even the violent Hamas and Hezbollah, that the land given by God and settled by Israelites 4,000 years ago now rightfully belongs, at least in large part, to random settlers who moved into the area only in the last 200 years. And though the Balfour Declaration and the United Nations – and most civilized society the world over – have acknowledged and verified Israel's claim to their historic homeland, this president is doing everything he can to pressure Israel's leaders to cave in to the demands of the Muslim settlers."
In 2006 Pat Boone published his memoir, Pat Boone's America: 50 Years.
August 16, 2021
Ray McGinnis
References:
Boone, Pat. Pat Boone's America: 50 Years: A Pop Culture Journey Through the Last Fifty Years. B&H Books, 2006.
Scott Ross, Pat Boone: God's Hall of Fame, CBN.com
Jessica Steinberg, Evangelical Crooner Pat Boone to Fete Jerusalem with Gala Concert, Times of Israel, Jerusalem, May 13, 2018
Julie Mason, Pat Boone: Obama a Kenyan!, Politico, Washington D.C., September 21, 2011.
Eric Milzarski, "This may be the Origin of the 'Dear John' Letter," wearethemighty.com, January 28, 2019.
Jennifer, "Here Are 10 Alabama Stereotypes That Need To Be Put To Rest," onlyinyourstate.com, May 24, 2015.
"Cousin Law Marriage in the United States," Wikipedia.org.
"List of U.S. States and Territories by Income," Wikipedia.org.
"Dear John", "Fabulous Forty," CKWX 1130 AM, Vancouver, BC, December 3, 1960.
"Alabam", "Fabulous Forty," CKWX 11310 AM, Vancouver, BC, November 26, 1960.
For more song reviews visit the Countdown.