#450: Deep Enough For Me by Ocean
Peak Month: July 1971
8 weeks on Vancouver's CKLG chart
Peak Position #3
Peak Position on Billboard Hot 100 ~ #73
YouTube.com: "Deep Enough For Me"
Lyrics: "Deep Enough For Me"
Dave Tamblyn and Greg Brown were high school friends in London, Ontario. Dave played guitar and Greg played keyboards. They played gigs on the weekends with a variety of bands. In time they added singer Janice Morgan and became Leather and Lace. From London, they relocated to Toronto and performed in the hipster scene in trendy Yorkville. They added to their number bass player Jeff Jones and drummer Chuck Slater. In 1970 Yorkville Records was able to get Capitol Records to be the distributor for Ocean. Their debut single, "Put Your Hand In The Hand" went to #2 on the Billboard Hot 100 and #1 in Vancouver. The song had been recorded as a track by Anne Murray on one of her albums a few years prior. Ocean quickly went from playing gigs at high schools and night clubs in Toronto to doing concerts across North America and Europe, as well as starring on the A list of pop music TV shows.
Their debut album, Put Your Hand In The Hand, featured their next two singles, "Deep Enough For Me" and "We've Got A Dream". The first of these, "Deep Enough For Me" debuted on the CKLG chart in June 1971.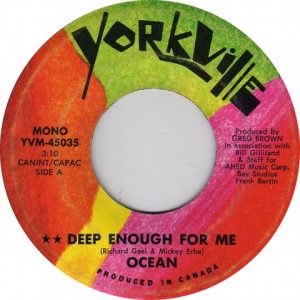 "Deep Enough For Me" is a song by Ocean about walking deep into the ocean, underwater. While not a safe thing to do normally, unless you have scuba gear, the singers want to go underwater in the ocean, like Jesus did when he was baptized in the River Jordan by John the Baptist. Of course, a river and an ocean are not the same. So the "deep end" they are planning on going underwater is a tad more risky than the Jordan was for Jesus. However, the purpose of this underwater walking is to "wash our sins away." The song lyrics observe that some people thirst for "money," others for "love" and others for "Jesus." The song also urges listeners to believe in Jesus, and the wine and water in their lives will flow.
In the New Testament gospel of Matthew, Mark and Luke. In the stories Jesus comes to the Jordan River and asks John the Baptist to baptize him. John thinks it should be the other way around, given that Jesus is the Son of God. But Jesus insists, and John proceeds to baptize Jesus. As Jesus emerges from the river, the gospel account in Luke tells us that the Holy Spirit descended on Jesus in the bodily form of a dove.
In the late 60s and early 70s there were a number of songs on the pop charts drawing inspiration from spiritual sources. Some of the songs populating the pop chart included "Spirit In The Sky" by Norman Greenbaum, "Crystal Blue Persuasion" by Tommy James & The Shondells which was inspired by James reading the Books Ezekiel, Isaiah and Revelation, "Are You Ready?" by Pacific, Gas & Electric Co., "My Sweet Lord" by George Harrison, "Let It Be" by The Beatles, "Put Your Hand In The Hand" by Ocean, "Amazing Grace" by Judy Collins, and the Broadway productions of Jesus Christ Superstar and Godspell.
"Deep Enough For Me" climbed to #2 in Chilliwack (BC) and #3 in Vancouver (BC). The single also climbed to #10 in Bermuda.
Though Ocean's touring won them many rave reviews, their personal income was tarnished by discovery of missing funds and mismanagement by agents. In 1972 they released a second album, Give Tomorrow's Children One More Chance. The title came from the second line from their debut single from the album, "One More Chance". "One More Chance" peaked at #7 on the Vancouver (BC) pop chart on CKVN.Ocean continued to tour into the mid-70s with an increasing revolving door in their lineup. Shady business practices caused disenchantment and all the original members quit the band except Greg Brown. Jeff Jones went on to play with Red Rider and Ronnie Hawkins. David Tamblyn turned his attention from performing to making string bows and other woodworking products. He has become internationally renowned for his expertise while he also maintains a bow-making workshop at his home on Toronto Island.
May 13, 2020
Ray McGinnisReferences:
Ocean – bio, Canadian Bands.com.
David Tamblyn – bio,The Canadian Encyclopedia.ca
"CKLG 'Thirty'," CKLG 730 AM, Vancouver, BC, July 16, 1971.
For more song reviews visit the Countdown.