#53: Desiderata by Les Crane
Peak Month: November-December 1971
11 weeks on Vancouver's CKLG chart
Peak Position #1
Peak Position on Billboard Hot 100 ~ #8
YouTube.com: "Desiderata"
Lyrics: "Desiderata"
Les Crane was born in New York City in 1933 as Lesley Stein, and was raised in a Jewish household. He was a talk show host on KONO (San Antonio, TX) in 1958, and moved to WPEN in Philadelphia. In 1961, Crane hosted a talk show on KGO in San Francisco. Years later, American Top 40 show host Casey Kasem credited Les Crane as one of several radio show hosts who solidified the Top 40 pop song format. Previously, AM stations had Top 50 (like CFUN) or Top 60 (like CKWX) or even for awhile the Top 99 (WIBG – 990 AM – in Philadelphia). In 1964 ABC offered Crane a chance to host a show on the east coast. Based in New York City on WABC, The New Les Crane Show went head-to-head with Johnny Carson.
Attempting to be both serious and witty, the program was touted as combining the approaches of Jack Paar, Mike Wallace and David Susskind. Crane interviewed civil rights leaders Malcolm X and Martin Luther King Jr., segregationist leader Alabama Gov. George Wallace, Robert F. Kennedy, Muhammad Ali, the Rolling Stones, Harry Belafonte, William F. Buckley, Petula Clark and others. Viewers complained when on one of Crane's shows Harry Belafonte and Petula Clark "held hands on TV," because he was black and she was white. Crane was also the first to have an openly gay (referred to as "homosexual" on the January 31, 1964 broadcast) guest on his show, Randy Wicker. Crane also had the mother of Lee Harvey Oswald, Marguerite Frances Claverie, appear on his show to debate whether or not her son actually murdered President John F. Kennedy. Other celebrities to appear on Les Crane's show include Julius LaRosa, Judy Collins, Richard Burton, Vic Dana, Kim Novak, Connie Stevens, Ethel Merman, Aretha Franklin, Ayn Rand, Sal Mineo, Judy Garland, Barbra Streisand, Eartha Kitt, Dionne Warwick, Bob Dylan, Buffy Sainte-Marie, Gene Pitney, The Shirelles and many others.
In 1966, Crane married actress Tina Louise, best known as Ginger on the sitcom "Gilligan's Island." They were divorced after five years. Crane was a talk show host in LA in the late 60's. In 1971, he recorded a spoken-word version of "Desiderata".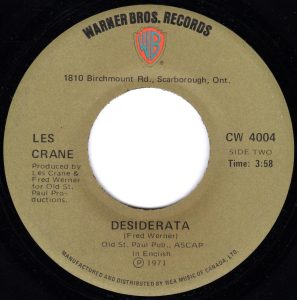 "Desiderata" (from the Latin – "things desired") is a poem written by Max Ehrmann. Born in Terre Haute, Indiana in 1872, Erhmann started writing a poem in 1921, which originally went by the opening phrase "Go Placidly Among the Noise and Haste." In 1927 he registered for his US copyright under the opening phrase. The April 5, 1933, issue of Michigan Tradesman magazine (No. 2585) published the full, original text on its cover, crediting Max Ehrmann as its author. In 1933 he distributed the poem in the form of a Christmas card, evidently entitling it "Desiderata" because a few days later he wrote in his Journal that a Kansas editor criticized his "Desiderata". Several years before 1942 a depressed woman gave psychiatrist Merrill Moore a copy of the poem without the name of the author, allowing him to hand out over 1,000 unattributed copies to his patients and soldiers during World War II. After Ehrmann died in 1945, his widow first published the work in 1948 in The Poems of Max Ehrmann. The Reverend Frederick Kates handed out about 200 unattributed copies to his congregation at Old Saint Paul's Church, Baltimore, around 1959 or 1960. included "Desiderata" in a compilation of devotional materials for his congregation. The compilation included the church's foundation date, "Old Saint Paul's Church, Baltimore AD 1692." Many readers of "Desiderata" subsequently mistakenly took, and sometimes still do take, 1692 to be the date of the poem's composition.
The 1948 version was in the form of one long prose paragraph. Long after the Erhmmann's death in 1945, the work was partitioned into stanzas. "Desiderata" was widely distributed in poster form in the 1960s and 1970s. It was first partitioned into a few subparagraphs separated by "distinctive spacing figures" in 1970 by Pro Arts and Crescendo Publishers. Written works registered in the U.S. before 1928 entered the public domain in 2023.
"Desiderata" offers a positive philosophy of life and was viewed as a 'New Age Anthem' at the time the Les Crane recording was on the pop charts. It counseled a daily attitude of adopting silence, calm, and avoiding "loud and aggressive persons." It advised each person to consider it beneficial to take an interest in whatever career path you are on. Yet, warned against "trickery" in the affairs of business. The poem advises that whatever is happening in the world, "no doubt the universe is unfolding as it should."
At the time "Desiderata" was on the pop charts, these news December 1971 headlines described the world's unfolding: "Bomb demolishes crowded Belfast pub;" "The Pakistan Army executes an estimated 1,111 of East Pakistan's intellectuals during the Bangladesh Liberation War;" "People United To Save Humanity (PUSH) formed by Jesse Jackson in Chicago;" "UN General Assembly ratifies former Austrian President Kurt Waldheim as Secretary-General," and "John Lennon and Yoko Ono release single "Happy Xmas (War is Over)".
Writing in January 2021, blogger Caitlin McColl reflected on lines from "Desiderata". She offers these comments regarding
"…and listen to others, even to the dull and the ignorant, they too have their story." McColl reflects, "This is a part that always stands out for me. The "they too have their story" part. It's an amazing reminder that we are all more connected, more the same, than we are separate. We are all the same species, after all, even if we have different backgrounds, opinions, and beliefs. We all have our stories, and we all deserve to be heard."
The poem concludes "With all its sham, drudgery and broken dreams, it is still a beautiful world. Be careful. Strive to be happy." A choral affirmation was repeated in the contrast to Crane's spoken-word rendition: "You are a child of the universe. No less than the trees and the stars, you have a right to be here. And whether or not it is clear to you, no doubt the universe is unfolding as it should." In 1972, on the night of the cliffhanger election result with 107 Conservatives elected and 109 Liberals elected, Canadian Prime Minister Pierre Elliott Trudeau addressed his supporters by saying "whether or not it is clear to you, no doubt the universe is unfolding as it should."
In 1968, under the title "Spock Thoughts", Star Trek actor Leonard Nimoy recited Max Erhmann's poem on his album Two Sides of Leonard Nimoy. When he recorded "Desiderata" in 1971, Les Crane and the record company believed the poem was written in 1692. But, in time royalties were paid to the family of Max Erhmann.
"Desiderata" climbed to #1 in Vancouver (BC), Akron (OH), Dallas, Cleveland, Lansing (MI), Columbus (OH), and New Haven (CT), #2 in Washington D.C., Wheeling (WV), Wichita (KS), Seattle, Rochester (NY), San Bernardino (CA), and La Crosse (WI), #3 in San Francisco, and Pensacola (FL), #4 in New Orleans, and Sioux Falls (SD), #5 in San Diego, #6 in Los Angeles, Sacramento (CA), and Hartford (CT), #7 in San Jose (CA), Milwaukee, and Houston, #8 in Buffalo, and Oklahoma City, #10 in Pomona (CA), Boston, and Allentown (PA). The single got airplay in over 35 states, but was given a pass in 13 states across the USA.
Internationally, "Desiderata" peaked at #1 in New Zealand, #4 in Australia, and South Africa, #6 in the UK, #8 in the USA and #9 in Ireland. In 1972, a Spanish language version of "Desiderata" recorded by Arturo Benavides topped the Mexican pop charts for six weeks.
National Lampoon penned a sarcastic parody of the poem in 1972 titled "Deteriorate". It began, "You are a fluke of the universe. You have no right to be here." It concludes, "With all its hopes, dreams, promises, and urban renewal, the world continues to deteriorate. Give up!" The parody didn't catch on and stalled at #91 on the Billboard Hot 100.
In 1984, Les Crane founded Software Toolworks which he sold in 1994 for $462 million (USD) (or $925M in 2023 dollars). He died at the age of 74 in 2008.
In 2010 Terre Haute, Indiana honored Max Ehrmann with a life-size bronze statue by sculptor Bill Wolfe. Erhmann is depicted sitting on a downtown bench, pen in hand, with a notebook in his lap. "Desiderata" is engraved on a plaque next to the statue and lines from the poem are embedded in the walkway.
March 3, 2023
Ray McGinnis
References:
Elaine Woo, "Former TV host also founded software firm," Los Angeles Times, July 16, 2008.
Nate Bloom, "Jewz in the Newz," American Israelite, Cincinnati, OH, January 7, 2021.
"Bomb Demolishes Crowded Belfast Pub," BBC, December 4, 1971.
Sara Wittmeyer, "Max Ehrmann Statue Unveiled in Terre Haute," WITU (NPR), Indiana Public Media, August 31, 2010.
Max Erhmann, "Desiderata", Copyright 1927.
Caitlin McColl, "Desiderata – a Poem that Reminds us it's Still a Beautiful World," Elephant Journal, January 27, 2021.
"CKLG Thirty," CKLG 730 AM, Vancouver, BC, December 3, 1971.
For more song reviews, visit the Countdown.