#227: Doll House by Donnie Brooks
Peak Month: December 1960
11 weeks on Vancouver's CFUN chart
Peak Position #2
Peak Position on Billboard Hot 100 ~ #31
YouTube: "Doll House"
Lyrics: "Doll House"
In 1936 John Dee Abohosh was born in Dallas, Texas. His family moved to Ventura, California when he was in his youth. In his teens he was adopted by his stepfather, John D. Fairecloth, who supported young John in developing his voice. John Dee Abohosh was than given the surname Fairecloth. While growing up in southern California, he studied under the same vocal coach who previously instructed Eddie Fisher. In high school John Dee Fairecloth made his professional debut on a classical music showcase broadcast by Ventura-based station KBCC. After graduating from high school, Fairecloth earned his living singing at local clubs, fairs, and weddings, embracing rock & roll and in 1957 signing to local indie Fable Records to cut his debut single, "You Gotta Walk The Line", credited to Johnny Faire. He was twenty-one years old.
While cutting demos for the Surf label, he learned that contractual obligations were forcing friend and mentor, Dorsey Burnette, to abandon a completed track dubbed "Bertha Lou." Surf agreed to erase Burnette's vocal and insert Faire's performance instead. Surf released the single and again John Fairecloth went with the stage name Johnny Faire when recording "Bertha Lou." The rockabilly number charted in Toronto and Baltimore in the winter of 1957-58. Fairecloth next took the stage name Johnny Jordan in early 1958 to record "Sweet, Sweet, Sweet". It was written by William Michael who would later pen Donnie Brooks biggest hit, "Mission Bell". But the rockabilly tune got no notice. Brooks was friends with singer-songwriters and performers, Dorsey and Johnny Burnette. The Burnette brothers encouraged John Fairecloth to stick with the music business.
Fairecloth than took the stage name Dick Bush to record another rockabilly tune, "Hollywood Party", on Era Records. It made the Top 20 in Worcester, Massachusetts, in May 1958. Despite tepid record sales, Era Records was impressed with Fairecloth and agreed to keep him on their payroll in exchange for another stage name change, this time to Donnie Brooks. "A donnybrook is a riotous occasion, and Donnie was a riot," said his friend Howard Thomason in 2007 in an interview with the LA Times. "This man didn't have a serious bone in his body."
His first recording under the name Donnie Brooks was a flop called "Li'l Sweetheart." His follow up on Era Records, "White Orchid," climbed to #3 in Vancouver (WA) and #1 in Portland (OR) and sold over 50,000 copies. Moreover, it became a Top Ten hit in Australia. Brooks third single under his current stage name, "The Devil Ain't A Man" was a Top 30 hit in Ventura, California. The song declared that the devil was a girl about five foot tall. However, it was his fourth single release, "Mission Bell", that became his best seller peaking on the Billboard Hot 100 and in Vancouver at #7.
Brooks fifth single was "Doll House".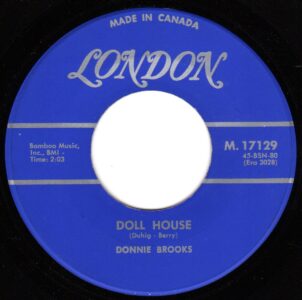 "Doll House" was cowritten by Lou Duhig and Ruby Berry. Duhig had been writing songs since 1957, starting with "Big Man", a calypso tune recorded by Billy Strange. Duhig and Berry first collaborated on "For The Birds" by The Charts in 1959. The tune was a jazzy pop instrumental with bird sounds, and one spoken phrase "for the birds." The songwriting duo would later pen both "Boomerang" and "Wishbone" for Brooks.
"Doll House" is a song about a guy who promises to build a doll house for his sweetheart if she agrees to marry him. He announces to her "got a hammer, nail and a hunk of wood: I'll build a doll house." He concedes that he might not be able to buy her all she's dreaming of. However, one thing is for certain, he has "lots of love."
The earliest known European dollhouses were the baby houses from the 16th century, which consisted of cabinet display cases made up of individual rooms. The term "baby" in baby house is coined from the old English word meaning doll. Dollhouses of this period showed idealized interiors complete with detailed furnishings and accessories. The cabinets were built by hand with architectural details, filled with miniature household items and were solely intended for adults. The baby moniker referred to the scale of the houses rather than the demographic it was aimed towards. They were off-limits to children, not because of safety concerns for the child but for the dollhouse. Such cabinet houses were trophy collections owned by the few matrons living in the cities of Holland, England and Germany who were wealthy enough to afford them, and, fully furnished, were worth the price of a modest full-size house's construction.
In Holland, these exhibits of wealth were called "cabinet houses." The front of the house opens like a china cabinet on hinges that can be closed and locked. Inside cabinet houses, people could both show off and conceal their collections of expensive miniature objects.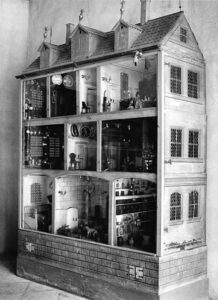 The early European dollhouses were each unique, constructed on a custom basis by individual craftsmen. Many doll houses were four to five feet tall. And in Donnie Brooks' "Doll House" he vows to build a doll house by himself, which will be "big enough for you and me." So, the 'doll house' Brooks has in mind to build for his sweetheart will have the resemblances of these miniature houses, but built to a large enough scale that it can be inhabited by adult newlyweds.
Beginning in the 17th century, "Nuremberg kitchens" might contain a hearth, cooking pots, a straw broom. These all-metal houses were designed without ornament, for purely utilitarian purposes. Used as teaching tools for girls, Nuremberg kitchens allowed mothers to show daughters how to set up and control a house. All about learning rules, a Nuremberg kitchen was the opposite of a dollhouse as a dream world of fantasy. It was a place where girls learned to manage not only the objects of the house but also its servants, where girls would learn to become the lady of the house.
It took until after World War II, when the U.S. stopped importing goods from Europe, for dollhouses to become mass-produced and affordable. Finally, a doll house for a girl in North America in the 1950s onward could be a toy she could play with. A doll house in a post-WWII home in the USA was no longer bought for a daughter to show her how to learn to become a lady, as 17th century German "Nuremberg kitchens" illustrated.
"Doll House" peaked at #2 in Vancouver (BC), #8 in Erie (PA), #9 in Portland (OR) and Vancouver (WA), #10 in San Francisco, #13 in Minneapolis/St. Paul and Buffalo, #15 in Philadelphia, and #17 in Montreal. In the UK the King Brothers had a #21 hit with "Doll House".
The B-side to "Doll House" was "Round Robin" which was a Top 20 hit in radio markets in California, Texas, Oregon, and Iowa.
Donnie Brooks sixth single, "Memphis,"stalled at #90 on the Billboard Hot 100, but peaked at #5 in Vancouver. While he was with Era Records, on the liner notes for his 1960 album, The Happiest, Era boasted "Donnie is now in demand not only in the United States but in Europe, Latin America and the Far East, and tours of those far away places are being scheduled for the forthcoming year. But in between his traveling and recording, motion picture and television activity will be added to his schedule. Donnie, in addition to being a recording star and a first rate performer, is a six foot one, hundred and eighty pound young Texan with brown hair and blue eyes, a combination of vital statistics that has a strong effect on members of the fairer sex. As a matter of fact, put him in the middle of a swarm of young females and you'll probably wind up with a "Donnie Brooks" and a donnybrook – a "riotous occasion" no matter how you spell it."
Brooks seventh single, "Wishbone" stalled at #40 in Vancouver and was a flop elsewhere. His eighth single release, "Boomerang" also missed the Billboard Hot 100. But it gave him his fourth Top Ten single in Vancouver, peaking at #9. Next, he released "Up To My Ears In Tears", "Your Little Boys Come Home", "My Favorite Kind Of Face", "Oh! You Beautiful Doll", "It's Not That Easy" and "Cries My Heart" for Era Records between the fall of 1961 and 1962. None of these successfully charted in the USA, though "Oh! You Beautiful Doll" went to #9 for Brooks in Vancouver.
Although "Oh! You Beautiful Doll" was a hit in Vancouver, it was a dud in the USA. After this string of disappointments, Era Records cancelled their contract with Donnie Brooks. He would release another 18 singles between 1964 and 1978 as Donnie Brooks variously for Reprise, Challenge, Yardbird, Era, Oak, Happy Tiger Records and Midsong International without any success. He also released one more single under his former stage name, Dick Bush, in 1963. Brooks did appear in the 1964 teen rock 'n roll movie Get Yourself A College Girl. He also appeared in concert in Vancouver at the PNE Forum on November 26, 1964. But once Beatlemania struck, Brooks was passé.
Brooks did star in three films in the 60's. A Swingin' Summer found Brooks starring in 1965 with Raquel Welsh, the Righteous Brothers, Gary Lewis & The Playboys and the Rip Chords. Another flick released at the end of 1964 was Get Yourself A College Girl with Nancy Sinatra, The Standells, The Dave Clark Five, The Animals, Stan Getz and Astrud Gilberto. In 1966 Brooks appeared in a movie about the dangers of L.S.D. called The Love-ins with James McArthur.
Though his star was fading, Donnie Brooks did continue to appear in concert opening for the Dave Clark Five, Connie Francis and Roy Orbison. In Lake Tahoe, Nevada, Brooks opened shows for both Sammy Davis Jr. and Frank Sinatra. In 1971, Brooks appeared in the Christian rock opera Truth of Truths, which premiered on Easter Sunday at the Greek Theatre with Jim Backus voicing the role of God. While rehearsing to play Jesus Christ, Brooks later said, he became a born-again Christian. During his heyday Brooks released nearly thirty singles.
With a revival of interest in early rock 'n roll with the advent of progressive rock in the early 70's, Donnie Brooks began to tour as part of oldies revival shows. During Vancouver's 100th Expo '86 celebrations, Donnie Brooks performed in concert at the Expo Theatre on June 29, 1986. For over three decades Brooks constantly went on tour until in 2003 when a car accident forced him to retire. Donnie Brooks died in 2007 at the age of 71.
December 8, 2021
Ray McGinnis
References:
Get Yourself A College Girl , Metro-Goldwyn-Mayer, 1964.
Valerie J. Nelson, "L.A. Singer had Top 10 hit "Mission Bell," Los Angeles Times, February 28, 2007.
Rockabilly Hall of Fame – Donny Brooks bio, Rockabilly Hall.com.
"Donnie Brooks – Concerts, Canada," setlist.fm.
Nicole Cooley, "Dollhouses Weren't Invented for Play," The Atlantic, July 22, 2016.
"C-FUN-Tastic 50," CFUN 1410 AM, Vancouver, BC, December 10, 1960.
For more song reviews visit the Countdown.