#928: Donald Where's Your Troosers? by Andy Stewart
Peak Month: March 1961
7 weeks on Vancouver's CKWX chart
Peak Position #5 (CFUN)/#6 CKWX
Peak Position on Billboard Hot 100 ~ #77
YouTube.com: "Donald Where's Your Troosers?"
"Donald Where's Your Troosers?" lyrics
The use of tartan patriotism and stereotypical Scottish humor goes back to Sir Harry Lauder and music hall songs at the turn of the 20th Century. In the 1960s, this genre was showcased by the entertainer Andy Stewart. Born in Glasgow, Scotland, in 1933, Stewart enjoyed a number of international hits including "Donald Where's Your Troosers?" and "A Scottish Soldier". In his school years he appeared in numbers of acting roles and eventually studied acting in college. Out of college he was immediately scouted to perform in dramas, variety shows and stand-up comedy. After opening for Billy Eckstine in Manchester, Stewart appeared across Scotland and England as a comedy impressionist with James Stewart, James Cagney, Elvis Presley, Petula Clark, Charles Laughton, Perry Como, Johnnie Ray, Al Jolson and Louis Armstrong among his repertoire. One of his most popular routines was to perform the well-known and peculiarly Scottish song, "Ye Cannae Shove yer Granny Aff a Bus", in the voices of American stars like Jolson or Armstrong.
He was also known as the compere of BBC Scotland TV show The White Heather Club that was shown each New Year's Eve between 1957 and 1968. On July 3, 1958, Stewart appeared before Her Majesty The Queen and The Duke of Edinburgh at a theatre in Edinburgh.
In 1959, Andy Stewart signed his first recording contract with the small British label of Top Rank. His first recording, "Donald Where's Your Troosers?" was a light-hearted, almost throwaway track, during a recording session with his White Heather Group. However Top Rank considered it worth releasing as a 45 RPM single.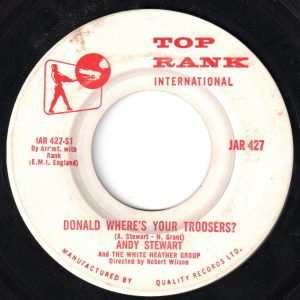 "Donald Where's Your Troosers?" is a comic song about a Scotsman who wears a kilt rather than trousers. It plays on the traditional gag about what people might see when a man is wearing a kilt and not any underwear. Especially when it is windy while walking in a kilt. As such he impresses the ladies when he walks by, frightens the other Highlander men and has rolls in the hay with lassies from London. The song also includes an Elvis imitation of several of the verses near the end of the song. It was written by Andy Stewart with music by Neil Grant.
When performed by Andy Stewart and the White Heather Group, it was a Top 40 hit in 1960 in the UK, reaching #37. In Canada the song was even more popular. It climbed to #7 in Vancouver early in 1961. It reached #1 in Toronto, #2 in Calgary and Ottawa and #6 in Montreal. In 1989 "Donald Where's Your Troosers?" climbed to #4 on the UK singles chart.
Stewart wrote the song in 10 minutes while he sat, trouserless, in the lavatory of a recording studio. Back in 1960's Andy Stewart and other Scottish comedians were heard to tell a joke at the time reflecting Scots making fun of themselves: What's the difference between a Scotsman and a Rolling Stone? A Rolling Stone says, "hey you, get off of my cloud!," while a Scotsman says, "Hey McLeod, get off of my ewe!"
Stewart's character in "Donald Where's Your Troosers?" is from the Isle of Skye. This is the largest of the Inner Hebrides islands and home to some of Scotland's most iconic landscapes. It is an island with a population of 10,000 people and where over 70 percent of the population still speak Gaelic. Images of crofters working the land, fishermen and sheep strolling the country roads fill the imagination of the rest of Scottish and English papers. In fact, there are over 100,000 sheep on the Isle of Skye and it is hard to be far from the sound of a "baa, baa, baa."
For Andy's next single release, he chose "A Scottish Soldier". Andy had based the song on an old pipe-tune, "The Green Hills of Tyrol." He'd first heart the tune as a boy when the family visited Braemar Highland Games. The song had been growing in popularity following repeat performances on The White Heather Club. Stewart recalls, "I got an idea for the lyric for the song. It was a story about a Scottish soldier who finds himself in a far land, his soldiering days are over and the call of his own country takes him back for his final resting to Scotland. And I sat down and the words just came to me: "there was a soldier, a Scottish soldier…" Though he got a backlash from some Scottish traditionalists who believed he'd ruined "The Green Hills of Tyrol" by putting words to the tune, Stewart knew the melody was actually a traditional Swiss air heard in Sardinia and borrowed by a Scottish Pipe-Major during the Crimean War. The song spent 40 weeks on the UK charts, peaking at #19, and became the fourth biggest single for the year 1961 in the UK. The song also became the third biggest seller for sheet music in 1961 in the UK.
In Canada it happened that "A Scottish Soldier" was the first single to chart in the country, followed shortly after by "Donald Where's Your Troosers?" In 1962 Andy started his own publishing company, Lochside Music Publishing Company Ltd to administer his songs as his catalogue increased and putting lyrics to tunes became his chosen method of composing – providing a magic formula for the "hits."
In 1963 Stewart went on a world tour that included stops at the Sydney Opera House in Sydney, Australia, Carnegie Hall in New York City, stops in Hong Kong, Canada, New Zealand, Tasmania, South Africa, Southern Rhodesia and other countries. In the course of his career Stewart appeared in many TV specials and shows including television shows over the years including: Andy Stewart in London (1962), The Saturday Show (1962), The Andy Stewart Show (1963), The Man Behind the Star (1965), A Song for Scotland (1966), The London Palladium Show (1967), The Scottish Minstrel (1967), Stewart Style (1969), The Andy Stewart Show (1970), Stars on Sunday (1971), The Andy Stewart Show (1975) and Andy's Party (1978).
Into the 1980's Andy Stewart was becoming a symbol of the "Old Scotland" for many Scots who were embarrassed by perpetual images of haggis, Hogmanay and kilts as representing Scotland. He spent much of the decade touring internationally. But in 1989 "Donald Where's Your Troosers?" was reissued and climbed to #4 on the UK charts. Stewart was back in fashion, including in Scotland.
During his career Andy Stewart released 26 studio albums and one live album. Plagued with ill-health most of his adult life, especially due to high cholesterol levels, Stewart died at the age of 60 in 1993. Since his death over a have a dozen compilation CD releases have been made available to showcase the work of one of Scotland's greatest comics.
December 21, 2017
Ray McGinnis
References:
Gordon Irving, "Obituary: Andy Stewart," Independent, UK, October 12, 1993
Andy Stewart ~ An Illustrated Record ~ Fansite (bio)
British Music Hall ~ Wikipedia
Isle of Skye visitscotland.com
"Sheep Taking a Stroll on the Isle of Skye, Scotland," insight guides.com, January 18, 2016
"C-FUN-Tastic 50," CFUN 1410 AM, Vancouver, BC, March 25, 1961.
For more song reviews visit the Countdown.