#729: Done Too Soon by Neil Diamond
Peak Month: June 1971
7 weeks on CKVN's Vancouver Charts
Peak Position on CKVN ~ #7
Peak Position on Billboard Hot 100 ~ #65
YouTube.com: "Done Too Soon"
Lyrics: "Done Too Soon"
Neil Leslie Diamond was born in Brooklyn in 1941. His parents were Russian and Polish immigrants and both Jewish. His dad was a dry-goods merchant. When he was in high school he met Barbra Streisand in a Freshman Chorus and Choral Club. Years later they would become friends. When he was sixteen Diamond was sent to a Jewish summer camp called Surprise Lake Camp in upstate New York. While there he heard folk singer, Pete Seeger, perform in concert. That year Diamond got a guitar and, influenced by Pete Seeger, began to write poems and song lyrics. While he was in his Senior year in high school, Sunbeam Music Publishing gave Neil Diamond an initial four month contract composing songs for $50 a week (US $413 in 2017 dollars). and he dropped out of college to accept it.
In 1962 Diamond teamed up with a high school friend, Jack Parker, and released a song called "You Are My Love At Last." The next year Neil Diamond released his first song under his name titled "At Night" on the Columbia label. The tune failed to get much attention and Columbia didn't renew their contract with Diamond. By 1966 Neil Diamond struck gold by charting his first singles onto the Billboard Hot 100 with "Solitary Man" peaking at #55 and "Cherry Cherry" climbing to #6. Later that year his song, "I'm A Believer", was recorded by The Monkees. The tune became the #5 hit of 1967.
In Vancouver, Neil Diamond generally had more successful chart runs here in Vancouver, Canada, compared to the Billboard Hot 100. "Solitary Man", stalled at #55 in the USA but climbed to #12 in Vancouver. "I Got The Feelin' (Oh No No)" stalled at #16 on the USA, but peaked at #4 in Vancouver. "You Got To Me" was also a #4 hit in Vancouver, but barely made the Top 20 on the Billboard charts, cresting at #18. "Thank The Lord For The Nightime" was #13 in the USA, but went up to #6 in Vancouver. Similarly, "Kentucky Woman" met with a better response in Vancouver as it climbed to #10, but stalled at #22 on the Billboard Hot 100. Five of seven charting songs Neil Diamond had on the Vancouver charts did significantly better than in his native America. His first single release in 1968, "Red Red Wine", followed this familiar pattern, climbing to #7 in contrast to Billboard's #62.
Diamond began 1969 well with a #4 song in Vancouver titled "Brother Love's Travelling Salvation Show". He ended the year with two international Top Ten hits, "Sweet Caroline" and "Holly Holy". 1970 saw Diamond continue to chart into the Top 30 with "Shilo" and "Soolaimón".
In the fall of 1970, Neil Diamond released a cover of the Hollies "He Ain't Heavy, He's My Brother". On June 27, 1970, and again on July 31 1971, Neil Diamond performed in concert in Vancouver at the Queen Elizabeth Theatre.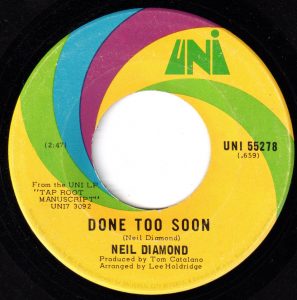 "Done Too Soon" was a song about mortality. It was the B-side of Neil Diamond's #1 single, I Am I Said. In his song Done Too Soon, Diamond mentions the names of twenty-five historical figures who have died. They span spiritual, artistic, political and scientific. They include Jesus Christ, Vaudeville singer and actress Fanny Brice, classical music composer Wolfgang Amadeus Mozart, and actor Humphrey Bogart. The list of names catalogued also included President Abraham Lincoln's assassin, John Wilkes Booth, who was a Confederate sympathizer. It included democratic leader of the Congo, Patrice Lumumba who was killed in a 1960 CIA plot. The list also gave a nod to the man who coined rock n' roll, Alan Freed. Freed was the DJ in Cleveland who in 1951 on WJW played rhythm &blues records on his Moondog House show. His show was pitched to a white audience who were now hearing for the first time what some people called "race records."
Of those mentioned in "Done Too Soon", Diamond mentions 23 men and two women. He remarks they each shared something with the world, lived under the same sun and moon. Diamond concludes they were all done too soon. Not that all of those mentioned died at an early age. Some lived into their 70's, but could have given the world more. Others mentioned lived into their golden years. Comedian Chico Marx of the Marx Brothers died at the age of 74, two years after he retired from acting. A heavy smoker and drinker, actor Humphrey Bogart died at age 57 of cancer in 1957. Comedienne, singer, actress and model, Fanny Brice died at age 59 of a cerebral hemorrhage.
Patrice Lumumba was the first legally democratically elected President of the Congo. The Guardian wrote in January 2011, 50 years after his assassination, that Patrice Lumumba's "determination to achieve genuine independence and to have full control over Congo's resources in order to utilise them to improve the living conditions of our people was perceived as a threat to western interests." His election and goals for a truly independent Congo resulted in his murder. Guardian writer, Georges Nzongola-Ntalaja, authored The Congo from Leopold to Kabila: A People's History. He comments that Lumumba's murder was "a culmination of two inter-related assassination plots by American and Belgian governments, which used Congolese accomplices and a Belgian execution squad to carry out the deed."
"Done Too Soon" included magazine magnate, Henry Luce. It was Luce who founded a number of magazines: Time, Life, Fortune and Sports Illustrated. He was called "the most influential private citizen in the America of his day" by author Robert Edwin Herzstein, who wrote Henry R. Luce, Time, and the American Crusade in Asia.
Alexander Graham Bell, named in Diamond's song, died at the age of 75. Bell invented the telephone in 1875, an early version of a metal detector in 1881 and a hydrofoil plane during World War I. From 1912 to 1918 Bell was the Chairman of the Board of Scientific Advisors to the Eugenics Record Office. Bell advanced the view that certain persons, such as deaf people, should not be allowed to bear children. He advocated for the compulsory sterilization of people judged to be a "defective variety of the human race," as Bell described it. The Eugenics Record Office created categories of American citizens who were deemed "socially inadequate," and candidates for forced sterilization. By the late 1930's nearly half the states in America had eugenics laws. The legislation for compulsory sterilization passed in California became the template for Adolph Hitler's Nazi Germany eugenics program. Between 1934 and 1945 over 300,000 German citizens were forcibly sterilized. These included persons with mental retardation, schizophrenia, alcoholism, manic depression, blindness, deafness and epilepsy.
With Alexander Graham Bell's preoccupation with eugenics into the 1920's, what his contribution to the world, if he had lived beyond 1922, might be is controversial. Neil Diamond is Jewish, from Russian and Polish immigrants. Given Bell's latter preoccupation with eugenics and the adaptation of American eugenics legislation in Nazi Germany, Bell's name on the song's list is for some controversial. However, it is unlikely most listeners associated Alexander Graham Bell with much else besides his most famous invention, the telephone.
Diamond's lyrics include both remarkable people as well as criminals. For example, Caryl Chessman, was a convicted of 18 counts of robbery, kidnapping and rape. Though no one died, he was given the death sentence as punishment for crimes he committed in January 1948. Over the next twelve years Chessman wrote four books that became best sellers while he appealed his sentence. Cell 2455, Death Row,was the first and most popular. It was made into a film by the same name by Columbia Pictures in 1955 starring William Campbell in the role as Chessman. Chessman was executed in a gas chamber on May 2, 1960, at age 38. Chessman's case was a catalyst in American policy pertaining to Capitol Punishment. He was the second to last convict put to death for a crime where no murder was committed. What are people like Chessman and John Wilkes Booth, the confederate spy who assassinated President Abraham Lincoln, doing in the songs list? The lyrics offered a number of plausible interpretations about what it meant to be done too soon.
It is also possible to conclude that "Done Too Soon" is about mortality and that no matter what we've done in life, we will weep when we each reach the end of our mortal coil. "Done Too Soon" peaked at #7 in Vancouver, and #9 in Saint Charles (MO) and #9 Holland (MI).
On July 21, 1972, and later on April 9, 1976, Neil Diamond appeared in concert – on both occasions at the Pacific Coliseum.
Neil Diamond had many million sellers. These include "Sweet Caroline", a song about his wife at the time named Marsha. Diamond decided not to call the song 'Sweet Marsha.' "Holly Holy", "Cracklin' Rosie" and "Song Sung Blue" are among his other smash hits. The latter two were both number one hits on the Billboard Hot 100. Between 1966 and 1977 Neil Diamond charted 19 songs into the Top Ten in Vancouver and 8 songs into the Top Ten on the Billboard Hot 100.
His last #1 hit was a duet with Barbra Streisand titled "You Don't Bring Me Flowers Anymore" in December 1978. On February 23, 1979, Neil Diamond performed in concert in Vancouver at the Pacific Coliseum.
He had several major hits on the pop charts into the early 1980s, including "America", a song with a very positive interpretation of the history of immigration to the United States. Diamond later told a Jon Bream in his book Neil Diamond Is Forever: The Man And His Music, "America" was the story of my grandparents. It's my gift to them, and it's very real for me … In a way, it speaks to the immigrant in all of us." The song became the theme song for the 1988 campaign of Democratic presidential candidate, Michael Dukakis.
In the mid-to-late 80s Neil Diamond came to Vancouver on March 19th and 20th, 1985, at the Pacific Coliseum. He was back in Vancouver on September 12, 1986, for a concert at BC Place Stadium. And returned on April 4, 1989, to appeared in concert at the Pacific Coliseum.
In the 1990s Neil Diamond performed in concert in Vancouver at the Pacific Coliseum on October 23, 1992, and later on two occasions at General Motors Place on July 27, 1996, and August 15, 1999.
In the 2000s Neil Diamond gave concerts in Vancouver at General Motors Place on October 4, 2002, on September 22, 2005, and on September 20, 2008.
About his personal life, in 2008, New Diamond stated: "Personal relationships? I have none. I have no friends, and it is just impossible to have relationships. My closest friend is a fellow I went to school with, and I haven't seen him in four years. I make this journey, for the most part, alone."
On July 21, 2012, and again on May 7, 2015, Neil Diamond performed in concert – both times at Rogers Arena in Vancouver. In 2016, Neil Diamond released his 34th studio album. In April, 2017, Neil Diamond began his 50 Year Anniversary World Tour. The tour was scheduled in three legs. The first included 35 concerts in the USA and two in Canada, including in Vancouver on July 24, 2017, at Rogers Arena. The second included 15 concerts in Europe and the third 11 dates in New Zealand and Australia, ending in April 2018.
However, Rolling Stone magazine reported on January 23, 2018, that Neil Diamond had Parkinson's disease. Diamond cancelled the third leg of his 50 Year Anniversary World Tour in January, on his doctors advise. He said in a press release, "It is with great reluctance and disappointment that I announce my retirement from concert touring, I have been so honored to bring my shows to the public for the past 50 years. My sincerest apologies to everyone who purchased tickets and were planning to come to the upcoming shows."
September 10, 2018
Ray McGinnis
References:
Laura Jackson, Neil Diamond: The Biography. (Portrait, UK, 2004).
William Langley, "Neil Diamond: the Loves of a Lifelong Mr Lonely," Telegraph, London, September 10, 2011
Lisa Respers, "Neil Diamond reveals story behind 'Sweet Caroline'," CNN, October 20, 2014
Graeme Ross, Neil Diamond: The top 10 songs from rock's King of Guilty Pleasures, Independent, London, UK, September 28, 2017
"Neil Diamond biography," Jewish Virtual Library.
Daniel Keeps, "Neil Diamond Retires From Touring After Parkinson's Disease Diagnosis," Rolling Stone, January 23, 2018
Georges Nzongola-Ntalaja, "Patrice Lumumba: the most Important Assassination of the 20th century: The US-sponsored Plot to Kill Patrice Lumumba, the Hero of Congolese Independence, Took Place 50 Years ago Today," Guardian, January 17, 2011.
Herzstein, Robert Edwin. Henry R. Luce, Time, and the American Crusade in Asia. Cambridge University Press, 2006
Caryl Chessman bio, Wikipedia.org
The Last Words of Humphrey Bogart, Phrases.org
"Fanny Brice Dies at the Age of 59," New York Times, May 30, 1951
Gray, Charlotte. Reluctant Genius: Alexander Graham Bell and the Passion for Invention. Arcade Publishing, New York, 2011.
John Wilkes Booth as an Confederate Secret Service Agent, Civil War.ws.
"Neil Diamond – Canada concert dates," Setlist.fm.
"Your Average Rock & Roll Radio Survey," CKVN 1410 AM, Vancouver, BC, June 18, 1971.
For more song reviews visit the Countdown.