#314: Don't Turn Me Away by 10cc
Peak Month: April 1982
13 weeks on Vancouver's CFUN chart
Peak Position #6
Peak Position on Billboard Hot 100 ~ did not chart
YouTube: "Don't Turn Me Away"
Lyrics: "Don't Turn Me Away"
Kevin Michael Godley was born in 1945 in a suburb of Manchester, England. Raised in a Jewish family, he formed a group named Group 17, along with four other members of the Jewish Lads Brigade. Godley studied Art and Design at Stoke On Trent College of Art from 1966-68. In the late '60s, Kevin Godley met Lol Creme at a wedding. Laurence Neil "Lol" Creme was born in 1947 in the same suburb of Prestwich as Kevin Godley. Creme was also raised in a Jewish family. The pair co-founded a band in 1970 named Hotlegs, which included Graham Gouldman. Hotlegs had a #2 hit in the UK titled "Neanderthal Man". The band split in 1970 and morphed into 10cc.
10cc was comprised of Godley, Creme, Eric Stewart and Graham Gouldman. Graham Keith Gouldman was born into a Jewish family in Greater Manchester, UK, in 1946. He played in a number of Manchester bands from 1963, including the High Spots, the Crevattes, the Planets and the Whirlwinds, which became a house band at his local Jewish Lads' Brigade. In 1964 Gouldman formed the Mockingbirds, and recorded "For Your Love". The song became a Top Ten hit for the Yardbirds in 1965. Gouldman went on to cowrite "Heart Full Of Soul" and "Evil Hearted You" – both Top Ten hits in the UK in 1965. Next, Gouldman co-wrote "Look Through Any Window" and wrote "Bus Stop" for the Hollies. Both were Top Ten hits for the band. In 1966 he penned "Listen People", a #2 hit for Herman's Hermits that February in Vancouver. Next, Graham Gouldman wrote "East West", a #5 hit for Herman's Hermits in New Zealand in the winter of 1966. Gouldman's followup composition for Herman's Hermits was "No Milk Today". Gouldman was a member of the Mindbenders for eight months in 1967-68.
Eric Michael Stewart was born in 1945 in Greater Manchester. In 1963 he auditioned with Wayne Fontana for a record contract and once the band was signed they quickly were named Wayne Fontana and the Mindbenders. The band toured the United States with Herman's Hermits in July and August 1965. Stewart recalls "The hotels we stayed in were under constant guard by security people and there were always girls waiting outside in the hundreds," he recalled. "They were always yanking off my glasses and pulling out tufts of hair, which was very, very painful." The Mindbenders split with Fontana in late 1965 and continued with "A Groovy Kind of Love" with Stewart on vocals. The single charted to #2 in Vancouver in May 1966.
In 1972 Neil Sedaka began recording his Solitaire album using Stewart as recording engineer, and Gouldman, Godley and Creme as his backing band. The album's success was a catalyst for the four musicians to work on their own material and release it as a band.
Their debut single in 1972, "Donna", shot to #2 in the UK. Their next release was a #1 hit in the UK titled "Rubber Bullets", and a third track from their self-titled album, "The Dean And I" also made the Top Ten in the UK. Other Top Ten hits followed: "The Wall Street Shuffle" and "Life is a Minestrone". 10cc had to wait for their sixth single release, "I'm Not In Love" to get an international hit – not only peaking at #1 in the UK, but peaking at #2 in Vancouver, and spending six weeks in the Top Ten in the summer of 1975. The single made the Top Ten in Australia, Germany, Belgium, the Netherlands, New Zealand, Ireland and the USA.
On November 13, 1975, 10cc performed in concert at the Queen Elizabeth Theatre in Vancouver.
10cc had eleven Top Ten hits and three number one hits in the UK between 1972 and 1978. However, their only other international hits were "The Things We Do For Love" in 1977, and "Dreadlock Holiday" in 1978 – the latter only having a strong Canadian chart run in Ottawa.
In 1977 Godley and Creme split from 10cc over artistic disagreements about the direction of the band. They went on to have hits in the UK that also charted in Vancouver, including "Wedding Bells" and "Cry".
On October 23rd and 24th, 1978, 10cc appeared for two concerts at the Queen Elizabeth Theatre in Vancouver.
Meanwhile, 10cc added new members to the band. Richard "Rick" Fenn was born in Oxford in 1953. In 1979 he co-wrote the Mike Oldfield song "Family Man". Fenn first appeared on a 10cc album in 1977 with the studio release of Live and Let Live. Fenn provided backing vocals, rhythm guitar and bass guitar. It was the first of eight albums Fenn has appeared on with 10cc between 1977 and 2008.
Songwriter and keyboardist Victor Emerson was born in 1949 in Greater Manchester. He began to study piano at the age of four. He was a session musician after high school, and joined the Manchester band Sad Café in 1976. With that band he enjoyed the pop chart success in 1979 of a #3 UK hit single "Every Day Hurts".
Paul Burgess was born in Greater Manchester in 1950. At the age of 15 he began to play drums. He then joined 10cc on their 1973 UK tour and subsequently played with the band on most of their tours until 1983. But Burgess appeared for the first time in the studio on the 10cc album Deceptive Bends, in 1977.
The eighth studio album by 10cc was Ten Out of 10. The only band member photos on the album were those of Gouldman and Stewart. Burgess, Emerson and Fenn were cast in the role more as studio musicians, though still identified as members of the band. The album was released as a UK version, and separately as a US version – with different combinations of tracks. As well, the single releases were different in the UK than the USA. As it happens, the second single from the UK version – "Don't Turn Me Away" – ended up charting in Vancouver.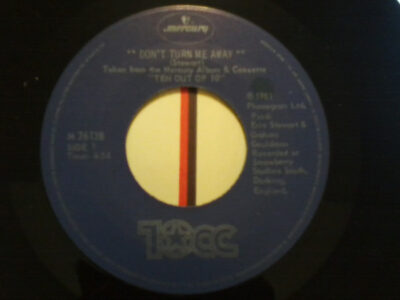 "Don't Turn Me Away" was written by Eric Stewart, who also provided the lead vocals. The song concerns a choice offered to a person in a relationship who has "been lonely too long" and has "a troubled look on [their] face." The other person in the relationship offers this point of view: "now and then we've got to question 'Am I right, I may be wrong.' And the only way we can work it out – We've got to try to give and take.
And it will only take the time it takes for me to talk to you." The relationship seems to be in some difficulty, as the romantic partner who has a troubled look on their face is on the cusp of turning the other person in the relationship away. Despite their partner trying to point out that "breaking up is hard to turn around."
In an article in Bustle, Lea Rose Emery writes that emotionally cutting yourself off and pushing your partner away is often the "kiss of death" in a relationship. A study at the University of Tennessee involving 217 participants found that "although cutting yourself off emotionally is one of the oldest self-protection tricks in the book, it actually hurts you in the long run." The study concluded that "although individuals are attempting to reduce the potential for rejection, distance also reduces the potential for fulfilling, accepting, and intimate behaviors." In short, by turning away, you not only preclude bad things from possibly happening, you also exclude the possibility of good things happening too.
"Don't Turn Me Away" climbed to #6 in Vancouver, #15 in Toronto and #22 in Halifax (NS). The single was not a hit in the USA or in the UK. And the album Ten Out of 10 did not chart on either album charts in the UK or the USA.
In 1983 10cc released the studio album Windows in the Jungle. After the release the band went into a hiatus, as different members forged their own careers.
After 1983 Emerson rejoined Sad Café. In 1985, a year after he left Sad Café, Emerson moved to Paris, France. Emerson died in Paris aged 69 in 2018 of pancreatic cancer.
In 1983 Burgess joined Jethro Tull for a year. In the mid-80s he toured extensively with Joan Armatrading, and later collaborated with Gloria Gaynor. In 1990 he joined new wave band The Icicle Works. From 1995 into the 200s, Burgess was part of Chris Farlowe's R&B backing band.
Fenn worked with a number of recording artists, including on three albums in the mid-80s with Rick Wakeman. Fenn collaborated with Tanita Tikarum on her 1998 album The Cappuccino Songs.
10cc reunited in 1991 with Gouldman, Stewart, Godley (1991-92) Creme (1991-92) and in 1993 Fenn. By 1995, 10cc split up. But in 1999 they reformed with Gouldman, Burgess and Fenn, along with new bandmates Mick Wilson and Mike Stevens. They have remained intact since then.
During the mid-2000s Burgess also began playing and touring with the Stockport-based band, The Removal Men. More recently he has been working and performing as a member of English band Katy Lied, whose album, Late Arrival was released in 2008. In 2013, Burgess joined the Midnite Johnny Band. Then, in 2017, Burgess became part of a rock trio called 'Burgess, Nicol and Kemp'.
April 30, 2021
Ray McGinnis
References:
Kevin Cooper, "Interview: Graham Gouldman," UK Musicreviews.com.
Mark Elliott, "Kevin Godley And Lol Creme After 10cc: The Things They Did For Love," UDiscoverMusic.com, August 2, 2019.
Lea Rose Emery, "This May Be The Kiss Of Death In Relationships," Bustle.com, July 5, 2016.
Paul Lester, "10cc: 'It was a tragedy we didn't stay together'," Guardian, November 22, 2012.
"10cc," Wikipedia.org.
"10cc concerts – Canada," setlist.fm.
For more song reviews visit the Countdown.