#383: No Milk Today by Herman's Hermits
Peak Month: April 1967
6 weeks on Vancouver's CKLG chart
Peak Position #1
Peak Position on Billboard Hot 100 ~ #35
YouTube.com: "No Milk Today"
Lyrics: "No Milk Today"
Peter Blair Denis Bernard Noone was born in a suburb of Manchester, England, in 1947. Keith Hopwood was born in 1946, in the same suburb of Davyhulme. Karl Anthony Green was born in 1947, also in Davyhulme. Derek "Lek" Leckenby was born in Leeds in 1943. Jan Barry Whitwam was born in 1946 in Manchester. Both Leckenby and Whitwam were members of a band called the Wailers who played covers by Little Richard, Jerry Lee Lewis and other early rock recording artists. Peter Noone originally was in an amateur band called the Cyclones. He moved on to the Heartbeats in 1961, a Buddy Holly cover band. Just after he turned 14, Noone debuted on Coronation Street, playing the role of Stanley Fairclough starting in December 1961. In the fall of 1962 Herman's Hermits was formed. Peter Noone was the lead vocalist. Karl Green played bass guitar. Keith Hopwood played rhythm guitar. "Lek" Leckenby played lead guitar and Barry Whitwam played drums.
In 1964 the group had a number one hit in the UK with "I'm Into Something Good". The song was written by Gerry Goffin and Carole King, and originally recorded by Earl-Jean McCrea. She had been a member of a girl group called The Cookies who had hits with "Don't Say Nothing Bad About My Baby" and "Chains", that later covered by The Beatles. "I'm Into Something Good" became the first of 17 Top Ten hits for Herman's Hermits in Vancouver (BC) between 1964 and 1968.
They had four number one hit singles in 1965 with "Can't You Hear My Heartbeat", "Mrs. Brown You've Got A Lovely Daughter", "Silhouettes" and "I'm Henry The VIII, I Am". In addition, 1965 saw Herman's Hermits also charted in the Top Ten in Vancouver with "Wonderful World", "The End Of The World" and "Just A Little Bit Better" – 7 Top Ten hits in total that year. By comparison, The Beatles had twelve charted songs that made the Top Ten in 1965 in Vancouver; The Rolling Stones had five Top Ten hits; The Dave Clark Five had for Top Ten hits in 1965, as did Petula Clark, the Searchers had three Top Ten hits; And the Kinks, the Yardbirds, Freddie and the Dreamers, and Gerry and the Pacemakers had just two Top Ten hits each in Vancouver that year.
Herman's Hermits appeared in a few films in the mid-60s. In 1965, they appeared along with Connie Francis, Louis Armstrong and Sam the Sham & The Pharaohs in When the Boys Meet the Girls. In the film Herman's Hermits sang "Listen People" which in 1966 became a Top Ten hit in Canada, the USA, Australia, New Zealand and Sweden. In 1966 Herman's Hermits appeared along with Shelley Fabares in the musical film Hold On! The film included their hits "A Must To Avoid" and "Leaning On The Lamp Post". In 1968 the band appeared in their final film, Mrs. Brown, You've Got a Lovely Daughter. The film starred Stanley Holloway along with Herman's Hermits. In the film they sang the title track and "There's A Kind Of Hush".
The band also appeared on The Ed Sullivan Show, The Jackie Gleason Show and The Dean Martin Show. In 1966 they charted five more songs into the Top Ten in Vancouver (BC): "A Must To Avoid", "Listen People", "Leaning On The Lamp Post", "This Door Swings Both Ways" and "Dandy". While Herman's Hermits were regularly appearing on the pop charts, they toured extensively in North America, the UK and Europe. They also went on tour to Australia, Japan and Brazil.
In 1967, they had one last international hit with "There's A Kind Of Hush". The B-side was "No Milk Today".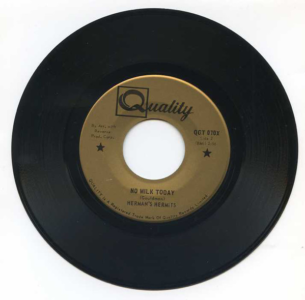 "No Milk Today" was written by then 18-year-old Graham Gouldman, who was born in 1946 in Lancashire, England. He played in a number of Manchester bands from 1963, including the High Spots, the Crevattes, the Planets and the Whirlwinds, which became a house band at his local Jewish Lad's Brigade. In 1964 Gouldman formed the Mockingbirds, and recorded "For Your Love". The song became a Top Ten hit for the Yardbirds in 1965. Gouldman went on to cowrite "Heart Full Of Soul" and "Evil Hearted You" – both Top Ten hits in the UK in 1965. Next, Gouldman co-wrote "Look Through Any Window" and wrote "Bus Stop" for the Hollies. Both were Top Ten hits for the band. In 1966 he penned "Listen People", a #2 hit for Herman's Hermits that February in Vancouver. Next, Graham Gouldman wrote "East West", a #5 hit for Herman's Hermits in New Zealand in the winter of 1966. Gouldman's followup composition for Herman's Hermits was "No Milk Today".
The lyrics in "No Milk Today" refer to the practice, common at the time, of milkmen delivering fresh milk in bottles to residential houses each morning. The love interest of the song's protagonist has just moved out, so the household needs less milk. The notice in front of the house, asking the milkman not to leave the usual bottle, while seeming mundane to passers-by ("how could they know just what this message means?"), symbolizes to the singer himself the break-up of his relationship ("the end of all my dreams"). Previously, which his love interest had cohabited with him, her love "reigned as queen" and it seemed to him as if they lived in a palace. Back then, "the company was gay [gay in 1966 meaning 'happy'] we turned night into day."
Now he lives alone in his terraced house "in a mean street back of town," which is "just two up, two down." The latter lyric is in reference to London's row houses which have an eclectic variety of ornament. They range in scale from palatial to boxy. However, on the inside these row houses typically have a standard configuration. From the late 17th century up until the First World War most residential buildings in England cleaved very close to a model found across English cities. This was the terraced house model, known as the "two-up, two-down." Configured in rows, known as terraces in Britain and Ireland, they were typically built as "two-up, two-downs": laid out as their name suggests. On the ground floor there was a living room and a kitchen: two (rooms) down. Upstairs there were two bedrooms, plus a bathroom, usually a later addition. Originally, occupants would have a privy outside for a bathroom. (So, "two up, two down" didn't refer to staircases one had to use to get access to the apartment in the song).
First glass milk bottle patented in 1874 in the US. While in the UK until WW1 milk was mainly delivered on horse-drawn "milk pram" – ladled into tin cans from a churn. At that time, milk was delivered three times a day – "pudding round" later dropped due to WW1 constraints. By 1920s and 1930s glass-bottled milk was the norm in the UK, with milk being delivered by a milkman. Post- World War 1, milkmen in the UK regularly had a career of 30 to 40 years and often became family friends. In addition to delivering milk, milkmen might also post letters, skin rabbits, resole shoes, change light bulbs, feed cats, mow lawns, paint houses, clean windows, cut hair and sometimes carry on an affair with the woman of the house. The Daily Mail even reports that milkmen "Sometimes… transported coffins…or gave a lift to children who had missed the school bus." Milkmen often began their shift around 4 am, dropping off milk (cream, cottage cheese etc.) by 7:30 am to the households on their route.
The Daily Mail reported that "In the late Sixties and Seventies, there were between 40,000 and 45,000 milkmen delivering to more than 18 million British homes — around 99 per cent of households." So at the time that "No Milk Today" was on the pop charts in the UK, and in North America, many radio listeners were personally familiar with the sound of the clink of glass bottles of fresh milk arriving at the door in time for breakfast. "The most valuable public service the milkmen could perform was simply to keep an eye out for the vulnerable. If yesterday's milk hadn't been taken in, they would knock on the door, to ask whether everything was all right inside, and if no one would reply they would often alert the police."
Milkmen also got a reputation as a neighbourhood Romeo, which was a scandal to husbands. Milkmen, who walked many miles a day as part of their job, brought an aura of sexual adventure to the doorstep. The Daily Mail reports an incident where "On one occasion, the neighbours became so irate at waiting for their milk, while the milkman disappeared inside No 11 for up to half an hour at a time, that they began shaking his float, making the bottles rattle so loudly that he came dashing out of the house doing his trousers up."
In the song "No Milk Today", the occupant leaves a note stating just that for the milkman to see. The Daily Mail reports the following examples of actual notes left for milkmen in the mid-20th Century in the UK:
"Please do not leave milk at No. 14 as he is dead until further notice."
"Please ring — I have a letter that needs posting."
"We are not home. Go into the house and help yourself to the money."
"Please knock today — I'm not getting enough."
"Please do not leave me any milk tomorrow, or in your case today, as I wrote this yesterday."
"No milk today. We have bought a cow."
"No Milk Today" peaked at #1 in Vancouver (BC), Kelowna (BC), Hartford (CT), New Haven (CT), Minneapolis/St. Paul, Eau Claire (WI), Miami, San Francisco, Los Angeles, Bakersfield, Salinas, Monterey (CA) and Chico (CA), #2 in Corpus Christi (TX), Toronto, Edmonton (AB), San Diego, San Jose (CA), Tampa (FL), Seattle, Davenport (IA) and Tulsa (OK), #3 in Toledo (OH), Wilmington (DL), Roanoke (VA), Raleigh (NC), Phoenix and Tucson, #4 in Sioux Falls (SD), Windsor (ON), Detroit, Pittsburgh, Philadelphia, Montreal, Spokane (WA) and Columbus (OH), #5 in Denver, Sacramento and Omaha (NE), #6 in Cincinnati and Wichita (KS), #7 in Birmingham (AL), Salt Lake City and Eugene (OR), and #8 in Honolulu.
Internationally, "No Milk Today" peaked at #1 in Australia and Norway, #2 in South Africa and New Zealand, #3 in Sweden, #6 on the RPM singles chart in Canada, and #7 in the UK. On July 17, 1967, Herman's Hermits gave a concert in Vancouver at the PNE Agrodome.
In 1967, Herman's Hermits managed one other Top Ten hit in Vancouver with "Don't Go Out Into The Rain (You're Going To Melt)". In late December '67, Herman's Hermits recorded "I Can Take Or Leave Your Loving".
In 1968 Hopwood and Leckenby created Pluto Music, used by The Clash to record their 1980 album Sandinista! Herman's Hermits had a few more hit singles in the UK, New Zealand and Australia. "Sunshine Girl", "Something's Happening", "My Sentimental Friend" and "Years May Come, Years May Go" all made the Top Ten in the UK between 1968 and 1970. Several of these were also Top Ten hits in South Africa, New Zealand, Australia and Norway. Herman's Hermits last charting hit single in the UK and New Zealand in 1970 titled "Lady Barbara". They split up in 1971.
Leckenby, Hopwood and Whitwam carried on under the Herman's Hermits billing, adding a few other musicians and doing oldies tours. In 1986 they were they went on a 146-concert-date reunion tour of the USA with the Monkees, Gary Puckett and the Union Gap and the Grass Roots. Hal Carter managed the new iteration of the Hermits. (He was also the manager of the Swinging Blues Jeans). Carter said in 1994 that Herman's Hermits "supported the Monkees on their revival tour and they were playing to audiences of 15,000. Their show consisted of all the famous hits. On one big pop package with bands like Slade, the Equals and Suzie Quatro in Germany last year, they played to 25,000 people a day."
"Lek" Leckenby died of 1994 after battling non-Hodgkin lymphoma. Karl Green remained with the reformed Herman's Hermits until 1980, after which he left the music business. However, he returned to the stage in 2014 with the Karl Green Band. The band has released two albums. Barry Whitwam has remained with Herman's Hermits since 1964, and with the post-1971 split iteration along with Leckenby and Green. Due to the COVID-19 pandemic, Herman's Hermits have postponed their touring schedule of some 79 concert dates to 2021.
After Herman's Hermits disbanded in 1971, Peter Noone pursued a solo career. This included recording a song David Bowie wrote titled "Oh! You Pretty Things". Bowie also was a session musician for the single which climbed to #12 in the UK in 1973. Noone pursued an acting career in the USA. He also formed Herman's Hermits starring Peter Noone. He performed during Expo '86 in Vancouver on June 8th. Noone returned for a concert at the Red Robinson Theatre in the Vancouver suburb of Coquitlam on October 5, 2013. Herman's Hermits starring Peter Noone were back at the venue – now renamed the Hard Rock Casino – in Coquitlam on March 4, 2016. In 2019 the Herman's Hermits starring Peter Noone performed over 150 concert dates.
Graham Gouldman ended up joining a band called Hotlegs in 1972, who promptly changed their name to 10cc. The four members of 10cc had actually recorded together in 1969 with "Sausalito (Is The Place To Go)", credited to the bubblegum group the Ohio Express. Although, that single had mediocre success, stalling at #86 on the Billboard Hot 100. With 10cc, Gouldman sang backing vocals on "Donna", a #2 hit in the UK in 1972; "Rubber Bullets" which became 10cc's first number-one single in the UK; And "The Dean And I" a third Top Ten song in a row in the UK for the band; As well as other Top Ten hits in the UK in 1974: "The Wall Street Shuffle" and "Life is a Minestrone". But it was with "I'm Not In Love" in 1975, that 10cc had an international hit, peaking at #2 in Vancouver. With 10cc, Gouldman continued to enjoy Top Ten success in the UK with "Art For Art's Sake", "I'm Mandy, Fly Me", "The Things We Do For Love", "Good Morning Judge" and "Dreadlock Holiday". Though, only "The Things We Do For Love" was a hit in North America. While "Dreadlock Holiday" climbed to #1 in Belgium, the Netherlands, New Zealand and the UK, and #2 in Australia and Ireland. Gouldman has continued to perform with 10cc for 38 non-consecutive years to the present.
References:
"List of Coronation Street characters (1961)," Wikipedia.org.
"Obituary: Derek Leckenby," Independent, June 9, 1994.
"20th Anniversary Reunion Tour," Monkees Live Almanac.com.
Kent Kotal, "Forgotten Hits Interviews Peter Noone," Forgotten Hits.com, 2005-06.
Bill Young, "Legendary Herman's Hermits frontman, Peter Noone, talks music, the 60s and about 'having fun'," Tellyspotting.kera.org, August 10, 2019.
Robert Peacock, "Peter Noone: The Herman's Hermits hitmaker talks about starring with the ever-popular Solid Silver 60s Show," The Week Review, Glasgow, Scotland, March 7, 2019.
Gary James,"Barry Whitwam Interview," Classic Bands.com, 2014.
Feargus O'Sullivan, "What's Behind the Iconic Floor Plan of London," Bloomberg, January 10, 2020.
Andrew Ward, "When the Milkman Delivered Far More than a Pint: A Nostalgic Homage to a Dying Breed, the 'Milkies' who were Crime Fighter and Lifesavers – Loved by Housewives and Hated by Husbands," Daily Mail, UK, 2016.
Kevin Cooper, "Interview: Graham Gouldman," UK Musicreviews.com.
"Boss 30," CKLG 730 AM, Vancouver, BC, April 8, 1967.
For more song reviews visit the Countdown.