#910: Don't Ya Hide It by Stonebolt
Peak Month: February 1980
6 weeks on Vancouver's CKLG chart
Peak Position #6
Peak Position on Billboard Hot 100 ~ did not chart
YouTube.com: "Don't You Hide It"
In 1969 guitar player Ray Roper, drummer Brian Lousley and bass player Dan Atchison were high school students. They decided to form a band named Perth Amboy, possibly after the city in New Jersey. (In 1968 a band from Michigan called the Amboy Dukes had a Top 20 hit titled "Journey To The Center Of Your Mind"). Roper was from England. Perth Amboy played at high school dances and many small venues in the Lower Mainland. In 1973 they changed their name to Stonebolt. They added John Webster on keyboards and David Wills on vocals around 1976, according to an email to this website from David Wills. David Wills left the Seattle band, Shaker, to join Stonebolt.
Stonebolt got their renown by playing all the bars in the local Vancouver area circuit. But more than this. David Wills writes "Throughout that time we played mainly bars, but across all the Western states and Provinces, not just Vancouver. The 1976 demos were recorded in San Francisco with Elliot Mazur (Neil Young, Janis, etc) In '77 Parachute Records was a subsidiary of the infamous Casablanca Records, headed by the late Russ Regan (Elton John + others)."
Stonebolt recorded some demos in 1976 and the following year got noticed by Johnny Rivers' road manager, Walter Stewart. He got Stonebolt connected to Parachute Records resulting in a contract. In 1977 David Wills and Ray Roper were backing vocalists on Denise McCann's "I Don't Wanna Forget You".
In 1978, their self-titled album brought forth several releases. "Queen Of The Night" peaked at #24 on CFUN in May of '78. Their next release, "I Will Still Love You", became an international hit, peaking at #29 on the Billboard Hot 100, and #7 in Vancouver. The band appeared on October 4, 1978, at the Queen Elizabeth Theatre in Vancouver. Their third release from their debut album was "Was It You." Performing live, Stonebolt appeared in concert at O'Hara's in Vancouver on December 29-30-31, 1978.
"Was It You" is a song about someone who is at loose ends. A relationship has ended leaving the singer in pain with the sense that "nothing seems real." Looking back, the singer recognizes they "fell too fast." It seems they also chose to leave the relationship, as their partner told them, "don't leave me, baby." "Was It You" only seems to have charted in Vancouver where it climbed to #18. Other radio stations played the A-side, "Love Struck".
In 1979 the band released their second album, Keep It Alive. A single release, "Love Struck", climbed to #70 on the Billboard Hot 100 in late February '79. The B-side of "Love Struck" was "Was It You". Another single from the album, "Don't You Hide It", peaked at #6 on Vancouver's CKLG singles chart in February 1980.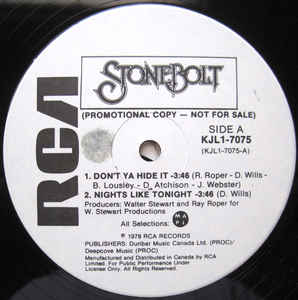 "Don't You Hide It" climbed to #6 in Vancouver, #20 in Ottawa, #22 in Regina and #39 in Hamilton.
"Don't You Hide It" is a song written by the bandmates of Stonebolt. The song encourages someone to come out of their shell and not deny love when it's offered to them.
A third album, New Set Of Changes, was released in 1980. However, it failed to sell well as single releases from the album got limited airplay. "Crying Again Tonight" climbed to #15 on CKCK in Regina, but got little notice elsewhere.
David Wills writes "During our peak, we performed on American Bandstand, Midnight Special, Dinah!, and in Canada The Alan Hamel and Alan Thicke shows, The Raes, and other CBC shows. I Will Still Love You charted in France, Italy, Spain, Brazil, and other countries. We also had a residency at a Theatre in Japan in 1981 to support our releases there."
In 1981 John Webster left Stonebolt and was replaced by keyboard player and composer Lewis Nitikman (who had earlier attended Prince Of Wales Mini School in Vancouver, and later went on to perform with recording artist John Reilly ). In 1982 Stonebolt released Juvenille American Princess. The single, "Going Through The Motions Of Love", earned Stonebolt a SOCAN award for massive Canadian airplay. However, the song failed to crack the RPM Canadian singles chart. The band broke up in 1983.
In 1984 John Webster joined Red Rider with Tom Cochrane. In addition, he also was a Vancouver-based studio musician who featured on recordings by Aerosmith, AC/DC, Jann Arden, Bif Naked, Bon Jovi, Michael Bublé, Cher, Tom Cochrane, Alice Cooper, The Cult, Grapes Of Wrath, Kim Mitchell, Van Morrison, Mötley Crüe, The Paperboys, Poison, David Lee Roth, Rush, Scorpions, Tragically Hip, Van Halen and the West End Girls. From his work as a recording artist and studio musician Webster has earned three Juno Awards. The first was with Red Rider in 1986 for "Best Group."
In 1997 Webster produced The Paperboys album Molinos. In 1998, along with the Paperboys he won a Juno for "Roots Traditional." In 2002, after producing an album for Kevin Parent, along with Parent he won a Juno for "Best Francophone Album." Webster has also composed for the 2005 TV film Rapid Fire, based on the Norco, California, shootout in 1980. And in 2006, John Webster composed a score for the disaster film, Absolute Zero, about a polar shift. In 2016, Webster went on tour to Europe, Asia and South America, performing with R.S.O. (Richie Sambora/Orianthi).
After Stonebolt folded in 1983 Ray Roper went on to form Trauma with Trooper alumni bassist Doni Underhill and drummer Tommy Stewart. Next, in the mid-80's he former the Ray Roper Band. By the late '80's Ray Roper was in a band called The Edge. In 1995 Roper released the album, I'm A Fighter. As recently as 2015 Ray Roper was appearing Sundays at the Haney Pub, and in Barracuda – Essential Tribute to Heart.
David Wills wrote this website with news of what happened for him after the band split up. "After the band split up, I worked with a couple of Vancouver studios producing commercial jingles. I also co-managed and co-produced the sibling county group 'The Higgins' who had a couple of Top 20 country hits and CMT videos in the late 2000's."
There was new interest in classic rock by the late '90's, and Stonebolt reformed in 1998. In 1999 Stonebolt released a "best of" album titled Regeneration. In 2010 the title track from Stonebolt's 1980 album, New Set Of Changes, was included in the soundtrack for the Canadian drama film Amazon Falls. Stonebolt has continued to perform periodically for the past two decades. Stonebolt played in concert at the Coho Festival in Ambleside Park in West Vancouver on September 9, 2018.
May 25, 2019
Ray McGinnis
References:
Ray Roper, The Murf, "Stonebolt," Canadian Bands.com.
John Goodman, "Stonebolt – 'I Will Still Love You' (Track of the Day)," North Shore News, North Vancouver, September 7, 2018.
"Ray Roper bio," Ray Roper.com.
"Shaker", Pacific Northwest Bands.com.
Email from Stonebolt bandmate David Wills, March 6, 2021.
"Stonebolt concerts – Canada," Setlist.fm.
"CKLG Top 20," CKLG 730 AM, Vancouver, BC, February 28, 1980.
For more song reviews visit the Countdown.