#779: Dr. Kildare by Hank Levine Orchestra
Peak Month: June 1962
8 weeks on Vancouver's CFUN chart
Peak Position #5
Peak Position on Billboard Hot 100 ~ did not chart
There was a British-born jazz and dance band leader named Henry Levine who was born in 1906. He moved to America when he was small and became a naturalized American citizen. But Hank Levine, who released the instrumental single, "Dr. Kildare", in 1962, was a completely different person. (For excellent background about British-born Henry Levine, see Nick Dellow's article under the Reference section at the bottom of this post). Hank Levine was born in the USA. He graduated at Peabody High School in Pittsburgh, Pennsylvania, in 1944. He went on to study at Carnegie Mellon University, also in Pittsburgh, where he graduated in 1952. Hank Levine and His Orchestra made instrumental versions of pop tunes from the late 1950's into the 1970's. According to information at Discogs.com, these included "Tequila", "Walk Right In", "Michelle", "Downtown", "Georgy Girl", "California Dreamin''" and "Groovin'", "Since I Fell For You", "Elusive Butterfly" and "59th Street Bridge Song". He was also an arranger, composer and conductor for over four decades.
In 1958, Levine wrote both "Forbidden City" and "Chi Chi" for a single release credited to John Buck And His Blazers on Cadence Records. In 1959, Levine wrote "Memories, Memories", a B-side for a single by the Four Preps that summer for Capitol Records. That year he also arranged a tune titled "Gypsy Boots" for Country singer, Don Sergeant, on World Pacific Records.
In 1960, credited to Hank Levine and the Blazers, Levine released the single "Midnight"/"Banjo Rock". "Midnight" and "Banjo Rock" charted in San Bernardino, California, in April. In November 1960, "Midnight" charted in San Antonio, Texas. That spring, Levine also arranged the Dorsey Burnette single on Era Records, "Hey Little One"/bw "The Ghost of Billy Malloo". The B-side made the Top 20 in Salt Lake City on KMUR. While "Hey Little One" charted to #13 on CKWX in Vancouver. ("Hey Little One" also charted on CFUN in Vancouver, climbing to #14 in May 1963). Meanwhile, in the fall of 1960, Hank Levine did the arrangement for a B-side of Donnie Brooks' single, "Doll House", titled "Round Robin". "Round Robin" got some chart action in Philadelphia, Los Angeles, Santa Barbara, Dallas and Des Moines (IA). And in the fall of 1960, Hank Levine arranged "And Her Name Was Scarlet" for Bob Wilson on Era Records. It was a minor hit in Oregon and California. And in 1960, Levine also arranged "Sticking Pins In A Dolly", for 18-year-old Marlene Willis. At age sixteen, Willis had been cast in the 1958 film Attack of the Puppet People. The tune was a commercial failure.
In 1961, Hank Levine wrote the track for the Fleetwoods on their Softly album titled "I'm So Alone". The album's one hit single was a remake of the 1959 hit by Thomas Wayne, "Tragedy," which Levine also arranged. In 1961 Hank Levine continued to arrange more songs for recording artists with Era Records. He arranged "Boomerang" for Donnie Brooks and the #4 hit in June 1961 in San Diego, "Sacred", by the Castells. Over on Dolton Records, Hank Levine arranged "Hello Roomate"/"Little Altar Boy" for Vic Dana. Dolton also had him arrange "Little Bitty Heart" for Brady & Grady Sneed. Also with Dolton, Levine wrote "Silver City", a track on The Ventures album, The Colorful Ventures. Over at Capitol Records, Levine was arranging the Afro-Cuban jazz album, Drums And More Drums for Dickie Harrell. And with RCA, Levine arranged "Little Lonely One" for Barry Martin.
One of Hank Levine's best known tunes that he arranged was the Top Ten hit, "I Love How You Love Me" for the Paris Sisters in 1961. The single was a Top Ten hit in many radio markets in the fall of the year. It ended up the 52nd biggest hit of the year according to Billboard Magazine.
In September 1961, Levine released the instrumental, "Image Pt. 1". This was credited to Hank Levine And His Orchestra. Levine's instrumental, with a prominent saxophone, peaked at #98 on the Billboard Hot 100. It was used as a radio station jingle on KFWB in Los Angeles, KEWB in northern California, and KDWB in Minneapolis/St. Paul.The single went to #2 on WCOL in Columbus, Ohio, and #5 on KTKT in Tucson, Arizona.
In March 10, 1962, Billboard magazine reported that Dolton Records had signed a contract with Hank Levine. In the contract, Levine would "front an orchestra playing his arrangements, with Dolton reportedly set to build the Levine style into a readily recognizable disc commodity." Under the contract, Hank Levine was free to produce, arrange and compose with other record labels. Dolton was a subsidiary of Liberty Records.
In 1962, Levine recorded versions of theme tunes for two TV series that year: Hong Kong and Dr. Kildare. He also recorded a cover of the "Theme From Dr. Kildare".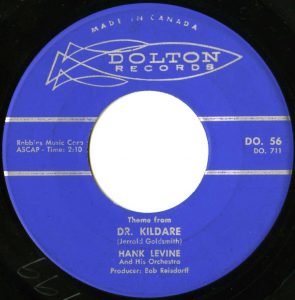 The "Theme From Dr. Kildare" was also recorded by Nelson Riddle and His Orchestra. Of the two instrumental versions, it was Levine's that appeared on the Vancouver pop charts. There was another version with lyrics titled "Theme From Dr. Kildare (Three Stars Will Shine Tonight)", sung by Richard Chamberlain, the star of the TV series. The series subject, Dr. James Kildare, focused on Kildare's work life at Blair General Hospital. In each episode, Dr. Kildare faced problems with patients. He was also constantly having to prove himself to a sometimes skeptical older medical colleague, Dr. Leonard Gillespie. The TV series ran from September 28, 1961, to August 30, 1966.
The composer of the instrumental version of the "Theme From Dr. Kildare" was Jerry Goldsmith. Born in 1929, Goldsmith got a break with CBS in the late 50's composing the score for multiple episodes of the TV series, The Twilight Zone. He later went on to score music for the TV series, Dr. Kildare, The Man from U.N.C.L.E. and The Waltons. He is best known for his musical scores for numerous films. These include Planet of the Apes, Patton, Papillon, Chinatown, Poltergeist, L.A. Confidential, Hoosiers, three Rambo movies and five Star Trek films. He earned eighteen Academy Award nominations for either Best Original Score or Best Original Dramatic Score. However, Jerry Goldsmith only earned one Academy Award for his scoring of the horror film, The Omen.
Hank Levine's "Theme From Dr. Kildare" only charted in Vancouver, peaking at #5, and spending three weeks in the Top Ten.
In 1962, Hank Levine was also busy as an arranger for the album, 50 Guitars Visit Hawaii, by the 50 Guitars of Tommy Garrett. In 1963, Hank Levine was the arranger for the album, Christmas On The Ponderosa, in conjunction with a Christmas TV special with the cast from Bonanza. And in 1965, Hank Levine arranged several singles that were released by David Jones on Colpix Records. Jones would go on to appear as one of the four members of The Monkees. In 1966, Hank Levine was a producer, composer and arranger for the comedy album, Washington Is For The Birds, credited to Lady Bird Johnson and L.B.J.
Other recording artists Hank Levine arranged for include Keith Colley, Lee Hazelwood, Ann-Margret, Roy Clark, Gene McDaniels, Glen Yarbrough, Jody Miller, Richard Chamberlain, Rod McKuen, The Lettermen, Wayne Newton, Bobby Freeman, Dino, Des & Billy, Gary Lewis And The Playboys, Bobby Gentry, Boots Randolph, Ivory Joe Hunter, Eddy Arnold and Bobby Vinton. Levine also wrote songs for The Crystals and The Rockin' Berries. In an obituary write-up in The Guardian in 2011, Hank Levine was credited with an effort to help Gene McDaniels career in the mid-60s to resemble the style of Nat King Cole.
On July 2, 1966, Billboard Magazine reported that National Academy of Recording Arts and Sciences or NARAS, was filling 21 positions for its board of governors. One of the nominees was Hank Levine in the "arrangers" category. In 1973, Billboard reported that Hank Levine was commissioned by Capitol Records to do string arrangements for Al Martino's new album. The Billboard news story, "Nash. Writers Elect, Decide," also noted that Hank Levine's spouse, Mariana Levine, was a gifted choreographer who was hired to choreograph all the shows at Opryland in 1973.
On the website, Second Hand Songs.com, it is reported that by late 1974, Hank Levine, formed a company in Nashville. It was named "International Record Distributing Associates (IRDA)," with his business partner, Mike Shepherd. The year they opened for business, the pair told Billboard magazine that IRDA was an "association of small independent labels, with the strength and distribution of a major label." Second Hand Songs.com adds, "Six years later he (Levine) sold his interest in this company to Shepherd and returned to the Los Angeles area." Writing for Dangerous Minds.net in April 2017, Bart Bealmear wrote an article citing IRDA in relation to tax scams in the recording industry. A case filed in a United States Tax Court on August 5, 1985, Richard F. Gessler v. Commissioner, one of the witnesses to take the stand, Jack Millman, referred his clients to IRDA. However, both Mike Shepherd and Hank Levine were removed enough from any illegalities to not be named in the lawsuit. Bealmear writes, "The conventional wisdom among collectors of "tax scam records" is that Levine and Shepherd sold tax shelters to investors and then created new, fake record labels for each release. But that wasn't the case. What happened was, the labels—companies that were often established for one-time only tax shelter albums—came to Levine and Shepherd. In the tax shelter orbit, it was known that they could do the required work."
In 2008, in a departure from his previous musical pursuits, Hank Levine published The Armchair Real Estate Millionaire: The Complete Guide to Investing In Net Leased Commercial Properties With No Landlord Expense or Responsibility. A biographical note for the book reads: "Hank Levine is a Real Estate Broker in Hendersonville, Tennessee specializing in Net Leased Commercial Real Estate and Tax-Free Exchanges. Throughout his career starting in the 60's as a composer/arranger/conductor in Hollywood and Nashville he purchased Commercial Real Estate for his own portfolio. In the early 90's, as the Music Industry underwent a complete transformation he decided to make Commercial Real Estate his full-time profession. He presents this subject not only as a Real Estate Professional but also from the investor's point of view." Hank Levine currently lives in Hendersonville, Tennessee, about twenty miles northeast of Nashville.
June 25, 2018
Ray McGinnis
References:
John Buck And His Blazers, "Forbidden City," Warner Brothers, 1958
John Buck And His Blazers, "Chi Chi," Warner Brothers, 1958
Don Sergeant, "Gypsy Boots," World Pacific Records, 1959
Dorsey Burnette, "Hey Little One" Era Records, 1960
Paris Sisters, "I Love How You Love Me," Gregmark, 1961
Marlene Willis bio, Wikipedia.org
"Dolton Will Build Levine Image," Billboard, March 10, 1962.
"LA's NARAS to Fill 21 Slots," Billboard, July 2, 1966.
"Nash. Writers Elect, Decide," Billboard, March 17, 1973.
Eugene Chadbourne, Hank Levine biography, All Music.com
Dr. Kildare (TV Series), Wikipedia.org
Jerry Goldsmith Biography, Jerry Goldsmith Online.com
50 Guitars of Tommy Garrett, 50 Guitars Visit Hawaii, Liberty Records, 1962 (Discogs.com)
Hank Levine Credits, Discogs.com
Hank Levine, Second Hand Songs.com
Levine, Hank. The Armchair Real Estate Millionaire. (Holly, 2008).
Hank Levine, Facebook.com
"Billboard Year-End Hot 100 Singles of 1961," Wikipedia.org
Richard Williams, "Gene McDaniels Obituary: Versatile singer and songwriter famed for Feel Like Makin' Love," Guardian, London, UK, 2011.
Bart Bealmear, "'Almost Famous': Artist Discovers His Music was Released by Shady Record Companies in 1977 (Part II)," Dangerous Minds.net, April 11, 2017
Richard F. Gessler v. Commissioner, United States Tax Court, August 5, 1985.
Nick Dellow, "The Forgotten Ones: Henry Levine," Jazz Journal International magazine, October 1985, Vol. 38, No. 10, pp 14—15.
"C-FUNTASTIC FIFTY," CFUN 1410 AM, Vancouver, BC, June 2, 1962.
For more song reviews visit the Countdown.