#1297: Dream Boy by Annette
Peak Month: February 1961
7 weeks on Vancouver's CKWX chart
Peak Position #14
Peak Position on Billboard Hot 100 #87
YouTube.com: "Dream Boy"
Lyrics: "Dream Boy"
On July 17, 1955 Annette Funicello made her television debut during the live broadcast of Disneyland's opening day ceremonies. She participated in a song and dance routine promoting the upcoming debut of Walt Disney's new television show, The Mickey Mouse Club. Following the shows premier on Monday, October 3, 1955, The Mickey Mouse Club became an immediate hit. Its army of small, amateur mouse-eared stars took America by storm. It wasn't long before the young audience of boys and girls developed a particular interest in a little dark haired girl named Annette. Just as she had appealed to Walt Disney himself, when he discovered her at a dance recital, Annette emerged as a favorite among many children across the USA, launching her into television stardom. As a result she appeared on numerous magazine covers and a variety of Disney branded merchandise.
Walt Disney took advantage of Annette's talents and popularity by featuring her in several Mickey Mouse Club serials, such as The Further Adventures of Spin and Marty and The New Adventures of Spin and Marty. He eventually gave Annette a twenty episode serial of her own, simply titled Annette, during what would be the shows final season. Following the cancellation of The Mickey Mouse Club in 1959, Annette was the only mouseketeer to remain under contract with Disney. The Mickey Mouse Club did, however, appear in re-runs well into the 1960s.
Annette's solo music career began in 1958 while her serial Annette, was airing on The Mickey Mouse Club. During a hayride scene in one of the episodes, Annette sang what was meant to be a hokey ballad called "How Will I Know My Love", complete with juice harp and miniature accordion.
After the episode aired, thousands of fans called the studio asking where they could buy the record. It was then Walt Disney met with Annette and announced he was signing her to a recording contract. With panic in her voice Annette responded, "But Mr. Disney, I don't sing. You know I don't sing". Disney arranged for Annette to work with Tutti Camarata, a famous musician, arranger, and record producer who had previously worked with other recording artists including Frank Sinatra, Bing Crosby and Ella Fitzgerald. Camarata also brought in The Sherman Brothers as composers, who would come to call Annette "their lucky star" due to the success they found in working with her.
Following the successful release of "How Will I Know My Love", it was decided that Annette's next record would be aimed toward the Rock and Roll market, which at the time was practically uncharted territory for a female artist. "Tall Paul", her second single, was recorded and released by March of 1959. It reached number seven on the Billboard chart. With rock and roll instrumentation overpowering her soft voice during the recording sessions, the Shermans and Tutti developed the "Annette Sound". This was a method of double tracking Annette's voice and adding echos. In 1959 Annette began what would become a long time professional relationship with Dick Clark when she made her first appearance on American Bandstand singing "Tall Paul". She also joined Dick Clarks Caravan of Stars that year, a bus concert tour across the country with other teen idols.
With "Tall Paul" came the release of her first studio album in 1959, Annette. On the heels of this release came three more studio albums in 1960: Annette Sings Anka, Hawaiiannette and Italiannette. On her fourth studio album, Italiannette, was a track called "Dream Boy".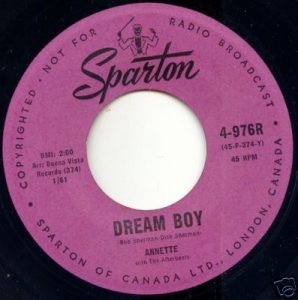 "Dream Boy" is a song with lyrics set to the melody of the Neapolitan song "Funiculì, Funiculà" composed in 1880 by Luigi Denza to lyrics by Peppino Turco. "Funiculì, Funiculà" was written to commemorate the opening of the first funicular cable car on Mount Vesuvius. It was presented by Turco and Denza at the Piedigrotta festival the same year. The sheet music was published by Ricordi and sold over a million copies within a year. It has been widely adapted and recorded since its publication. German composer Richard Strauss heard the song while on tour in Italy. Assuming it was a traditional folk song, Strauss adapted it for his Aus Italien (From Italy) Op. 16, in 1886. Strauss was later forced to pay royalties to Denza and Turco. In 1907 Russian composer Nikolay Rimsky-Korsakov also assumed "Funiculì, Funiculà" was a traditional Italian folk song and used it in his 1907 "Neapolitanskaya pesenka" (Neapolitan Song) having to do with all things about the western Italian seaport of Naples.
Eighty-one years later, if Disney had to pay royalties to use the tune to "Funiculì, Funiculà" to record "Dream Boy" they could afford the expense. The lyrics Annette sings to this Neapolitan tune have to do with the dilemma of having numerous boys expressing interest in a girl who is old enough to date. She discovers when they want to take her dancing or to see a show, what she wants to do is dance and enjoy the movie. But the boys only see dancing or moviegoing as a prelude to making out. Though she finds appealing things about holding hands and other aspects of going on a date, she wants to be sure she falls in love with the one who will be her only one, her dream boy.
"Dream Boy" peaked at #14 in Vancouver, and #16 in Seattle.
Annette released fourteen solo albums and contributed to a number of other record and soundtrack albums from 1959 – 1967. Her music reflects the style and trends of the time with songs about innocent fun, innocent romance, surfing, sun, and creating the next big dance craze. Annette had ten hit singles with two of those making Billboard's top ten. In Vancouver she had six Top Ten hits. She worked closely with, then boyfriend, Paul Anka on her highest selling album; Annette Sings Anka. In turn she was the inspriation behind Anka's hit songs "Puppy Love" and "Put Your Head on my Shoulder".
Walt Disney continued to showcase Annette in other TV projects, such as Zorro. While under contract with Disney, Annette worked on outside projects as well, appearing on popular television shows such as Make Room for Daddy, American Bandstand, Wagon Train, Burks Law, Hullaballoo, The Ed Sullivan Show, and Bob Hope's Thanksgiving Special.
On March 19, 1959 Annette Funicello made her motion picture debut in Walt Disney's first live action comedy, The Shaggy Dog. The film was a great success and is considered to be one of Walt Disney's live action classics today. Following The Shaggy Dog Annette went on to star as Mary Quite Contrary in Walt Disney's first musical, Babes in Toyland and as Jennifer in The Misadventures of Merlin Jones and its sequel The Monkeys Uncle. Annette was credited in the Haley Mills classic The Parent Trap, for singing the title song during the opening credits with Tommy Sands and "Lets Get Together" during the camp dance scene in the movie.
In 1963 Annette was loaned out to American International for ten movies. She starred in her first non Disney film, Beach Party with her long time friend Frankie Avalon. This campy comedy put a spin on the traditional musical with dialogue and songs directly inspired by the humor and musical tastes of teens at the time. The movie was a great success and spawned four more beach themed-movies: Muscle Beach Party, Bikini Beach, Beach Blanket Bingo and How to Stuff a Wild Bikini. From 1963 to 1965 Annette Funicello and Frankie Avalon became known as the "King and Queen of the Beach." While working with American International Pictures Annette also starred in Pajama Party and two racing films: Fireball 500 and Thunder Alley. She made cameo appearances in Ski Party and Dr Goldfoot and the Bikini Machine. In 1968 she played Davy Jones' girlfriend in the Monkees film HEAD before retiring from the big screen for two decades.
In 1965 Annette was married to Jack Gilardi and gave birth to a daughter (Gina) that same year, and had two more children in the early 70s (Jack Jr. and Jason). By the late 60s she shifted her attention from her career to raising a family. Although she had completely walked away from other aspects of her career, Annette never left television. While staying busy being a mom she would agree to guest star on a large number of popular shows and specials over the next two decades including Fantasy Island, Love American Style and The Love Boat. She was the popular spokeswoman for Skippy Peanutbutter for nine years from the mid 70's through the early 80's and she took part in countless television, radio, and magazine interviews. In 1992 Annette founded the Annette Funicello Bear Company which produced collectable designer teddy bears.
October 31, 2017
Ray McGinnis
References:
Annette Funicello, A Dream Is a Wish Your Heart Makes: My Story, (Hyperion, New York, 1994).
Eudie Pak, Annette Funicello, Original Mouseketeer, Dies at 70, Biography.com, April 8, 2013.
Bikini Beach, American International Pictures, 1964.
Muscle Beach Party, American International Pictures, 1964.
Fireball 500, American International Pictures, 1966.
Thunder Alley, American International Pictures, 1967.
How to Stuff a Wild Bikini, American International Pictures, 1965.
Beach Blanket Bingo, American International Pictures, 1965.
Mickey Mouse Club, ABC, 1955-1959.
"Fabulous Forty," CKWX 1130 AM, Vancouver, BC, February 18, 1961.
For more song reviews visit the Countdown.