#64: Earache My Eye by Cheech & Chong
Peak Month: October 1974
13 weeks on Vancouver's CKLG Chart
Peak Position #1
Peak Position on Billboard Hot 100 ~ #9
Peak Position on Cashbox Top 100 Singles chart ~ #4
YouTube.com: "Earache My Eye"
Lyrics: "Earache My Eye"
Spoken word skit: "Earache My Eye"
Richard Anthony "Cheech" Marin was born in 1946 in Los Angeles. His nickname "Cheech" is short for chicharron (which is a dish generally featuring fried pork belly, or fried pork rind). In a 2017 NPR interview, Marin attributed the nickname to his uncle: "I came home from the hospital, I was like a couple of days old or something, my uncle came over and he looked in the crib and he said [in Spanish], 'Ay, parece un chicharrón.' Looks like a little chicharrón, you know?" Cheech moved to Vancouver, BC, in September 1967, to avoid being drafted into the U.S. Army during the Vietnam War. Thomas B. Kin Chong was born in 1938 in Edmonton, Alberta. Growing up in Calgary, Chong stated in an interview, "when I was 16 but probably just before they were going to throw me out anyway." He played guitar to make money. "I discovered that music could get you laid, even if you were a scrawny, long-haired, geeky-looking guy like me."
Chong became part of the Shades in Calgary, and the band moved to Vancouver. They changed their name to Little Daddy & The Bachelors. Together with bandmember Bobby Taylor, Chong opened a Vancouver nightclub in 1963 named Blue Balls. They presented Ike & Tina Turner to Vancouverites. In 1964, Little Daddy & The Bachelors were voted Best Band at Vancouver's Pacific National Exhibition. From that publicity they went on to record one single for RCA called "Too Much Monkey Business" that was a remake of an old Chuck Berry tune. The song cracked the local Top 30 in Vancouver. Little Daddy was a formative R&B group in Vancouver playing at the Smilin' Buddha and the New Delhi, often to crowds that included strippers with tassels on their nipples, drag queens and heroin addicts. The group changed its name to Four Niggers And A Chink due to the bands' ethnic mix. Not surprisingly, their new name turned off many promoters. With a lack of bookings they were briefly named The Calgary Shades, Four Coloured Fellows And An Oriental Lad and finally Four N's And A C., before splitting up. They eventually reformed with an altered line-up as Bobby Taylor & The Vancouvers. In 1968 Bobby Taylor & The Vancouvers released their self-titled debut album, together with the single "Does Your Mama Know About Me", composed by Tommy Chong. The song concerned the anxiety of a boyfriend trying to date a girl of different ethnic background, and the anticipated negative judgements of parents and friends. The single peaked at #29 on the Billboard Hot 100, but peaked at #8 in Vancouver, along with the B-side "Fading Away".
Cheech and Chong went to the recording studio and released their debut self-titled album in 1971: Cheech & Chong. It was nominated for Best Comedy Recording at the Grammy Awards in March 1972. The duo released Big Bambú in 1972 and it was again nominated in the Best Comedy Recording category at the 15th Grammy Awards in March 1973. The comedy duo finally won a Grammy Award for Best Comedy Recording at the 16th award ceremony in 1974 for Los Cochinos ("The Pigs"). Both Big Bambú and Los Cochinos peaked at #2 on the Billboard 200 Album chart in the USA.
From Los Cochinos came the single "Basketball Jones featuring Tyrone Shoelaces". The single was a parody of the Brighter Side of Darkness song "Love Jones". A 'jones' is a craving or addiction. A 'basketball jones' therefore refers to loving basketball so much that it overtakes all other thoughts. While in "Love Jones", the singer takes a test in class and fails because all he did was enter his name on the exam paper. "Basketball Jones" peaked at #15 on the Billboard Hot 100, besting "Love Jones" by one chart position. In December 1973, Cheech & Chong released "Sister Mary Elephant", depicting an out-of-control parochial school featuring a substitute teacher who takes over from Sister Rosetta Stone. The spoken word single climbed to #24 on the Billboard Hot 100.
In 1974, Cheech & Chong released their fourth studio album titled Cheech & Chong's Wedding Album. From the album came "Earache My Eye".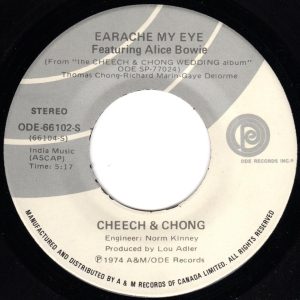 The skit is about a teenager (played by Tommy Chong) who wakes up to his alarm and puts on heavy rock song by "Alice Bowie" (Cheech Marin), while his father (also played by Marin) yells at him to get ready for school. The song by Alice Bowie is unnamed in the skit. The Alice Bowie song depicts a teenage son putting up with his mother who tries "to tell me how to live." But, he doesn't listen to her because he can't retain any information. His dad disowned him "'cause I wear my sisters' clothes. He caught me in the bathroom with a pair of pantyhose." The boy has also been kicked off the basketball team "for wearing high-heel sneaker and acting like a queen." Despite parental judgements, sexual identity issues, and "the world coming to an end." the boy has a "limo and orange hair." It turns out he's "a big rock star and I make a lots of money. I'm so bloody rich. I own apartment buildings and shopping centers…. I only know three chords."
In "Earache My Eye", the heavy rock-glam song the son likes listening to on his record player concerns not just any rebellious teen. The singer/narrator, Alice Bowie, has been caught wearing pantyhose, high-heel sneakers and acting like a queen. What is the big deal about being "caught" wearing pantyhose and high-heel sneakers? The boy is making choices to wear pantyhose that is associated with female garments. He is engaging in cross-dressing, the act of wearing clothes usually worn by a different gender. In 1911, the Oxford dictionary in its definition, stated "Cross-dressing must be taken as a general indication of, and a cognate phenomenon to, homosexuality." In 2023, the claim that a man wearing women's clothes must be gay/queer is a matter of some debate. But in North America in 1974, when "Earache My Eye" was on the pop charts, a teen male wearing women's clothes was bound to be teased for "being a fag, a queer."
As the teen listens to the Alice Bowie song, his father comes into his bedroom and tells him to "turn that thing down and get ready for school." The father scratches the record as he takes the needle off the vinyl. The son says he can't go to school because he is sick with an earache. The father mockingly replies "earache my eye. How would you like a butt-ache?" The son complains and the father tells him "this is going to hurt you more than it's going to hurt me." The father tells his son to "bend over." The boy replies "what're you gonna do, ya pervert?" This makes his father even angrier and gives his son a spanking. Eventually, the son agrees that he's going to get ready for school. But, when his dad leaves the bedroom, the boy puts his Alice Bowie record back on the record player. The song fades with the heavy rock intro. The name, Alice Bowie, is a fusion of rock stars Alice Cooper and David Bowie.
Wikipedia reports that "Once the song hit its peak on the charts, radio station managers and owners, especially the AM stations, pulled the song off the air following multiple complaints. Phone calls and angry letters came from parents, teachers, psychologists, clergy, principals, school administrators and counselors. Complaints stated that this song mostly appealed to junkies, dropouts, drug addicts and drunkards as well as students playing hooky from class, giving them a bad model for their behavior. Those who opposed the track threatened to boycott the stations unless the song was permanently withdrawn. "Oldies" station AM 1110 KRLA (Glendale, California) banned the track, and some radio managers threatened to fire any disc jockey who played it. Sponsors threatened to pull their advertisements unless the song was completely removed from playlists. The AM stations threatened to fire any radio station employees who accepted requests or discussed the track on the air."
The B-side to "Earache My Eye" was called "Turn That Thing Down". It was an extension of the A-side, with the father knocking on the door while the son turns up the volume to hear the glam rock tune. Since the dawn of the rock 'n roll era, with the films Blackboard Jungle and Rebel Without A Cause, there have been some rock songs dealing with untamed youth. While Frankie Lymon and the Teenagers sang in 1956 "I'm Not A Juvenile Delinquent", Gene Pitney sang "Town Without Pity" in 1961. And in 1965, The Who sang about distrust of older adults in "My Generation". "Earache My Eye" picks up on a rather self-absorbed teen, not the kind who would listen to "For What It's Worth" by Buffalo Springfield.
"Earache My Eye" peaked at #1 in Vancouver, Erie (PA), Chicago, Saskatoon (SK), Columbia (OH), Minneapolis/St. Paul, Kansas City (MO), Wichita (KS), Milwaukee (WI), and Los Angeles, #2 in Winnipeg (MB), Denver, Akron (OH), and Salt Lake City, #3 in Ottawa, Pittsburgh, Harrisburg (PA), Easton (PA), and Newport News (VA), #4 in San Diego, #5 in Tucson (AZ), and Pueblo (CO), #7 in West Palm Beach (FL), Boston, #8 in Phoenix, Detroit, New Haven (CT), and Birmingham (AL), #9 in Windsor (ON), Fargo (ND), Tempe (AZ), and San Bernardino (CA), and #10 in Fort Lauderdale. Despite being a Top Ten hit in almost thirty radio markets in the USA, the single stalled at #9 on the Billboard Hot 100. This was due to little or no airplay in twenty states across America. On the strength of record sales in the USA, "Earache My Eye" peaked at #4 on the Cashbox Top 100 Singles chart. Generally, I have not featured songs that chart higher than #9 on either the Billboard Hot 100 or the Cashbox Top 100 Singles charts, even if they peak in Vancouver at #1. However, the circumstances of this song being banned on many radio stations in the USA, in contrast with its spending several weeks at number-one in Vancouver, and 13 weeks on the CKLG Top Thirty, persuaded me to write a bonus post for the song, as I count down to song number-one on this website.
"Earache My Eye" was later featured in the 1995 film National Lampoon's Senior Trip. Korn, Soundgarden, Raging Slab and Rollins Band are among the pop stars who have recorded a cover of the song. Eminem sampled "Earache My Eye" in 2017 on "Untouchable".
In addition to "Earache My Eye", Cheech & Chong provided backing vocals for Joni Mitchell's song "Twisted" from the Court and Spark album.
In 1976, Cheech & Chong released Sleeping Beauty, a reference to the barbiturate Secobarbital, known on the street as "reds." In 1977, the duo had their last run at the Top 40, with their parody of the Floaters "Float On" titled "Bloat On", stalling at #41. In 1978, the duo released a soundtrack album in conjunction with their stoner film Up in Smoke. A seventh studio album, Get Out of My Room, was released in 1985. The duo split in 1987 and Cheech Marin pursued a solo career.
Chong's California-based company, Chong's Glass, was raided by federal officials in February 2003, as part of a federal crackdown on "drug-related paraphernalia". In a plea bargain which allowed his son and wife to remain out of jail, Chong pleaded guilty to charges of conspiring to distribute drug paraphernalia in May, and in September 2003 was sentenced to nine months in federal prison, fined $20,000, and forced to forfeit $120,000 in assets. He was released in July 2004.
On November 5, 2008, Cheech and Chong reunited for a Funny or Die video titled "Cheech and Chong Get Out the Vote!" The video, which encouraged people to get out and vote, was released the day after the United States Presidential Election between Barak Obama and John McCain
Cheech & Chong released a subsequent soundtrack album in 2013 titled Cheech & Chong's Animated Movie! The pair appeared together on The Late Show with Stephen Colbert on April 23, 2018, in response to recent news that former Republican Speaker of Congress, John Boehner, had joined the board of a marijuana company. The pair expressed displeasure that marijuana was no longer rebellious, Cheech remarking that he could now buy weed "from a store in a strip mall" when before he could only buy it from "behind a store in a strip mall." They then joked that they would no longer be doing stoner comedy and would do comedy about things that were still illegal, such as unpasteurized dairy products, importing exotic reptiles, taping and distributing football games without the consent of the NFL, and burning leaves without a permit.
Over the years, Cheech Marin has appeared in 75 films, including as a voice for multiple animated movies. He is also a painter of Chicano art. Tommy Chong has appeared in over 35 films.
February 3, 2023
Ray McGinnis
References:
Kylie Cooper, "Sophisticated and Naive: A Conversation with Cheech Marin," The Bend, Corpus Christi, TX, January 11, 2018.
Ed Volmers, "Tommy Chong talks comedy, pot, politics and his days as a Calgary Herald paper boy," Calgary Herald, January 24, 2016.
Stephen Proctor, "Cheech and Chong are moving on from 'stoner comedy,'" Yahoo News, April 24, 2018.
Torsten Ave, "Actor Tommy Chong gets nine months for selling pot pipes," Pittsburgh Post-Gazette, September 12, 2003.
"Cross-dressing," Wikipedia.org.
"CKLG Top Thirty," CKLG 730 AM, Vancouver, BC, October 11, 1974.
For more song reviews visit the Countdown.