#1019: El Toro by Link Wray
Peak Month: November 1961
7 weeks on Vancouver's CKWX chart
Peak Position #8
Peak Position on Billboard Hot 100 ~ did not chart
YouTube.com: "El Toro"
Fred Lincoln "Link" Wray Jr. was born in 1929 in Dunn, North Carolina. Both his mother and father were Shawnee Native Americans. Among the instrumentals Wray recorded were three named after American Indian tribes: "Shawnee," "Apache" and "Comanche." When Link was eight years old he was sitting in the porch trying to play guitar. An elderly African-American guitar player named Hambone heard Link Wray trying to play the guitar. Hambone gave Link his first guitar lesson and showed him how to play the bottleneck slide guitar. Link moved with his family moved to Portsmouth, Virginia, when he was thirteen years old. His first band was in the late 40's with his brothers, Vernon and Doug, playing Western Swing. As Link put it, "rock and roll before it was rock and roll." Vernon "Lucky" Wray was the lead singer. This band also included Wray's friend Brantley "Shorty" Horton, who later went on to become part of Link Wray's backing band the Ray Men. A fourth member of Link Wray's band in the late 40's was Dixie Neal. The band was known by Lucky Wray and the Lazy Pine Wranglers, and later Lucky Wray and the Palomino Ranch Hands. The band became popular in Portsmouth, opening for many Country and Western recording artists who played in local fairs and made live appearances on AM radio shows.
Just as his burgeoning career as a musician was taking off, Wray was drafted into the US Army and fought in the Korean War for two years. During this time he became ill with tuberculosis and was in hospital for over a year. His case was serious and one of his lungs had to be removed with the consequence that Link Wray was never able to sing again.
In 1955 Link Wray moved to Washington D.C. Link and his band got introduced to Milt Grant who in 1955 was as popular as the young Dick Clark over in Philadelphia. Grant hosted the weekly Milt Grant Show, a record hop program on WTTG-TV in Washington D.C. Meanwhile, Link's brother, Vernon, was pursuing a sideline as a solo artist billed as Ray Vernon and also began a recording studio in DC. With his brother, Vernon, unable to help with Link's band, the line-up now consisted of Link, his brother Doug Wray on drums, and Shorty Horton on bass. The band was now billed as Link Wray and The Ray Men. They were contracted to be the house band on the Milt Grant Show. In this capacity they backed many national rock and roll artists from the mid to late 50's.
It was at a Milt Grant Record Hop in Fredericksburg, Virginia, when Link Wray's most famous rock 'n roll instrumental was first heard. The Ray Men were backing up The Diamonds for one of Grant's Record Hops, at the Fredericksburg Arena. When the band was onstage Milt Grant asked The Ray Men to play a stroll. "The Stroll" had become a #1 hit on the Cashbox charts in February 1958. Link Wray said to Milt Grant, "I don't know no stroll," but Doug started playing a stroll beat on the drums. According to Link, he said it was at that instant that the chords for "Rumble" came into Wrays's head. He just started playing the tune as it came to him spontaneously. The crowd at the Fredericksburg Arena went wild and the band played the instrumental four times that night. "Rumble" became an instrumental hit that teenagers across America began to dance The Stroll to as well as to The Diamond's own hit song. "Rumble", was banned in New York and Boston for fear it would incite teenage gang violence. When the record was initially released it identified the recording artists as Link Wray and the Ray-Men. "Rumble" peaked on the Billboard charts at #16 in the spring of 1958 and sold 4 million copies.
Wray's next single was "Raw-Hide". The instrumental peaked at #23 on the Billboard Hot 100 in March 1959. "Raw-Hide" peaked at #7 in Baltimore and #9 in Toronto and Vancouver. After a few singles failed to get much attention, Link Wray's "El Toro" got the attention of deejays in Vancouver in 1961.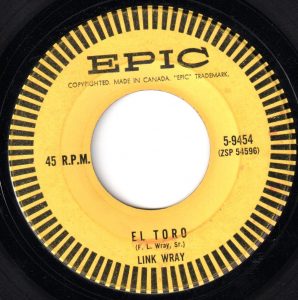 "El Toro" is a title that is iconically hispanic. El Toro is:
a) a neighbourhood in the municipality of Calvià on the island of Majorca
b) a town in Castellón, Spain
c) a rural municipality and village in Jujuy Province in Argentina
d) a name for a roller coaster at the Six Flags Great Adventure in Jackson, New Jersey
e) the name of a former town now amalgamated into the city of Lake Forest, California
f) a small town on Toas island, capital of Almirante Padilla Municipality in Zulia state, Venezuela
g) a wilderness area on the island of Puerto Rico
h) the highest hill in Minorca, Spain
i) a mountain in the Andes of Venezuela: Pico El Toro
j) a mountain in the Andes on the border between Argentina and Chile: Cerro El Toro
k) a peak in the El Yunque National Forest in Puerto Rico
l) a peak in Nuevo León, Mexico noted for the 1,500 foot rock climb El Sendero Luminoso,
m) the name of a battle during the Chilean War of Independence, and
n) the Spanish name for bull.
In "El Toro" the trumpet sounds especially evoke images of bull fights. In modern Spanish bullfighting is called by its Spanish name, corrida, which means "running of the bulls." The corrida is highly ritualized, with three distinct parts or tercios, the start of each of which is announced by a trumpet sound. The origins of the trumpet at a corrida come from the Paso Doble, a dance with a binary rhythm and moderated movement that has its roots in typical Spanish dances of the 16th century. During the 18th century the Paso Doble was incorporated into comedies. It was also adopted as a regulatory step for the Spanish infantry, with a special feature that makes the troops take the regular step: 120 steps per minute. The music was introduced into the corrida during the 19th century.
Link Wray and The Ray Men appeared several times on Dick Clark's American Bandstand. In the early 60's Link still played regularly in Washington DC at Vinnie's, the 1023 Club in Southeast, and many others. He was also touring heavily during this time up and down the East Coast, and playing the Ivy League Colleges. The band had a #13 hit in Vancouver in August 1963 titled "Jack The Ripper". The tune had charted to #64 on the Billboard Hot 100 two years earlier in 1961, just well enough to keep "Jack The Ripper" out of this Countdown. Between 1960 and 1963 Link Wray released five studio albums.
In the mid-60's Link retreated to the family chicken farm off Livingston Road in Accokeek Maryland. He continued to play local DC and Southern Maryland taverns and bars and release self produced and recorded 45's and a few LPs under a variety of names. "Ace Of Spades" was a #1 hit in Syracuse, New York, in 1966. In March 1966, listeners in Newport News, Virginia, took Link Wray's version of the "Batman Theme" into the Top Five.
In 1970, Link was "rediscovered" and signed to a record deal with Polydor. Between 1971 and 2000 Wray released 13 studio albums and one live album. There were also nine compilation albums released up until 2007.
When Wray moved to greater San Francisco area around 1972 he met Quicksilver Messenger Service guitarist John Cipollina. Wray went on to create a band with Cipollina as a featured guest guitarist. The band also included two bandmates from Cipollina's band, Copperhead, bass player James "Hutch" Hutchinson and drummer David Weber. In May 1974, Wray's band opened the show for the Canadian band, Lighthouse, for a five night gig at The Whisky a Go Go in Los Angeles. Link Wray and his band performed a lot of concerts in the Bay Area.
In the early months of 2003, 74 year old Link was at it again, with a six week tour of the US. Link was also inducted into the Washington (DC) Area Music Association Hall of Fame, the Rockabilly Hall of Fame, and the Southern Music Legends Hall of Fame. He had one last tour of the USA and Canada in 2005. He died in November of that year while in Denmark at the age of 76. Iggy Pop, Neil Young and Jimmy Page cited Link Wray as a significant influence. Page once said that Link Wray had a "real rebel attitude" and credits him in the pop music documentary, It Might Get Loud. According to Rolling Stone, Pete Townshend of The Who once said, "If it hadn't been for Link Wray and 'Rumble,' I never would have picked up a guitar."
In 2017 a documentary titled Rumble: The Indians Who Rocked The World was featured at the Sundance Film Festival. The film's creators, Catherine Bainbridge and Alfonso Maiorana, won an award for the film for masterful storytelling.
August 30, 2017
Ray McGinnis
References:
Link Wray bio, Link Wray.com
Milt Grant Show, WTTG, Washington D.C., 1957.
The Diamonds, "The Stroll," Seventeen, WOI-TV, Ames, Iowa, February 1958.
El Toro Wilderness (Puerto Rico), Wikipedia.org
Pico El Toro (Venezuela), Wikipedia.org
Cero El Toro (Argentina and Chile), Wikipedia.org
El Toro (Island of Menorca, Spain), Wikipedia.org
El Sendero Luminoso (Mexico), Wikipedia.org
Battle of El Toro (Chile, 1820), Wikipedia.org
El Toro (roller coaster), Jackson, New Jersey, Wikipedia.org
Fernando Valenzuela, Wikipedia.org
Spanish-style bullfighting, Wikipedia.org
Rumble: The Indians Who Rocked The World, Trailer, YouTube.com
Joe Leydon, "Sundance Film Review: 'Rumble: The Indians Who Rocked The World'," Variety, New York, NY, January 23, 2017.
Jimmy Page, It Might Get Loud, YouTube.com.
"Fabulous Forty," CKWX 1130 AM, Vancouver, BC, October 28, 1961.
For more song reviews visit the Countdown.