#171: Everybody Knows Matilda by Duke Baxter
Peak Month: September 1969
11 weeks on Vancouver's CKLG chart
2 weeks Hit Bound
Peak Position #2
Peak Position on Billboard Hot 100 ~ #52
YouTube: "Everybody Knows Matilda"
Lyrics: "Everybody Knows Matilda"
Who was Duke Baxter? According to Rate Your Music, he was born in the UK, and moved to Canada in his early childhood. West Coast Fog writer, Erik Bluhm writes that Duke Baxter was a "Canadian, he was in L.A. by '66 and working with the Rob Roys on their great "Do You Girl?" 45 for Accent… He's also the guy behind a group called Revelation." Bluhm contacted Duke Baxter (born James Blake), who remembers Revelation being a tight, inventive group. "We played some concerts at the Hollywood Palladium with the Seeds and the Grateful Dead; UC Irvine with Canned Heat and the Buffalo Springfield (January 26, 1967 at Campus Hall)… The band got signed with MGM Records and worked with the very successful TV theme producer Mike Post who was a protégé of Jimmy Bowen of the Dean Martin hit fame."
Revelation disbanded in 1968, and Baxter began working with arranger and producer Tony Harris to form a new group. (Harris was the son of Jack Harris, director of 1958 sci-fi horror film The Blob). Baxter recalls, "I met Tony shortly after I left the band for whatever reasons now forgotten. We were going to do a vocal trio with a girl named Abbegale Marabelle… One day, I was playing "Everybody Knows Matilda" for Tony in his office, when Steve Vail, the young president of the VMC label, walked by and heard me. From then on, it was me as a single artist with Tony producing. We did the album at TTG studios which was really hot in those days. Good times."
TGG Studios (short for Two Terrible Guys) was located at 1441 North McCadden Place in Hollywood. The "Two Terrible Guys" were Tom Hidley and Ami Hadani. They variously recorded Shelley Berman ("Outside Shelley Berman"), Herb Alpert & The Tijuana Brass ("The Lonely Bull" and "Acapulco 1922"), Vic Dana ("Little Altar Boy"), Harper's Bizarre, Mel Carter, Vicki Carr ("It Must Be Him"), Eric Burdon and The Animals ("San Franciscan Nights" and "Good Times"), The Ventures, Tiny Tim ("Tiptoe Through The Tulips"), Kenny Rogers & The First Edition ("Tell It All Brother" and "Heed The Call"), Marvin Hamlisch ("The Entertainer"), Bill Conti ("Theme From Rocky") and more. Duke Baxter recalls, "Lots of interesting people came through there who were friends with Steve like Don Adams of Get Smart fame and David Cassidy (of the Partridge Family)."
"Everybody Knows Matilda" became Duke Baxter's first single release, on the VMC Record label.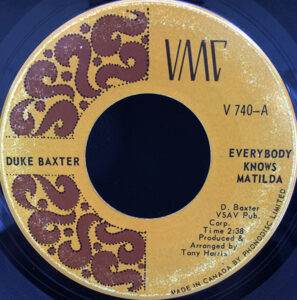 "Everybody Knows Matilda" was written by Duke Baxter. The song begins in famed 42nd Street, in Manhattan. It is there, a guy meets "a girl" who "sure looked good." She is heart-broken, and curious to know what he's smoking. As she only has a bus token, she asks if he'd like to escort her to her home. It turns out her home is "a shack at the edge of town" where "all the shades are pulled and drawn" with "nobody, not a soul around." (Where is this? A remote part of Staten Island or Far Rockaway?) Matilda gets the guy drunk with a drink that is likely laced with something. Just one drink and his head is spinning. Matilda pulls him close, as they arrive at the bed. She invites him to take off his shoes. Just then, there is a bang at the door. Matilda says it is her boyfriend who has a gun; And exclaims to the intoxicated stranger "sorry baby, but you've got to run." As the front door "comes tumbling down," the startled guy leaves by a window, while leaving his "skin" (a joint) behind. So is Matilda setting things up to get her boyfriend jealous by luring strangers from 42nd Street to her shack? It doesn't seem that the stranger she met at 42nd Street left anything of value back at the shack as he flew out the bedroom window. Is her tale about being broken-hearted just a fib? Is she trying to see if she is alluring to total strangers? There are a lot of different directions we can take the plot in this little song. But Duke Baxter leaves us to fill in the rest. Bottom line: when a new stranger meets Matilda, it will be a losing proposition. And, as 'everybody knows Matilda,' it seems this is a game she is playing often.
In the recording studio with Duke Baxter were Hal Blaine on drums and Larry Knechtel. Pianist Larry Knechtel played on "Mr. Tambourine Man" for The Byrds; "Light My Fire" for The Doors; "Wouldn't It Be Nice", "Sloop John B" and "God Only Knows" for The Beach Boys; "Mrs. Robinson", "A Hazy Shade Of Winter", "At The Zoo", "The Boxer", Bridge Over Troubled Waters", Cecelia" and "El Cóndor Pasa" for Simon & Garfunkel; "Dream A Little Dream Of Me" and "Twelve Thirty" for The Mamas and the Papas; "If I Can Dream" for Elvis Presley; and "Stoney End" for Barbra Streisand. He joined Bread in 1971 and was among the personnel for "Baby I'm-A Want You", Everything I Own" and "Guitar Man".
Drummer, Hal Blaine, performed on over 6,000 recordings, including over 150 Top Ten hits on the Billboard Hot 100. These include "Johnny Angel" by Shelley Fabares, "He's A Rebel" by the Crystals, "Surf City" by Jan & Dean, "I Get Around", "Help Me Rhonda" and "Good Vibrations" by the Beach Boys, "Everybody Loves Somebody" by Dean Martin, "These Boots Are Made For Walking" by Nancy Sinatra, "Strangers In The Night" by Frank Sinatra, "The Happening" by The Supremes, "Windy" by The Association, "I Got You Babe" by Sonny & Cher, "Aquarius/Let The Sunshine In" by the Fifth Dimension, "Close To You" and "Top Of the World" by the Carpenters, "The Way We Were" by Barbra Streisand, "Annie's Song" and "Thank God I'm A Country Boy" by John Denver, "Theme From Mahogany" by Diana Ross, and many more.
"Everybody Knows Matilda" charted in Tulsa, Oklahoma, in late May 1969. It was given a spin in San Diego, San Francisco and Sacramento in mid-June, but got no traction. Fortunately, in July the single climbed into the Top Ten at WRKO in Boston. Though it stalled at #52 on the Billboard Hot 100, "Everybody Knows Matilda" peaked at #2 in Vancouver (BC) and Boston, #3 in Manchester (NH), #4 in Victoria (BC), #6 in Rochester (NY), #7 in Everett and Spokane (WA), #8 in Seattle (WA), #11 in Fresno (CA), #12 in Des Moines (IA), #13 in Kalamazoo (MI) and Cleveland, #14 in Albany (OR), #15v in Lincoln (NE), and #17 in Toronto.
In 1969, Baxter also released two more tracks from the Everybody Knows Matilda album: "John Q. Citizen" and "Superstition Bend". Duke Baxter's "Everybody Knows Matilda" was getting some regional breakouts in places like Vancouver, Boston and Seattle. Although his minor hit single and album were selling records, all was not well. Baxter details, "There was a lot of trouble getting paid for the record because Steve's company was small and did not have the clout to collect. I suspect he just did not choose to participate in the rampant payola, layola, and drugola that was increasing at that time. Also the mob was moving in on the business from the promotion end." Baxter eventually got signed to Mercury at the same time as Rod Stewart did.
In 1975 Duke Baxter released a second album, One Wish. The liner notes state "A young man who writes beautiful songs and is in love with the world. The songs are honest and sincere. He sings the same way and we think the future on this young man will be a big one." And in 1977, Baxter released a third solo album, My Ship Is Coming In. However, when Duke Baxter's ship came in, in 1977, no one in the music industry seemed to notice.
In the years that followed, Duke Baxter at times recorded as Dudley Ford Baxter. But he was largely off the radar. In June 2013, Duke Baxter, now going under the alias Jim Shaman, posted a Youtube video of a song he recorded years ago titled "Gypsy Magic".
April 29, 2022
Ray McGinnis
References:
Lyn Nuttall, "Only in Oz (15): Duke Baxter – Everybody Knows Matilda," Pop Archives: The Blog, November 9, 2013.
Erik Bluhm, "Tony Harris," West Coast Fog, November 8, 2012.
Duke Baxter, "Gypsy Magic", YouTube, June 15, 2013.
Rob Roys, "Do You Girl?", Accent Records, 1966 (written by Duke Baxter)
"Larry Knechtel, Rock Keyboardist-Arranger, Dies at 69," New York Times, August 25, 2009.
Randy Lewis, "Hal Blaine, prolific 'Wrecking Crew' drummer who worked with Frank Sinatra and Elvis, dies at 90," Los Angeles Times, March 13, 2019.
"Boss 30," CKLG 730 AM, Vancouver, BC, October 3, 1969.
For more song reviews visit the Countdown.