#1126: The Exodus Song by Pat Boone
Peak Month: February 1961
7 weeks on CKWX chart
Peak Position #9
Peak Position on Billboard Hot 100 ~ #64
YouTube.com: "The Exodus Song"
Lyrics: "The Exodus Song"
Pat Boone was born in Jacksonville, Florida, on June 1, 1934. He was the son of Margaret Virginia (Pritchard) and Archie Altman Boone. The Boone family moved to Nashville from Florida when Boone was two years old. In a 2007 interview on The 700 Club, Boone claimed that he is the great-great-great-great grandson of the American pioneer Daniel Boone. Boone is a singer, composer, actor, writer, television personality, motivational speaker, and spokesman. He won a talent contest on the Ted Mack Amateur Hour. He became a successful pop singer in the United States during the 1950s and early 1960s. He has sold over 45 million records, charted 38 Top 40 hits between 1955 and 1962. Boone has also appeared in more than a dozen Hollywood films. He still holds the Billboard record for spending 220 consecutive weeks on the charts with one or more songs each week.
At the age of 19 he released his first single 78- RPM titled "Until You Tell Me So" on Republic Records in June 1953. After a second release on Republic, he switched to Dot Records. His first release on Dot was in 1955. It was a cover of The Charms song "Two Hearts", which peaked at #16 on the Billboard pop chart, right behind The Charms original which peaked at #15. Boone's next release was a cover of the Fats Domino song "Ain't That A Shame". While Fats Domino's original recording was a #1 hit on the R&B chart and #10 on the pop chart, Pat Boone's cover climbed to #1 on the Billboard pop chart. Domino complimented Boone's cover of the song. Boone liked to tell a story about a concert at which Domino invited Boone on stage, showed a big gold ring and said, "Pat Boone bought me this ring," since Domino, as cowriter of the song, received royalties on it from record sales or radio airplay of other performers' cover versions of "Ain't That A Shame".
Next, Pat Boone did a cover of the El Dorados' #1 R&B hit "At My Front Door". The original climbed to #17 on the Billboard pop chart, but Boone eclipsed it when his cover peaked at #7 in November '55. Finding success by covering black R&B recording artists, Pat Boone followed up with a cover of the #5 R&B hit by the Flamingoes titled "I'll Be Home". Hit cover peaked at #4 on the Billboard pop chart, and #1 in the UK. In the winter of 1955-56, Boone's cover of the Little Richard tune "Tutti Frutti" made it to #12 on the pop chart, while Little Richard's original peaked at #21 on the pop chart and #2 on the R&B chart.
However, Little Richard next cowrote and recorded a song he bet was too fast for Pat Boone to sing. It was titled "Long Tall Sally". Little Richard's original recording beat Pat Boone's cover, climbing to #6 on the Billboard pop chart, with Pat Boone stalling at #18. Next, Pat Boone went to the archives of R&B hits and recorded Ivory Joe Hunter's #1 R&B song from 1950, "I Almost Lost My Mind". In 1956, Boone's cover of Ivory Joe Hunter's hit became his second number-one hit on the Billboard pop chart in August '56. Happy with his success, Boone subsequently covered a #2 hit for Ivory Joe Hunter from 1951 titled "Chains Of Love", which became a #10 hit on the pop charts for Boone.
A rare original recording by Pat Boone in 1956 was the theme song for the film Friendly Persuasion: "Friendly Persuasion (Thee I Love)". This single climbed to #5 in the fall of '56. In 1957 Pat Boone began to rely on classic pop songs when going to the recording studio. "Don't Forbid Me" climbed to #1 in February 1957, and "Love Letters In The Sand" – a cover of a 1931 pop standard – topped the Billboard pop chart for five weeks in June and July of '57. At the end of 1957, Pat Boone's recording of the theme song "April Love", for the film of the same name, was the final number-one hit of the year. He also had a Top Ten hit in 1957 with "Remember You're Mine", written by Kal Mann (who had success that year penning "Teddy Bear" for Elvis Presley and "Butterfly" for Andy Williams).
At the age of 23, he began hosting a half-hour ABC TV series, The Pat Boone Chevy Showroom, which aired for 115 episodes (1957–1960). Many musical performers, including Andy Williams, Pearl Bailey, and Johnny Mathis made appearances on the show.
In 1958 Pat Boone recorded a cover of a country song from the 40s titled "Sugar Moon", which peaked at #5. Boone also had a #4 hit with "A Wonderful Time Up There", a 1940s gospel song. That year Pat Boone did successfully cover a song originally recorded by the Orioles titled "It's Too Soon To Know", which was a #1 hit for the doo-wop group in 1948. Boone's recording shot to #4 on the Billboard pop chart in '58. And the songwriting team of Robert Allen and Al Stillman (notable for "Home For The Holidays" for Perry Como; "Moments To Remember" and "No Not Much" for the Four Lads; "Chances Are" and "It's Not For Me To Say" for Johnny Mathis) wrote Pat Boone's last Top Ten hit in the 50s titled "If Dreams Came True".
In 1960 the movie, Exodus, was released prior to Christmas. It was directed by Oto Preminger and written by Dalton Trumbo, the blacklisted writer of the Hollywood Ten who were compelled to testify before the House Un-American Activities Committee in 1947. Trumbo refused to testify before the committee and was blacklisted. Trumbo then wrote scripts for Roman Holliday, Spartacus and other films under an assumed name. He was paid under the table for his scripts. Preminger's open hire of Trumbo put an end to red-baiting in the Hollywood. In 2015 Bryan Cranston was nominated for an Academy Award in the Best Actor category for his portrayal of Dalton Trumbo in that years movie, Trumbo.
Exodus was a movie, based on the book by Leon Uris, about the creation of the nation state of Israel and was a catalyst for pro-Zionist feeling in America. The instrumental score for the "Theme From Exodus" won an Academy Award for Best Original Score at the 1960 Oscars. The version by Ferrante and Teicher peaked at #2 on the Billboard Hot 100 in January 1961, kept out of the top spot by the instrumental by Bert Kaemfert, "Wonderland By Night." The instrumental had peaked at #4 on CKWX in December 1960. Pat Boone was inspired to write lyrics for the instrumental tune with the subtitle, "This Land is Mine". The lyrics paint a portrait of a brave, ancient and golden land "where children can run free." With appeals for God's help, the patriot lyrics vowed "I'll fight to make this land my own/until I die this land is mine."
In an article in San Diego Jewish World in March, 2017, some background into Boone's inspiration for the lyrics he wrote to Exodus were described. "Pat Boone had not only read (Leon) Uris' book but also saw the Preminger movie. It stirred inside of him. Christmas 1960, his wife Shirley called him to come and wrap presents. Pat stood mesmerized playing the theme music to Exodus over and over. He told me he must have played it twenty or thirty times wondering about lyrics. He wanted to sing what he was feeling. All of a sudden, an inspiration came. Within 20 minutes, his lyrics to the Exodus theme music were completed. Hurriedly, he scribbled the lyrics onto the back of a nearby card. "This land is mine, God gave this land to me…" With each line he played the music again and the lyrics poured out. It was not simply music lyrics he put to paper, it was love and a statement of faith. Pat presented the lyrics to Preminger, Gold and Chappell Music. Without hesitation they too felt the power of the lyrics. The theme music to Exodus had words and a voice to sing it. The Song resonated for millions upon millions of Jews and Christians alike. The song became known as the Zionist Second National Anthem."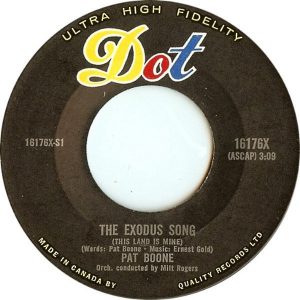 The film is based on events surrounding the ship Exodus in Cyprus in 1947 and then on events in Palestine during the founding of the modern state of Israel in 1948.
In the film, Nurse Katherine "Kitty" Fremont (Eva Marie Saint) is an American volunteer at the Karaolos internment camp on Cyprus. It is there thousands of Holocaust survivors are being held by the British, who will not let them go to Palestine. The Jewish exiles from Germany anxiously wait for the day they will be liberated. Ari Ben Canaan (Paul Newman), is a rebel who has been a captain in the Jewish Brigade of the British Army in the Second World War. He obtains a cargo ship and smuggles 611 Jewish inmates out of the camp for an illegal voyage to Mandate Palestine before being discovered by military authorities. When the British find out that the refugees are in a ship in the harbor of Famagusta, they blockade it. The refugees stage a hunger strike, during which the camp's doctor dies, and Ari threatens to blow up the ship and the refugees. The British relent and allow the Exodus safe passage. It arrived in Haifa in 1947.
For anyone following the news, since 1948 the thorny issue of Israeli-Palestinian relations has been a seemingly intractable, irresolvable political issue stoked with human rights issues, United Nations resolutions and warfare. There are organizations staunchly defending the policies of the Netenyahu government and others critical of the treatment of the Palestinians. In 2017, fifty-six years after "The Exodus Song" was on the pop charts in Vancouver, the topic of Israel-Palestine can cause tempers to flare at most any dinner party, should there be opposing viewpoints.
"The Exodus Song" climbed to #9 in Vancouver (BC), #10 in San Bernardino (CA), and #12 in Worcester (MA).
As part of his Christian beliefs, Pat Boone is convinced Christians have been grafted onto the tree of the House of King David. They are one with the Jewish people. He wears a Cross about his neck and a Star of David. Boone still regards "The Exodus Song" as his highest achievement in his musical career. Pat Boone's next single, "Moody River", would be his sixth and final #1 hit. He would make the Top Ten just once more with "Speedy Gonzales" in 1962.
A conservative Christian raised in the holiness Church of Christ, Pat Boone has supported many Republican candidates, beginning with Ronald Reagan for Governor in California in 1966. A vocal supporter of the Vietnam War, Pat Boone has added his endorsement to many political and socially conservative causes over the decades. In 2009, Boone, a "birther," stated his belief that President Barack Obama was ineligible to serve as the President of the United States, believing that Obama had been born either in Kenya or Indonesia. Boone also has alleged that Barack Obama was fluent in Arabic and as a child read the Koran. Boone has claimed that President Obama "hasn't celebrated any Christian holidays in the White House." In 2006 Pat Boone published his memoir, Pat Boone's America: 50 Years.
April 3, 2017
Ray McGinnis
References:
Boone, Pat. Pat Boone's America: 50 Years: A Pop Culture Journey Through the Last Fifty Years. B&H Books, 2006.
Scott Ross, Pat Boone: God's Hall of Fame, CBN.com
Jessica Steinberg, Evangelical Crooner Pat Boone to Fete Jerusalem with Gala Concert, Times of Israel, Jerusalem, May 13, 2018
Exodus Plot Summary, Wikipedia.org
Leon Uris, Exodus, Wikipedia.org
Ferrante and Teicher, "Theme from Exodus," 1960
AIPAC, Our Mission, AIPAC.org
Human Rights Watch, Israel/Palestine statement, hrw.org
Julie Mason, Pat Boone: Obama a Kenyan!, Politico, Washington D.C., September 21, 2011.
"Fabulous Forty," CKWX 1130 AM, Vancouver, BC, February 11, 1961.
For more song reviews visit the Countdown.