#160: Family Man by Mike Oldfield
Peak Month: November 1982
16 weeks on Vancouver's CKLG chart
Peak Position #3 ~ CFUN
Peak Position on Billboard Hot 100 ~ did not chart
YouTube: "Family Man"
Lyrics: "Family Man"
Michael Oldfield was born in Reading, England, in 1953. In 1960, his mother had given birth to a younger brother with Down syndrome who died while an infant. His mother got addicted to barbiturates and spent the rest of her life in mental institutions. Oldfield took up the guitar aged ten, first learning on a 6-string acoustic instrument which his father had given to him. By the time he was 12, Oldfield played the electric guitar and performed in local folk and youth clubs and dances, earning as much as £4 per gig. In 1968, he formed a folk duo with his sister, Sally, named The Sallyangie. They released one album in 1969. The duo split, and Mike Oldfield suffered a nervous breakdown.
In 1970 Oldfield was in a band called Barefoot, and later The Whole World. He was a session musician for the Kevin Ayers albums Shooting at the Moon and Whatevershebringswesing. As well he played mandolin on the debut self-titled album Edgar Broughton Band. By this time, Mike Oldfield has learned to play percussion, mellotron, piano, and harpsichord.
In 1973, Oldfield got a record contract with Virgin Records. He recorded Tubular Bells and had a Top Ten hit single with the title track in the USA and Canada in 1974, and Top 40 in the UK. For the recording of the album Oldfield played more than twenty different instruments. It was featured in the opening of the 1973 horror film The Exorcist. The piece is considered a forerunner of New-Age music. In 1975, Oldfield received a Grammy Award for Best Intrumental Composition in "Tubular Bells – Theme from The Exorcist".
In 1975, Oldfield released a single cover of the Christian hymn "In Dulci Jublio". It shot to #2 in the Netherlands, #4 in Belgium and the UK, and #7 in Ireland. In 1976, Oldfield recorded a Scottish hornpipe tune titled "Portsmouth". It peaked at #3 on the UK singles chart and #2 in Ireland.
In 1978, Oldfield's double-album, Incantations, featured the Queen's College Girls Choir on vocals. The album peaked at #14 on the UK album chart. It included a Top 30 disco instrumental single "Guilty". Several more albums followed, and in 1981 Oldfield accepted an invitation to perform at a free concert celebrating the wedding of Prince Charles and Lady Diana in Guildhall. He wrote a new track, "Royal Wedding Anthem", for the occasion.
In 1982, Mike Oldfield released his seventh studio album, Five Miles Out. The title track was a Top 50 hit in the UK, West Germany and New Zealand. The followup single was "Family Man".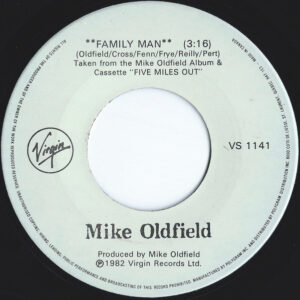 "Family Man" was co-written by Mike Oldfield, Rick Fenn of 10cc, Oldfield's bandmate Tim Cross, session musician Morris Pert, and Scottish singer Maggie Reilly. The song is about a man who is being solicited by a prostitute and his protestations because he is a "family man." The prostitute approaches the man, flashing a sultry smile. She let's him know she'd be "his for a price." After a first rejection, the hooker re-checks her makeup and makes another advance. "She gave him her look, that would have worked on any other man in sight. He could not mistake, she wanted to go back with him and spend the night." But the guy repeatedly tells her to "leave me alone, I'm a family man and my bark is much worse than my bite." The woman shows disdain and tosses her head. The original draft version of the song had the woman storming off after his rejection.
The vocalist for "Family Man" is Maggie Reilly. She was born in 1956 in Glasgow, Scotland. In 1984, Oldfield and Reilly teamed up to record "To France". The single peaked at #2 in Belgium, #3 in the Netherlands, #6 in West Germany and #7 in Switzerland. In 1992 Maggie Reilly released a solo album. From Echoes came the single "Everytime We Touch". It peaked at #1 in Norway for eight weeks, #4 in the Netherlands, #5 in Austria and #10 in Finland. So far, Maggie Reilly has released eleven studio albums.
Timothy Kjell Cross was born in England in 1955. He studied piano lessons from early childhood, learning Mozart and J.S. Bach. As he was focused on the world of classical music, it was when he turned 14 that Tim Cross discovered the Beatles, and later Genesis, Pink Floyd, Yes and Frank Zappa. Cross studied harpsichord and composition at the Dartington College of Arts in Devon. After his studies, Tim Cross became a librarian for mood music, and while in his twenties began lecturing about music. Concurrently, he started composing jingles in a studio in London's West End. From 1979-83, Cross was in the Mike OIdfield Band. He also was in the punk-rock band The Adverts in 1979, including on their second album Cast of Thousands. Subsequently, Cross was part of former Adverts bandmate T.V. Smith's solo album effort in 1981 The Last Words of the Great Explorer. Cross was co-writer of "Family Man" for Mike Oldfield. As well, Cross was part of the band for T.V. Smith's Cheap 1993 album Everything Must Go! From 2003 to 2005, he played on four albums of Indian music with Dana Gillespie. Cross was involved with numbers of other recording acts as a session musician. Tim Cross died of lung cancer in 2012.
Rick Fenn was born in 1953 in Oxford, England. Fenn's musical career started in Oxford where he was leader of a school band in Oxford named Bagshot Louie. After attending the Cambridge College of Arts and Technology, Fenn joined the Hamilton Gray band who later became The Gentlemen. In 1976, Fenn joined 10cc. While with 10cc, Fenn also toured with Mike Oldfield. Fenn recorded a solo album in 1985 titled Profiles. Over the years, Rick Fenn has appeared on albums for Tanita Tikaram, Rick Wakefield, the Hollies lead singer Peter Howarth, and Pink Floyd drummer Nick Mason.
Morris Pert was born in Scotland in 1947, northeast of Edinburgh. He was a jazz musician, and also collaborated with musicians while in Japan for several years in the 1970s. He has been a session musician for Yvonne Elliman, Harry Nilsson, Brian Ferry, Rod Argent, Kate Bush, Marianne Faithfull on "Broken English", Peter Gabriel, Elvis Costello on "Everyday I Write The Book", Talk Talk on "It's My Life", Kate Bush, Donovan and others. Pert died in 2010 at the age of 62.
"Family Man" peaked at #1 in Ottawa (ON), #3 in Vancouver (BC) and Halifax (NS), #4 in Winnipeg (MB). Internationally, "Family Man" peaked at #2 in Ireland. Hall & Oates successfully covered "Family Man" and it climbed to #6 on the Billboard Hot 100 in June 1983.
In 1983 Oldfield recorded "Moonlight Shadow", featuring vocals by Maggie Reilly. The single was a chart-topper in Austria, Belgium, Ireland, Italy, the Netherlands, Norway, Poland, Spain, Sweden, and Switzerland. #2 in West Germany, #3 in France and New Zealand, #4 in the UK, #6 in Australia and #7 in South Africa.
In 1985 Oldfield received a Golden Globe nomination [Best Original Score – Motion Picture] for scoring the film The Killing Fields. In 1998, Oldfield was nominated for a Grammy Award in the Best New Age album category for Voyager.
Oldfield has lived in Nassau, Bahamas, since 2009 and is a citizen of that nation. He has also lived in Spain, Ibiza, Los Angeles and Monaco. In 2012, Oldfield stated that he had decided to leave England after feeling that the country had become a "nanny state" with too much surveillance and state control.
May 25, 2022
Ray McGinnis
References:
Bruce Elder, "Humble opus still rings a bell, 39 years on," Sydney Morning Herald, January 12, 2012.
Peter Lester, "Mike Oldfield: 'We wouldn't have had Tubular Bells without drugs," Guardian, March 20, 2014.
"Maggie Reilly bio," maggie-reilly.net.
Aryeh Oron, "Tim Cross (Keyboards, Arranger)," Bach Cantatas Website louderthanwar.com, July 11, 2012.
"Rick Fenn bio," 10cc.world.
"Obituary: Morris Pert," Scotsman, April 28, 2010.
"CFUN Top Thirty," CFUN 1410 AM, Vancouver, BC, November 13, 1982.
For more song reviews visit the Countdown.