#1379: Footprints in the Snow by Jerry Fuller
Peak Month: April 1964
7 weeks on CFUN chart
Peak Position #18
Peak Position on Billboard Hot 100 ~ did not chart
YouTube.com link: "Footprints In The Snow"
In 1938 Jerry Fuller was born in Fort Worth, Texas. His father was a carpenter who had a voice like Bing Crosby, while his mom sang like Patti Page. As a musical family, at the age of eleven, Jerry and his brother Bill became were billed as The Fuller Brothers. His mother arranged for them to appear at school, churches, talent contests, minstrel shows and jamborees. Out of high school, Fuller wrote a rockabilly tune called "I Found A New Love" and got it recorded Lin records in 1958.
Jerry Fuller moved to Los Angeles in 1959 getting work as a demo singer. With this exposure he got signed with Four Star Music and Challenge Records to write and record songs. His first recording with Challenge in 1959 was a doo-wop tune called "Betty My Angel," which became a Top 20 hit in San Bernardino, California. That same year he recorded an uptempo cover of the Patti Page pop classic, "Tennessee Waltz." It went Top 20 in Toronto, Hartford, Connecticut, and Jacksonville, Florida. It became Fuller's biggest hit on the Billboard Hot 100, peaking at #63.
In 1960 Jerry Fuller wrote "A Wonder Like You" which peaked at #11 on the Billboard Hot 100 for Ricky Nelson. Also in 1960, Jerry Fuller was on tour with the Champs of "Tequila" fame. While in New Mexico, Fuller discovered Glen Campbell on stage at an Albuquerque nightclub. Fuller was amazed with Campbell's vocal and guitar talent. He persuaded Campbell to relocate to Los Angeles. Campbell's skills quickly led him to become part of LA's legendary Wrecking Crew. Campbell assisted Fuller with a demo of a song Jerry wrote called "Travelin' Man", written for Sam Cooke. But the demo found its way to Ricky Nelson who made it a #1 hit record in the spring of 1961. Nelson would record 19 of Fuller's songs, including two Top Ten hits in 1962, "Young World" (#5) and "It's Up To You" (#4). Fuller, Campbell, and Dave Burgess of the Champs sang back-up on these recordings.
While Fuller was at Four Star Music as a writer from 1959 to 1967, he wrote over 400 songs that were recorded by many recording acts of the era. Fuller has recorded a couple of songs in late 1960 into 1961 that got little attention. But in the summer of 1961 he recorded "Guilty of Loving You/First Love Never Dies". "Guilty Of Loving You" peaked at #94 on the Billboard Hot 100, making #5 in Billings, Montana, and Top 20 in Dallas. But it was the flip side, "First Love Never Dies" that got on the charts in San Francisco, Los Angeles, Seattle and Vancouver. And here on CKWX the tune had its best chart performance in North America, peaking at #13. The song did not chart on the Billboard Hot 100.
In Vancouver, Jerry Fuller's biggest hit was "Shy Away" which peaked at #3 in April 1961. Fuller continued to release another half a dozen songs on Challenge Records between 1962 and 1966. But he was drafted into U.S. Army in 1962. Without an ability to tour to promote his songs, he only had local hits like "Footprints In The Snow," a Top 20 hit on CFUN in 1964.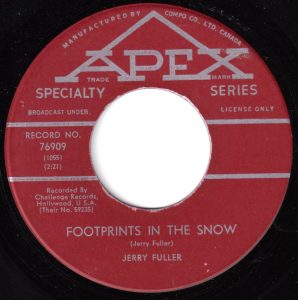 (Footprints)
I took my baby to the mountain,
one frosty wintery day
We skied all day until sunset,
then she spied an old town friend.
She said, "darling, I'll just be a minute,
long enough to say hello,"
so I said okay and she walked away
and left her footprints in the snow.
I waited there by the ski trail,
for a half an hour or more.
As the moon came over the mountain,
I began to feel pretty sore.
So I traced my sweet baby's footprints,
and I wondered where do they go?
And soon they met with another set
of footprints in the snow.
Oh I followed them down by the evergreens,
my poor heart was beating so.
And I could not believe what my eyes had seen,
their footprints toe to toe.
So I ran back down to the ski trail,
and I found her waiting there for me.
I guess I traced the wrong footprints,
oh how foolish can a man be.
All I know is I was so happy,
'cause I love my baby so.
Now we're back again
walking hand and hand,
making footprints in the snow.
"Footprints In The Snow" is a song that owes it's plot to one person losing track of time when they promise to "just be a minute, long enough to say hello." It also owes it's plot to the other person not being able to properly figure out what footprints in the snow belong to who. Without this device the first person would have been back in a minute and the story would have been uneventful. In most plays by William Shakespeare the plot is based on either a miscommunication or people jumping to conclusions. We can appreciate when Romeo finds Julliet that he thinks she is really dead, not knowing she has taken a potion that puts her in a coma for 42 hours. If he knew the actual circumstances he would wait until she arose from her coma and tried to find a way to build a life together. In "Footprints In The Snow" the guy heads down a path following footprints that do not belong to his "sweet baby." Seeing those footprints toe to toe with another set of footprints, he fears she may be enthralled with someone else. But, as it turns out, he finds her back where she said she'd meet him in the first place, although she clearly lost track of time.
In Jerry Fuller's song trust momentarily becomes an issue. His girlfriend is not back in just a moment, as she promised, and so he tries to follow her footprints in the snow. In relationships it is helpful for partners to be on time. Having some ballpark idea of how long you will be when you just want to "stop to say hello" to an old friend is helpful to your partner. It let's your partner know you also value their time. When someone doesn't show up approximately around the time when they say they would, those waiting for them can become concerned. If one person had a habit of losing track of time, it is helpful to remind the partner who is going off just to "say hello," to wear a watch, notice what time it is now as they head off for a short visit. It can also be helpful to ask for the person going off to visit to confirm what time they will be back and get them to state, for example, "I'll meet you back here at 6:00 p.m., in ten minutes." (Shakespeare might have added other verses to further complicate the storyline if he'd written this song).
That same year when he finished his service in the U.S. Army, Jerry Fuller got work with Four Star publishing in their New York office. so he took up residence in Manhattan. During this time Fuller got a gig at the University Twist Palace in Albany, New York. Blown away by the local house band, The Knickerbockers, Fuller made a demo tape of the group. He sent it to Challenge Records. The LA label was excited to meet them and Fuller brought The Knickerbockers to Los Angeles where they got a record deal. In 1965, Fuller ended up producing the band who had a #20 hit in the USA (#6 in Vancouver) called "Lies".
After 8 years with Challenge Record Jerry Fuller move over to Columbia Records as a staff producer and talent agent. At a bowling alley lounge in San Diego, Fuller discovered Gary Puckett and The Union Gap. Fuller's first production with Columbia was the group's million-seller, "Woman, Woman". In 1968 Jerry Fuller wrote and produced Puckett and The Union Gap's next three multi-million sellers, "Young Girl", "Lady Willpower" and "Over You". That same year Fuller produced O.C. Smith's "Little Green Apples" and "Son Of Hickory Holler's Tramp". Fuller would receive two Grammy nominations by the end of the year. In 1969, Jerry Fuller produced Andy Williams' hit, "Happy Heart". Then in 1970, Fuller was the producer of Mark Lindsay's first solo hit, "Arizona".
Through the 70's, 80's and 90's, Jerry Fuller mostly produced records for country stars like Ray Price, Reba McEntire, Freddie Hart, Dobie Gray, John Conlee and Collin Raye. His most significant single to write and record was "Show And Tell", a number one hit for Al Wilson in 1973.
Jerry Fuller has lived in the home he bought 49 years ago in Sherman Oaks, California, with his wife, Annette. It seems for Jerry Fuller it was true, first love never dies.
July 23, 2017
Ray McGinnis
References:
Jerry Fuller bio, Jerry Fuller.net
Bob Ruggiero, "Gary Puckett and the Union Gap Know Love Is a Battlefield," Houston Press, February 12, 2016
Jerry Fuller and the Amazing True Story of Rick Nelson's "Travelin' Man," Steve Hoffman Music Forums, May 8, 2017
The Cascades"First Love Never Dies", 1962
Jerry Fuller Discography/Writing and Arrangements, Discogs.com.
"C-FUNTASTIC FIFTY," CFUN 1410 AM, Vancouver, BC, April 11, 1964.
For more song reviews visit the Countdown