#711: Forgive Me by Babs Tino
Peak Month: August 1962
10 weeks on CFUN's Vancouver Charts
Peak Position ~ #6
Peak Position on Billboard Hot 100 ~ #117
YouTube.com: "Forgive Me"
Lyrics: "Forgive Me"
There is next to nothing online to be found about Babs Tino. She was from Philadelphia and composed her debut single, on Cameo Records, titled "My Honeybun" in 1957. One of the few narrative threads is found in the liner notes from the 1997 Ace Records album, Early Girls Vol. 2. The liner notes reveal: "Babs Tino had the looks and the talent but failed to get the breaks and therefore barely qualifies as a footnote to a footnote in the history books. Having made a solitary single for Cameo Records in 1957, it seems she did not record again until 1961 when she signed with Kapp Records and had six singles released between then and 1963. Owner Dave Kapp was a pillar of New York's musical establishment, a man with strongly held views on the linear alignment of musical notes in relation to pitch and tempo, and no-one got through the door at Kapp unless they could count bars and sing in tune. The best arrangers/songwriters (including Bacharach and Leiber & Stoller) were assigned to Tino's sessions but only her third single, 'Forgive me', made any sort of impression 'bubbling' under the Hot 100 for one week in 1962 and gaining a UK release. Her fifth single, 'Keep Away From Other Girls', was successfully covered in the UK by Helen Shapiro."
In July 1962, Babs Tino had a #4 hit on the C-FUNTASTIC FIFTY in Vancouver titled "Too Late To Worry". The single had earlier made the Top 20 in Mobile, Alabama, and the Top Ten in Cleveland, Ohio, in May '62. The song was co-written by Burt Bacharach and Hal David.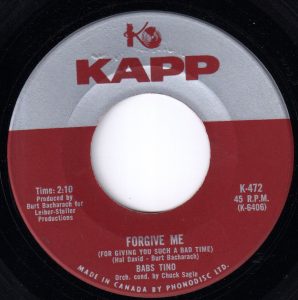 On July 7, 1962, "Forgive Me" was reviewed in Billboard Magazine's Reviews of New Singles feature. Under the subheading of "Moderate Sales Potential." Babs Tino performed "Forgive Me" on American Bandstand on September 6, 1962. The song is about someone who plays around all over town. Now they feel they were wrong and have lived and learned. Even though they feel a fool, they want their sweetheart to know they still love and need them. They ask forgiveness and another chance. The song was also recorded by Noeleen Batley, a singer from New South Wales in Australia.
Since 1957 Burt Bacharach has written 73 song that have reached the US Top 40. His first big hit was for Perry Como called "Magic Moments." In 1962, the year "Forgive Me" was a Top Ten hit in Vancouver, Burt Bacharach wrote other notable hits including "(The Man Who Shot) Liberty Vallance" and "Only Love Can Break a Heart" both by Gene Pitney. Bacharach wrote "Baby It's You" recorded by The Shirelles, "Don't Make Me Over" by Dionne Warwick, "Make It Easy On Yourself" by Jerry Butler, "Keep Away From Other Girls" by Helen Shapiro and "Any Day Now" by Chuck Jackson.
Hal David teamed with Bacharach to compose "Forgive Me". David also separately wrote "Johnny Get Angry", a hit for Joanie Sommers in 1962. In 2011 Bacharach and David were awarded the Library of Congress' Gershwin Prize for Popular Song.
"Forgive Me" was play-listed on CFUN's Summer Soundathon on the week of July 19 to 25, 1964. For that week the station played over 40 tunes that were hits in the months of July and August of 1960, 1961, 1962 and 1963. "Forgive me" peaked at #97 on Cashbox and #117 below the Billboard Hot 100. But it climbed to #6 in Vancouver, #7 in Toronto and #2 in Springfield, Massachusetts.
While the composers of "Forgive Me" went on to much acclaim and fame, Babs Tino's stardom was short-lived. She recoreded six records with Kapp. One of these, "What's Wrong With Me and You", was written by the songwriting team of Jerry Leiber and Mike Stoller. Tino's next single with Kapp was "My First Love" in 1963. It also charted in Vancouver, climbing to #32. The single made it to #13 in Grande Prairie, Alberta, on CFGP. Babs Tino was on a double-billing with Ronnie Dio and the Prophets at the Sports O Rama in Syracuse, New York, on October 11, 1962.
In a New York Times article titled "How To Forgive," Maila Wollan writes "forgiveness means abandoning anger, and that can be long, hard work — possibly a lifetime's worth. So before you embark, clearly identify perpetrator and transgression, and make sure the situation calls for forgiveness and not something else, like mercy. Despite a seemingly endless supply of self-help and religious literature that urges bountiful forgiveness, be careful about offering it up willy-nilly. Charles L. Griswold, a philosophy professor at Boston University, cautions, "make sure the person whom you think wronged you is the person who wronged you. Don't act in a way that condones or enables further wrongdoing." It is important to discern what had occurred and if what is required is forgiveness. When two people are in conflict there may be no agreement regarding who has wronged the other. Nonetheless, if you find yourself nursing angry and vengeful thoughts, studies show that this can actually damage your heart. So, let go of anything that gets in the way of moving forward.
A Billboard article in the October 27, 1962, issue reveals that Babs Tino was from Philadelphia. Writing for the Vox Jox column, June Mundy reported, "REALLY BIG SHOWS: Veteran deejays Buddy Deane, WJZ-TV, Baltimore, and Joe Niagara, WIBG, Philadelphia, staged special shows worthy of Ed Sullivan this month…. Niagara presented a 24-hour "Hometown Spectacular," starting at 6 a.m. October 3 and running until 6 a.m. the following Thursday. More than 80 artists, all born in the Philly area, were featured, and most of them also recorded special material for airing on the program. More than 200 old hit disks were played during the 24-hour period. The Philly-born stars included Frankie Avalon, Chubby Checker, Freddy Cannon, James Darren, Fabian, Bobby Gregg, Buddy Greco, Babs Tino, Bobby Rydell, Eddie Fisher, Grace Kelly…, the Dovells… Danny and the Juniors, the Four Aces, Bill Haley and His Comets, the Sensations… and recordings by the late Mario Lanza."
In a November 24, 1962, record review in Billboard magazine, Babs Tino's "Call Off The Wedding" was given this endorsement: "Here's a mighty attractive outing for the lass. The song is nicely sung and smash backing makes it really go. Strong dance beat is evident with string and voice background."
In January 1963, Babs Tino had her third and final Top Ten hit in Vancouver titled "Keep Away From Other Girls". By the end of 1963, Tino faded into obscurity. Any web search in 2018 related to her has nostalgia buffs asking where they can find out whatever happened to her. While Andy Merey from Whitby, Ontario, noted in 2015 that information about her is extremely spotty.
October 3, 2018
Ray McGinnis
References:
"Reviews of New Singles: Moderate Sales Potential," Billboard, July 7, 1962.
"American Bandstand," September 6, 1962.
"Early Girls Vol 2," All Music.com.
Tapio's Ronnie James Dio Pages, "Early Ronnie James Did Tour Dates," rio.net.
June Bundy, "Vox Jox," Billboard, October 27, 1962.
Andy Merey, "Six regional hits in Canada from the '50s and '60s from Whitby's Andy Merey," Durham Region.com, September 10, 2015.
"Spotlight Singles of the Week," Billboard, November 24, 1962.
Mail Wollen, "How To Forgive," New York Times, February 16, 2018.
"C-FUNTASTIC FIFTY," CFUN 1410 AM, Vancouver, BC, August 4, 1962.
For more song reviews visit the Countdown.