#472: Too Late To Worry by Babs Tino
Peak Month: July 1962
11 weeks on Vancouver's CFUN chart
Peak Position #4
1 week Hit Bound
Peak Position on Billboard Hot 100 ~ did not chart
YouTube.com: "Too Late To Worry"
There is next to nothing online to be found about Babs Tino. She was from Philadelphia and composed her debut single, on Cameo Records, titled "My Honeybun" in 1957. One of the few narrative threads is found in the liner notes from the 1997 Ace Records album, Early Girls Vol. 2. The liner notes reveal: "Babs Tino had the looks and the talent but failed to get the breaks and therefore barely qualifies as a footnote to a footnote in the history books. Having made a solitary single for Cameo Records in 1957, it seems she did not record again until 1961 when she signed with Kapp Records and had six singles released between then and 1963. Owner Dave Kapp was a pillar of New York's musical establishment, a man with strongly held views on the linear alignment of musical notes in relation to pitch and tempo, and no-one got through the door at Kapp unless they could count bars and sing in tune. The best arrangers/songwriters (including Bacharach and Leiber & Stoller) were assigned to Tino's sessions but only her third single, 'Forgive me', made any sort of impression 'bubbling' under the Hot 100 for one week in 1962 and gaining a UK release."
In 1962 Babs Tino got a record deal with the Kapp label. Her debut single was "Too Late To Worry". That July Tino had a #4 hit on the C-FUNTASTIC FIFTY in Vancouver with the single.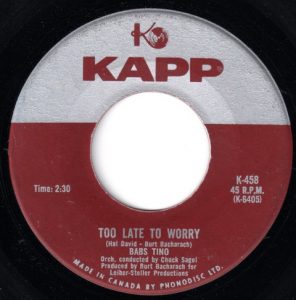 "Too Late To Worry" is a song co-written by Hal David and Burt Bacharach. The song is about someone who has crossed the threshold of commitment. They have experienced that catalyzing kiss that put them under a spell of love. There is no escape from the trajectory they are on. Now, even when friends advise them to "run away," they tell them it's "too late to worry."
Burt Bacharach was born in Kansas City, Missouri, in 1928. His father was a syndicated newspaper columnist and his family were non-practicing Jews. Starting in the late '50's, he teamed up with composer, Hal David, working in the Brill Building. They co-wrote "The Story Of My Life" which became a #1 hit for Michael Holliday in 1958 in the UK, and "Magic Moments" for Perry Como another #1 hit in the UK and #4 on the Billboard Hot 100 later that year. In 1961 Bacharach wrote "Tower Of Strength" for Gene McDaniels and "Baby It's You" for The Shirelles. Bacharach and David had a banner year in 1962 with hits that included "The Man Who Shot (Liberty Valance)" (Gene Pitney), "Make It Easy On Yourself" (Jerry Butler), "Don't Make Me Over" (Dionne Warwick) and "Only Love Can Break A Heart" (Gene Pitney).
In 1963 the Bacharach and David enjoyed more accolades with "Wishing And Hoping" (Dusty Springfield), "Blue On Blue" (Bobby Vinton), "Close To You" (The Carpenters, #1 in 1970) and "Anyone Who Had A Heart" (Dionne Warwick). 1964 continued their winning ways with "Walk On By" (Dionne Warwick) as well as their hit with Sandie Shaw. The next year they had a modest hit with "Trains And Boats And Planes" by Billy J. Kramer and the Dakotas (and also Dionne Warwick). In 1965 they had a #3 hit with Tom Jones singing "What's New Pussycat?" Other notable songwriting classics include "I Say A Little Prayer" (Aretha Franklin), "This Guys In Love With You" (Herb Alpert) and "Raindrops Keep Falling On My Head" (BJ Thomas). In the 1980's Burt Bacharach co-wrote with Carol Bayer Sager "On My Own" for Patti Labelle and Michael McDonald and "Arthur's Theme" for Christopher Cross. Both were #1 hits.
"Too Late To Worry" peaked at #4 in Vancouver (BC) and #10 in Cleveland.
Next up, she climbed to #6 with "Forgive Me" on the CFUN chart in Vancouver in August '62. She appeared on American Bandstand on September 6, 1962, to sing "Forgive Me". Though the song had made the Top Ten in Toronto, Vancouver, Springfield (MA), it didn't crack the Billboard Hot 100.
Babs Tino's stardom was short-lived. She recoreded six records with Kapp. One of these, "What's Wrong With Me and You", was written by the songwriting team of Jerry Leiber and Mike Stoller. Babs Tino was on a double-billing with Ronnie Dio and the Prophets at the Sports O Rama in Syracuse, New York, on October 11, 1962.
A Billboard article in the October 27, 1962, issue reveals that Babs Tino was from Philadelphia. Writing for the Vox Jox column, June Mundy reported, "REALLY BIG SHOWS: Veteran deejays Buddy Deane, WJZ-TV, Baltimore, and Joe Niagara, WIBG, Philadelphia, staged special shows worthy of Ed Sullivan this month…. Niagara presented a 24-hour "Hometown Spectacular," starting at 6 a.m. October 3 and running until 6 a.m. the following Thursday. More than 80 artists, all born in the Philly area, were featured, and most of them also recorded special material for airing on the program. More than 200 old hit disks were played during the 24-hour period. The Philly-born stars included Frankie Avalon, Chubby Checker, Freddy Cannon, James Darren, Fabian, Bobby Gregg, Buddy Greco, Babs Tino, Bobby Rydell, Eddie Fisher, Grace Kelly…, the Dovells… Danny and the Juniors, the Four Aces, Bill Haley and His Comets, the Sensations… and recordings by the late Mario Lanza."
In a November 24, 1962, record review in Billboard magazine, Babs Tino's "Call Off The Wedding" was given this endorsement: "Here's a mighty attractive outing for the lass. The song is nicely sung and smash backing makes it really go. Strong dance beat is evident with string and voice background." But, aside from getting on the play list in San Diego (CA) and Lincoln (NE), the song wasn't given a spin.
Her fifth single, "Keep Away From Other Girls", was successfully covered in the UK by Helen Shapiro.
Babs Tino reappeared on the CFUN pop chart in Vancouver in April 1963 with "My First Love". The single spent five weeks on the chart, stalling at #32. Elsewhere, it climbed to #13 in Grande Prairie, Alberta. She had a Top 30 hit in Endicott, New York, in the winter of '63 titled "Dr. Jekyll Or Mr. Hyde".
By the end of 1963, Tino faded into obscurity. Any web search in 2020 related to her has nostalgia buffs asking where they can find out whatever happened to her. While Andy Merey from Whitby, Ontario, noted in 2015 that information about her is extremely spotty. Presumably Babs Tino got married, took the name of her husband, and focused on a life away from the spotlight.
March 13, 2020
Ray McGinnis
References:
"C-FUNTASTIC FIFTY," CFUN 1410 AM, Vancouver, BC, July 14, 1962.
Reviews of New Singles: Moderate Sales Potential, Billboard, July 7, 1962.
American Bandstand, September 6, 1962
Early Girls Vol 2, All Music.com
Tapio's Ronnie James Dio Pages, Early Ronnie James Did Tour Dates
June Bundy, Vox Jox, Billboard, October 27, 1962
Andy Merey, Six regional hits in Canada from the '50s and '60s from Whitby's Andy Merey, Durham Region.com, September 10, 2015
Spotlight Singles of the Week, Billboard, November 24, 1962.
Richard Barber, Burt Bacharach at 88: 'Why Would I Ever Want To Stop?', Telegraph, London, UK, June 10, 2016
Richard Williams, Hal David Obituary: Lyricist Behind Some of the Greatest Pop Hits of the 20th Century, Guardian, September 2, 2012
For more song reviews visit the Countdown.