#789: Fourteen Karat Gold by Don Cherry
Peak Month: September 1957
10 weeks on Vancouver's CKWX chart
Peak Position #10
Peak Position on Billboard Hot 100 ~ did not chart
YouTube.com link: "Fourteen Karat Gold"
Lyrics: "Fourteen Karat Gold"
In 1924, Donald Ross Cherry was born in Wichita Falls, Texas. After high school he was already winning golf championships in the summer of 1941. But once America entered World War II, he was drafted into the Army-Air Corps. In 1946, he returned to golf and as an amateur won over ninety trophies in nine years. At night he began to perform in front of audiences singing popular songs of the day. He got noticed and by 1950 had a recording contract with Decca Records. Credited to the Victor Young Orchestra, Don Cherry's vocal on "Mona Lisa" (a bigger hit for Nat King Cole) led to more attention. He recorded a 1927 hit titled "Thinking Of You" that was featured in the 1950 Tin Pan Alley film, Three Little Words. Cherry scored his second Top Ten hit as "Thinking of You" climbed to #4. The following year Don Cherry charted two more singles into the pop charts.
While he continued to perform in night clubs alongside Peggy Lee and others, he took a three year break from releasing records and focused on his golf. Cherry's reputation as a stellar amateur golfer made him a household name not only as a recording artist, but as a golfer. In 1955, Don Cherry had his biggest selling record, titled "Band Of Gold". The song was about the wedding ring being a sign of fidelity and devotion.
On October 2, 2015, Don Cherry's spouse, Francine Cherry, replied to an email I sent. She wrote me to clarify "The reason for doing "Fourteen Karat Gold" was the record Company thought that it was appropriate because of Don's hit "Band Of Gold". The lyrics to "Fourteen Karat Gold" were a clear deviation from the message contained in "Band Of Gold".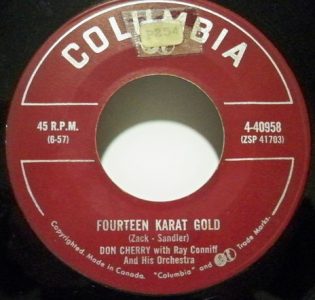 "Fourteen Karat Gold" is a song about a burning flame of love that is kindled between a woman who is married and wears a wedding ring of fourteen karat gold, and a man who fancies her. Well, actually, the lyrics tell us he has a powerful attraction to her. A chain of steel and a wall of stone can't keep him from her. Before he met her, his heart was sitting on a shelf. It's clear that an affair unfolded. We learn that he feels he's "to blame" for "loving much too bold." It would seem that the affair was found out. And, taking responsibility for what's unfolded he says "I'm ready now to pay the price." The lesson he draws for the listener is "if there's a ring upon her finger, never fan the flame."
"Fourteen Karat Gold" was recorded by Hank Locklin and Don Cherry in 1957. The tune was co-written by a one composition wonder named Sy Sandler, and Eddie Zack. Edward Zackarian was born in 1922 and his parents were from Armenia. In 1939, when he was 17 years old, Eddie got introduced to country & western music. He headed up a band that included his younger brother, Richard, known as "Cousin Ritchie." They were known as Eddie Zack & The Dude Ranch Cowboys. Eddie played fiddle and sang. Ritchie played guitar and sang. Other bandmates played Hawaiian guitar and banjo. When both brothers were drafted into the United States Marines that band folded. After World War II, Eddie and Ritchie left the Marines and in 1947 formed a band in their home town of Providence, Rhode Island. The band was named Eddie Zack & His Dude Ranchers. In time, their sisters, Marilyn and Baby joined the band. For ten years, into the late 1950's, they had their own radio show on WHIM in Providence. Initially, in 1949, Eddie Zack & His Dude Ranchers, recorded on their own independent record label. They got a contract with Decca Records in 1950. The band released 13 singles with Decca. They switched labels in 1953 and recorded until 1957 with Columbia. Their band recorded the song Eddie Zack penned, "Fourteen Karat Gold," in May 1956, for Columbia Records. Columbia also had a record contract with Don Cherry.
In June 2018, fourteen karat gold is worth $24.16 per gram in US funds. Checking Macy's online in June 2018, they have 14k gold rings on sale for $1,000 US funds. Over at War-Mart, there are 14k gold rings starting at $99.
Eddie and Ritchie Zack continued to perform over the decades while being car salesmen. Beginning in the 1960's, the band was a regular feature on The Hayloft Jamboree. The NBC syndicated TV show out of New England kept the band on its roster into the 1980's. Eddie Zach & His Dude Ranchers were a western-country-bluegrass-hillbilly- rockabilly band. They were inducted into the Rhode Island Music Hall of Fame in 2013.
Country & Western singer, Hank Locklin, had a minor country radio hit with "Fourteen Karat Gold" in January 1957. Later in the summer of 1957, Don Cherry's version of "Fourteen Karat Gold" climbed to #10 in Vancouver, #26 in Houston and #33 in San Antonio (TX).
With the onslaught of Rock 'n Roll, Don Cherry was one of many traditional pop recording artists whose success on the pop charts plummeted. However, Don Cherry continued to perform at night clubs. As well, he performed so well at numbers of Masters Tournaments, the U.S. Open, and other golf championships, that he became a golf pro in 1962. Don Cherry's mix of show business and sports earned him the friendships of Frank Sinatra, Arnold Palmer, Dean Martin, Jack Nicklaus, Don Rickels, Buddy Hackett and Sam Snead, among others.
In 1967, Don Cherry moved to Las Vegas and began decades of performances on the stages of The Aladdin, The Sands, The Golden Nugget, The Dunes, The Tropicana, The Hilton and especially The Desert Inn. Don Cherry's son, Stephen Patrick Cherry, was an equity broker for Cantor Fitzgerald. He died in the North Tower of the World Trade Center on September 11, 2001. More recently, Don Cherry collaborated with Willie Nelson in releasing an album in 2007 titled It's Magic.
June 8, 2018
Ray McGinnis
References:
Xavier M, Eddie Zack, Cousin Ritchie & The Dude Ranchers – Providence, RI. Hillbilly and Rockabilly, Bopping.org, July 1, 2015.
Eddie Zack & the Hayloft Jamboree, Rhode Island Music Hall of Fame, 2013.
Email from Francine Cherry to Ray McGinnis, October 2, 2015.
Cherry, Don and Daniels, Neil T. Cherry's Jubilee: Singin' and Swingin' Through Life with Dino and Frank, Arnie and Jack. (Triumph Books, Chicago, 2006).
Donald Ross Cherry (Biography), Lone Starr Music.com.
Mark Mayer, "Going Out: Don Cherry has been Called 'the Best Singer Ever to Play Golf,'" Gaming Today, Las Vegas, October 18, 2011.
Remembering September 11, 2001: Stephen Patrick Cherry, Legacy.com.
"Top 50 Songs For the Week," CKWX 1130 AM, Vancouver, BC, September 29, 1957.
For more song reviews visit the Countdown.