#1225: Friends Forever by Candi & The Backbeat
Peak Month: July 1991
9 weeks on Vancouver's CKLG chart
Peak Position #16
Peak Position on Billboard Hot 100 ~ did not chart
YouTube: "Friends Forever"
In the mid-80s, Candita Pennella fronted an Italian wedding band in Toronto named Sensation. Her nickname was Candi. The band consisted of bass player Nino Milazzo, drummer Paul Russo, keyboard player Rich Imbrogno and singer Candita Pennella. The band decided to change their name to Candi. They recorded an album in 1988 titled Candi. They released a single titled "Dancing Under A Latin Moon," which made the Top 30 across Canada on the RPM singles chart and #68 on the Billboard Hot 100. Several follow up singles made the pop charts in Canada. Among these, "Missing You" and "Love Makes No Promises" made the Top 30 on the CKLG charts in Vancouver in early 1989.
Another song, "Under Your Spell", missed the pop charts in Vancouver. However, "Under Your Spell" was nominated for Song of the Year at the 1990 JUNO awards. Pennella was nominated for Female Vocalist of the Year in 1990 and again in 1991. In 1990 she lost to Rita MacNeil, and in 1991 she lost out to Celine Dion. To avoid the confusion that she was a solo act, the band revised its name from Candi to Candi And The Backbeat.
With a second album, they released the single, "The World Just Keeps On Turning". "The World Keeps Turning" was nominated for a JUNO award in 1991 for Best Dance Recording. The song peaked at #10 in Hamilton and #13 in Vancouver. Candita Pennella was compared to Gloria Estefan and Madonna with Candi And The Backbeats slightly Latin infused rhythms and vocal phrasing. Another single, "Good Together", climbed to #8 on the CKLG charts in the spring of 1991.
A followup single, "Friends Forever", climbed into the Top 20 in Vancouver in the summer of '91.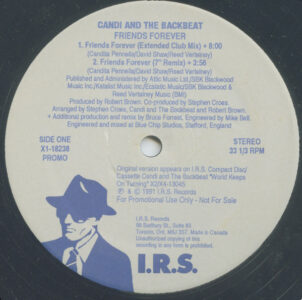 "Friends Forever" was cowritten by Candita Pennella, David Shaw and Reed Vertelney. David Shaw was a producer and marketing consultant with Warner Bros. Records from 1986 to 1991. From 1991 to 1994 he switched to Columbia Records where he was a Senior Director, and Artist & Repertoire "man." In addition to providing backing vocals on "Friends Forever", Reed Vertelney has contributed keyboards and drum programming on recordings for Luther Vandross, Evelyn "Champagne" King, and Kenny Lattimore. Vertelney has also written songs recorded by Smokey Robinson, Patti Austin, Donny Osmond, David Cassidy, Gladys Knight, The Three Degrees, Michael Jackson, Destiny's Child, and Luther Vandross.
"Friends Forever" is a song about two people who, though they may get romantically involved, will be friends forever. After all, at a certain time in ones' life people can get too busy balancing a new career.
In an article in the Guardian, Mark Vernon writes that "We expect marriages to get rocky and families to provoke pain. But friends tend to be presented in a mostly happy light: think Sex and the City, or Friends. Bumps and scrapes between Samantha and Charlotte are in the plot but only so they might be resolved. Lovers come and go. Friends remain. This idealisation does not help us in real life, where friendships do not just have entertaining ups and downs, but disturbing fights and bitter endings."
The Guardian article cites research by the British Mass Observation Project, which analyzed how friendship, when it goes wrong, can challenge one's sense of self and even produce ontological insecurity. Friendship, it is argued, is tied into the process of self‐identification and so staying true to friends, even when the relationships becomes uneven or tiresome, can be a sign of ethical standing. Researcher, Professor Carol Smart concluded with her team that some friends can be dumped quite easily. These are "simple friendships" with people we get together for fun times. So when the fun ceases the relationship is discarded or drifts away. But with "complex friendships," it is different. These are friends who we were close with, and may have even considered soulmates. A breakup with one of these friends is more disturbing.
German philosopher Friedrich Nietzsche had firsthand experience of a bitter ending of a friendship, when things went south with German composer Wilhelm Richard Wagner. In 1873 Nietzsche became friends with Paul Rée, a philosopher of Jewish origin whose thinking was heavily influenced by Charles Darwin. While Wagner made it clear he was distrustful of Jews. Later in 1876 Nietzsche and Rée found themselves staying in Sorrento at the same time as the Wagners. They spent quite a lot of time together, but there is some strain in the relationship. Wagner warned Nietzsche to be wary of Rée on account of his being Jewish. On November 5, 1876, Wagner and Nietzsche visited one final, tense, time. Over the next few years, through their correspondence, they became personally and philosophically estranged.
When his friendship with Wagner imploded experience, it led Nietzsche to coin the metaphor of a "star friendship." Nietzsche philosophized that stars are distant, like the friendships of years gone by. They look bright, as you think about the good times you had. But the wonderful thing about stars is that they don't cast a shadow over you now. So too might an old friendship that once was reciprocal and engaging, but now broken. Without such a metaphor, it can be difficult to arrive at a place where a broken friendship doesn't cast a shadow of lingering affliction, betrayal, bitterness or loss. But thinking of a former friend as a star, we can realign our perspective. It is then possible to hope that in the future you will wake up and perceive that the friendship is over; And finished. Hopefully, you can see that the past friendship was good for the most part, while it lasted. And even if it ended abruptly, all will be well. Now you have space to make new friends, or hang out with those who you're still friendly with.
In an article in Cosmopolitan, Julia Pugochevsky writes about 11 signs you'll stay friends forever.
1) Both friends have to be reciprocal in making plans to get together. Dr. Irene S. Levine from NYU School of Medicine comments: "Two friends have to feel like they are equally deserving of, and equally invested in the friendship."
2) You don't disappear on your friend. Even if you are falling in love with someone, or you have a very busy work schedule – you will generally be intentional about staying in touch with your best friend.
3) You both feel really listened to – you are in synch with knowing when it is important to stop everything and hear about a rough patch your friend is going through and cut the small talk.
4) You are able to keep your jealousy in check – even if your best friend got an amazing promotion for a new job.
5) You are keenly aware when your best friend is feeling down – Dr. Levine comments that "The person who is having a wild stroke of luck needs to be sensitive to their friend's misfortunes."
6) Requests for help are distinct from asking your friend to be a "therapist." Dr. Irene Levine comments that "Helping a dear friend, who would help you if needed, doesn't feel like a sacrifice. But if a friend is exceptionally needy and constantly demanding, that can begin to feel like a drain. Your friend can't be your therapist or counselor."
7) You express hurt in a really healthy way – Dr. Levine comments "Friends need to be able to feel open enough to discuss their feelings. When someone feels hurt, they shouldn't allow little hurts to snowball into big ones."
8) You give kind criticism, and only when actually necessary. Julia Pugachevsky comments "If you have a BFF who says 'edgy'-but-mostly-hurtful things about you under the caveat of 'I just tell it how it is,' They. Are. Not. A. Friend."
9) You don't get all of your other friends to help you gang up on your best friend when you are having a conflict.
10) You do new things together to bring yourself closer. Friendships that last involve doing things that are enjoyable and novel. You don't create a habit of being bored with one another.
11) You adjust to whatever life changes unfold. People move locations, get involved in new relationships, start new careers, retire early… Lasting friendships find ways to roll with these changes and enjoy the adventure your best friend is on as they shift things.
Candi and the Backbeat's "Friends Forever" climbed to #16 in Vancouver (BC) and #28 in Hamilton (ON). The single peaked at #38 on the Billboard Dance chart.
Candi Pennella had a voice that resembled that of Madonna. But in 1992 Candi left the music industry and got married to her drummer, Paul Russo. Since she left the music industry, Pennella went on to become a public school teacher in Toronto, having over two decades of teaching under her belt.
September 25, 2021
Ray McGinnis
References:
David Ball, "This Week in Music History: February 18 to 24," Canadian Music Hall of Fame, February 20, 2013.
"Candi And The Backbeat," The Isle of Failed Pop Stars, November 24, 2009.
Mark Vernon, "Lovers Come and Go. Friends Remain for Ever. That's the Myth, Anyway," Guardian, May 5, 2012.
Emrys Westacott, "Why Did Nietzsche Break With Wagner?," Thoughtco.com, March 4, 2019.
Julia Pugachevsky, "11 Signs You'll *Actually* Be Friends Forever: Put Your Best Friendship to the Test," Cosmopolitan, June 29, 2018.
"Reed Vertelney," discogs.com.
"CKLG Top 40," CKLG 730 AM, Vancouver, BC, July 2, 1991.
For more song reviews visit the Countdown.