#360: Games Without Frontiers by Peter Gabriel
Peak Month: September 1980
8 weeks on Vancouver's CKLG Chart
Peak Position ~ #3
Peak Position on Billboard Hot 100 ~ #48
YouTube.com: "Games Without Frontiers"
Lyrics: "Games Without Frontiers"
Peter Brian Gabriel was born in 1950 in Surrey, UK. He learned to play piano and drums in his childhood. In 1965, at the age of 15, Gabriel became part of a trio rock band called Garden Wall. The bandmates were all from the Charterhouse School, a public school in Surrey housed in a Carthusian monastery. In 1967 Garden Wall merged with two members of another band from the same school to form Genesis. The new band sought fellow school alumnus, pop singer Jonathan King, to be their producer. King got Genesis a record deal with Decca Records. But the band's first album, Genesis to Revelation, was stocked in the 'Religious' record section of most stores given the title. Consequently, it sold only in the hundreds of copies.
Genesis went through several lineup changes and after releasing their second album in 1970, a more permanent lineup was achieved with Gabriel, Banks and Rutherford welcoming drummer and percussionist Phil Collins and guitarist Steve Hackett. In 1973 Genesis had their first Top Ten selling album, Selling England by the Pound, which peaked at #3 in the UK and #4 in Italy. But by 1975 Peter Gabriel left the band for a solo career, and Phil Collins became the frontman. Genesis went on to have international success as a progressive rock band. From 1978 with "Follow You Follow Me", they enjoyed repeated visits to the Top Ten singles charts in many countries. Among their hits were "No Reply At All", "Misunderstanding", "Man On The Corner", "Paperlate", "Invisible Touch", "In Too Deep", "Land Of Confusion" and more.
Meanwhile, Peter Gabriel had a Top 20 hit on the UK singles charts in 1977 with "Solsbury Hill". In 1980 Gabriel released an album titled Peter Gabriel 3, with the lead single titled "Games Without Frontiers".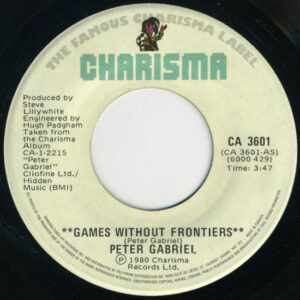 "Games Without Frontiers" is a song about the World Olympic Games and about how the countries act towards each other during them. In Gabriels' official video of the song, there is a formal dinning table. The dinner guests are all children, with plates of ice cream and cake. In the center of the table is a rectangle of dark glass which becomes a video screen showing black and white footage of pole vaulters in a mid-20th Century Olympic Games. Gabriel wrote this song prior to the US boycott of the Moscow Olympics in 1980. The boycott happened to reinforce the theme in the video of adults acting like children over the Olympics. This was not the first time the Olympics had been boycotted by the US or by other countries because the location of the games had been in some country whose politics were objectionable.
Gabriel got the idea for the title from a 1970s European game show of the same name where contestants dressed up in strange costumes to compete for prizes. A version of the show came out in England called "It's a knockout," giving him that lyric.
The video includes film clips of Olympic events and scenes from the 1950 educational film Duck and Cover, which used a cartoon turtle to instruct school kids on what to do in case of nuclear attack, as if to say that the countries and their athletes being in close proximity to each other during these 2 weeks was like "the end of the world.
Part of the song goes: "Andre has a red flag/ Chiang Ching's is blue/They all have hills to fly them on except for Lin Tai Yu…" Andre could refer to Andre Malraux (1901-1976) the French statesman and author of the book Man's Fate, about the 1920s communist regime in Shanghai. Red flag may refer to Malraux's leftist politics. Chiang Ching could refer to Chiang Kai-shek (1887-1975) Chinese leader of the Kuomintang who opposed the Communists – hence, the rightwing Blue Flag. Chiang's forces lost the civil war in 1949 and fled to Taiwan, where they set up a government in exile. Lin Tai Yu may be Nguyen Thieu (1923-2001), South Vietnamese president during the height of the Vietnam war. After the Communist victory of 1975, Thieu fled to Taiwan, England, and later to the United States where he died in exile. The lyric could refer to the fact that while leftist politicians like Andre Malraux had a secure position in France, and rightist leaders like Chiang Kai Shek had a secure country in Taiwan, those caught in the middle like Nguyen Thieu were pawns in the Cold war and had no secure country.
"Adolf burns a bonfire…" refers to Adolf Hitler. The phrase references the 1936 Olympic Games in Germany where Hitler desperately wanted to demonstrate the superiority of the Aryan race. At t the '36 Games, Hitler refused to shake the hand of Jesse Owens, a black man, who set Olympic history in the presence of der Fuhrer, and who found himself more insulted by FDRs lack of White House invitation than the absence of Hitler's congratulatory handshake on the Games' winners' podium. The line "…Enrico plays with it," refers to Italian physicist Enrico Fermi. He was known for his accomplishments on developing the first nuclear reactor. Fermi won the 1938 Nobel Prize for Physics for his work on induced radioactivity. The bonfire that Fermi plays with is very explosive.
Gabriel commented in an interview, "I just began playing in a somewhat light-hearted fashion – 'Hans and Lottie…' – so it looked, on the surface, as just kids. The names themselves are meaningless, but they do have certain associations with them. So it's almost like a little kids' activity room. Underneath that, you have the TV program [and the] sort of nationalism, territorialism, competitiveness that underlies all that assembly of jolly people."
The refrain goes "If looks could kill, they probably will/In games without frontiers/War without tears." Here, Gabriel is commenting on the razor's edge of geopolitics in the late 20th century. The Cold War between the United States and the Soviet Union slouched into its fourth decade. The nuclear powers had men in charge of the fate of the world as they talked about "deterrence" and "mutually assured destruction."
A tag at the end of the the refrain – "Jeux sans frontiers" – drifted across the song with Kate Bush on backing vocals. Because most radio listeners presumed a British singer to write English lyrics, they didn't guess that Kate Bush was singing "Jeux sans frontiers." Instead, they thought "jeux" was the English word "she." Proceeding from that premise, most people thought Kate Bush was singing "She's so popular?" It's another example of misheard lyrics. The literal translation of the French "jeux sans frontiers" is "games without borders." Adding to the mixup, a reason why "Jeux sans frontieres" sounds like "She's so popular" is that Kate Bush totally mispronounces the phrase. It should sound a little like "joo sahn frontYAIR", but he said "Joo san FRON-tee-errs," straying from what the phrase sounds like in French.
Kate Bush (Catherine Bush by birth) was born in 1958 in SouthEast London. She grew up in a farmhouse in East Wickham, in the county of Kent. Growing up, she learned piano, organ and violin. While still 16-years-old, Bush got a record contract with EMI and recorded over 200 demos. Her debut album, The Kick Inside, featured her single "Wuthering Heights", which shot to number-one in Australia, Ireland, Italy, New Zealand and the UK. It was also a Top Ten hit in Belgium, Denmark, Finland, the Netherlands, Norway, Spain, Sweden and Switzerland.
Two more Top Ten hits in the UK made the singles chart by 1980: "The Man with the Child in His Eyes" and "Babooshka". As well, her third studio album in three years put Kate Bush in the spotlight. And so, Peter Gabriel's choice of Kate Bush to sing "jeux sans frontiers" added a buzz among the music critics. Her biggest international hit was in 1985 with "Running Up That Hill". And in 1987 she had a solo spot in the Ferry Aid cover of the Beatles "Let It Be". Over the decades Kate Bush has had seven singles reach the Top Ten on the UK charts. The most recent is a re-mix of "Running Up That Hill" in 2012.
"Games Without Frontiers" peaked at #2 in Ottawa (ON), #3 in Vancouver (BC) and Regina (SK), #5 in Chicago and Montreal, #6 in Hamilton (ON) and Fredericton (NB), and #7 in Toronto. Internationally, the single peaked at #1 in Port St. Johns (Transkei), and #10 in Brisbane (Australia).
In 1981 Peter Gabriel released "Biko", an anti-apartheid eulogy protesting the death of South African Black Consciousness activist Stephen Biko. The song was banned in South Africa. In 1985 Gabriel contributed the song "No More Apartheid" to the Sun City Artists United Against Apartheid album.
In 1982 he released the album Peter Gabriel IV. A single from the album titled "Shock The Monkey" peaked at #1 in Winnipeg (MB), #2 in Toronto, #3 in Ottawa (ON), #6 in Hamilton (ON), #9 in Montreal and #10 in San Francisco. The single didn't chart in Vancouver, and stalled at #29 on the Billboard Hot 100. However, "Shock The Monkey" earned Peter Gabriel a Grammy Award nomination for Best Rock Vocal Performance, Male.
On August 9, 1983, Peter Gabriel opened for David Bowie in concert at BC Place Stadium in Vancouver. In 1985 the film Birdy was released with the soundtrack composed by Peter Gabriel.
In 1986 Peter Gabriel released his So album. The debut single was "Sledgehammer". It soon became a Top Ten international hit, peaking at #1 in Canada and the USA. The song won nine MTV Awards in 1987. A duet from the album with Kate Bush titled "Don't Give Up" was a Top Ten hit in the UK, Ireland, the Netherlands and Australia. Other singles from the album included "Big Time" and "In Your Eyes". The latter track was included in the 1989 comedy-teen drama Say Anything.
In 1988 the soundtrack for the film Passion: The Last Temptation of Christ was released together with the film The Last Temptation of Christ. Gabriel received a nomination for Best Original Score at the Golden Globes. While the Grammy Awards in 1990 gave Peter Gabriel an award for Best New Age Album for Passion. Peter Gabriel also had numbers of his songs featured on episodes of Miami Vice.
In 1988 Peter Gabriel joined Bruce Springsteen, Sting, Tracy Chapman and Youssou N'Dour on a 26-concert Human Rights Now! tour for Amnesty International. This was one of four Amnesty International tours Peter Gabriel took part in between 1986 and 1998. Some of these were to raise awareness about human rights and the work of Amnesty International, and others were fundraising tours.
In 1992 Peter Gabriel released his sixth studio album titled Us. The first single from the album was "Digging The Dirt". His second single release was "Steam". In 1994 "Steam" won Peter Gabriel a Grammy Award for Best Music Video and a Grammy nomination for Best Solo Rock Vocal Performance. As well "Steam" earned two MTV Video Music Awards in 1993 for Best Visual Effects and Best Editing. Gabriel was also nominated at that event for Best Male Video. Meanwhile, Us earned Peter Gabriel a Grammy Award nomination for Best Pop Vocal Performance, Male; and "Digging The Dirt" earned him three Grammy Award nominations, from which he won in the Best Music Video Short Form category.
In 1996 Peter Gabriel a Grammy Award for Best Music Video Long Form for Secret World Live. This was for a film made about one of his 1993 concerts.
Since early '90s, Peter Gabriel has not had any notable hit singles on the pop charts. Over the years Peter Gabriel has contributed tracks to more films including the soundtrack to Long Walk Home: Rabbit-Proof Fence, Against All Odds, Philadelphia, Strange Days, WALL-E, Natural Born Killers, Gremlins, Babe: Pig in the City, The Wild Thornberrys Movie and Snowden. From WALL-E, Peter Gabriel won two Grammy Awards: Best Instrumental Arrangement, and Best Song Written Specifically for a Motion Picture or Television. In 2017 Gabriel received a Grammy Award nomination for Best Song Written Specifically for a Motion Picture or Television for "The Veil" in Snowden. The Oliver Stone movie was about the CIA whistleblower Edward Snowden, who released classified information about massive surveillance conducted by the National Security Agency (USA).
In 2006 Peter Gabriel was awarded the Man of Peace award by the Nobel Peace Laureates for his humanitarian work. He's released six live albums and nine studio albums. Peter Gabriel's most recent album, Growing Up Live, was released in 2019. In the summer of 2016, Peter Gabriel and Sting toured the USA and performed in Toronto, Calgary and Edmonton (AB).
January 18, 2021
Ray McGinnis
References:
Steve Pond, "Peter Gabriel Hits the Big Time," Rolling Stone, January 29, 1987.
"Peter Gabriel's Concert History," concert archives.org.
Jim Beviglia, "Behind the Song: Peter Gabriel, 'Games Without Frontiers'," American Songwriter.com, June 2020.
Dorian Lynskey, "Peter Gabriel on 30 Years of Womad – and Mixing Music with Politics," Guardian, July 26, 2012.
"First Watch: Peter Gabriel 'The Veil'," NPR, September 14, 2016.
Graeme Thompson, "'I'm Glad my Adolescent Fantasies Were Explored to Some Extent': How Fame Hit Peter Gabriel Like a Sledgehammer," Daily Mail, London, UK, March 14, 2014.
Andy Greene, "Q&A: Peter Gabriel Reflects on His 1986 Landmark Album 'So'," Rolling Stone, September 4, 2012.
Simon Reynolds, "Kate Bush, the Queen of Art-Pop who Defied her Critics," Guardian, 2014.
"Vancouver's Official Top 20," CKLG 730 AM, September 17, 1980.
For more song reviews visit the Countdown.