#600: Generals And Majors by XTC
Peak Month: December 1980-January 1981
11 weeks on Vancouver's CFUN chart
Peak Position: #6
Peak Position on Billboard Hot 100 ~ #103
YouTube.com link: "Generals And Majors"
Lyrics: "Generals And Majors"
Colin Ivor Moulding was born in 1955 in Swindon, England. Moulding is self-taught as a bass player; he was learning rock riffs at the age of 15. Terry Peter Chambers was born in 1955 in Swindon. At age 14 he bought a drum kit and learned to play drums. Andrew John Partridge was born in Malta in 1953. He grew up in Swindon and wrote his first song at the age of 15. In 1970 he formed a band called Stiff Beach, which by 1972 was a four-piece band renamed Star Park. Colin Moulding and Terry Chambers both joined Star Park in 1972. The band opened for Thin Lizzy in 1973. Subsequently, the renamed their band the Helium Kidz. The UK pop music magazine, New Musical Express, wrote an article about them. Swindon, in Wiltshire, England, was known for several other notable musicians including Justin Hayward of the Moody Blues, Gilbert O'Sullivan ("Alone Again Naturally"), late 90s UK pop singles chart topper Billie Piper ("Because We Want To", "Girlfriend"), and Josh Kumra who provided vocals on the #1 UK single, "Don't Go" with Wretch 32 in 2011.

As the Helium Kidz, the band was shaped by the music and style of the New York Dolls, especially their 1973 hit "Jetboy". The Helium Kidz fused the early punk rock scene with glam rock. After getting Barry Andrews to join them on keyboards, they renamed themselves in 1976 as XTC.
When XTC emerged on the scene with their 1978 White Music studio album they offered listeners a art-rock band with vocal phrasing and synthesizer riffs woven into a proven pop music formula successfully championed by groups like the Beatles, Kinks and Small Faces. Both Andy Partridge and Colin Moulding were excellent songwriters. Between 1979 and 1992 XTC charted 18 songs on the UK singles chart, though only "Senses Working Overtime" cracked the UK Top Ten. XTC, like Human League and Gary Numan, were more accessible than other British New Wave art-rock bands Joy Division, Cabaret Voltaire and Scritti Politti.
Asked about how they understood themselves, Andy Partridge said, "I'd like to be considered in the tradition of bands like the Kinks and Small Faces when bands weren't quite naive, but they had a sort of group feeling about them and were gently experimental and psychedelic within pop song formats. It was like they had this little round soap bubble which was the pop single and they just sort of pushed it slightly out-of-shape with experimentation. Perhaps it was a little bit of studio phasing or double-tracking or some other new technique of the time."
In the fall of 1979 XTC released "Making Plans For Nigel". In early 1980, while "Making Plans For Nigel" was on the pop charts in Vancouver, XTC gave two concerts at the Commodore Ballroom on March 1st and 3rd, 1980. On October 27, 1980, XTC performed in concert in Vancouver at the Pacific Coliseum.
XTC released four singles that missed the pop charts in the UK. But their fifth single release in April 1979, "Life Begins At The Hop", expanded their fan base, including over in Canada. "Life Begins At The Hop" climbed to #12 in Vancouver in April 1980. XTC made several more appearances on the Vancouver pop charts. One of these was in the winter of 1980-81 with "Generals And Majors".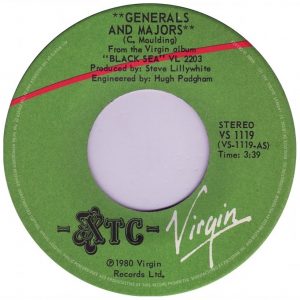 The music video shows the band playing servers and a group of men in military uniforms, one of them is UK business magnate and owner of Virgin Records, Richard Branson, driving a Go-kart and jumping on an inflatable bouncy castle. Andy Partridge recalled, Branson was featured in the music video "because he's a complete publicity hog. … he decided he was gonna turn up and keep suggesting that he be in the video. That is the worst video ever made by man."
When "Generals And Majors" was recorded, guitarist, keyboard player and vocalist Dave Gregory became a fourth member of XTC. Gregory replaced Barry Andrews in 1979.
"Generals And Majors" is a song inspired from the song title "Oh, It's A Lovely War." The song originates in 1917 from British Music Hall song "Oh, It's A Lovely War!". It was popularized by British male impersonator Ella Shields. The lyrics are as follows:
Up to your waist in water, up to your eyes in slush,
Using the kind of language that makes the sergeant blush.
Who wouldn't join the army? That's what we all inquire.
Don't we pity the poor civilians sitting beside the fire.
Chorus
Oh! Oh! Oh! it's a lovely war,
Who wouldn't be a soldier eh?
Oh! It's a shame to take the pay.
As soon as reveille is gone, we feel just as heavy as lead.
But we never get up till the sergeant brings our breakfast up to bed.
Oh! Oh! Oh! it's a lovely war!
What do we want with eggs and ham, when we've got plum and apple jam?
Form fours! Right turn! How shall we spend the money we earn?
Oh, oh, oh, it's a lovely war.Chorus
Oh! Oh! Oh! it's a lovely war,
Who wouldn't be a soldier eh?
Oh! It's a shame to take the pay.Come to the cook-house door, boys, sniff at the lovely stew.
Who is it says the colonel gets better grub than you?
Any complaints this morning? Do we complain? Not we.
What's the matter with lumps of onion floating around the tea?Chorus
The World War 1 song, "Oh! It's A Lovely War" inspired a the 1963 London stage play musical Oh, What A Lovely War. The play went premiered on Broadway in 1964, was adapted for the 1969 British film of the same name. The film's cast included Wendy Allnut, Malcolm McFee, Maggie Smith, Corin Redgrave, Vanessa Redgrave, Susannah York and John Gielgud. Mary Wimbush was nominated for a Best Supporting Actress BAFTA Award for her role as Mary Smith. And Sir Lawrence Olivier won the Best Supporting Actor BAFTA Award for his role as Field Marshall Sir John French.
"Generals And Majors" peaked at #6 in Vancouver. It climbed to #18 in Ottawa and Toronto, and #29 at WLS in Chicago. However, it failed to crack the Billboard Hot 100, stalling at #104. The lyrics of the song describe military leaders, "generals and major" as living in a world of their own. They're never happy unless they have a war to fight. When they have no war to fight they are unhappy, and "tired of being action less." According to the song, the only thing that temporarily gets military men to come down to earth is the lived experience of losing a battle or making a case to go to war. When generals and majors are "in the shade" they get restless for battle.
"Generals And Majors" raises an issue that is a problem for any democracy with a standing army. When there is a yearly budget for Defense, there is always pressure from the military to increase the budget to buy new weapons. Being battle ready, at some point, optimally provides newer recruits with a real live war to fight so another generation of soldiers, sailors and airmen can pass on their experience to the ones coming after them. "Generals And Majors" tells us that being around others who have "made the grade", fought a war, makes the ones who haven't restless for a firsthand experience.
For most citizens, having a military is intended to respond to the actions of an aggressor. However, history teaches that there are times when a nation goes to war after falsely alleging the aggression of another. In August 1939, Adolph Hitler accused Poland of attacking Germany. On August 31, 1939, "Nazi S.S. troops wearing Polish uniforms staged a phony invasion of Germany, damaging several minor installations on the German side of the border. They also left behind a handful of dead German prisoners in Polish uniforms to serve as further evidence of the alleged Polish attack, which Nazi propagandists publicized as an unforgivable act of aggression."
On March 19, 2003, United States President George W. Bush accused Iraq of attacking the United States on September 11, 2001, and of having weapons of mass destruction. The day before he failed to get a resolution passed at the United Nations authorizing a war against Iraq. The Washington Post published an article headlined "Bush Clings to Dubious Allegations About Iraq." The paper reported, "As the Bush administration prepares to attack Iraq this week, it is doing so on the basis of a number of allegations against Iraqi President Saddam Hussein that have been challenged—and in some cases disproved—by the United Nations, European governments and even U.S. intelligence reports." Vice-President Dick Cheney also alleged Iraq was responsible for the anthrax attacks. The Iraq War has since been largely viewed as a preemptive war and part of the military and foreign policy "doctrine" of President Bush. If a threat was perceived, regardless of whether the threat was substantiated or not, a nation's leader could declare war. When political leaders are eager to declare was it is important to have military leaders who are not like the ones described in "Generals And Majors".
XTC had several other Top 40 singles in the UK in the early '80's. But "Towers of London" and "Sgt. Rock" failed to chart in Vancouver or elsewhere in Canada. However, "Making Plans For Nigel" and "Senses Working Overtime" were both Top Ten hits in Vancouver. Between 1977 and 2005, XTC released 41 singles and 14 albums.
XTC only had one of their songs crack the Billboard Hot 100. This was "Mayor of Simpleton", which peaked at #72 in 1989. Andy Partridge in a 1981 interview in the Musician lamented, "I don't know what to think about America. We can only play here and hope. We're not an American sounding group. We don't conform to any popular American fantasies – we don't have any strains in our music that Americans like because it's their culture or recent past history, such as that country music feel. If I sat down now, I could write the kind of song that Americans like to buy. Not to say they would, but every country loves its own reflection, it's that narcissistic thing. America likes that romantic, denim cowboy – expensive and cool in their music. Our music is different. We don't live American life-styles. I want to be successful for what we are. To everyone in England, everybody in America is either John Wayne or Farrah Fawcett. For Americans, every Englishman is Terry Thomas and every woman is the Queen."
In 2006 Andy Partridge and Colin Moulding found they'd drifted apart as a creative team and Partridge told the press that XTC as a band was now "in the past tense."
May 20, 2019
Ray McGinnis
References:
Farmer, Neville. XTC : Song Stories (The Exclusive Authorized Story Behind the Music). Hyperion, New York, NY, 1998.
Looking Back to 1979, Swindonweb.com, 2014
XTC Biography, Oldies.com
"August 31, 1939: Germany prepares for invasion of Poland," History.com.
Walter Pincus and Dana Milbank, "Bush Clings To Dubious Allegations About Iraq," Washington Post, March 18, 2003.
Roger Ebert, Oh, What A Lovely War Movie Review, October 30, 1969.
"XTC ~ Canada concert dates," Setlist.fm.
"CFUN Top 30," CFUN 1410 AM, Vancouver, BC, January 3, 1981.
For more song reviews visit the Countdown.