#733: Golly by The Four Lads
Peak Month: June 1957
16 weeks on CKWX's Vancouver Chart
Peak Position: #14
Peak Position on Billboard Hot 100 ~ did not chart
YouTube: "Golly"
The Four Lads are a Canadian male quartet from Toronto, Ontario. They were originally made up of Corrado "Connie" Codarini, James F. "Jimmy" Arnold, John Bernard "Bernie" Toorish and Frank Busseri. They met as members of St. Michael's Choir School. Originally, they named themselves the Otnorots (made up mostly of spelling the place name Toronto backwards. They changed their name to the Four Dukes. But after they found out a group in Detroit had the same name, then they settled on the Four Lads. They got a break when Mitch Miller noticed them when they were recruited by talent scouts to go to New York. Mitchell had them sing back-up on Johnny Ray's 1951 smash hit, "Cry", and his big follow up, "The Little White Cloud that Cried".

In 1952 they had their first Top Twenty hit in the USA with "The Mocking Bird". That same year "Faith that Can Move Mountains" climbed to #7 in the UK. The next year they had their first of eight Top Ten hit records in the USA with a novelty hit, Istanbul (Not Constantinople). Their biggest hits were the four million selling "Moments to Remember" and million selling "No Not Much". A third million seller was "Standing on the Corner". It was a song from the 1956 Broadway Musical The Most Happy Fella.
In early 1957 the Four Lads released had a Top Ten hit titled "Who Needs You". This was followed by "I Just Don't Know". In Vancouver, the B-side to this single, "Golly", also charted on CKWX.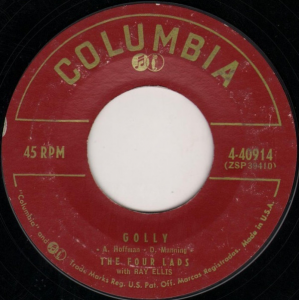 Golly, golly, golly,
when you kiss me I go right off my trolley.
Golly, whoops-a-daisy,
I go crazy when I'm with you.
I hear birds in the air
when no birds are there,
I'm willing to swear I hear bells.
That ring-ring-a-ling
whenever you cling to me.
Gosh oh golly, golly, golly,
when you kiss me I go right off my trolley.
By golly, whoops-a-daisy,
gee, how happy I'll be when you're mine.
When you hold me tight I shine like a light,
I sparkle and bubble like wine.
I feel so divine,
when your lips and mine combine.
Gosh oh golly, golly, golly,
when you kiss me I go right off my trolley.
By golly, whoops-a-daisy,
gee, how happy I'll be when you're mine.
"Golly" was the flip-side of the single "I Just Don't Know", a song that climbed to #17 on the Billboard pop charts. However, "Golly" didn't chart as a single in the USA. Yet, it climbed to #14 in Vancouver. The song was about a guy who kisses someone and he "goes right off my trolley." He hears birds in the air that aren't there, bells too. The song made it to #6 in Toronto.
The word, golly, is originally an 18th Century euphemism for God. The word connoted wonder and surprise. The sense of the word in the song, "Golly", is much the same. The fella in the song is surprised at his reaction whenever he sees his sweetheart, kisses her or holds her. Similarly, whoops-a-daisy is a phrase that connotes surprise and a slight accident. In this case, the nuance in the song reveals that the fella isn't only surprised by his reaction, but he also is knocked a little off balance by his feelings and physical reaction. And the word, gee, expresses mild admiration and surprise. It originally was a euphemistic contraction for the proper name of Jesus. All three words: golly, whoops-a-daisy and gee, are seldom used in conversation today.
One of the co-writers of "Golly" was Al Hoffman. He was born in 1902 in the Russian Empire. Hoffman co-wrote many songs from the 1930's through the 1950's. Among his first hits were "Heartaches" which he penned in 1931. The song was recorded by Ted Weems in 1933 and became a chart topper. It was covered by Harry James Orchestra in 1947 and made it to #3. In 1931, Hoffman penned "I Apologize", which became a Top Ten hit for Bing Crosby. In 1935, Hoffman had a hit record by Jack Buchanan titled "Everything Stops For Tea". The song was introduced in the 1935 musical Come Out Of The Pantry. In 1944, Al Hoffman co-wrote "Mairzy Doats", a novelty song that became a #1 hit for the Merry Macs. In 1950, Al Hoffman co-wrote a #1 hit that year for Eileen Barton titled "If I Knew You Were Coming I'd Have Baked A Cake". In 1950, Hoffman co-wrote "Bibbidi-Bobbidi-Boo", a nonsense song that appeared in the animated Disney film, Cinderella. It was nominated for the Academy Award for Best Original Song in 1951. However, it lost out to "Mona Lisa" by Nat King Cole from the film Captain Carey U.S.A. Hoffman also penned "Papa Loves Mambo" for Perry Como (1954), "Allegheny Moon" for Patti Page (1956), "Hot Diggity" for Perry Como (1956), and two hits for Jimmie Rodgers in 1958: "Oh-Oh, I'm Falling in Love Again" and "Secretly". Al Hoffman died in New York City in 1960 at the age of 57 of prostate cancer.
The other co-writer of "Golly" was Dick Manning. Also born in the Russian Empire (1912), Manning co-wrote "Papa Loves Mambo", Allegheny Moon", "Hot Diggity", "Secretly" and "Oh-Oh I'm Falling In Love Again" with Al Hoffman. Hoffman and Manning both shared Jewish roots and family history of having to leave the Russian Empire. Dick Manning's other notable songs were the "Hawaiian Wedding Song." The 1959 hit for Andy Williams was originally entitled "Ke Kali Nei Aua" (Waiting There for Thee). Manning revised and adapted the lyrics for an English-speaking audience. Dick Manning also co-wrote "Fascination", a hit for Jane Morgan in 1957. And Manning co-wrote "Morning Side Of The Mountain", a hit for Tommy Edwards in 1951.
"Golly" peaked at #6 in Toronto, #10 in Pittsburgh and #14 in Vancouver.
Between 1951 and 1958 the Four Lads had twenty-one Top 30 hits on the Billboard pop charts. Though their star was falling, Vancouver audiences landed the Four Lads ten charting singles between 1957 and the summer of 1960. With the onslaught of rock n' roll The Four Lads traditional style of pop music was overcome by new male vocal groups like The Crests ("Sixteen Candles"), The Platters ("Twilight Time"), The Coasters ("Yakety Yak"), The Drifters ("There Goes My Baby"), The Flamingos ("I Only Have Eyes For You"), Dion and The Belmonts ("A Teenager in Love") and The Kingston Trio ("Tom Dooley").
However, the Four Lads still had staying power with their smash Top Ten hits from the 1950's. In 1960 they were interviewed by Houston DJ, Paul Berlin at KNUZ. In answer to a question in Billboard magazine, "What type of recording artists makes the most effective guest for an on-air interview?" As reported on January 16, 1961, Paul Berlin said "My most interesting interview was with the Four Lads. Usually interviewing a group is most difficult, but these guys came equipped with musical jingles that they used most effectively… During our interview I had a Sears commercial. They took the spot and sang it, and you can't imagine how effective it was, not only from the station's standpoint but from the sponsor's as well. Give a jockey a "showman" and you'll get a good interview."
Connie Codarini left the Four Lads in 1962. From the early 1980's, in Medina, Ohio, Connie Codarini owned a restaurant called Penny's Poorhouse, named after his wife. When Connie and Penny first came to Medina they were showing Great Danes. He kept Penny's Poorhouse until 2007. Cashbox Magazine Canada reports that "Codarini was well known in the area for being an authentic bartender by making drinks from scratch and not taking short cuts." Connie Codarini died in 2010.
John Bernard Toorish left the Four Lads in 1970. However, seventeen years later, in 1987, he reformed the Four Lads. Since the early 1970's Toorish became an insurance underwriter with Equitable Insurance whose headquarters are in Manhattan's financial district at 120 Broadway. As of 1992, Toorish was still working for Equitable Insurance, and doing some gigs with the Four Lads.
James Arnold left the Four Lads in the 1981, he founded the James Arnold School of Voice. Living in Sacramento, California, he taught voice lessons from his living room from the mid-80's until his death. Arnold's tenor was a key part of the Four Lads sound and helped them get Top Ten hits. James Arnold also led a children's choir for seventeen years. He also was called upon to sing the American national anthem for the Sacramento Kings home games.
With a changing lineup, the Four Lads have continued to perform in concert for 65 years with concert dates as recently as 2015, including Frank Busseri as an original member. In 1984, the New York Times ran a story with the headline: Swinging With The Big Band Sound. At the time Frank Busseri was managing one of the incarnations of the Four Lads. Busseri also had recently produced an album showcasing the vocals of his love interest of six years, Lynn Roberts, titled Harry, You Made Me Love You. Busseri had ceased to be in the Four Lads lineup in 1978, choosing to manage them. Decades later he rejoined the lineup. On their website, the most recent concert by the Four Lads was in Palm Springs on March 28, 2017, at the McCallum Theatre.
September 4, 2018
Ray McGinnis
References:
"James Arnold, 72, Singer in the Four Lads," New York Times, July 5, 2004
"The Four Lads Inducted 1984," Canadian Music Hall of Fame, 1984
Paul Berlin – KNUZ-AM in Houston, Programming Panel, Billboard, January 16, 1961.
"'Four Lads' Ladle out Hits to Fans at Swingos' Eatery," Lakewood Sun Post, August 6, 1992
"Proudly Canadian: The Four Lads," Cashbox Magazine Canada
Alvin Klein, "Swinging With The Big Band Sound," New York Times, January 29, 1984.
Dick Manning, Wikipedia.org
Al Hoffman, Wikipedia.org
Bibbidi-Bobbidi-Boo, Wikipedia.org
Hawaiian Wedding Song, Wikipedia.org
The Four Lads Itinerary, Four Lads.com
"Golly," Collins Dictionary
"Whoops," Collins Dictionary
"Gee," Collins Dictionary
"Top Fifty Songs for the Week," CKWX 1130 AM, Vancouver, BC, June 9, 1957.
For more song reviews visit the Countdown.