#946: Goody Goody by Ella Fitzgerald
Ella Fitzgerald:
Peak Month: September 1957
8 weeks on Vancouver's CKWX chart
Peak Position #11
Peak Position on Billboard Hot 100 ~ did not chart
YouTube.com: "Goody Goody"
Lyrics: "Goody Goody"
Ella Fitzgerald first came to national attention with her #1 hit in 1938, "A Tisket, A Tasket." Before Billboard Magazine began in the 1940's the song was listed at #1 on the Record Buying Guide and the weekly radio broadcasts of Your Hit Parade, a radio a radio institution on NBC, started in 1935, that billed itself as "an accurate, authentic tabulation of America's taste in popular music." She was born in Newport News, Virginia, in 1917. Ella's mother Temperance "Tempie" Fitzgerald and a second lover, Joseph Da Silva, moved to Yonkers, New York, in 1920. Joe dug ditches and was a part-time chauffeur, while Tempie worked at a laundromat. At age 15 both her mother and Joe died in quick succession, her mom from complications arising from an automobile accident and Joe from a heart attack. In 1934, Ella won a draw to complete in an amateur contest at the Apollo Theatre in Harlem. Originally planning a dance routine, a troupe that performed ahead of her were so spectacular she spontaneously decided to sing instead. Her performance brought the crowd to its feet and she did an encore.
Fitzgerald was hired as a vocalist with Chick Webb's band as they went on tour in 1935. After her #1 hit, "A Tisket, A Tasket," in 1938, she continued to appear on the pop and R&B charts through the following decades. She had another novelty hit in 1941 based on a children's nursery rhyme called "The Muffin Man". Among her most notable hits are "I Want The Waiter (With The Water)" in 1939, "Five O'Clock Whistle" in 1941, "My Happiness" in 1948 and "Baby It's Cold Outside" with Louis Jordan in 1949. She had a #1 hit in 1944 with the Ink Spots titled "Into Each Life Some Rain Must Fall". In 1946 she did a duet with Louis Armstrong titled "The Frim Fram Sauce", which became a top seller on the R&B charts in America.
With the advent of television, Ella appeared on numbers of variety shows including The Bing Crosby Show, The Dinah Shore Show, The Frank Sinatra Show, The Ed Sullivan Show, The Tonight Show, The Nat King Cole Show, The Andy Willams Show and The Dean Martin Show. She also made many appearances in concert. One of these was at the Chicago Opera House in September 1957. Her performance there was recorded and led to a 1958 release of her live album, At the Opera House. Among the songs she sang was "Goody Goody," which she had recently released as a single in August 1957, a week after Frankie Lymon hit the charts. In Vancouver CJOR played Frankie Lymon's version of the song while CKWX played the recording by Ella Fitzgerald. (Ella also included the song on her 1959 studio album, Get Happy!).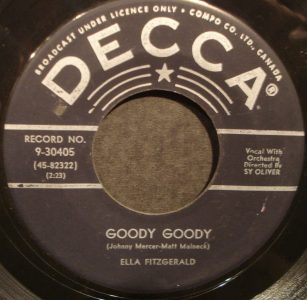 "Goody Goody" was a 1936 popular song composed by Matty Malneck, with lyrics by Johnny Mercer. Benny Goodman and his Orchestra, featuring vocalist Helen Ward, enjoyed a #1 hit for a month on NBC's Your Hit Parade. Freddie Martin took the song to #5, while Bob Crosby (Bing Crosby's brother) had a #7 hit also in 1936. Matty Malneck was a jazz band leader, violinist, violist and soloist. He also was a songwriter. He penned "Pardon My Southern Accent" for Irving Aaronson and his Commanders, a #5 hit in 1934. Malneck wrote "I'll Never Be The Same" for Guy Lombardo, a #8 hit for the Canadian bandleader in 1932. And Malneck also penned "Stairway To The Stars", a #1 hit for Glenn Miller in 1939. Malneck's last notable hit was "Shangri-Las" a #11 hit for the Four Coins in 1957.
The other co-writer of "Goody Goody" was Johnny Mercer. He was a singer and songwriter. He wrote many hits that became standards. These include "Lazy Bones" a #1 hit for Ted Lewis in 1933, "I'm An Old Cowhand From the Rio Grande" by Bing Crosby (a #2 hit in 1936), a #1 hit for Al Donahue in 1938 titled "Jeepers Creepers", Woody Herman's #1 hit in 1942: "Blues In the Night," Frank Ifield's #1 hit in 1962 in the UK titled "I Remember You", the Jimmy Dorsey #1 hit in 1942 titled "Tangerine" with vocals by Helen O'Connell and Bob Eberly, Glenn Miller's #1 hit in 1943 titled "That Old Black Magic" and a #1 hit in 1946 for The Pied Pipers called "On the Atchison, Topeka and the Santa Fe". Mercer sang lead vocals with the Pied Pipers backing him on a #2 hit in 1945 titled "Ac-Cent-Tchu-Ate the Positive". Mercer also wrote the English lyrics to the French composition "Autumn Leaves," which was an instrumental hit for Roger Williams in 1955. His later successes included lyrics for two songs from film in the early 60's, "Moon River" and "Days of Wine and Roses".
"Goody Goody" is a song about someone who's been in the habit of letting others fall in love with them only to break their suitors heart in little pieces. As the saying goes, what goes around comes around, and now this "rascal" has fallen for someone who's broken their heart in little pieces. From the perspective of the lyrics the "rascal" got what he deserved. A word to describe getting the punishment one deserves is comeuppance. Introduced into American dictionaries in 1859, comeuppance had to do with having to come up and present oneself before a tribunal. The word also appears in Cornish dialect as "comeupping," which meant to get a flogging. A phrase that also relates to what is going on in the lyrics of "Goody Goody" is the 13th C term "just deserts." Often mistakenly spelled "desserts," as in a sweet to have after one's main meal, the phrase derives from getting what one deserves. In the 1599 publication, A Warning for Fair Women, by John S. Farmer, there is a citation that is rendered this way: "Upon a pillory – that al the world may see, a just desert for such impiety."
In the song Ella sings about a guy who has been set back on his heels. The term "back on their heels" means "in a defensive posture," and originates in boxing. In boxing, it is extremely difficult to be on the offense unless you put your weight on your toes. This way you can push forward or dance around your opponent in the ring. However, when your weight is set back on your heels, it is only possible to retreat from your opponent by backing away. However, in retreat it is hard to do this with much finesse. In a stance of retreat it is next to impossible to productively counterpunch.
In the summer of 1957 Frankie Lymon performed "Goody Goody" live on The Ted Steele Show. His song became an international hit climbing to #24 in the UK and #20 on the Billboard pop charts. It peaked at #3 in Vancouver, after debuting on Red Robinson's Teen Canteen Show on August 16, 1957. It climbed to #1 on CKEY in Toronto, and #7 in Milwaukee and New York City. It was billed as a recording with his group The Teenagers, but was in fact a solo recording. At the end of the songs' chart run Lymon appeared on the Ed Sullivan Show on December 22, 1957, to perform "Goody Goody". Immediately, "Goody Goody" was recorded by other artists including Frank Sinatra, Julie London, Della Reese and Ella Fitzgerald. Though her version didn't make the Billboard pop charts it climbed to #11 on Vancouver's CKWX chart.
"Goody Goody" has been performed by 'Wayne & Wanda' in an episode of The Muppet Show, by the the classic rock band, Chicago, and more recently as a duet by Tony Bennett and Lady Gaga.
In 1960 Ella covered the giant 1959 hit for Bobby Darin, "Mack The Knife", which went to #6 for her on the Billboard R&B charts. Over the course of her career she recorded several hundred albums and sold over 40 million records. She also won 13 Grammy Awards. In 1967 she won the Grammy Lifetime Achievement Award. In 1992 U.S. President George H.W. Bush presented Ella with the Presidential Medal of Freedom. She died in 1996 at the age of 79.
January 16, 2018
Ray McGinnis
References:
Christine Ammer, The American Heritage Dictionary of Idioms, (Houghton Mifflin Harcourt, Boston, MA, 2009).
Keith Caulfield, "Ella Fitzgerald at 100: By the Numbers on Billboard's Charts & More, Billboard Magazine," Billboard, April 25, 2017.
John S. Farmer, A Warning for Fair Women, The Tudor Facsimile Texts, London, England, 1599.
Ella Fitzgerald Biography, Ella fitzgerald.com
Ella Fitzgerald Page, Red Sugar.com
"Frankie Lymon: A Musical Biography," Pan-African News Wire, May 26, 2007.
Just Deserts, The Phrase Finder.com
Comeuppance, World Wide Words.com.
"Top Fifty Songs of the Week," CKWX 1130 AM, Vancouver, BC, September 15, 1957.
For more song reviews visit the Countdown.