#586: Goody Goody by Frankie Lymon
Frankie Lymon:
Peak Month: August 1957
7 weeks on Vancouver's Red Robinson chart
Peak Position #3
Peak Position on Billboard Hot 100 ~ #20
YouTube.com: "Goody Goody"
Lyrics: "Goody Goody"
In 1942 Franklin Joseph "Frankie" Lymon was born in New York City. Frankie and his brothers grew up in a musical home in Harlem. Their mother, Jeanette, was a domestic maid. Their dad, Howard Lymon Sr., had a job as a truck driver and was a member of a gospel group called the Harlemaires. Frankie and his brothers, Howard and Lewis, all attended the Harlemaires rehearsals and concerts from an early age. From the age of ten Frankie worked at a grocery store to help the family pay the rent. He also had a sideline hustling prostitutes. When Frankie's voice developed into a beautiful boy soprano lead singer he joined a group called The Teenagers, originally named the Earth Angels and then the Premiers. The doo-wop groups original lineup consisted of three African Americans: Frankie Lymon, Jimmy Merchant and Sherman Garnes, and two Puerto Ricans: Herman Santiago and Joe Negroni.

One day in 1955, a neighbor to one of the members of The Premiers handed over a number of love letters he had received from his girlfriend. He gave these letters he'd received hopeful that it would inspire the doo-wop group to write a hit song. From one of the letters Merchant and Santiago wrote a song titled "Why Do Birds Sing So Gay?" Frankie Lymon changed the song a bit and retitled it "Why Do Fools Fall in Love". It became The Teenagers' first single, climbing to #2 in the USA nationally in March 1956. A second hit in the spring of 1956, "I Want You To Be My Girl", also made the Top Ten in the USA. It was sampled in the novelty hit, "Flying Saucer" by Buchanan and Goodman.
In Vancouver local deejay, Red Robinson played a number of songs by Frankie Lymon and the Teenagers. "I Promise To Remember" was a Top Ten hit in September 1956. The group had several more singles that were hits in the USA and UK. From the rock 'n roll film, Rock, Rock, Rock, their single "I'm Not A Juvenile Delinquent" made it to #12 in the UK. And "The ABC's Of Love" climbed to #8 on the Billboard R&B charts. In 1957, another film, Mister Rock and Roll, featured Frankie Lymon and the Teenagers. Also, in 1957, while on tour with the Platters, Frankie Lymon developed a romantic relationship with the Platters only female singer, Zola Taylor. After Lymon went solo in mid-1957, both his career and those of the Teenagers fell into decline. His first solo single was credited to Frankie Lymon and the Teenagers, though it was only Frankie Lymon singing in the studio.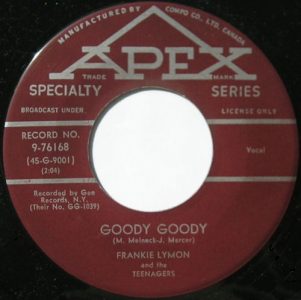 "Goody Goody" was a 1936 popular song composed by Matty Malneck, with lyrics by Johnny Mercer. Benny Goodman and his Orchestra, featuring vocalist Helen Ward, enjoyed a #1 hit for a month on NBC's Your Hit Parade. Freddie Martin took the song to #5, while Bob Crosby (Bing Crosby's brother) had a #7 hit also in 1936. Matty Malneck was a jazz band leader, violinist, violist and soloist. He also was a songwriter. He penned "Pardon My Southern Accent" for Irving Aaronson and his Commanders, a #5 hit in 1934. Malneck wrote "I'll Never Be The Same" for Guy Lombardo, a #8 hit for the Canadian bandleader in 1932. And Malneck also penned "Stairway To The Stars" a #1 hit for Glenn Miller in 1939. Malneck's last notable hit was "Shangri-Las" a #11 hit for the Four Coins in 1957.
The other co-writer of "Goody Goody" was Johnny Mercer. He was a singer and songwriter. He wrote many hits that became standards. These include "Lazy Bones" a #1 hit for Ted Lewis in 1933, "I'm An Old Cowhand From the Rio Grande" by Bing Crosby (a #2 hit in 1936), a #1 hit for Al Donahue in 1938 titled "Jeepers Creepers," Woody Herman's #1 hit in 1942: "Blues In the Night," Frank Ifield's #1 hit in 1962 in the UK titled "I Remember You", the Jimmy Dorsey #1 hit in 1942 titled "Tangerine" with vocals by Helen O'Connell and Bob Eberly, Glenn Miller's #1 hit in 1943 titled "That Old Black Magic" and a #1 hit in 1946 for The Pied Pipers called "On the Atchison, Topeka and the Santa Fe". Mercer sang lead vocals with the Pied Pipers backing him on a #2 hit in 1945 titled "Ac-Cent-Tchu-Ate the Positive". Mercer also wrote the English lyrics to the French composition "Autumn Leaves", which was an instrumental hit for Roger Williams in 1955. His later successes included lyrics for two songs from film in the early 60's, "Moon River" and "Days of Wine and Roses".
"Goody Goody" is a song about someone who's been in the habit of letting others fall in love with them only to break their suitors heart in little pieces. As the saying goes, what goes around comes around, and now this "rascal" has fallen for someone who's broken their heart in little pieces. From the perspective of the lyrics the "rascal" got what he deserved.
"Goody Goody" is a song about someone who's been in the habit of letting others fall in love with them only to break their suitors heart in little pieces. As the saying goes, what goes around comes around, and now this "rascal" has fallen for someone who's broken their heart in little pieces. From the perspective of the lyrics the "rascal" got what he deserved. A word to describe getting the punishment one deserves is comeuppance. Introduced into American dictionaries in 1859, comeuppance had to do with having to come up and present oneself before a tribunal. The word also appears in Cornish dialect as "comeupping," which meant to get a flogging. A phrase that also relates to what is going on in the lyrics of "Goody Goody" is the 13th C term "just deserts." Often mistakenly spelled "desserts," as in a sweet to have after one's main meal, the phrase derives from getting what one deserves. In the 1599 publication, A Warning for Fair Women, by John S. Farmer, there is a citation that is rendered this way: "Upon a pillory – that al the world may see, a just desert for such impiety."
In the song Frankie Lymon sings about a gal who has been set back on her heels. The term "back on their heels" means "in a defensive posture," and originates in boxing. In boxing, it is extremely difficult to be on the offense unless you put your weight on your toes. This way you can push forward or dance around your opponent in the ring. However, when your weight is set back on your heels, it is only possible to retreat from your opponent by backing away. However, in retreat it is hard to do this with much finesse. In a stance of retreat it is next to impossible to productively counterpunch.
Frankie Lymon performed "Goody Goody" live on television on several occasions, including in 1957 on The Ted Steele Show. He also had a hit with his recording of the song in the UK, reaching #24 that year, as well as #20 on the Billboard pop charts. It peaked at #3 in Vancouver on Red Robinson's Teen Canteen Show on August 10, 1957. "Goody Goody" climbed to #1 on CKEY in Toronto, and #7 in Milwaukee and New York City. It was billed as a recording with his group The Teenagers, but was in fact a solo recording. Frankie Lymon & The Teenagers appeared in concert at the Georgia Ballroom in Vancouver on October 23, 1957. Other recording acts on the stage that night include Eddie Cochran and Buddy Holly and The Crickets. At the end of the songs' chart run Lymon appeared on the Ed Sullivan Show on December 22, 1957, to perform "Goody Goody".
After "Goody Goody", Lymon followed up with his second solo release titled "My Girl". The song had a big band sound and bore no relation to the same titled tune by The Temptations in 1965. It peaked at #7 in Toronto, but was one of the discs spun in Vancouver. On July 19, 1957, DJ Alan Freed hosted a live episode of The Big Beat on ABC TV. During the song Frankie started dancing with a white teenage girl as he sang "My girl is a natural beauty, my girl. My girl is a genuine cutie, my girl…" Lymons' choice to dance with a white girl on TV was scandalous, especially for the owners of Southern TV stations and their audiences. In 1957 it was forbidden to have people of different racial backgrounds dance in the segregated South. The subsequent scandal put obstacles in Lymon's career. It also led to the cancelation of but The Big Beat. Frankie Lymon had one more solo hit in Vancouver in the spring of 1958 titled "Portable On My Shoulder", which stalled at #9. Roulette Records released eleven singles credited to Frankie Lymon. The last was the Irving Berlin classic from the 1930's, "Change Partners", which generated some sales for Lymon, especially in Massachusetts and California.
Meanwhile, Frankie Lymon was a kind of fool in love. But tragically so. In 1964 he got married to Elizabeth Waters and she gave birth to Lymon's only child who died a few days after her birth. However, Lymon's marriage to Waters was illegal since she was legally married to her first husband. Zola Taylor, of The Platters, contended that she and Lymon got married in Mexico in 1965, though in court cases in the late 1980's she had no papers to prove it. The relationship quickly faltered as a result of Frankie Lymon's drug habit. He made one last appearance on TV for Hollywood a Go-Go that same year. As a 22-year-old he singer lip-synched to the recording of his teenage-self singing several of his hits, including his last hit on the Billboard Hot 100 from 1960, "Little Bitty Pretty One".
At age 22 Frankie Lymon got his draft notice, joined the U.S. Army and began training at Fort Gordon, Georgia, in 1965. While he was in Fort Gordon he fell in love with a teacher named Emira Eagle. They were wed in 1967 and Lymon began to appear in concert occasionally. But one day he decided to return to New York, where he hoped to regain fame. Frankie died on February 27, 1968, in his grandmother's bathroom from a heroin overdose while on weekend leave from the Army. He was 25 years old. The following day he was to spend time in the studio of Big Apple Records working on two songs he'd recorded for the label, "I'm Sorry" and "Seabreeze". Big Apple released the single later in the year.
In the aftermath of his death there were legal battles concerning royalties from his recordings. All three of his wives sued for the right to receive benefits from Frankie Lymon's estate. A judge determined that Elizabeth Waters would be awarded the royalties due from Lymon's estate. A countersuit followed and a second verdict awarded Emira Eagle with income from Lymon's estate.
Frankie Lymon's life inspired the 1998 film, Why Do Fools Fall in Love? directed by Gregory Nava.
"Goody Goody" was recorded by other artists in the 1950's including Ella Fitzgerald, Frank Sinatra, Julie London and Della Reese. Though Ella Fitzgerald's version didn't make the Billboard pop charts, it also charted in Vancouver. While CJOR had Red Robinson spin the Frankie Lymon cover of "Goody Goody", over on CKWX they charted Ella's version of the song where it climbed to #11.
"Goody Goody" has been performed by 'Wayne & Wanda' in an episode of The Muppet Show, by the the classic rock band, Chicago, and more recently as a duet by Tony Bennett and Lady Gaga.
References:
David Hinckley, "Lewis Lymon of the Teenchords dead at 69," New York Daily News, July 11, 2013.
Peter Stack, "The Fast Life of Frankie Lymon – a Fool for Love at Just 14," SFGate, San Francisco, CA, September 2, 1998.
"Frankie Lymon: A Musical Biography," Pan-African News Wire, May 26, 2007.
"Frankie Lymon and the Teenagers," Rock and Roll Hall of Fame.com, 1993.
Christine Ammer, The American Heritage Dictionary of Idioms, Houghton Mifflin Harcourt, Boston, MA, 2009.
John S. Farmer, A Warning for Fair Women, The Tudor Facsimile Texts, London, England, 1599.
Just Deserts, The Phrase Finder.com
Comeuppance, World Wide Words.com.
"Red Robinson's Teen Canteen Survey: The Top Ten," CKWX 1130 AM, August 17, 1957.
For more song reviews visit the Countdown.