#780: It Happened Today by The Skyliners
Peak Month: November 1959
8 weeks on Vancouver's CFUN chart
Peak Position #7
Peak Position on Billboard Hot 100 ~ #59
YouTube.com link: "It Happened Today"
Lyrics: "It Happened Today"
Jimmy Beaumont was the lead singer for The Skyliners, a doo-wop group comprised of four males and one female from the Allentown neighborhood of Pittsburgh, Pennsylvania. The group formed in 1956 as The Crescents. The other members of the group were soprano Janet Vogel, tenor Wally Lester, bass singer Jackie Taylor and baritone Joe Verscharen. By the fall of 1958 The Crescents changed their name to The Skyliners. The group had a #3 hit on the R&B charts in early 1959 called "Since I Don't Have You". They made a demo of the song in 1958 which was rejected by 13 record labels until they got a contract with Calico record label, a subsidiary of Laurie Records in New York City. Calico Records made a new recording of the song. Marc Myers, writing for Jazz Wax, writes, "A string arrangement was written and 18 musicians were contracted for the date in New York in early December. Toward the end of the recording, Vogel unleashed a series of "you-ooo" soprano notes behind lead singer Jimmy Beaumont that sounded like a soaring falsetto. Then she crushed the ending with a vocal line that went up, came down slightly and then shot way up to end the song. They were electrifying notes that capped a perfect recording." "Since I Don't Have You" appeared on the Pittsburgh pop charts in January, 1959, on January 10 on KQV 1410 AM. It jumped from #26 to #3 the next week and spent two weeks at #1 and spent eight weeks in the Top Ten in Pittsburgh. The song also went to #1 in New York City.
Though the Skyliners weren't an African-American group, they had more success on the R&B charts than on the pop charts. "Since I Don't Have You" peaked at #12 on the Billboard Hot 100 and #17 in Vancouver on CKWX during a fourteen week chart run. The song was based on song lyrics that the group's manager, Joe Rock, had composed after a breakup with a girlfriend in 1958. Jimmy Beaumont saw the lyrics and quickly created a melody. The song has been covered as a hit single variously for Don McLean in 1981, Ronnie Milsap in 1991 and Guns 'N Roses in 1994.
On February 13, 1959, The Skyliners appeared on American Bandstand. Nonetheless, when Dick Clark put the Skyliners on one of his Caravan of Stars tours later in the year, audiences expected the Skyliners to be a black group. The tours had the recording artists traveling from city to city on a Continental Trailways bus. The September 18 to November 8, 1959, 66-city tour was headlined with Paul Anka. Other stars appearing on stage for the tour were Lloyd Price, Annette Funicello, Duane Eddy, Jimmy Clanton, Laverne Baker, The Coasters, The Drifters, The Skyliners, Bobby Rydell, and Phil Phillips. Also, in 1959, rock 'n roll DJ, Alan Freed, arranged for The Skyliners to come to New York and perform at his 1959 Easter show with Bobby Darin, Fats Domin and Jackie Wilson. The Skyliners also gave eight concerts in 1959 at the Apollo Theatre in Harlem. The group's follow up single, "This I Swear", climbed to #29 on CKWX's pop chart, The Sensational Sixty. Their third single was "It Happened Today". While on the Billboard Hot 100 the song stalled #59, Vancouver record buyers drove the song to #7 on the CFUN's Hi-Fi 40.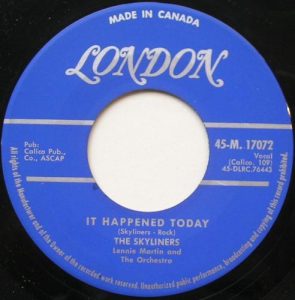 The straight forward message in "It Happened Today" concerns a guy who's certain that the girl of his dreams would be his and tell him that she loved him. Though there are others who predict their dating relationship will fall apart, the outcome is rosier. She tells him she loves him. "It Happened Today" may have struck a chord for couples who were in love and had others in their lives who doubted they could establish a steady and lasting relationship. There were numbers of songs in the late 50's and early 60's that concerned others in the sphere of a young couple who doubt their durability. In Paul Anka's "Puppy Love", "they" let the young seventeen year-old couple know that whatever they have going is only a "puppy love." The "they" in the song are presumably adults, or older siblings, who have no confidence in a teenage love affair. George Hamilton IV had a hit titled "Why Don't They Understand", expressing the same sentiments. Gene Pitney, with "Town Without Pity", the animosity toward the young couple is quite pronounced and Pitney sings "we're like tigers in a cage" as they have to contend with "these little minds" who are part of their community. Being a teenager in the 1950's was a source of concern on the part of politicians, psychologists, teachers, preachers and parents. Much was written about juvenile delinquency and the danger rock 'n roll posed to maintaining a civilized society. As tame as "It Happened Today" sounds in 2018, the song was a bit suspect back in 1959, as the Skyliners were part of a new musical fad called rock 'n roll. Many music critics hoped the rock 'n roll fad would die a swift death and that pop music would see a return to pre-rock 'n roll musical tastes. That never happened.
"It Happened Today" charted best in North America at #1 in Denver (KIMN), #6 in Tijuana (XEAK), Mexico, #7 in Vancouver (CFUN) and #8 in Boston (WHIL). The B-side of "It Happened Today" was "My Lonely Way". The song was a Top 20 hit in San Bernardino, California. Infused with harmonies drawn from black R&B groups, "Lonely Way" was an example of the sound The Skyliners crafted which made them sound more like R&B groups than most "white" vocal groups. On their 40th anniversary CD liner notes it details how The Skyliners crafted their sound based on the vocal harmonies of R&B groups like The Flamingoes "("I Only Have Eyes For You") and The Moonglows ("Sincerely"). In addition, they drew on vocal styles from The Four Freshmen and the Hi-Lo's. The Drifter's were one of the first groups to draw from the Skyliners unique fusion of musical styles in "Since I Don't Have You", when they decided to add a string arrangement to "There Goes My Baby", later in 1959.
The Skyliners continued to record a few more songs into 1960 and dissolved in 1963. They had five Top 30 hits in Vancouver between 1959 and 1960. They had only three Top 40 hits in the USA. Of their minor hits, "Pennies From Heaven", The Door Is Still Open To My Heart" and "Close Your Eyes" were covers. The first was a standard from the 1930's and the latter two were by mid-50's R&B doo-wop groups The Cardinals and The Five Keys, respectively. In 2012, Wally Lester, in an interview with the Pittsburgh Post-Gazette's Scott Mervis, said that one of the reasons he left the group was because of Janet Vogel's husband, Kerry Rapp. Rapp was variously a police officer and security guard Rapp was an intimidating, bullying presence. Lester went on to work as a sales manager for Clairol, and later vice-president. One of the last songs they recorded was "Since I Fell For You". While the song was not a hit for The Skyliners, it was noticed by Lenny Welch. He took the song to #4 in 1964.
After the breakup, Janet Vogel recorded a few singles under the name Janet Deane. One of these, "Another Night Alone", made the Top 20 on KQV-AM in Pittsburg. A reformed Skyliners with Jackie Taylor released a soul tune in 1965 titled "The Loser", which made #25 in Vancouver.
The original Skyliners reunited for a performance at an oldies revival show at Madison Square Gardens in New York City, in 1970. From 1970 to 1974, Jimmy Beaumont was a cab driver in New York City. In the fall of 1974, the Skyliners recorded a song titled "Where Have They Gone". It made it to #3 on KQV in Pittsburgh. In 1975, Beaumont got a new lineup and never looked back. The Skyliners continued to perform in concert from 1975 into the fall of 2017, on the strength of many oldies revival tours.
Janet Vogel, born in Pittsburgh in 1942, died by suicide at the age of 38 in 1980. Her son, Gavin Rapp, made a film in 2012 titled "Since I Don't Have You". It begins in 1975 and depicts the pressures of motherhood, a difficult marriage, Gavin Rapp's estranged relationship with his father, and the pressures of show business that led his mother, Janet Vogel, to take her own life.
Joe Verscharen went from pop singer to insurance salesman with Prudential Insurance Co. When he retired from that career he moved to Kitty Hawk, North Carolina. He enjoyed being the owner and operator of the local Beach Haven Motel. Verscharen died in 2007 at the age of 67 after becoming ill with cancer.
Jimmy Beaumont performed his last concert, with his current Skyliners lineup, on September 17, 2017, at the Apollo Theater in New York City. He died on October 7, 2017, at the age of 76. Up until the end he carried off the high notes to "Since I Don't Have You" and other Skyliners hits, note perfect.
June 21, 2018
Ray McGinnis
References:
Scott Mervis, "Silky-voiced Jimmy Beaumont, frontman for Skyliners, dies at 76," Pittsburgh Post-Gazette, Pittsburgh, PA, October 8, 2017.
Gavin Rapp, Since I Don't Have You, Since I Don't Have You the Movie.com
Scott Mervis, "Skyliners Reflect on Film About Janet Vogel Rapp," Pittsburgh Post-Gazette, Pittsburg, PA, September 29, 2012.
"A Rock n' Roll Historian: Caravan of Stars 1959," rnrhistorian.blogspot.ca, December 1, 2011.
Marc Myers, "Janet Vogel and the Skyliners," Jazz Wax.com, January 19, 2016.
"Obituary: Joseph W. Verscharen / Original Member of Skyliners Singing Group," Pittsburgh Post-Gazette, Pittsburgh, PA, November 10, 2007.
Peter Lemonjello Jr. with Jimmy Beaumont, "Original Member of The Skyliners, Wally Lester, Dies at 73," Swinginsoiree.com, April 23, 2015.
The Skyliners – History, Skyliners.org.
"Hi-Fi 40," CFUN 1410 AM, Vancouver, BC, November 7, 1959.
For more song reviews visit the Countdown.